I've finally entered my third trimester with this fourth (and probably last!) baby of ours, and because I'm pretty sure it's my last, we decided to do REAL maternity photos with this baby. I actually haven't done a dedicated "maternity shoot" with my last two pregnancies because I've stayed so busy with regular shoots for content for this blog, but I decided with this one we'd actually do photos just to be creative and take pictures of this beautiful time where a little life is growing inside of me!
If you've landed here because you're thinking of taking maternity pics to document your pregnancy too, I'm here to share some tips for taking maternity photos you'll actually love and cherish! After thousands of hours taking photos as my job (many of those while pregnant!), I've learned a trick or two about getting good photos. Today I'm spilling all my best tips and tricks for you!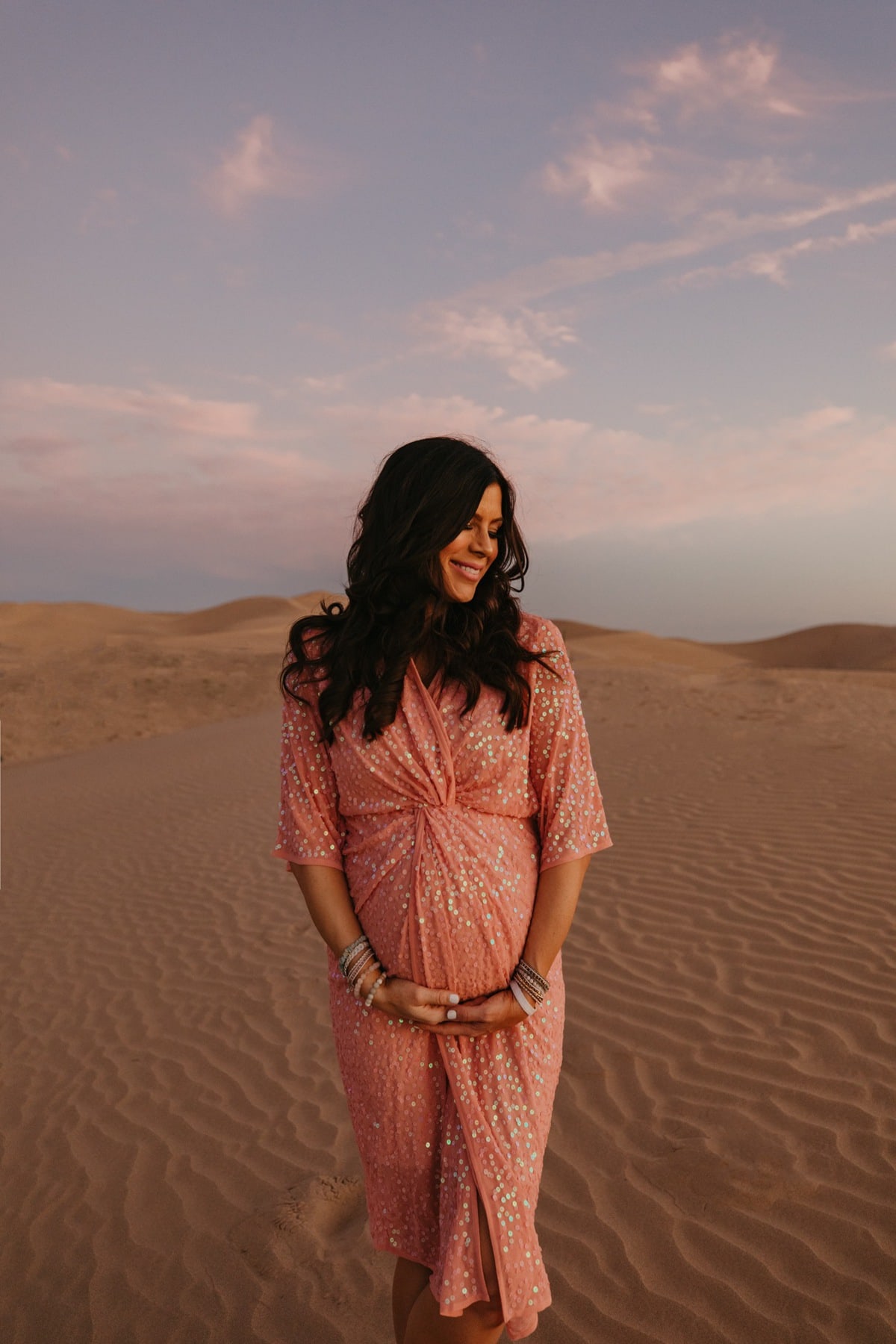 Where to take maternity photos
It really doesn't matter where you live, whether you're near the beach or the mountains or the desert, or even just a pretty park in your neighborhood, you just want to pick a really neutral beautiful background so that you and your little bump can be the star of the show!
Ask your photographer if he or she has suggestions because most likely, they will! But also don't be afraid to do your own research and then bounce ideas off them.
Why this location was special to us
I wanted to do something fun and unique for these maternity photos and was researching ideas for this shoot, and RANDOMLY found photos of another maternity photo shoot in Glamis. I asked Neil casually, "hey how far away is Glamis?" and he about fell out of his chair saying "GLAMIS? Why do you want to go to Glamis?!?!" Turns out Glamis is one of the most famous locations in the world for dirt bike riding, something Neil has loved since a kid.
Taking photos here actually felt really special because while I shot these, Neil was able to ride his dirt bike for the first time in about a year. Neil and his brother Dave (who passed away last January) shared a love for riding dirt bikes together since they were kids, and Neil re-told me the story on the 3-hour drive out to Glamis about the two of them saving their lunch money for a year to buy their first dirt bike together when Neil was still just in elementary school.
While we were shooting photos at these sand dunes, I really felt like Dave had orchestrated this whole thing from up in heaven to all come together, and since this is our first little boy it also felt fitting that we took the photos in the sand dunes where his daddy was doing one of the things he loves most while I was taking these pictures. Maybe that seems silly to you, but it made these pics even more meaningful to me!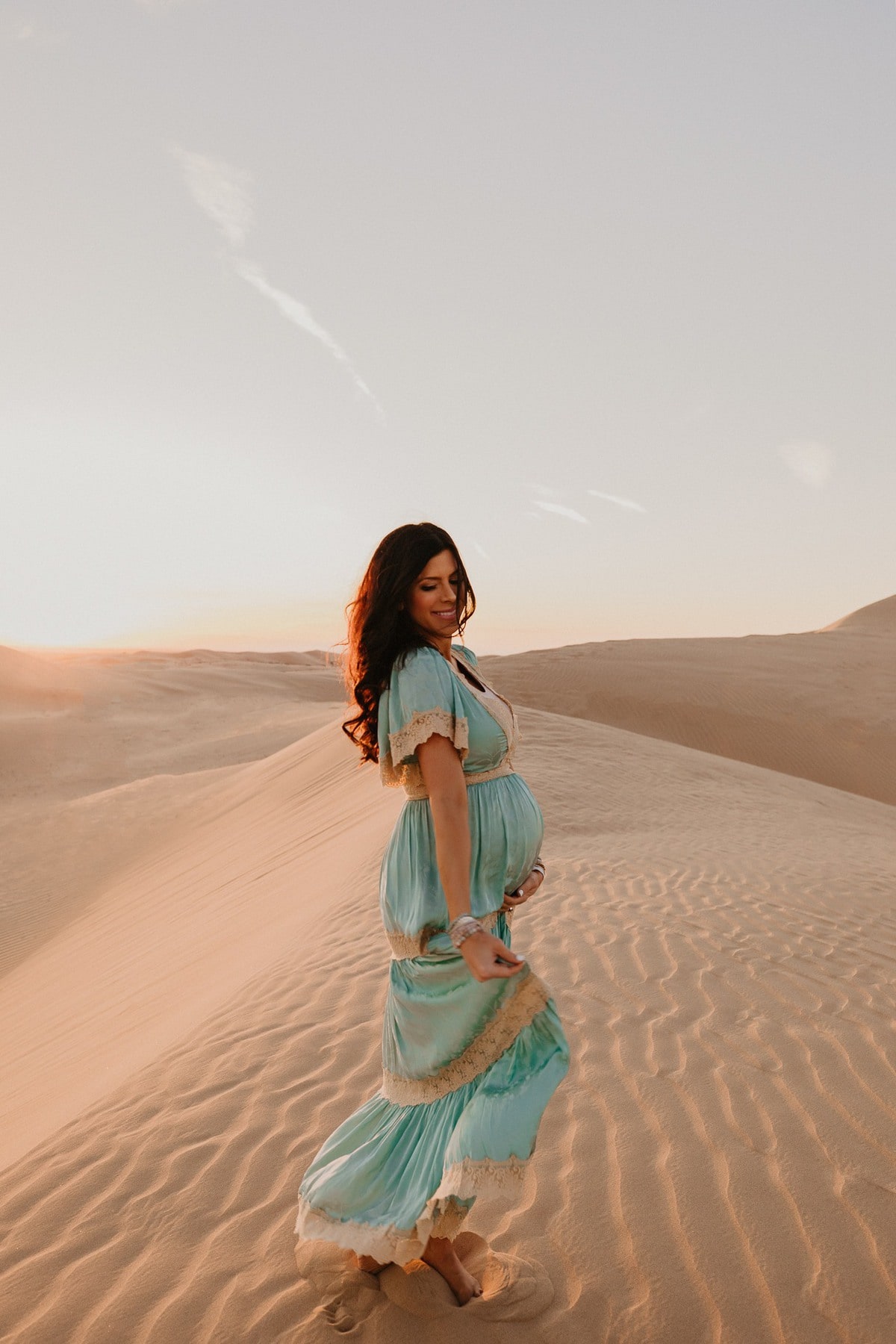 When to take maternity photos
The very BEST time to take maternity photos is right toward the end of your second trimester or beginning of your third. You'll have a good sized bump to show in your photos, but won't be miserably swollen or feel like you have the energy of a 97 year old, at least that's what I feel like in the last few weeks of pregnancy. I took these just a few days shy of 28 weeks, the official start to the third trimester.
Plus I think MOST of my friends who've given birth would agree that you feel the best during your second trimester. Don't wait till the end of your third!
Dressing your bump
For something like a maternity photoshoot, or honestly for any nicer photos you might frame and keep up in your home for a long time, I really like wearing a dress! They're just flattering and especially if you get one that's flowy and fits well, you'll feel as pretty as you look.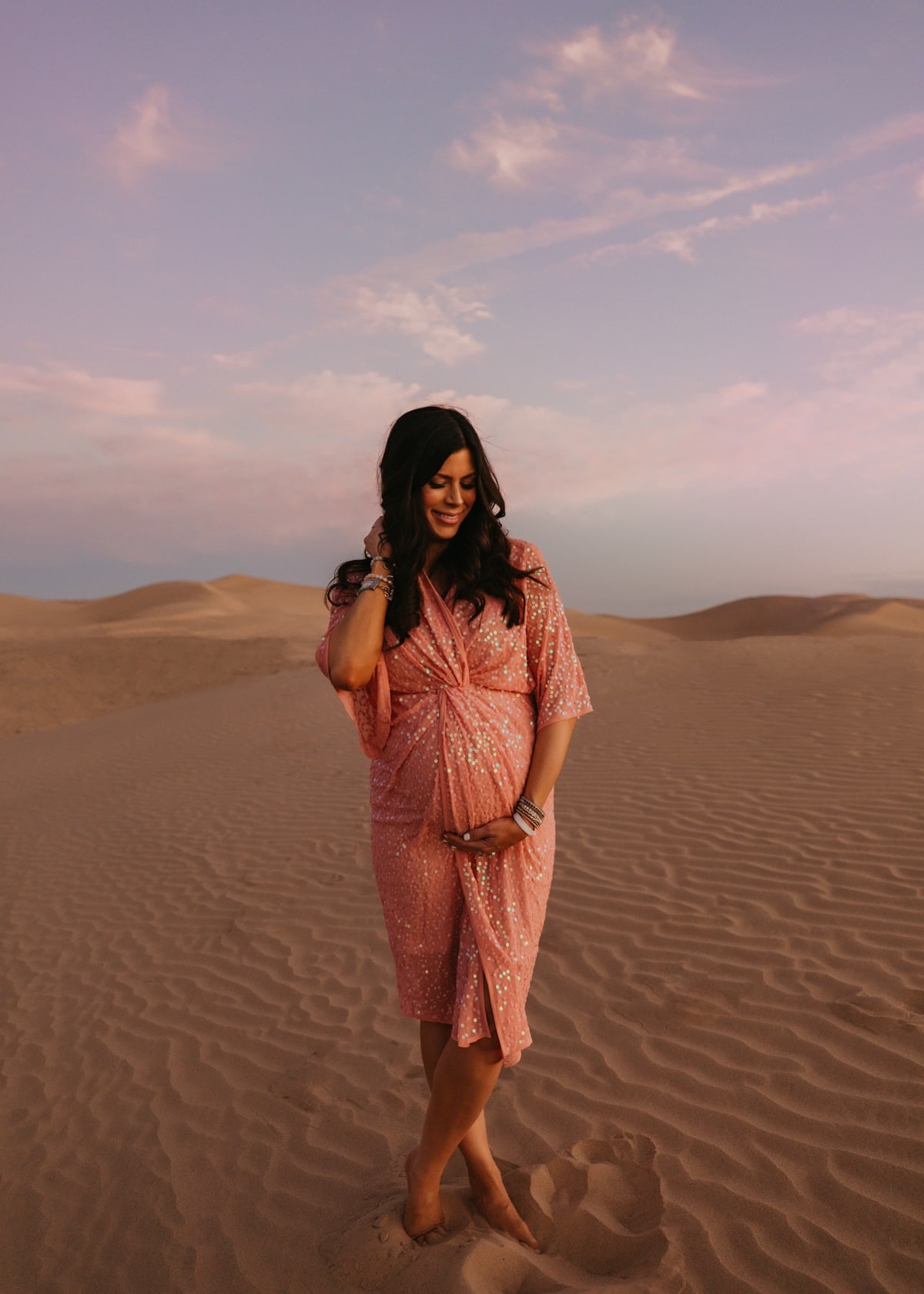 It doesn't have to be a maternity dress – in fact – the blue dress I'm wearing here was NOT maternity! If you're going to buy a non-maternity dress, look for something with an empire waist (where the waistline hits right below the bust) or a bodycon dress (something form-fitting).
My blue dress I think for a non-prego girl would fit true to size, but I sized up 1 size to accommodate my bump and it worked perfectly. It's NOT stretchy so keep that in mind for zipping up the dress and making it work with a bump! My pink sequin dress was maternity so I ordered that TTS and it fit perfectly.
I like to bring two dresses if possible, because a) if you're going to take all that time to get ready and go to a pretty location and hire a professional to take your pictures, you might as well get two looks!
And b) after almost 7 years of doing photoshoot after photoshoot for this blog, I've learned that sometimes an outfit just doesn't photograph as well as you'd hoped it would. So if you take photos in two different outfits, you have double the chances of liking how your photos turn out! I chose this beautiful blue dress with baby boy in mind (but it also comes in cream!) but the pink sequin number was kind of just for me haha.
I really like big mumu-looking dresses for hanging out and being comfy at home, but often times these can look like a gigantic tent in pictures and you might be bummed about how your photos turn out if you wear something like this!
Another cute trend is to wear a dress with a shirt tied on top like I did in this older post. I'm going to post an updated "dressing your bump" guide soon so watch for that!
Also I wore this tried-and-true nude slip under both my dresses. It's thin, stretchy and perfect for dressing with or without a bump and (BONUS!) it's so stretchy it even works for pulling down to nurse down the road.
Don't forget to accessorize
Honestly I can be the absolute worst at remembering to add accessories to my outfits, but with a maternity shoot it really can add a lot if you remember to throw in some pretty jewelry! I added lots of boho-feeling jewelry (this, this, and this!) to amp up this look and I love how it turned out next to the dress. It's like icing on the cake!
Treat yo self
Anytime you're spending money to have professional photos taken of yourself, you should go "all out" a little more than normal, whatever that means for you! So if you're due for a touchup on your highlights or hair color, you need to get a mani/pedi or at least carve out the time to paint your nails yourself, you need a little self tanner, do all the things! You'll be so glad you gave yourself a little extra prep.
As for spray tanning or self-tanning, there are so many good organic options now. I recently discovered and LOVE this organic self tanner lotion that DOES NOT TRANSFER to your sheets. It's amazing!
Golden hour
The very VERY best time to take your maternity pictures, or any pictures for that matter, is the last hour of daylight, also known as golden hour or magic hour. The lighting during the last hour of daylight just looks more flattering on everyone, especially if you're doing pictures in a big open field or ocean or desert like we did here.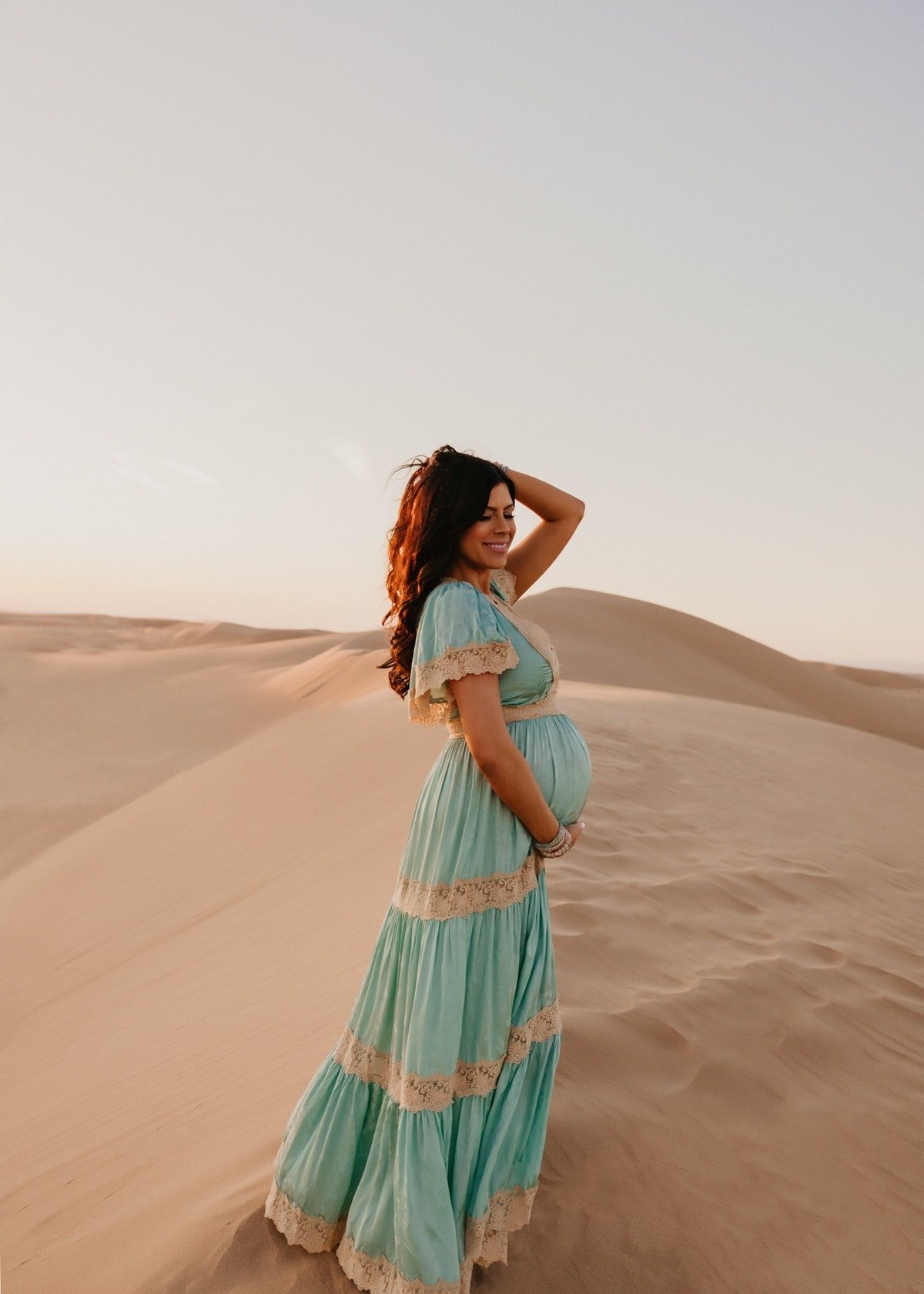 Pink Dress
Blue Dress – size up 1 size to accommodate a bump!
Nude Slip
White + Gold Bracelet
Turquoise Bracelet
Light Pink Bracelets
Tanning Lotion
Photos by Arielle Levy
Just do it
I know (oh how I know!) that pregnancy can feel like the LEAST glamorous time of your life, but if you can fit it into your budget and schedule, take the pictures! You only have a small window in the big scope of time when you're carrying a living human inside your body, and it's something really special that you might be grateful you captured! Your kids will love it too, and grandkids. Buy the dress (or borrow one from a friend), take an afternoon and go have a maternity photoshoot done of your bump.