It's the most wonderful time of the year! Our favorite season has arrived. At least until our next favorite season rolls around. Ha! SUMMER IS HERE!! One of the best things about summer is #nopants! I'm all about all the dresses, all the time. And I especially love dresses that can transition seamlessly from church to brunch to the beach! Keeping things simple means I have more time to soak up every single second of sunshine!
Another thing that helps me soak up every second of sunshine? Nordstrom! Do you know about BOPUS or ROTUS? If you don't prepare to meet your new shopping BFFs!!
Your new best friends
ROTUS is Reserve Online, Try On in Store. This is perfect for you if you live for online shopping, but love to try things on before you commit. You can browse all the things at home, in bed, in your sweatpants and then show up to try on the things you already picked out! SO. RAD.
BOPUS is Buy Online, Pick Up in Store. If you're ready to just pull the trigger and you want it now, you will love this option. Especially since Nordstrom has curbside pickup. You can click, drive up, pick up and get on with your day! Literally every mom or busy girl's dream.
Maxi Dress
This dress is so versatile that you may not want to wear anything else all summer. Good thing it comes in three colors! Pregnant, non-pregnant-this maxi just works! It's stretchy and breezy, but still flattering making it perfect for just about any summer occasion. You could totally throw this on over a swimsuit to grab donuts for the beach, with cardigan and sandals for a casual outdoor wedding, or with a belt and sneakers for brunch with the girls.
Button-up top
A classic button up is always a great alternative to a cardigan to put over dresses. This one has that perfect boyfriend fit that we all love. The slightly oversized fit makes it perfect for tying on over a maxi or knotting the bottom and throwing on some denim shorts. It runs big so you'll want to size down.
Gold hoops
Hoops are a total wardrobe essential. I've been wearing hoops since the 90s and I don't intend to quit anytime soon! They honestly never go out of style and you can wear them absolutely everywhere and with absolutely everything. This $12 pair fits the bill beautifully.
Straw Tote
How c-UTE is this tote? It's on the larger size making it ideal for vacationing or a beach day. I love the interior pockets so much! This tote is so popular that it's already sold out, so I have found one similar for you guys! They're the perfect size to throw you sunnies, wallet and phone into so you don't have to dig through the whole bag when you need to find them. But I really, really love the drawstring closure to keep everything contained!
Summer sandals
Head over heels for these blossom sandals. Seriously, could you die?! Takes the simple t-strap sandal to the next level and the rest of your outfit with it! Plus they're super comfortable. I walked 5,000 miles in these in San Francisco a few weeks ago. Okay maybe not 5,000 but it felt like at least 500 😉 without a blister or sore feet! And you know how big of a deal that is to me. Comfort is totally one of my love languages.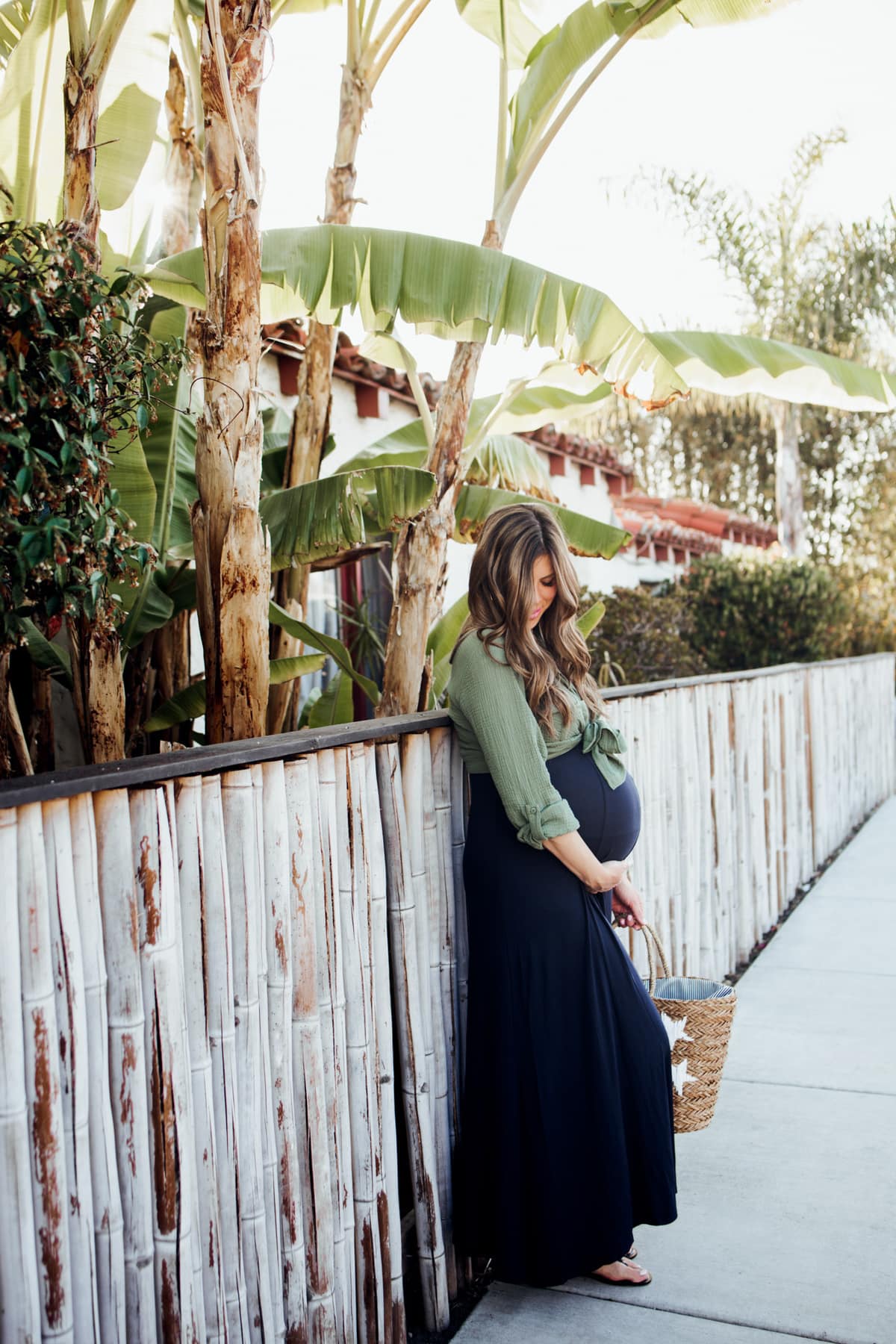 Hoop Earrings sold out, similar
Maxi Dress
Steady Boyfriend Roll Tab Shirt sold out, similar
Straw Star Tote (sold out), similar
Sandals sold out, similar
Photos by Arielle Levy
Favorite Summer Dresses
We've rounded up all our favorite dresses that you can wear almost anywhere! These dresses are ready to be worn to multiple destinations, but they're all from one destination-Nordstrom!