Quick version: Vuori joggers are the best joggers, period! You can buy them HERE.
I don't know about you, but I'm so glad we had the late 2000's yoga pants trend that eventually led us to where we are with joggers today, because I seriously live in mine! When you find the perfect pair of joggers they'll change your life and there are so many reasons to invest in a GOOD pair, or matching set, that'll last you tons of wears.
We're almost entering a new year and YES, in 2023, joggers are still going to be in style! These joggers have not only been a lifesaver for me during my pregnancy (and before), but they've also made amazing gifts for my family during Christmas time. You know you nailed the Christmas gift when your mom tells you she wants to be buried in these joggers!!
You might've guessed it, but I'm talking all about Vuori – the clothing line with premium performance apparel + activewear that's made to move in and be styled for life. Inspired by the active Coastal California lifestyle and their guiding principles, Vuori not only makes top products, but they really aim to create great relationships and extraordinary lives. Let's jump right in to what else makes Vuori joggers the very best, and why I promise you'll love them!
In a hurry? Shop my picks below:
Performance v. Boyfriend joggers
First things first, which Vuori jogger is the best one to get?! They have a couple different options, so let's talk about the differences.
The Vuori Women's Performance Joggers have a slim but relaxed fit, side pockets, a drawstring to adjust the waist line, and a slightly cropped leg. They're made with THE softest premium stretch fabric, the absolute perfect blend of recycled polyester (love that Vuori really cares about their carbon footprint!) and elastane. You won't know how great these are until you try them, but just trust me! These Vuori joggers also come in a bunch of pretty neutral colors, but the classic black is always a go-to shade for me.
They also really PERFORM, too – you can do just about any workout in these! Right now on modified bed rest during my pregnancy, I'm very limited on my ability to move so I'm keeping it light by doing yoga/stretching to loosen up my body. These are perfect to wear for that, but they're perfect for more intense workouts, too!
If you're looking to live in the ultimate comfort pants or need something to keep up with your active lifestyle, the performance joggers are a tried and true favorite of mine and I know you'll love them, too.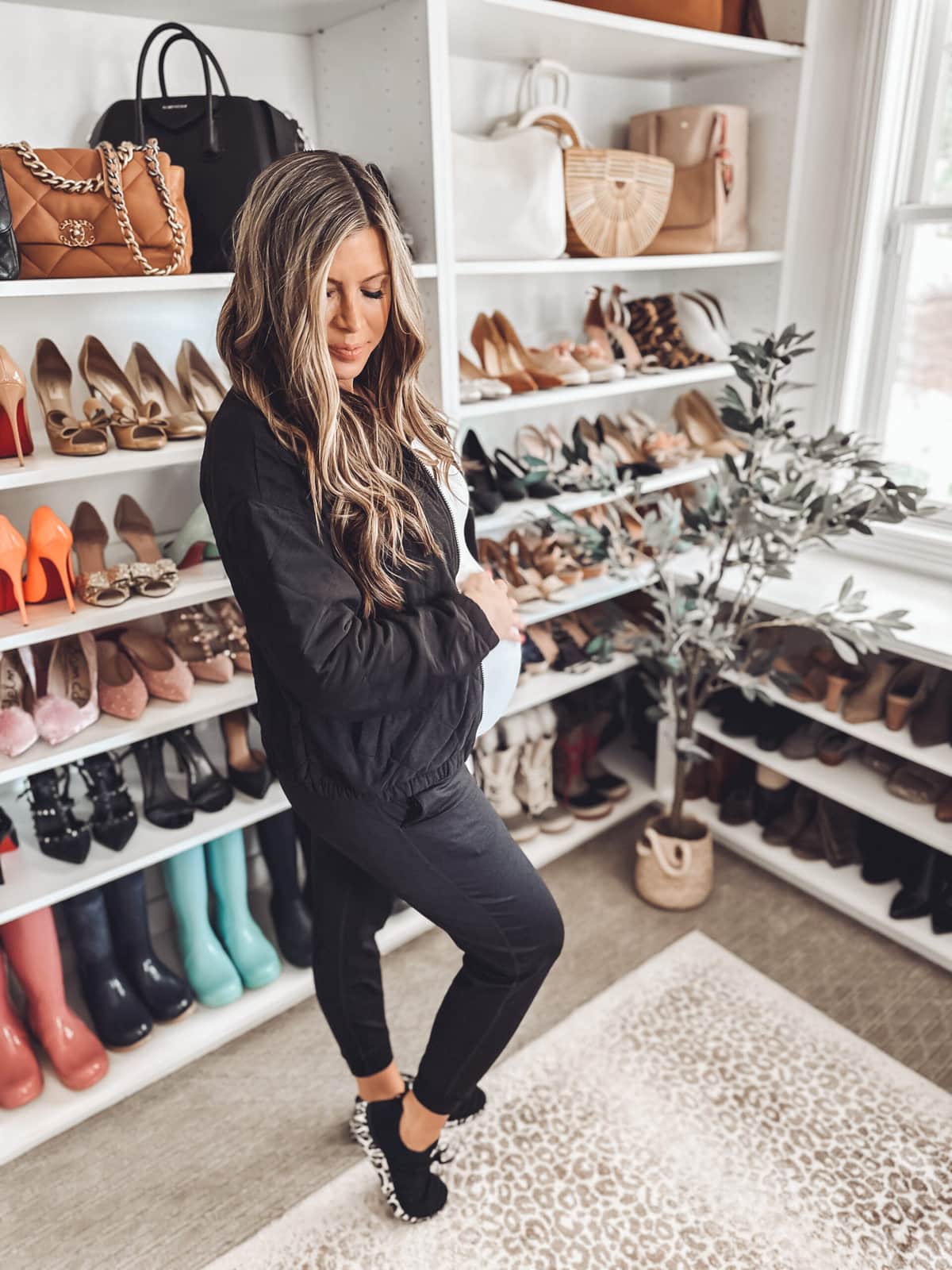 The Boyfriend Joggers have everything I love about the Performance Joggers with a roomier fit! The cuffs of the pants are different for a more relaxed and baggy fit, rather than a slimmer leg. They also have a tie on the inside of the waistband rather than hanging on the outside, which is so nice!
More than anything, these joggers really have the most luxurious feeling fabric in the whole wide world. Look effortlessly put together, while still being casual. Lounge around in these joggers that are as SOFT as butter!
They're perfect for a workout like the power-walking, or a cute but casual travel look for LONG days in a car or airports/planes.
How do Vuori joggers fit
Let's talk EVERYTHING you need to know about sizing for Vuori joggers!
I've tried several different materials and I believe they all run true to size and they DON'T shrink. So, I'd buy your true size and wear and wash without fear of shrinkage! (Also, LOVE that they have sizes XXS-XXL!)
The fit of these joggers are amazing – I've loved Vuori pre-pregnancy, during, and after! They really work for all body types and heights. If you're a little taller, some of the cropped fit joggers will hit your calf a little higher which I always think makes for a cute look with ankle socks + sneakers while running errands.
All of Vuori's pieces are designed with movement in mind, even though they're super cute! The fit tends to be more relaxed to let your body move freely and comfortably which makes them the BEST performance apparel for men and women. Even Neil loves his Ponto Performance Pant!
Are Vuori joggers worth it
I know what you might be thinking: okay, Corrine, I get that they're cute + comfy, but why are these joggers really so popular over others… and are they worth my investment?!
YES.
First of all, these Vuori joggers last a long time. I've had some pairs for a couple of years now, and they do NOT pill or fade no matter how many times you wear and wash them because they're made with super high quality materials. I truly believe these are worth every penny! I'm confident you'll have a great experience, too.
They've really been in my pregnancy wardrobe on the DAILY. I find they're the most comfortable being on bed rest compared to other things. And even though I wear them every day with countless washes, they're in pristine condition and I know they'll last me years to come!
These extremely soft performance apparel pieces can be worn in a bunch of different ways which is another reason why you'll be happy with your purchase. Vuori's investment in happiness is not only a product guarantee, but they also invest in the satisfaction of their customers which is a win, win!
How to wear joggers
Whether you're at home, running errands, going for a jog, doing a high intensity workout, or traveling, there are tons of ways to make comfort key in your outfit! When I'm wearing a more casual outfit for a laid back look after the gym or running errands, I'll reach for my Restore Hoodie or Boyfriend Vuori Joggers (my truest, very favorite pair of performance apparel bottoms that I own right now).
Both of these pieces work great together or separate and have an oversized look to them with room to move! Sometimes I like to throw a jacket over my hoodie to layer it and elevate the look to be a little sharper, but I'm here for allll the comfy cozy vibes.
I also love my black heather Halo Insulated Jacket – this comes in handy so often! It's the perfect jacket to wear after the gym or for an everyday lightweight outerwear staple.
Depending on where you work, it's possible to dress up Vuori joggers before clocking in!! Wear a graphic tee with a blazer and the Performance Joggers plus some cute shoes and you're in the clear for casual Fridays in the office. I love wearing a look like this at the airport or grabbing lunch because it gives me all the comfort while still looking polished and pulled together.
Which joggers are right for ME?
If you haven't tried Vuori joggers yet, we're here to help. We created a quiz that analyzes your lifestyle, your fit preferences, the look you love, and gives you an answer based on all of that criteria. Take it below and find out what's going to be perfect for you!
Best women's joggers are at Vuori
Vuori has great products and vision for performance apparel – they've seriously changed the game. You never have to worry about sacrificing function and comfort again – it's an investment well worth the QUALITY and value you're getting.
If you've never tried these before I know you'll fall in love with them and seriously start living in them! Or, if you're looking for an amazing gift, share the Vuori love to a friend or family member who hasn't tried them with some of the new and essential pieces in the cutest colors – it's the best time of year to gift the very BEST brand in performance apparel!