I've raved about Vuori for such a long time because they're seriously one of the BEST performance apparel lines of all time, and they're rapidly replacing every other athleisure brand in my heavy rotation because they're THAT GOOD. They have great pieces for active lifestyles and staples you can casually wear in your everyday life. Today I'm sharing the items I'm most obsessed with RIGHT NOW, and how to style them all summer long!
If you invest in pieces from this brand, they're seriously going to invest back into you! Some of my favorite Vuori items have lasted YEARS and customer happiness is super important to this California company. These high-quality pieces can be versatile to dress up or down for a ton of different occasions this summer – after all, Vuori was built to move in and styled for life!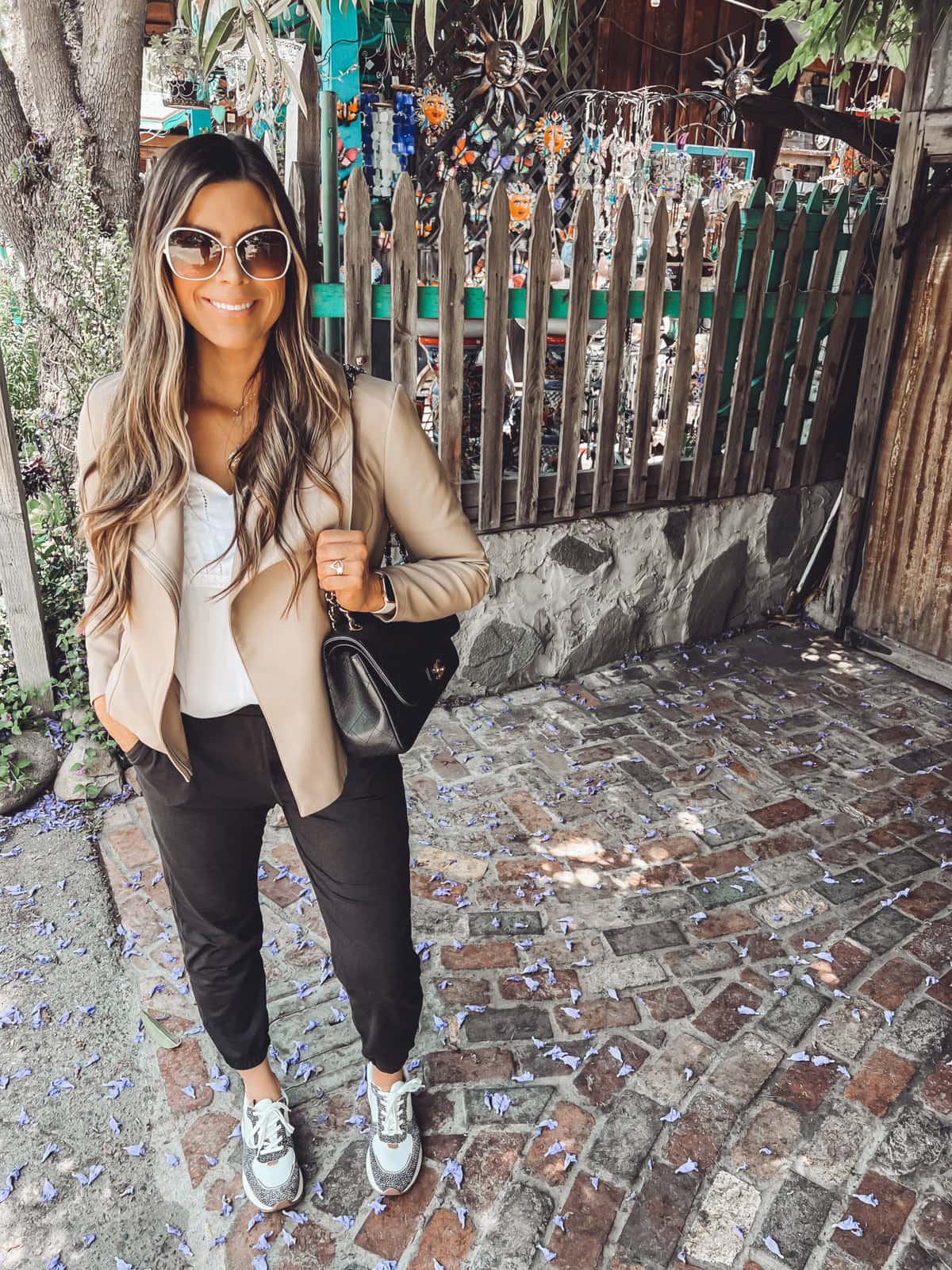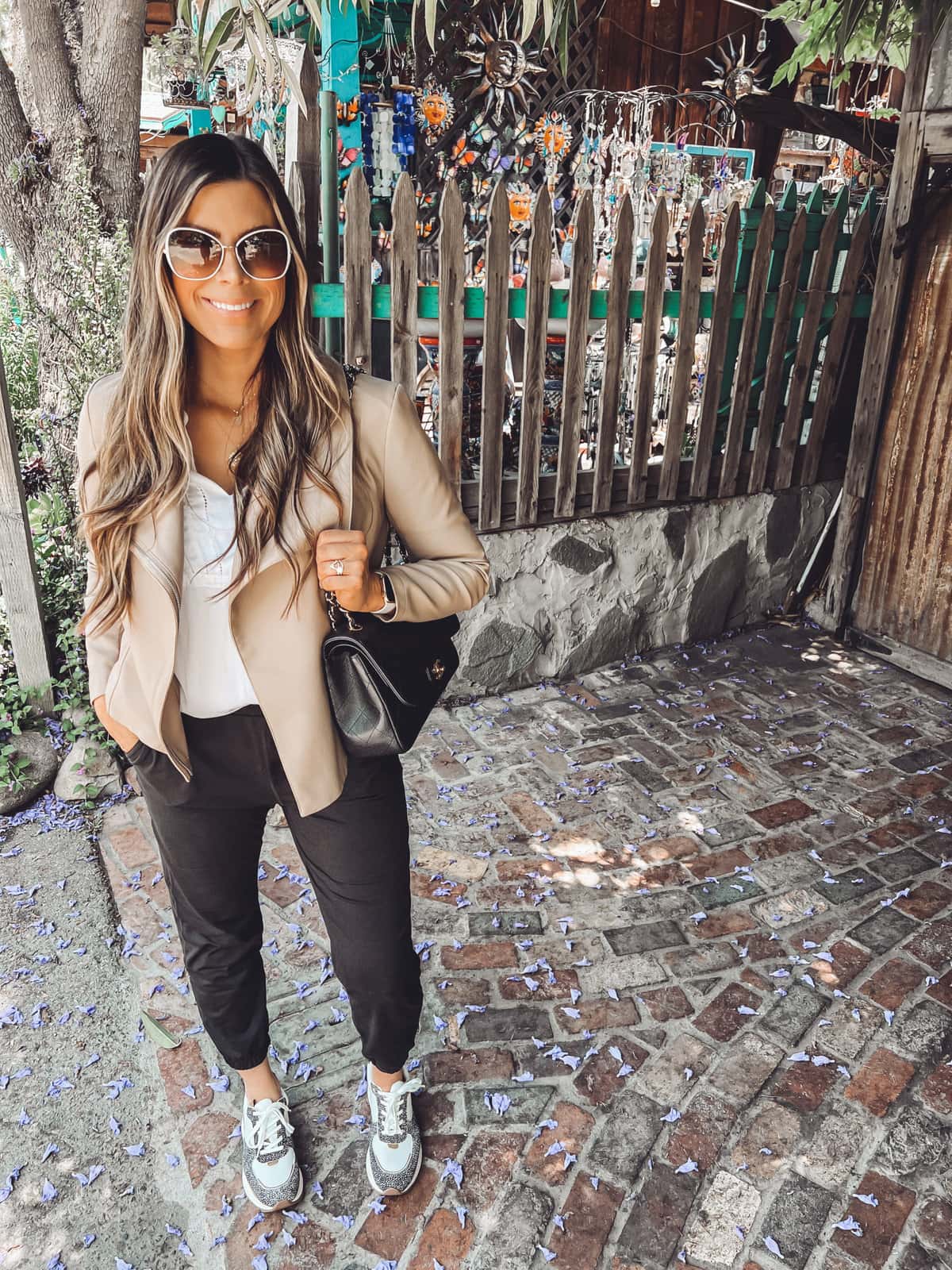 Comfortable + casual summer performance apparel
Boyfriend joggers
I wore these Boyfriend Joggers so much that I actually couldn't keep up with how many times I needed to wash them! They're my truest, very favorite pairs of performance apparel bottoms that I own right now. I grabbed these in black heather and there really are endless ways to style them.
I've been flying a ton lately and I'm ALWAYS grabbing for these! They're unbelievably comfortable, but also easy to style with a graphic tee or a hoodie. I also love that they're easy to disguise as dressed up even when you feel like dressing down. If I have to go to a meeting or have lunch as soon as I'm off the plane, I'll pair it with a long sweater or even a sweater blazer, or a leather jacket.
Last week I wore them on a quick lunch date with Neil and it was SUPER easy to throw a cute jacket and a nice bag on top of my jogger and tee outfit I was already wearing that day lounging and working from home. SO easy.
Did I mention they have pockets? Obsessed!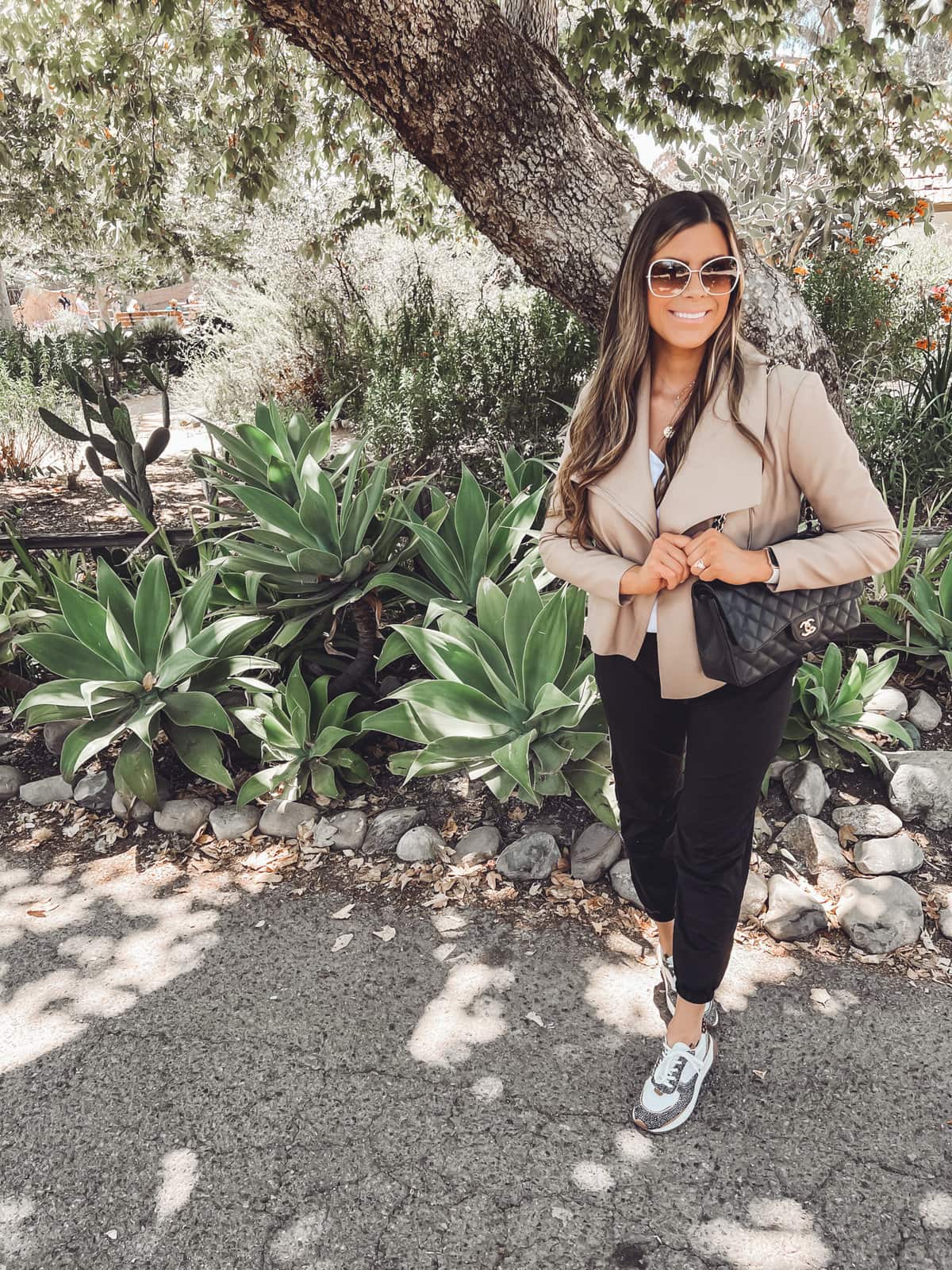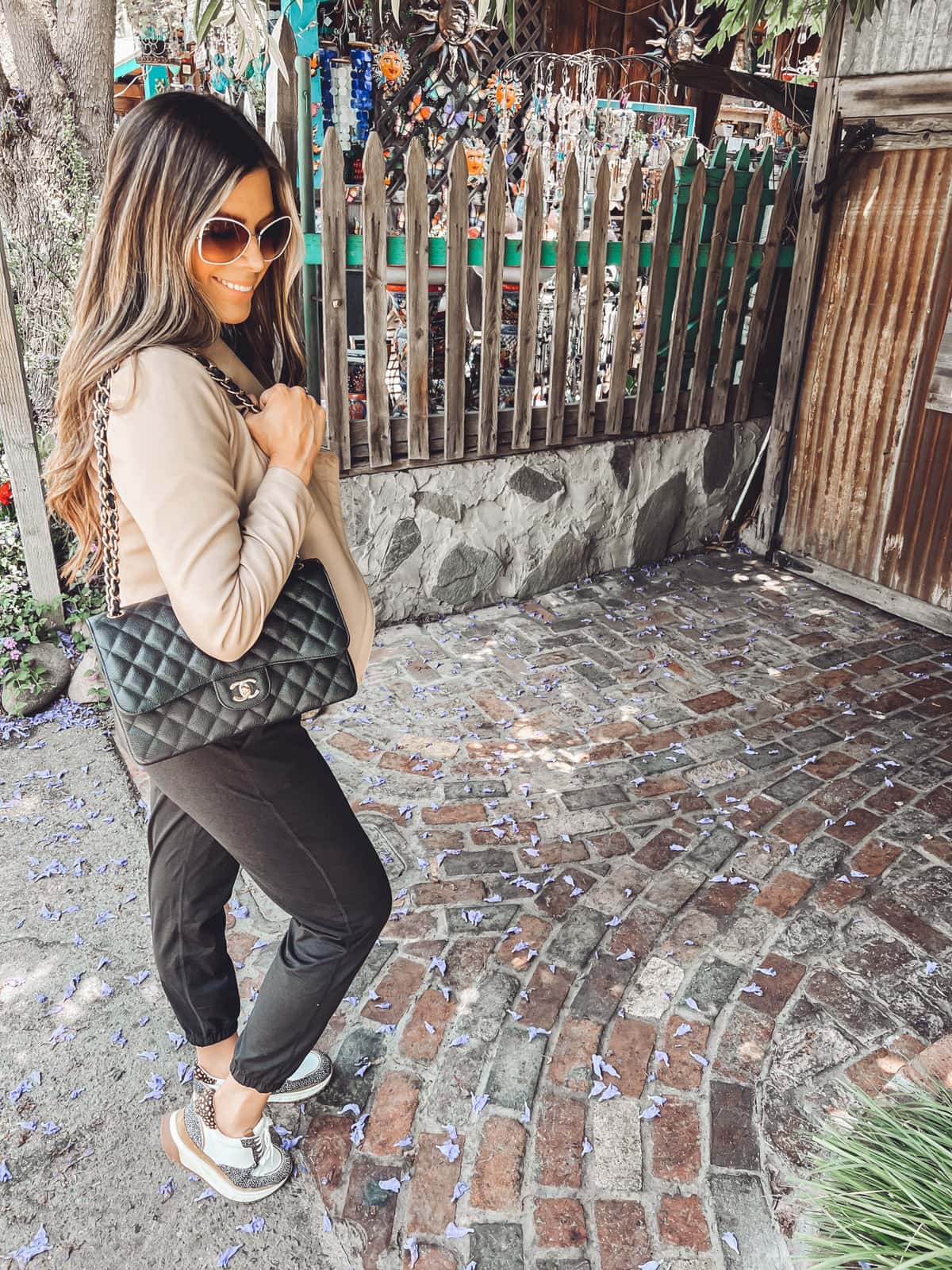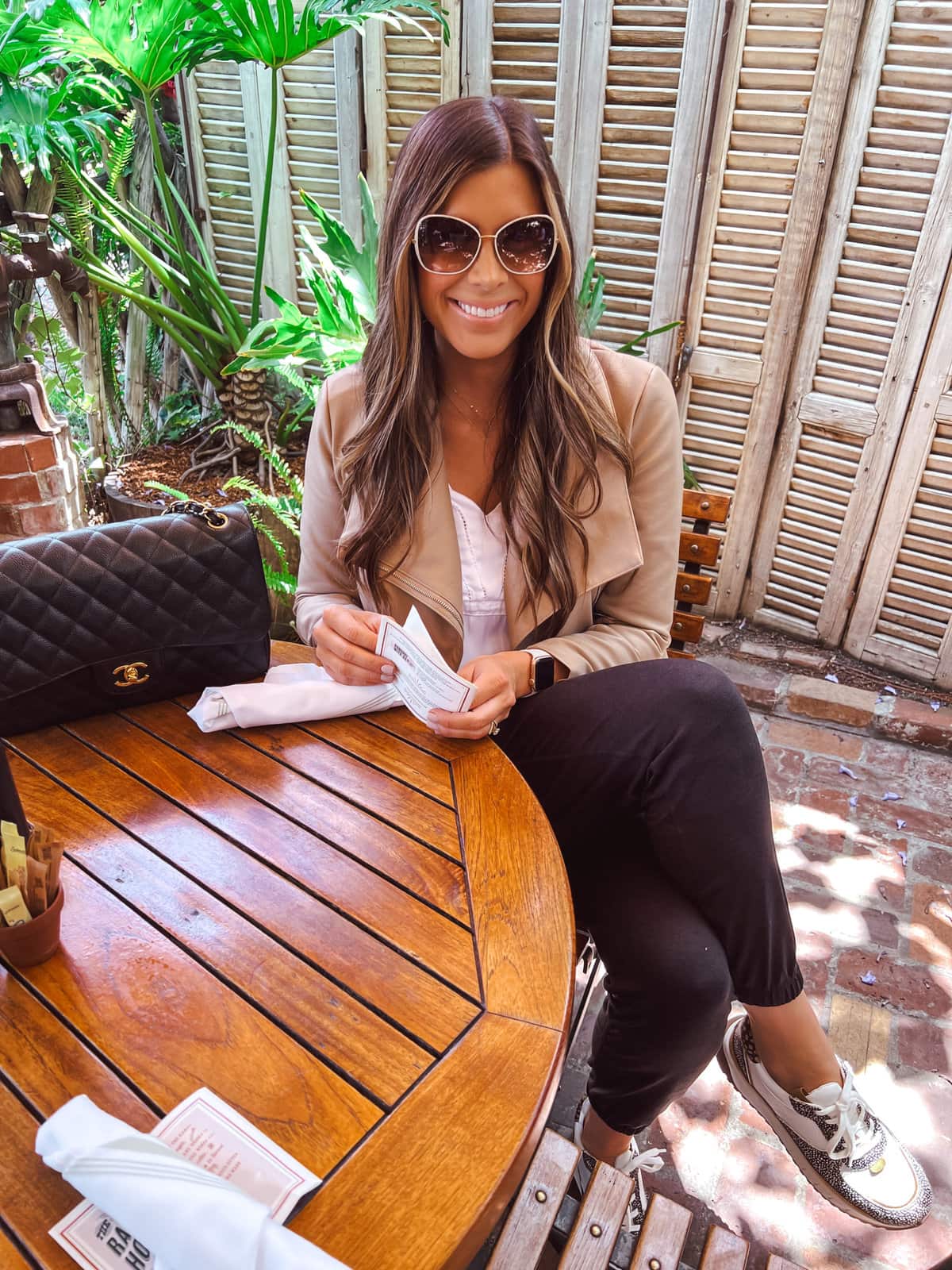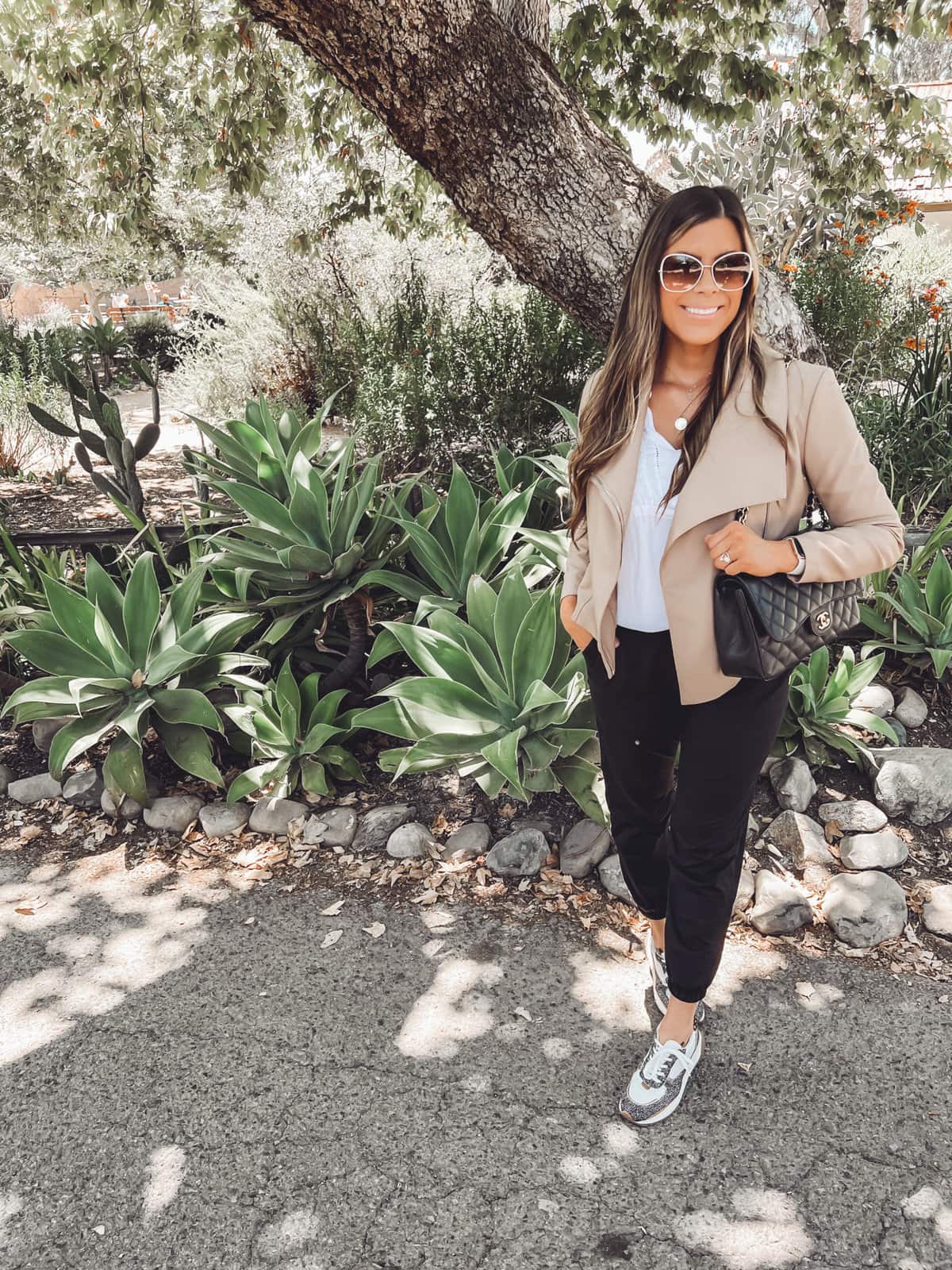 Performance apparel slim joggers and sherpa jacket
Another amazing addition to Vuori's dogwood heather colorway is the prettiest pink! I love the soft color of these dogwood heather Performance Joggers. These have a relaxed fit but are slimmer than the boyfriend jogger – they also have pockets and a slightly higher crop on the leg!
The dogwood heather pink goes SO well with the Alpine sherpa jacket! This jacket is super soft, and the outfit is perfect for Saturday errands, pre- and post-workout, early morning beach walks, and cool summer nights around fires with friends. This jacket has over 250 reviews and an overall SUPER high rating – you're going to get a ton of wear out of it!
Since we went to Hawaii and were treated to a couple guided meditation experiences, I've been majorly prioritizing meditation into my routine and it makes a HUGE difference in the way my day goes. These Performance Joggers are the perfect way to be comfy enough to meditate in, and then glide right into the rest of your day looking and feeling cute!!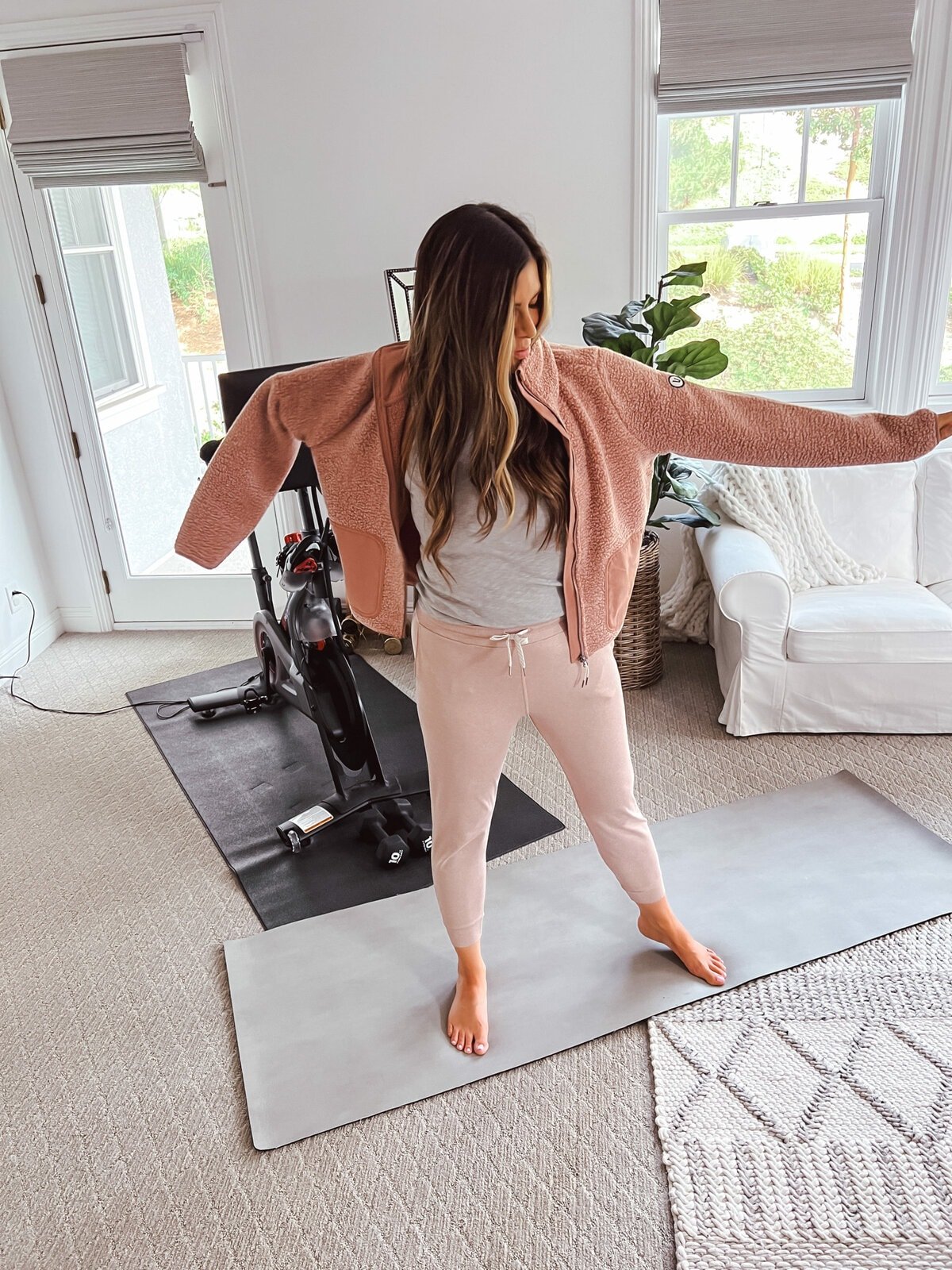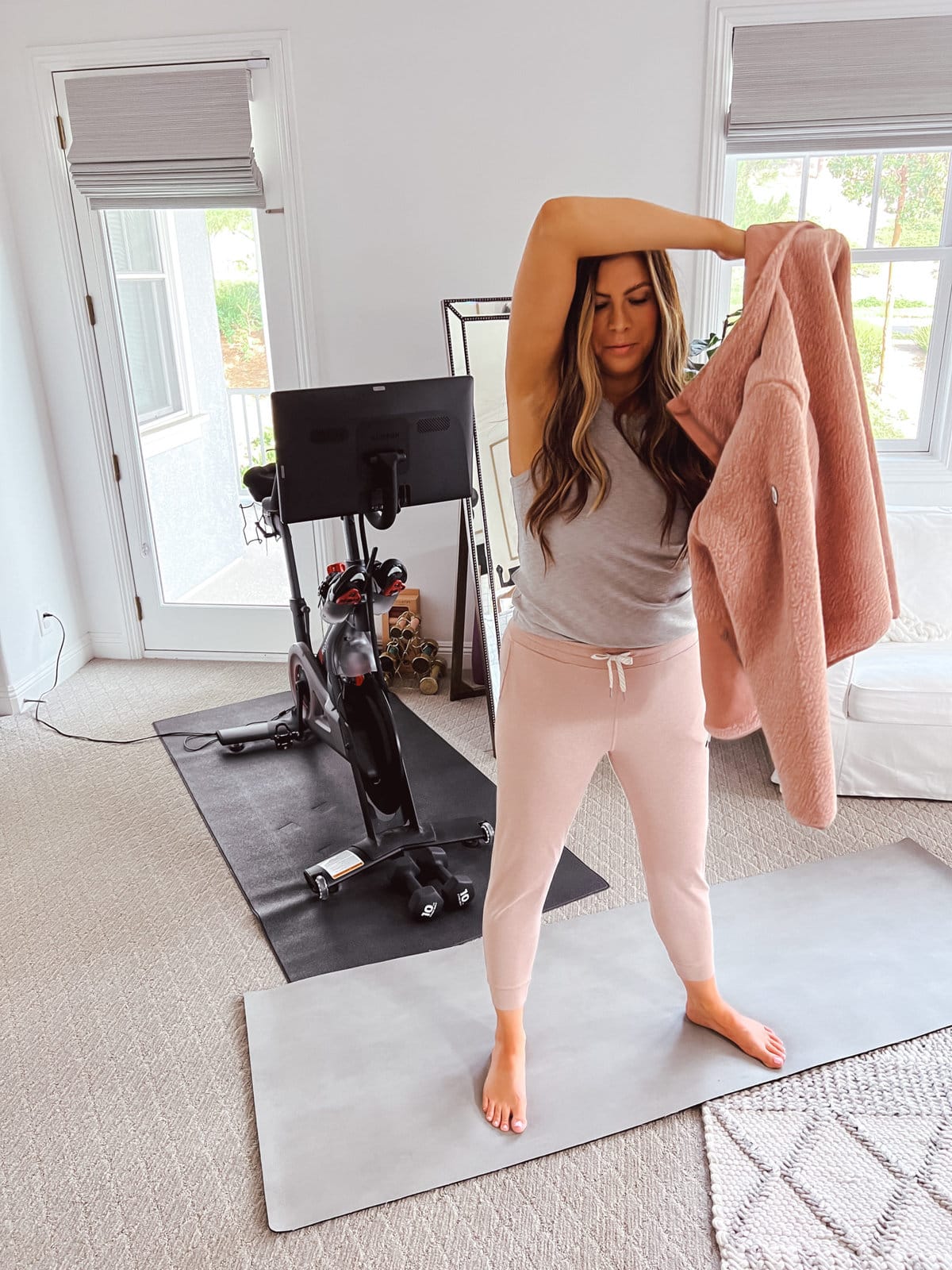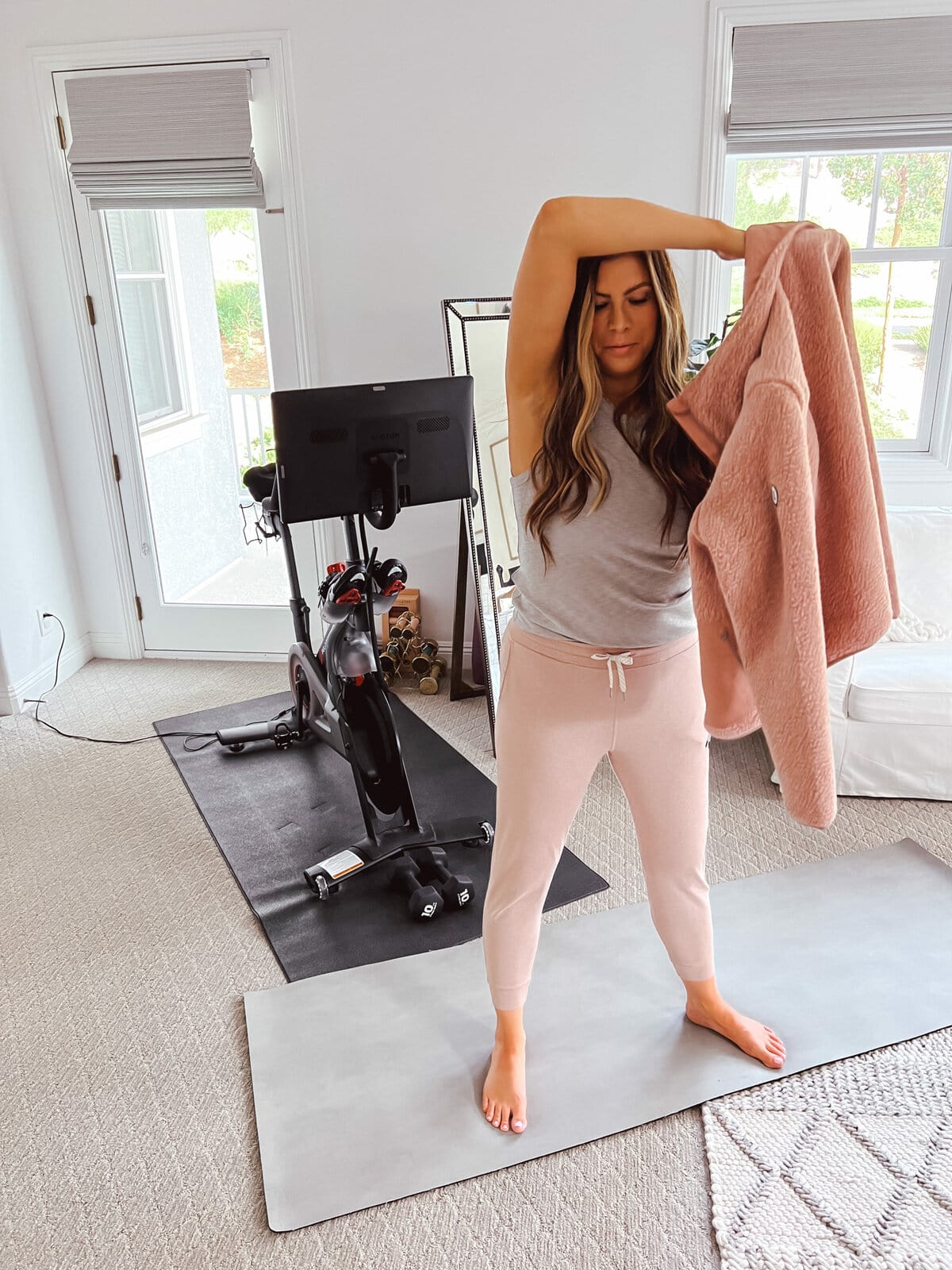 High neck tank
A go-to of mine lately! The Sunrise High Neck Tank has been one of my favorites for working out. I love that its rib knit design is moisture-wicking and a structured fit that really helps it stay in place during movement. The fabric is super soft and would be a great piece for layering. The eucalyptus color goes with seriously everything!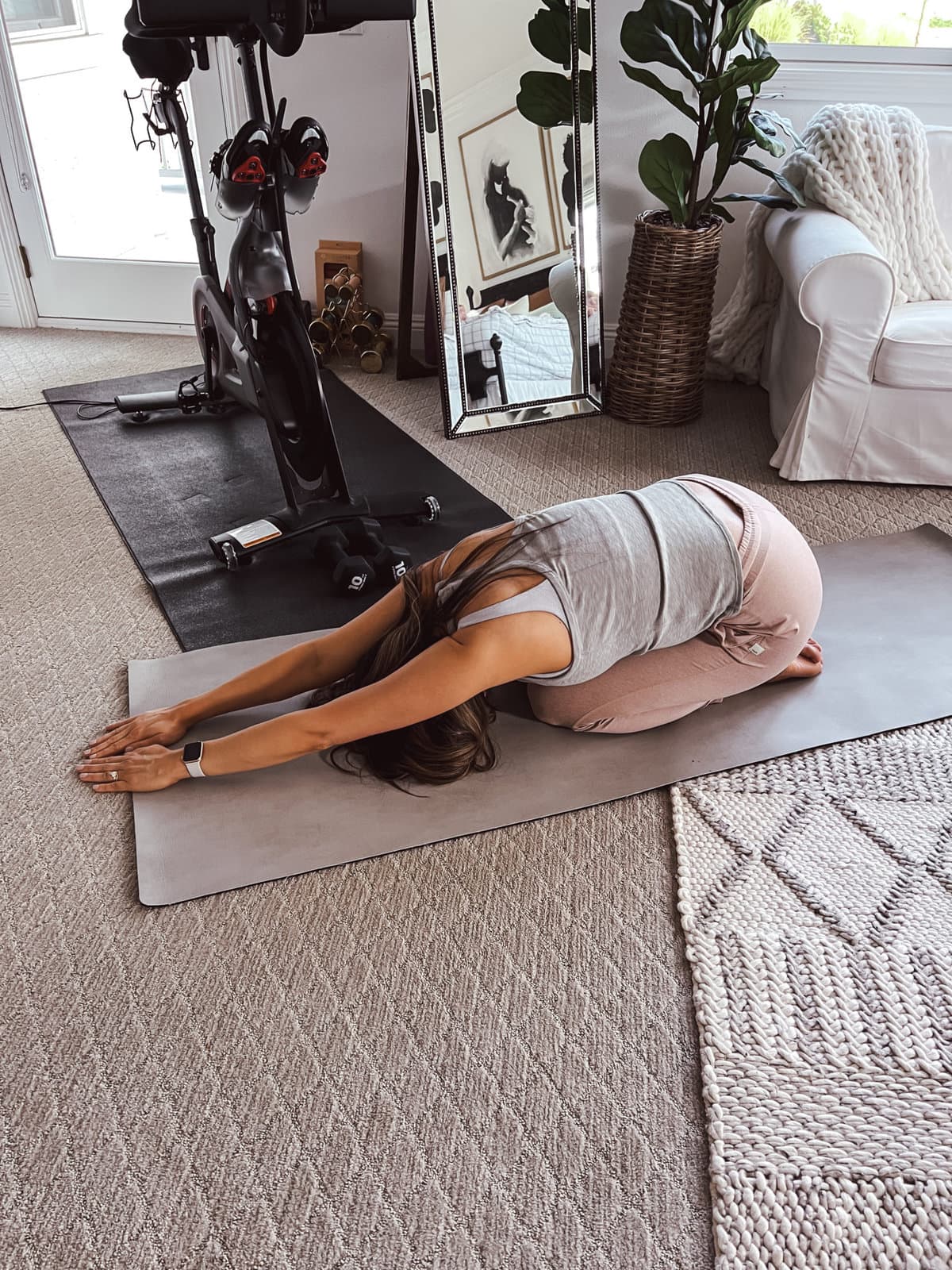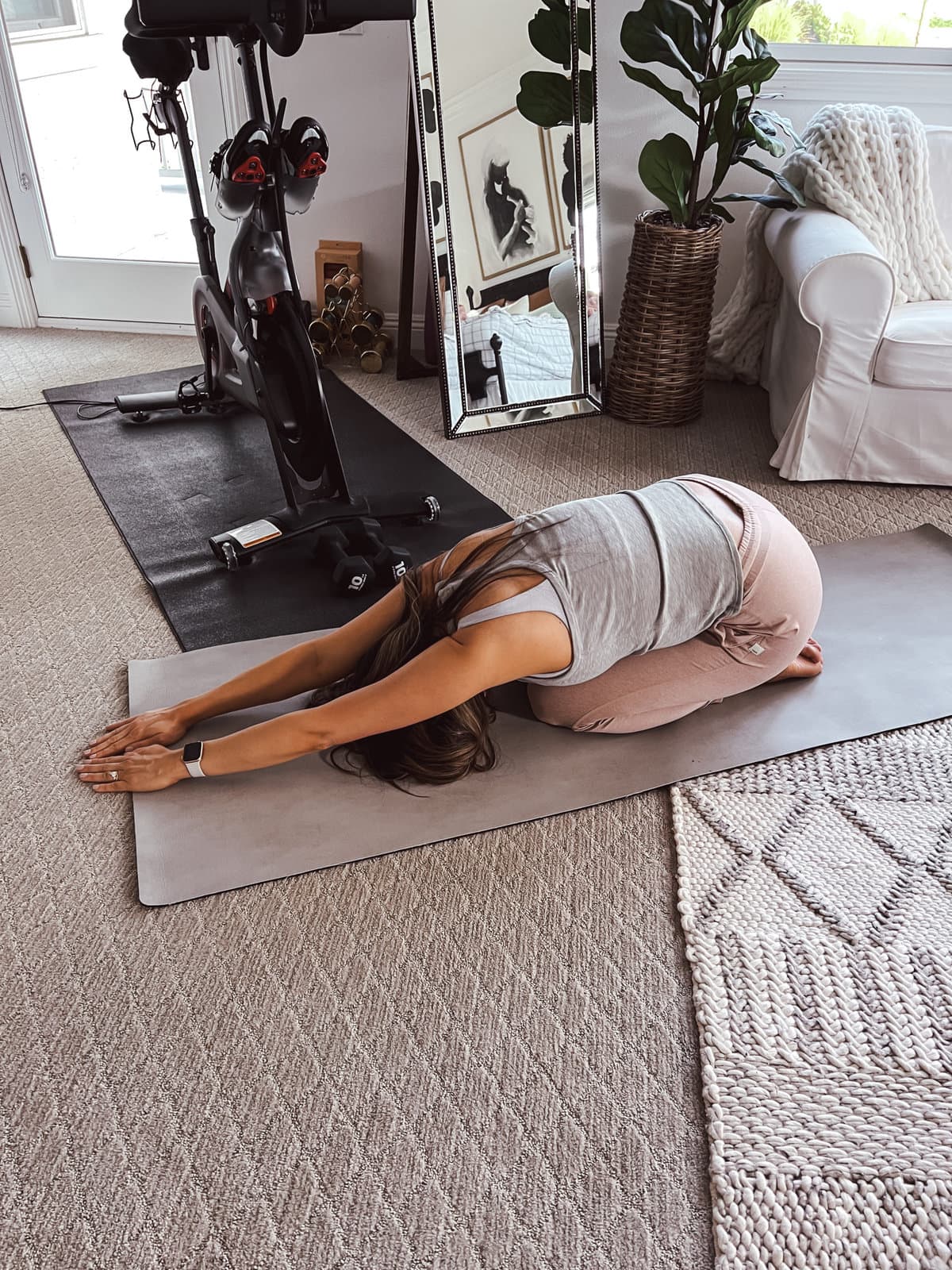 Performance apparel light support daily bra
This Lux Rib Daily Bra is the SOFTEST sports bra I've ever had – definitely a new favorite of mine. I've found all of Vuori's pieces run true to size, so I recommend ordering your typical sizes. This performance apparel bra, like so many of their items, has held up for daily wear; it doesn't shrink or pill.
I love the light support this bra gives for low impact workouts. It's also moisture-wicking and comfortable enough to wear for hours! Also BONUS: for nursing mamas, it easily pulls down on either side for nursing right before or after your workout!
Best performance apparel jumpsuit
I recently made the All Day Jumpsuit discovery at Vuori and it's my new favorite no-brainer outfit! One of my girlfriends was wearing it on our trip in Palms Springs and I wasn't even surprised to find out her super cute jumpsuit was Vuori. If you're like me and you've woken up and just can't think about what goes together or be bothered with what to wear, this jumpsuit is the perfect fit.
It's sooo cozy and an easy travel fit with any kind of jacket! Another reason why I love this for travel is because if you're intentionally packing light it's easy to get a couple of uses out of this one piece and it's super lightweight to pack down.
It's also PERFECT for running errands around town on a Saturday. Hello roll out of bed, run to the supermarket, and back without putting an ounce of effort into your outfit.
This jumpsuit has over 200 reviews and almost a perfect overall rating! I totally agree with this reviewer who wrote, "I can wear this jumpsuit all day every day. Fits perfectly." Same!! This is just an effortlessly cool and comfy look that's great for any occasion.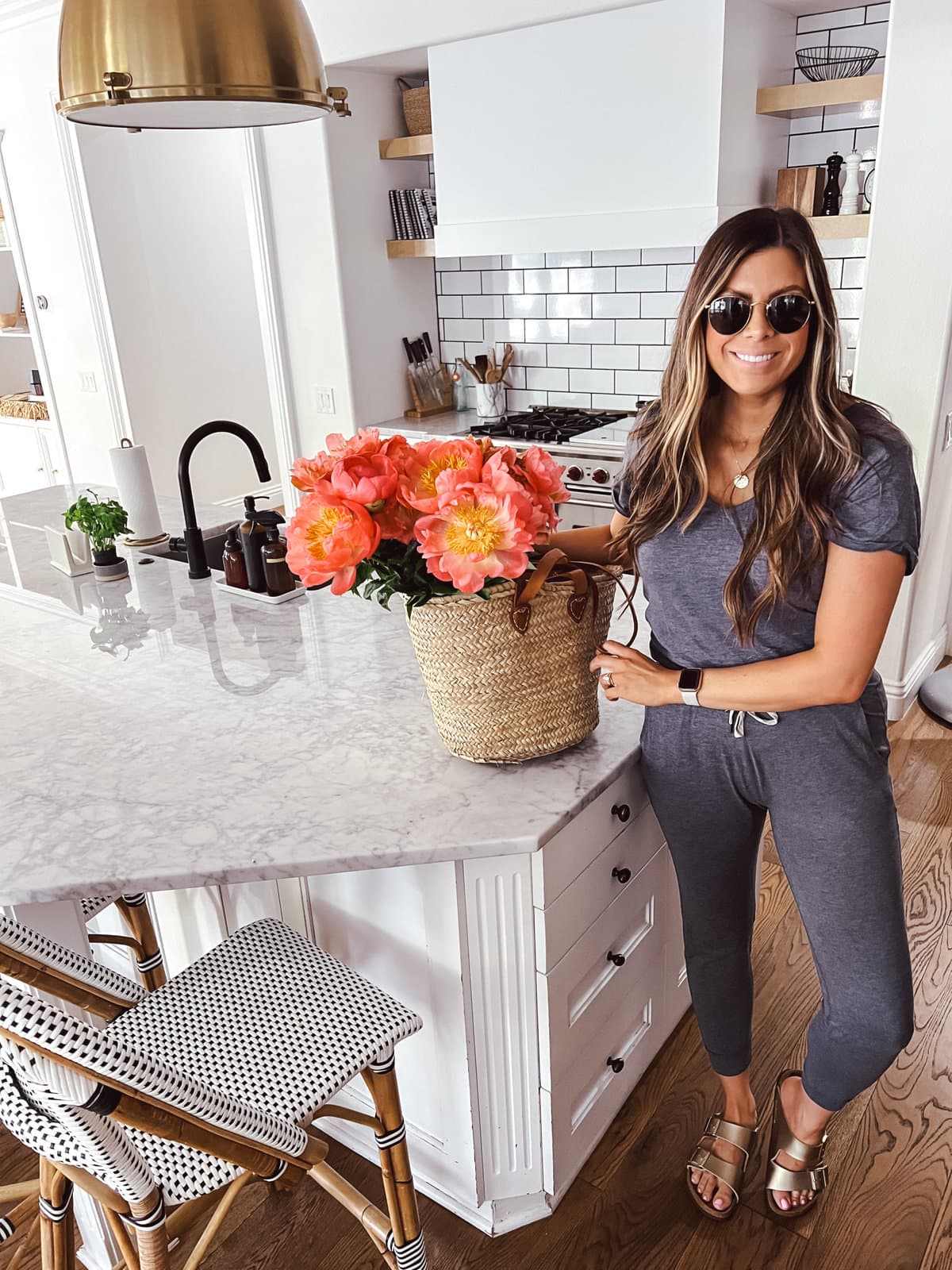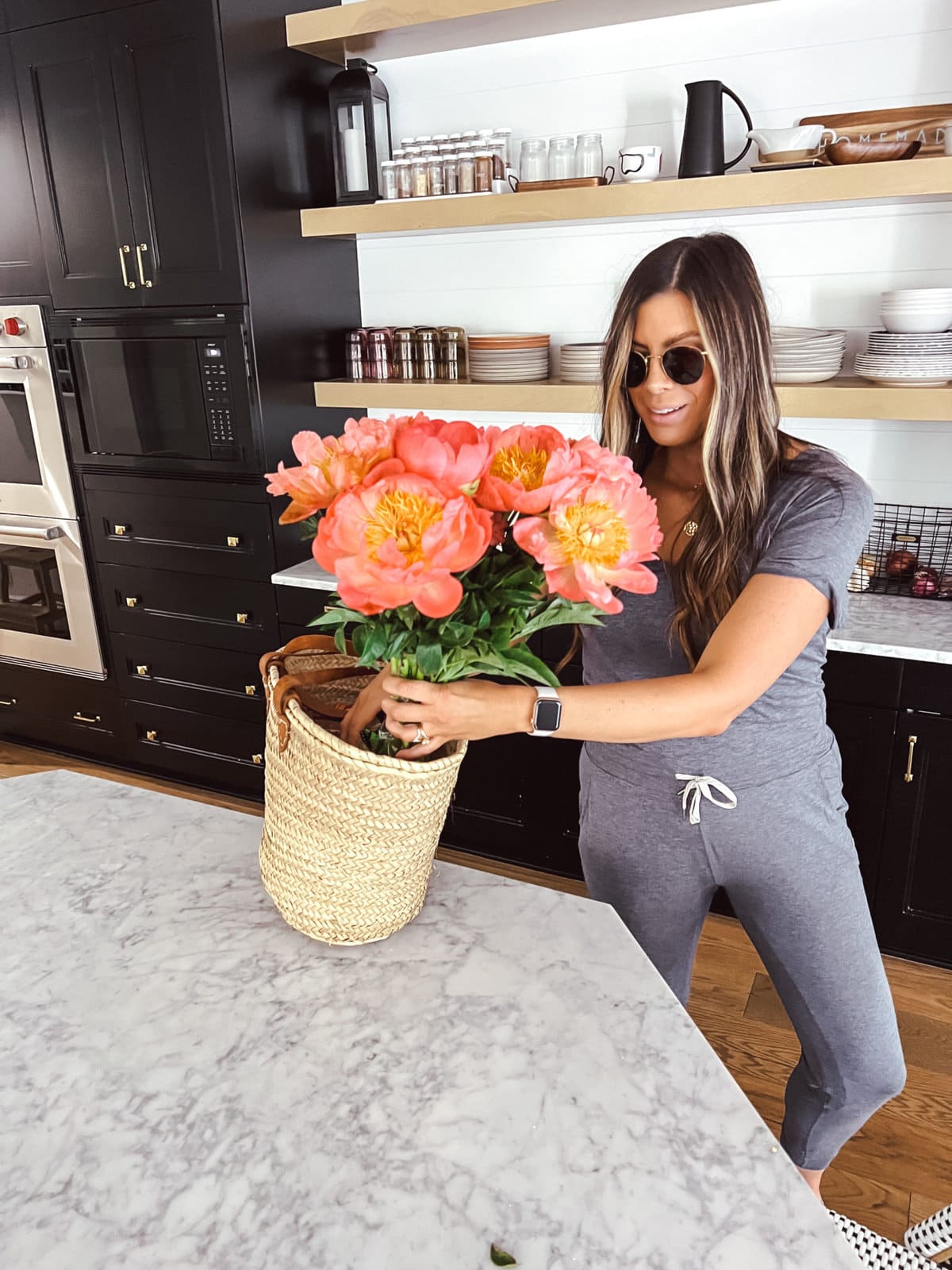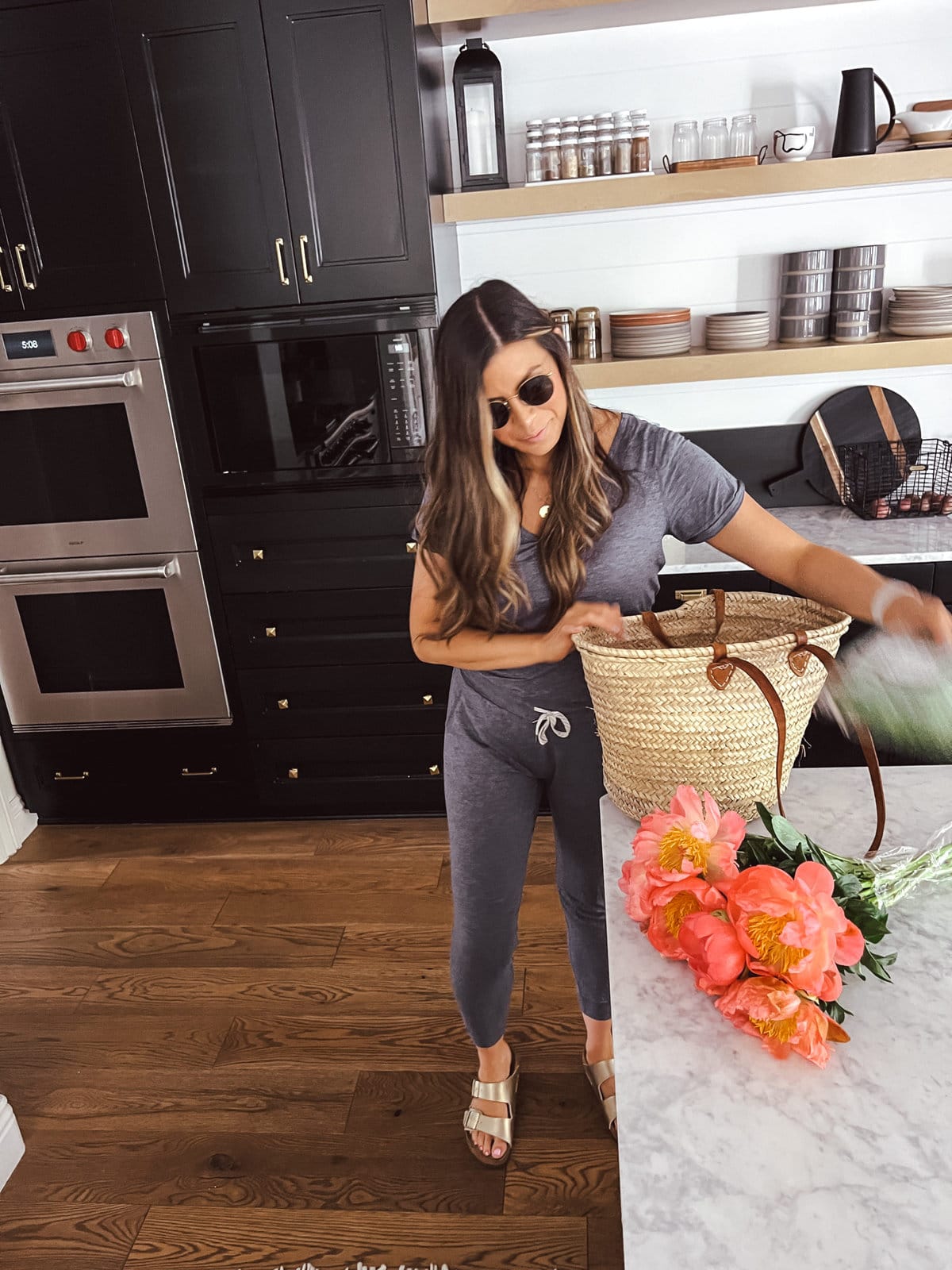 Essentials for my perfect weekend wardrobe
I can't say enough good things about Vuori – they're truly a great brand with super high-quality pieces that fit perfectly into any busy woman's life. I know I'm going to be wearing these pieces all summer – it makes me feel so good to invest in comfort with quality pieces that I think you'll love, too! Happy shopping!