We teased the Always Pan on Black Friday and gave you the cliffs notes version on why I love it, because there was a too-good-to-miss deal happening. But now we are going to have a true heart to heart about my new favorite kitchen essential pan. Today I'm sharing the TOP SIX reasons I am head over heels for this perfect-for-entertaining pan and an exclusive Our Place savings code!
My introduction to the Always Pan
My first exposure to the Always Pan was through my friend, Kelsey Nixon, who has been on the Food Network and hosted her own series on the Cooking Channel for years. Fun Fact: She and I were in the Broadcast Journalism program together at BYU. Hands down she has become the most successful person out of our broadcast journalism group with those starring gigs. After I saw her talk about the Our Place Always Pan on her Insta-stories I was super intrigued and dying to try it for myself.
It took forever to get mine, but it was SO worth the wait! I'm not surprised it keeps selling out so if you've been wanting one, you're going to want to get it NOW with the discount code I have for you!
An exclusive Our Place savings code
I'm definitely not the only one obsessed with the Always Pan. Order yours now because the wait list keeps growing – and trust me, you're going to want this pan ASAP for all of the best winter recipes. Plus, I'm so excited to offer you guys an exclusive savings code! Use code MINTARROW10 to save $10.00 off your Our Place order at checkout. (The code is good on everything but gift cards) Plus shipping and returns are always FREE from Our Place!!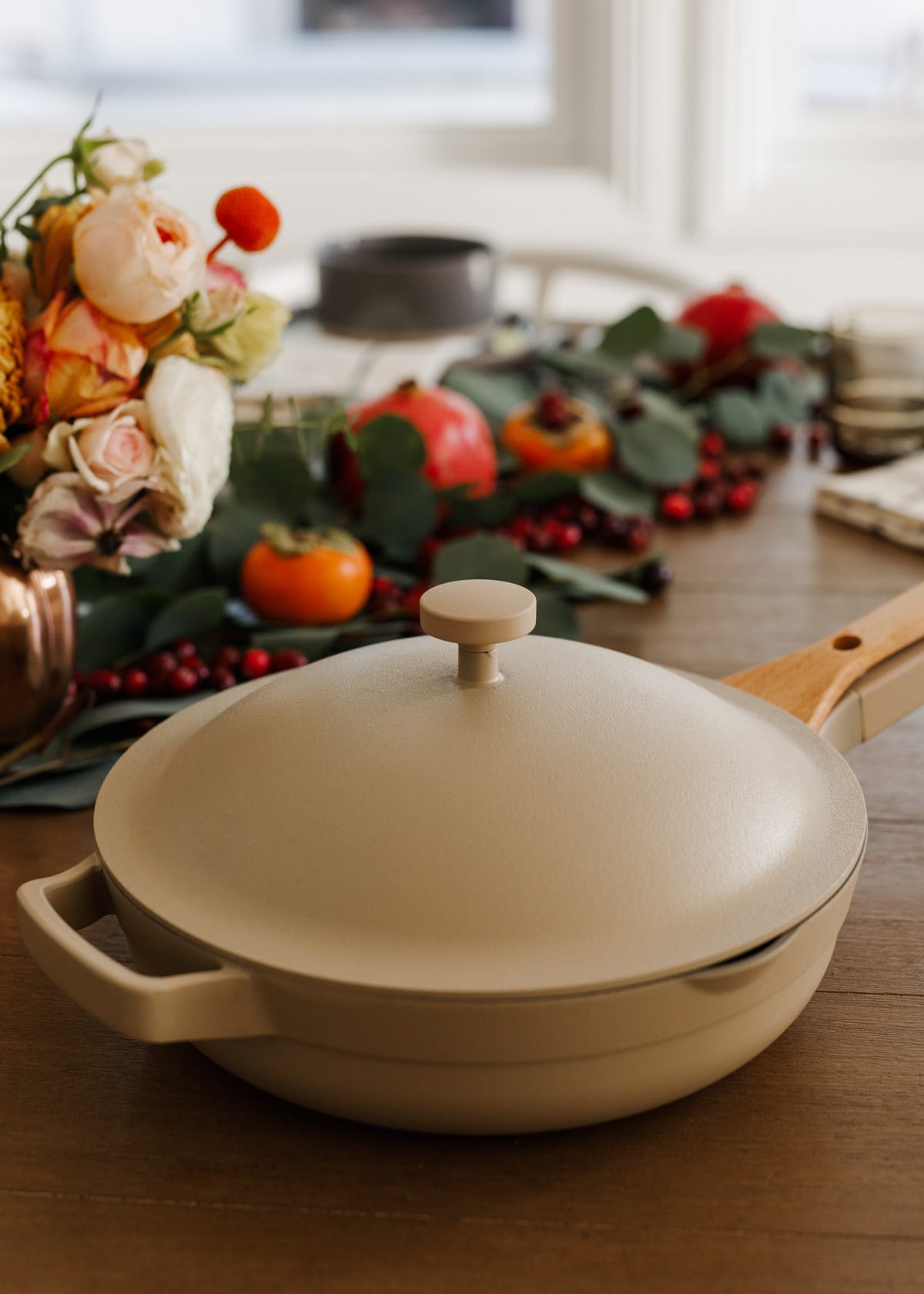 The top SIX reasons to love the Always Pan
Reason #1: it is super lightweight
I love that the Always Pan looks really beautiful, but it's super-duper light. It legit only weighs like 3 pounds! That is way lighter than any of my other Dutch oven or cast iron style pans. Those other pans sometimes feel like they weigh a million pounds and this pan from Our Place does not.
Plus unlike those cast iron or Dutch oven pans that often take residence on our stovetops, this one is actually pretty to look at. The pan comes in six pretty colors to match or coordinate with your kitchen. I picked the steam color, but it was a TOUGH choice because every color is so pretty. It literally looks like a decoration for your kitchen.
Reason #2: it is crazy multifunctional
This do-it-all wonder of a pan was specifically designed to replace eight traditional pieces of cookware. EIGHT! It is literally an essentialist's cookware dream come true. Meant to replace your fry pan, sauté pan, steamer, skillet, saucepan, non-stick pan, saucier, spatula, and spoon rest-it can kind of do it all! The Always Pan braises, sears, steams, strains, sautés, fries, boils, and is pretty enough to serve right out of.
Reason #3: the steamer basket is so good
On Thanksgiving alone, I used the steamer basket of the Always Pan to sift flour into the gravy so it wouldn't have any lumps in it and strain the turkey drippings into the gravy to capture just the juices. It did an excellent job performing both tasks!
The basket is also great for straining pasta or steaming vegetables or dumplings. This stainless steel basket makes it ideal for one pot meals. Ina Garten's Weeknight Bolognese is one of our favorites. Less pans means less cleanup, which is music to this busy mama's ears!
Reason #4: it is bananas easy to clean
For sure the Always Pan is the easiest dish to clean that I have ever owned. The ultra-slick, nonstick coating makes the pan feel like it's coated in butter or something because things just slide right out! Bonus: this coating is totally nontoxic, so it's safe for your family and all your loved ones.
Reason #5: the spoonula and spoonula rest
The nesting spoonula with integrated spoonula rest is freaking GENIUS. The little knob that keeps the spoonula from sliding into your dish or onto the is cookware magic. It also means no more messy countertops from dirty spoons. And while we are on the subject, the Always Pan has two pour spouts to serve soups or dump excess liquid without excess mess.
Because the spoonula is nested, the lid on the Always Pan even fits over it. How amazing is that?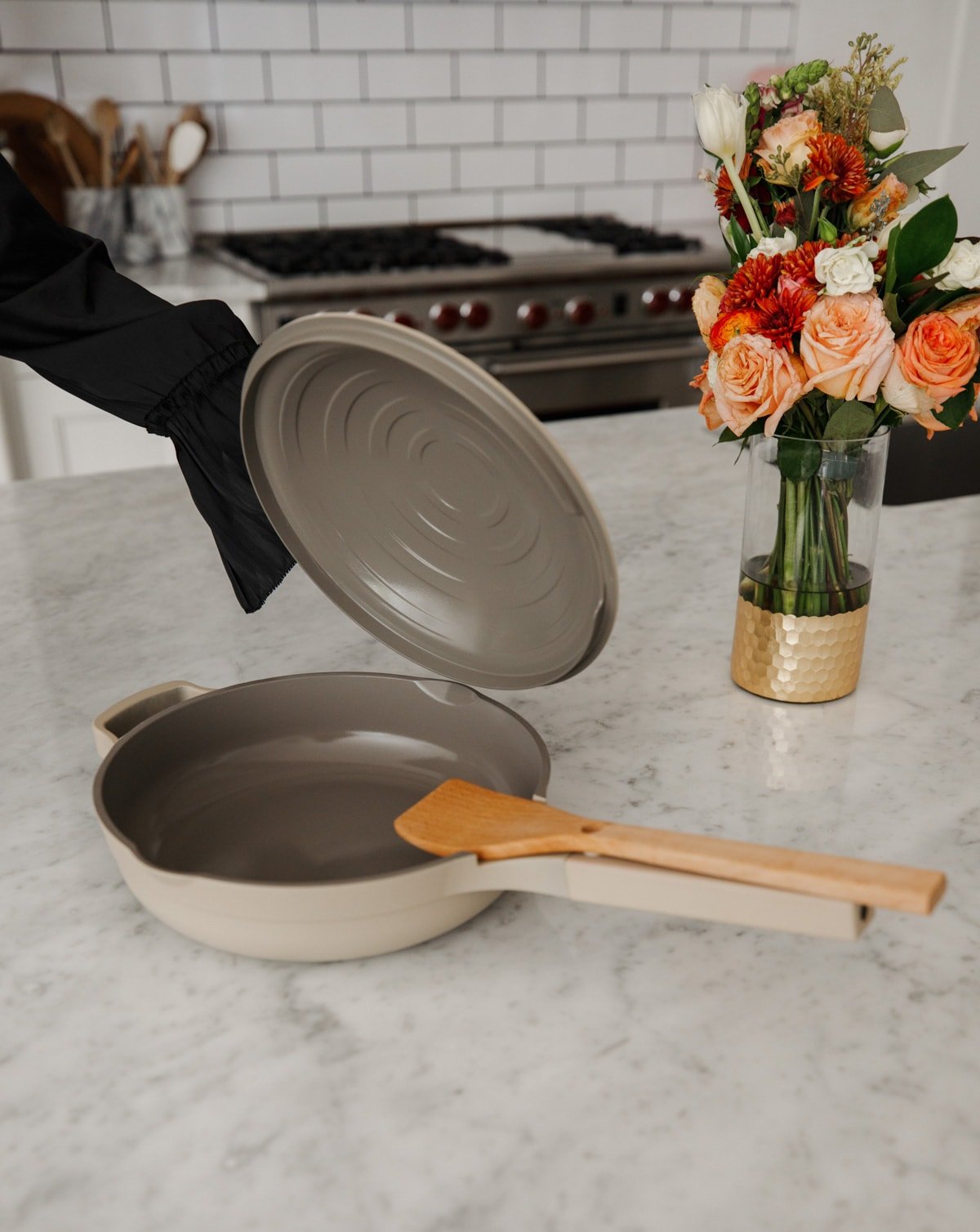 Reason #6: it boils up pasta lightning fast
I am a mom of four kids, so pasta is kind of a mealtime staple in our home. There were 5 kids at our house over Thanksgiving since my sister, Female Foodie, and her family came to celebrate with us. My kids love macaroni and cheese and I cooked up a triple batch over the holiday and the Always Pan handled it like a champ!
The cast aluminum pan is perfect for conducting fast and even heat. This pan is deeper than a standard pan, allowing it to be used as a pot, but shallow enough that it can easily be used to cook chicken or steak. Because the surface area of the pan is wide versus deep, a greater amount of the heat source is coming into contact with the water so pasta cooks up super quick. Faster access to macaroni and cheese makes this mom a holiday hero!
Everything you need for a home-cooked holiday meal
While The Always Pan is one piece of cookware you never knew you always needed, Our Place also has everything else you need to sit down for a meal with your loved ones! They have plates, bowls, drinking glasses, and bundles that include everything you need to eat.
The bowls, plates, and glasses have this very rustic, beautiful look to them. Honestly, they are so pretty. In addition to being really aesthetically pleasing the Our Place dinnerware and glasses feel really sturdy and durable. I also really love that the dishes and cups are stackable for easy, space-saving storage!
Always (Pan) and Forever
Every item from Our Place is ready for it's holiday close up – treat yourself to the best post-holiday New Year's surprise! Order yours to be at the very top of their list for when they're back in stock.
Don't forget to use code MINTARROW10 to save $10 off your Always Pan or Our Place order. And if you already have one tell me…do you love it or do you LOVE it?!