One of the trickiest things about pregnancy just might be dressing a body that's changing every single week! Dressing in leggings and a massive tee shirt all nine months is probably the most comfortable option (and for sure every expecting mama spends their fair share of time in loungewear, especially right now). But today I'm chatting about all the ways that you can build a maternity wardrobe that makes you feel like a million bucks without actually spending a million bucks!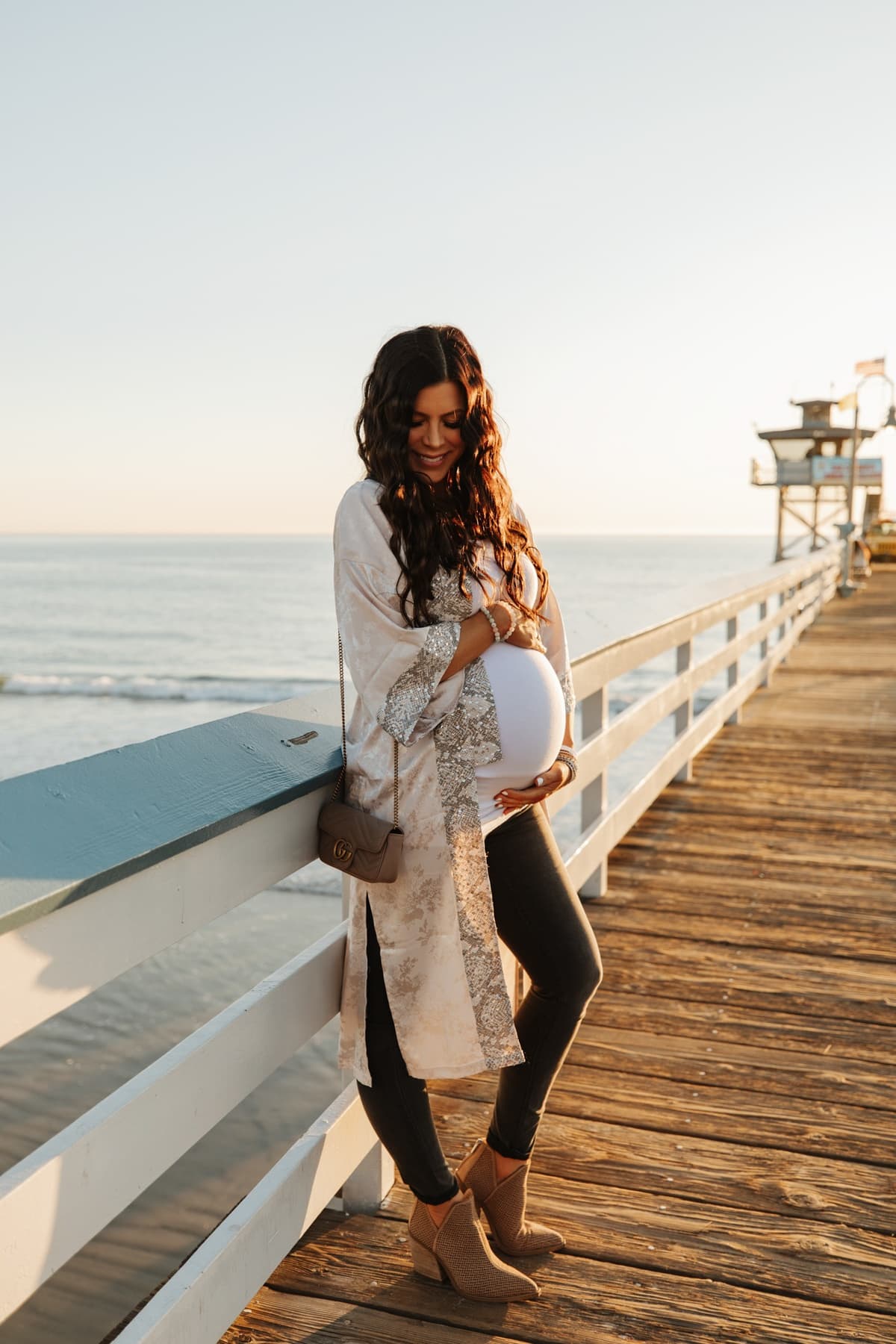 I've got you covered
No need to spend 40 weeks in fashion hibernation…I've got you (and your bump) covered! The best part is that most of these wardrobe pieces aren't maternity, so you can enjoy them before, during, and after pregnancy. But also, as I stated in my best baby registry list ever, maternity clothes are AWESOME. They are designed FOR A PURPOSE: to make pregnant women feel comfortable and cute while sprouting a child inside you. And seriously, trust me, you will want that comfort factor in your life!
So don't make the mistake I did with my first pregnancy, and wait till the very end to buy maternity clothes. Because at the end of your pregnancy, you will probably give in and buy a thing or two, and then be mad at yourself that you waited so long to give in and get some comfy clothes designed to cradle that bump. Just do it! With each pregnancy, I pulled out my maternity clothes earlier and earlier. Zero regrets. I live for comfort, and trust me, you will too as your bump gets bigger!
Lets dive into all my fave ways to dress a bump, and all the tried-and-true pieces that have gotten me through 4 pregnancies since 2012.
#1 Let's talk maternity tops
Obviously maternity tops are going to be super cute and comfortable throughout your pregnancy, but don't forget to browse non-maternity items too! Anything with an empire waist and a longer length is going to be cute and comfortable during at least the first or second trimester. Look for stretchy fabrics, size up, and save everything for postpartum because it will come in handy again after the baby comes!
Tunics forever
A tunic top works for pregnancy, but can be worn before and after baby. A billowy cut is wonderful because it grows with your bump, but then is also so flattering after the baby arrives when you're still feeling round.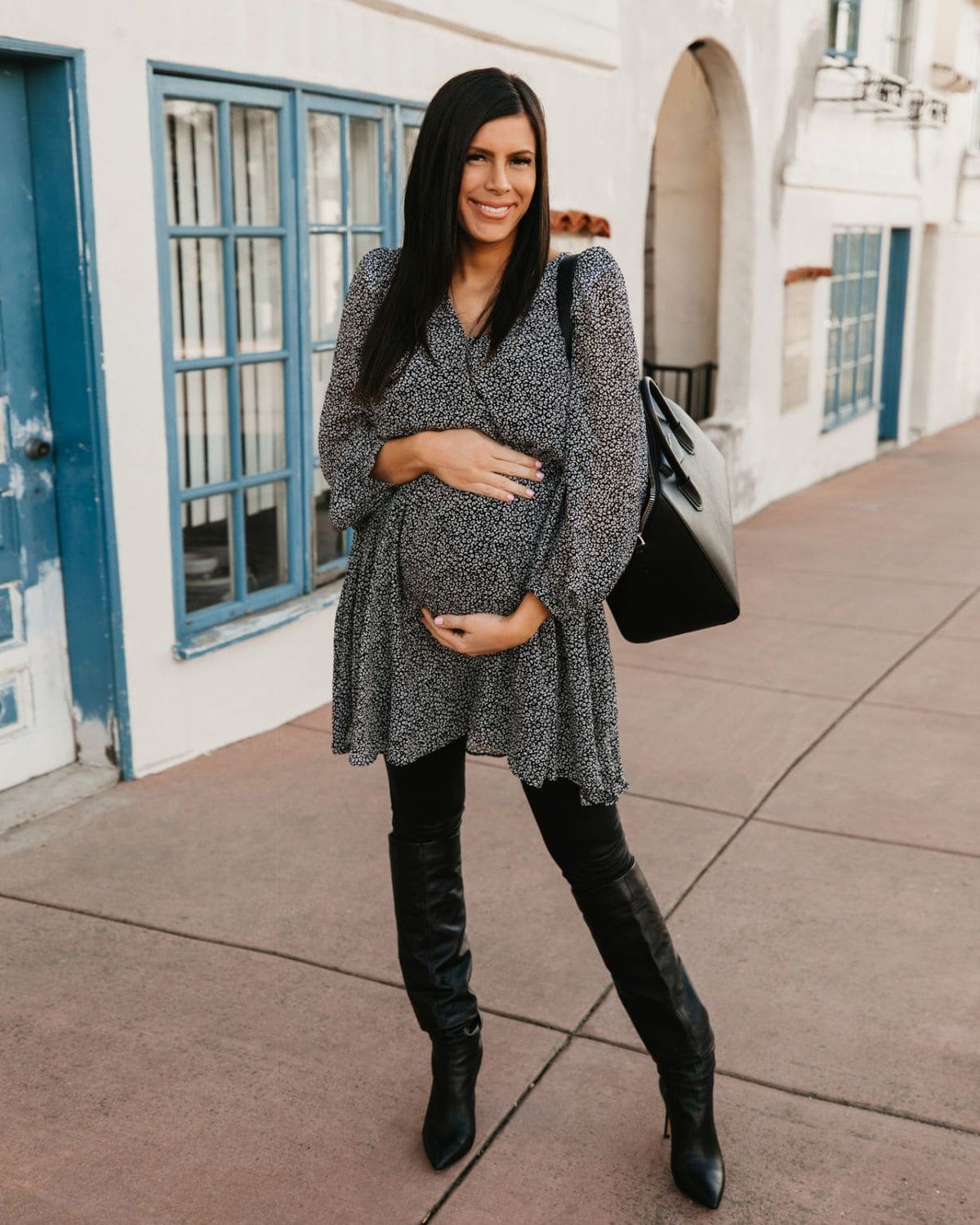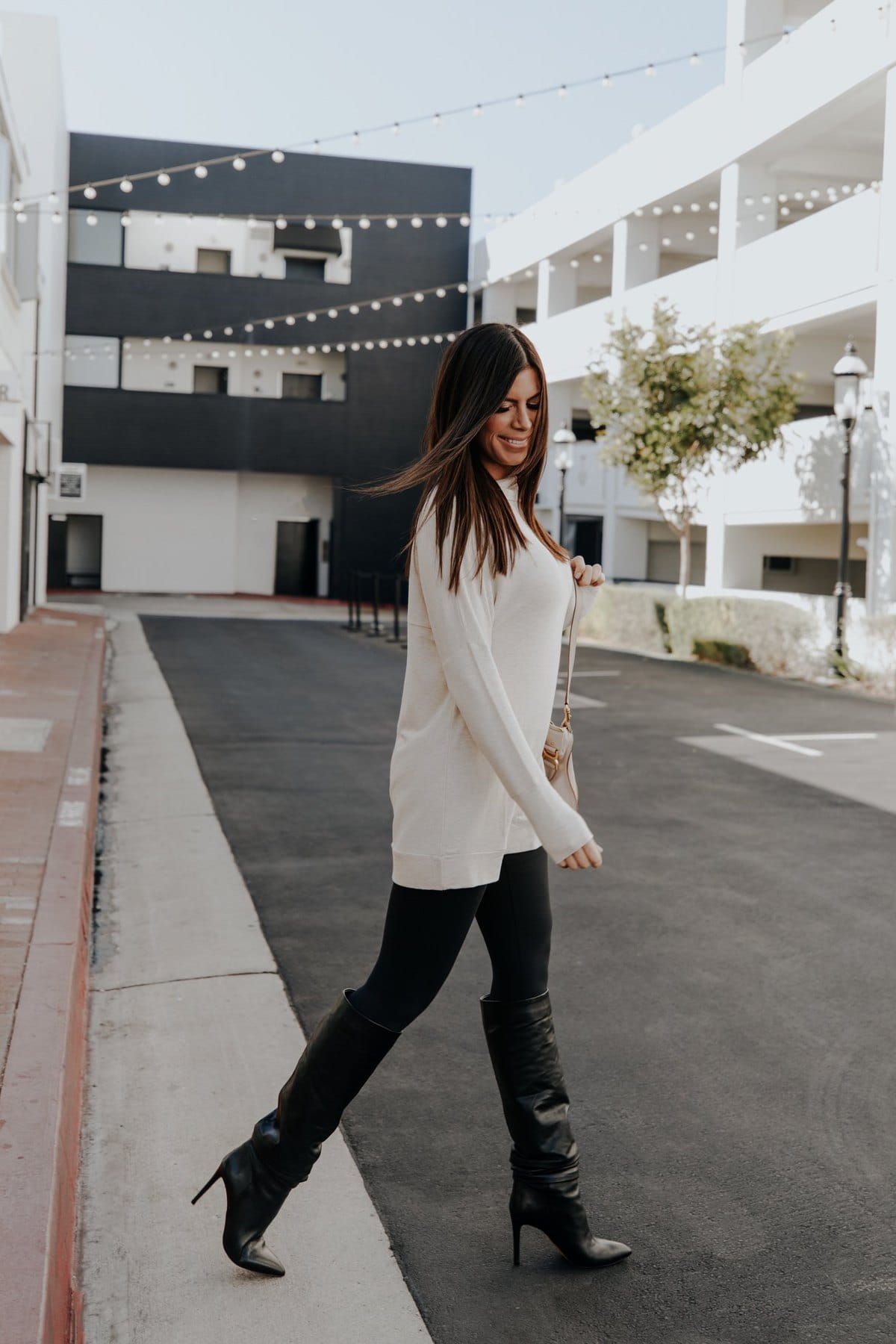 #2 Wear a belly band
One of the best ways to make your pre-pregnancy jeans, skirts, and tees work for your growing belly is to get a Belly band. It looks just like a cami underneath your clothes, but helps hold your jeans in place when you wear them unbuttoned! Since some of us start showing before we're quite ready to share the happy news with the world, this is a really discrete way to make your normal clothes work throughout the first trimester and beyond.
#3 Maternity dresses
ASOS has one of the biggest maternity sections around, and I love their really trendy and fun options! I wore this dressier option for maternity photos, but a more casual bodycon style can be worn by itself in the summer or spring or layered with a denim jacket or cardigan for cooler months!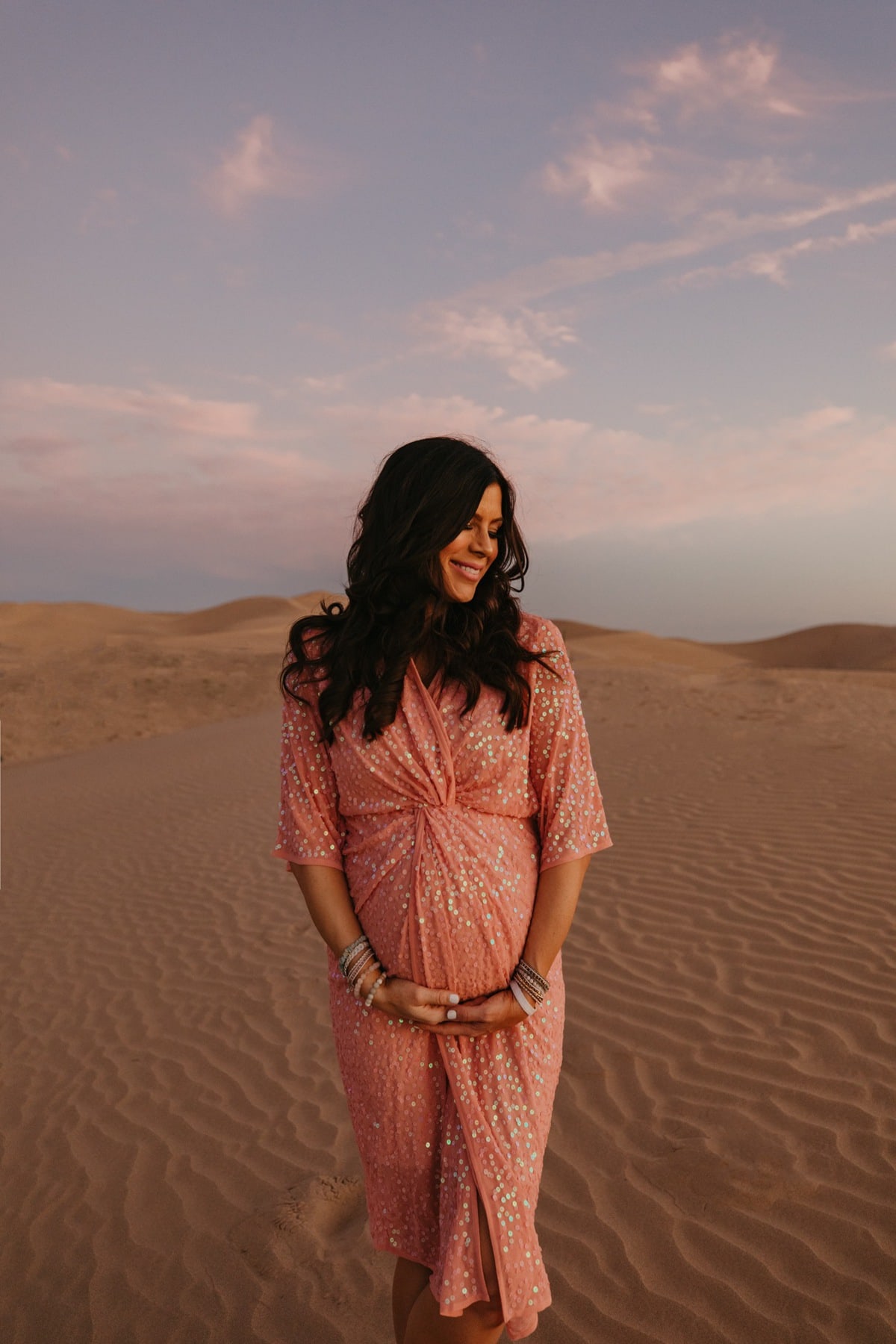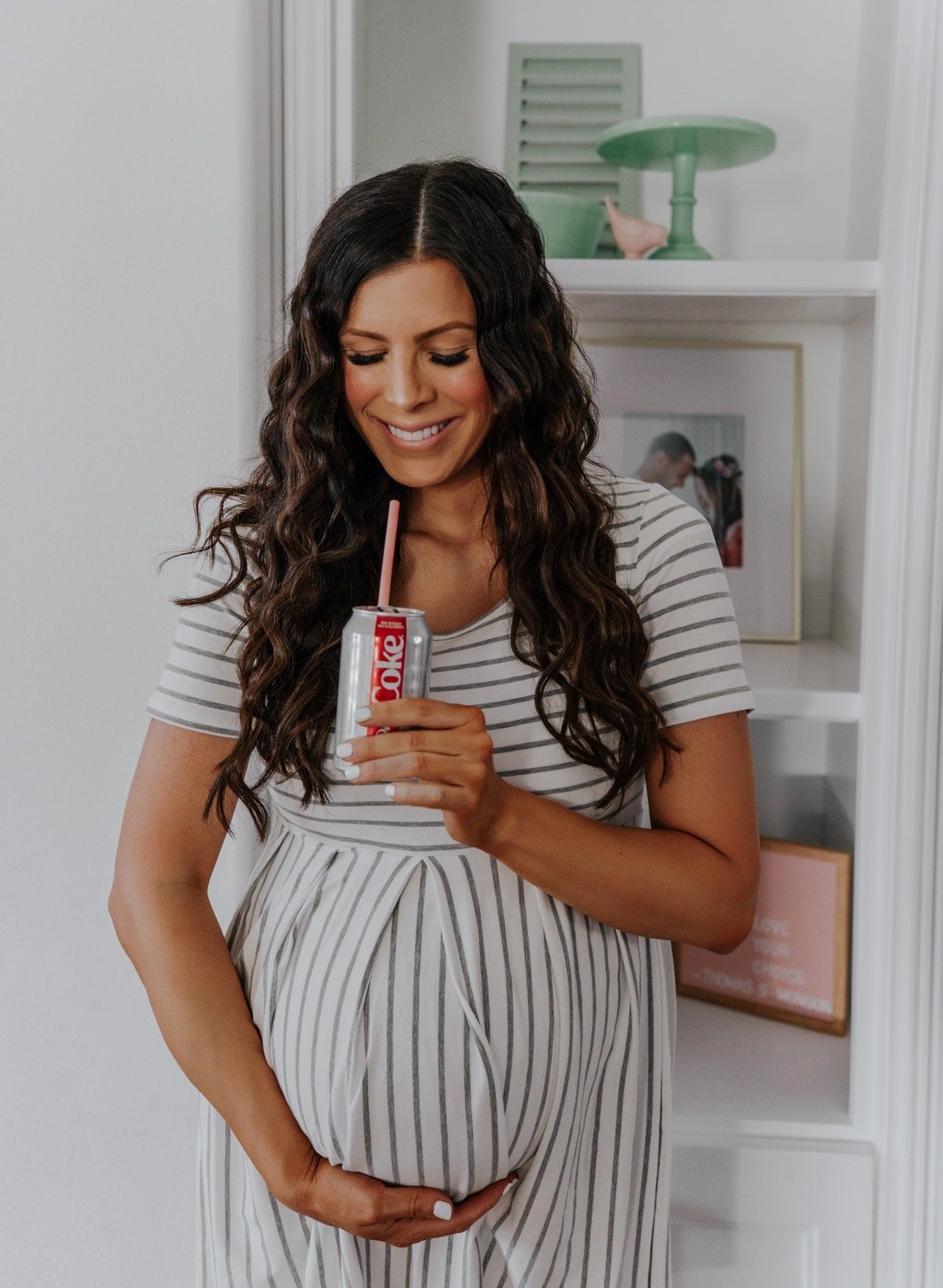 If you find a non-maternity dress with a decent amount of stretch and size up, you can totally make it work through the second trimester!
Non-maternity dresses
Ruched dress
Speaking of non-maternity dresses…this black 3/4 sleeve ruched dress from Amazon isn't maternity, but the ruched sides make it a dream for a growing bump. The black color is so classy and would be a breeze to dress up or down. I officially dubbed it a pajama dress–so comfortable you might feel like you're wearing pj's in public! That just seems like the ideal kind of dress for pregnancy for everybody. This exact NON-maternity ruched dress is available here or here, and here's an almost identical maternity dress that's super affordable.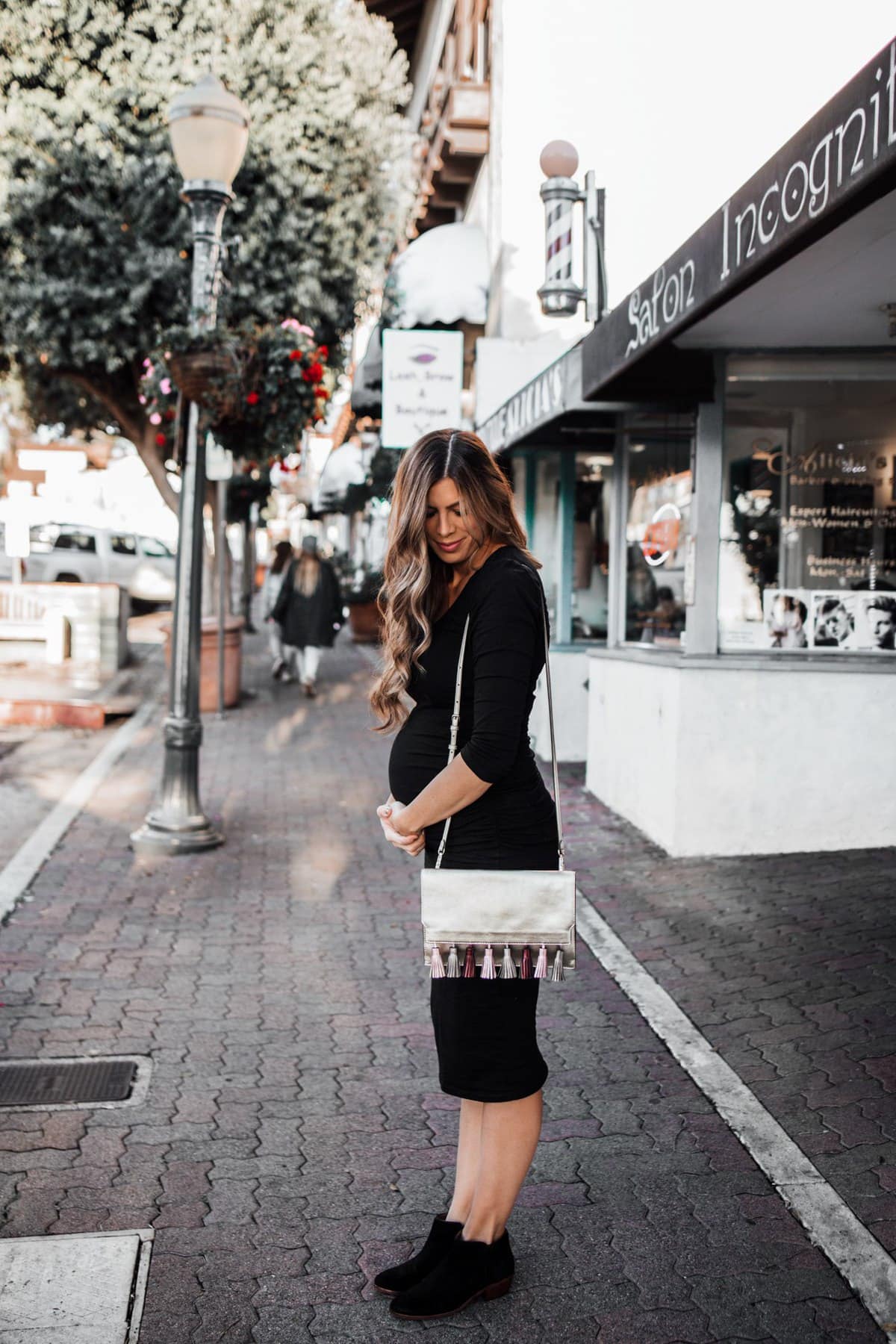 Sweater dress
Can you believe that this sweater dress is non-maternity? It fits really, really well. It's super comfortable. And it comes in TONS of colors. Like 19 colors, you guys. The fit is TTS and it has almost 1700 amazing reviews. I'm wearing the camel and cannot even handle how much I love it. At under $40 it's a great inexpensive staple for spring or a great layering piece for fall or winter.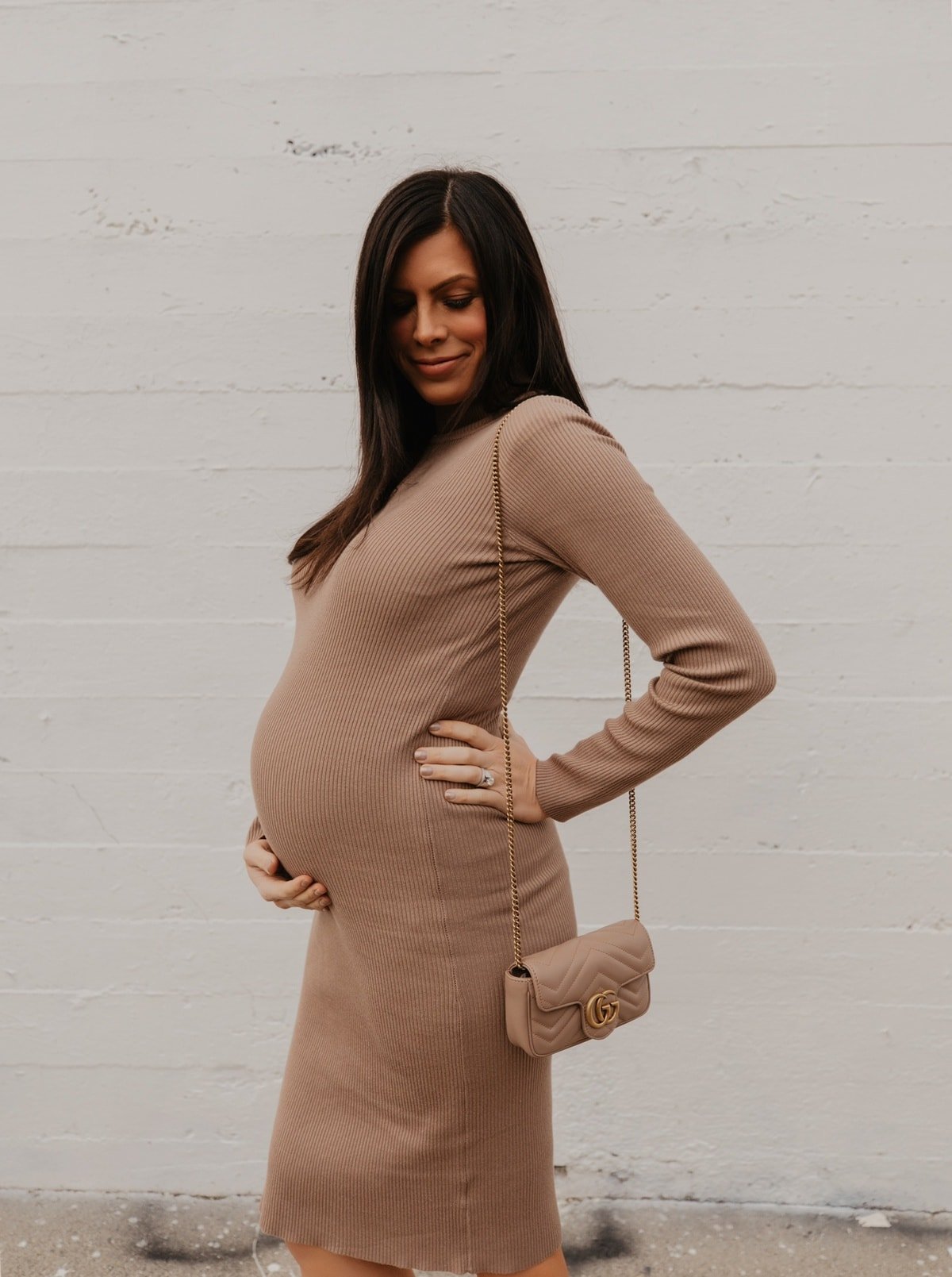 This sweater dress is such a great versatile piece. It can be dressed up or down. With a bump or without a bump. It's great for maternity and rocking a bump, but it's perfect for afterwards too.
I ordered my regular size since it's perfectly stretchy, and I would say it runs TTS.
Maxi dresses
Maxi dresses are another staple that don't need to be bought in the maternity section. Since they have so much extra fabric on the bottom, they are perfect for covering up that growing belly and still having length! It feels so great finding dresses that work during pregnancy, and it's such a bonus when they can be worn after baby arrives too.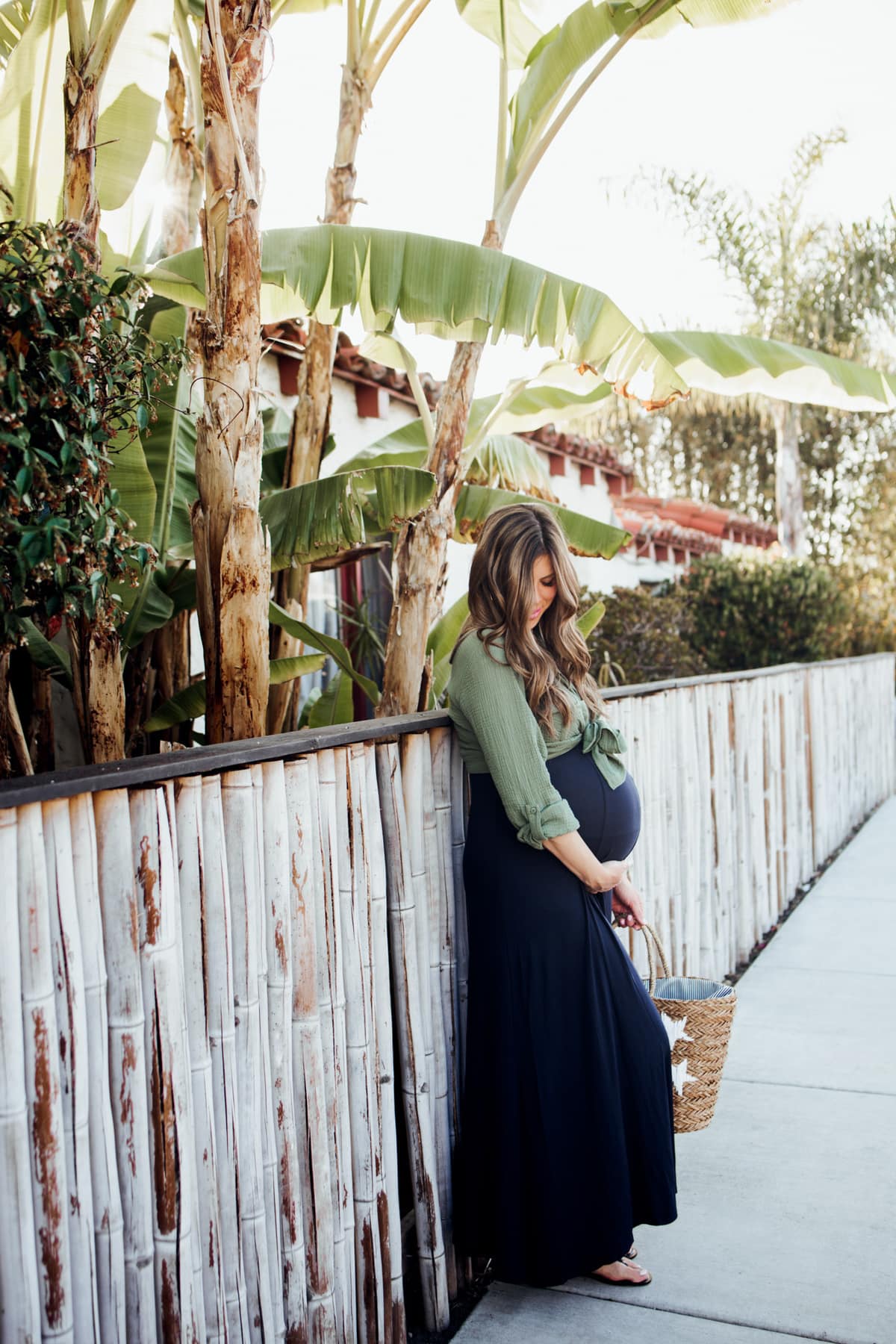 One of my fave ways to style a maxi dress is to tie off the top with either a button-down shirt (pictured above) or just a cotton tee (pictured below). It helps define your bump and makes wearing a tank dress a little more modest if that's important to you like it is to me, or if it's a little cool outside and you need another layer up top!
#4 Wrap Dresses
Wrap dresses are another expecting mama's BFF since you can tie them above your bump! You'll definitely want to read reviews before buying though because not all wrap dresses have adequate fabric to go all the way around a bump. If you're planning on nursing, wrap dresses will come in handy once the baby comes too!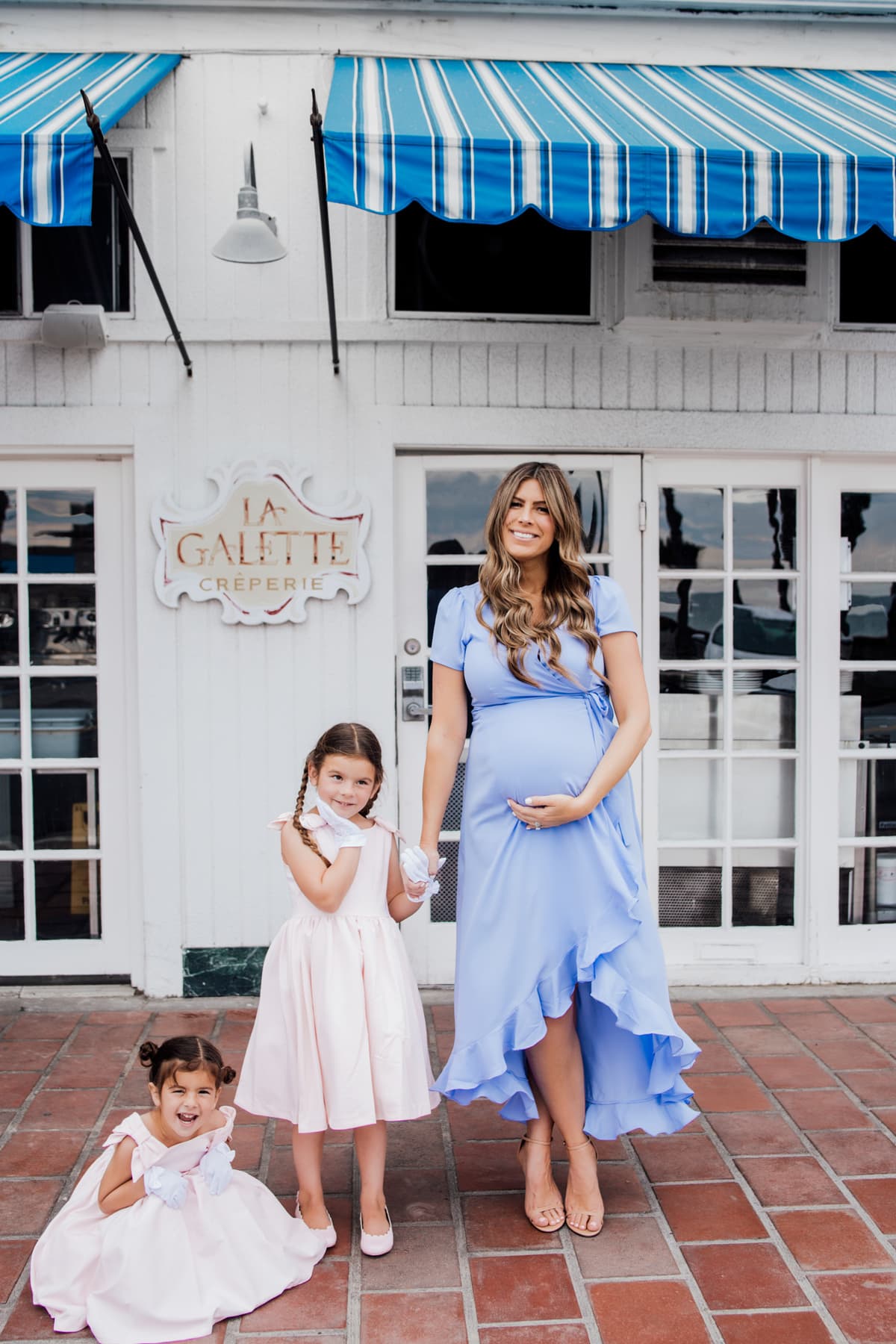 #5 Pair a jacket or cardigan with your bump
Throwing on a jacket or cardigan is a great way to enjoy some of your pre-pregnancy faves throughout your 40 pregnant weeks! It's also an awesome way to make just a couple maternity tee shirts or basic dresses go a long way since you can mix and match outer layers.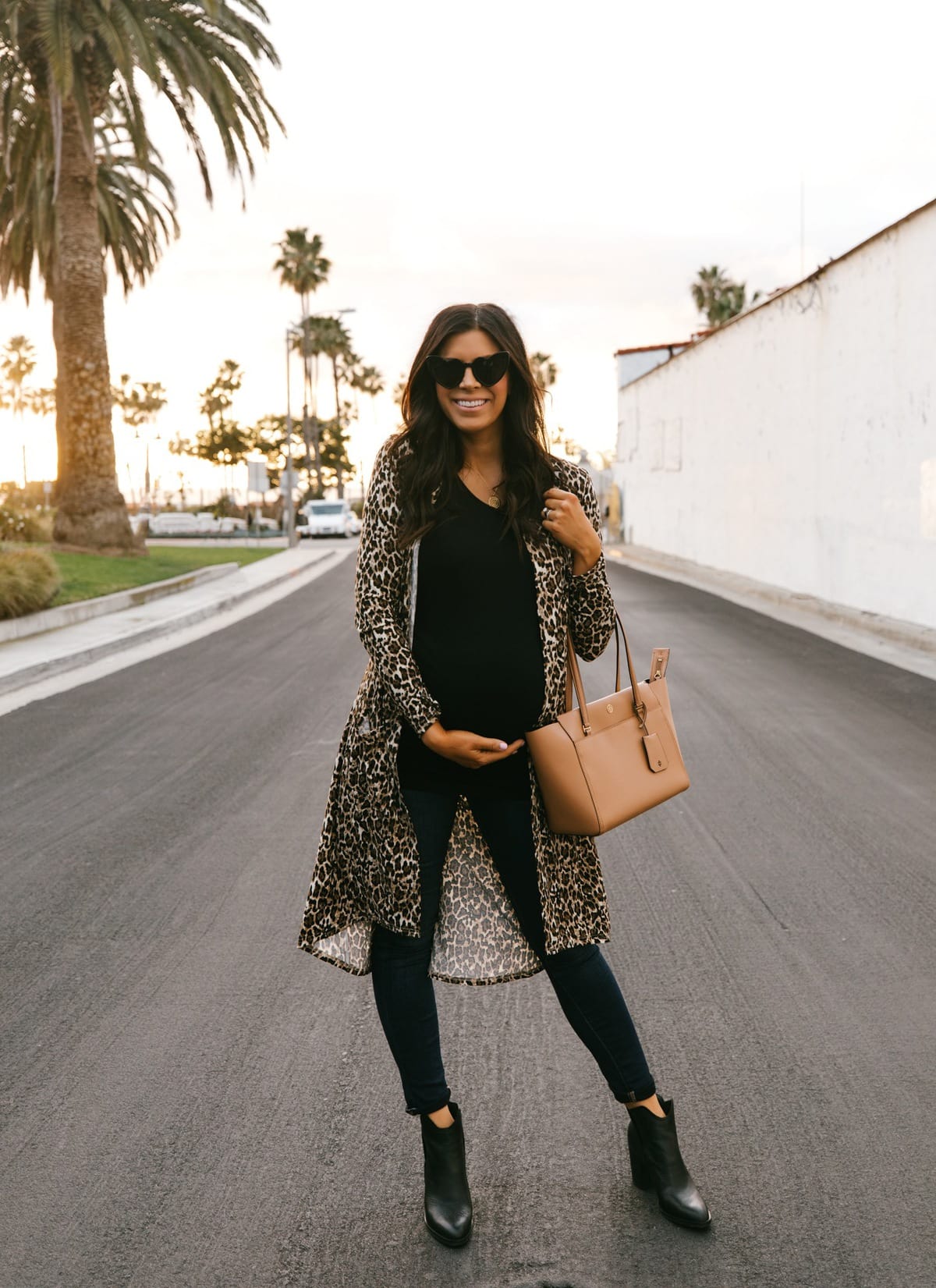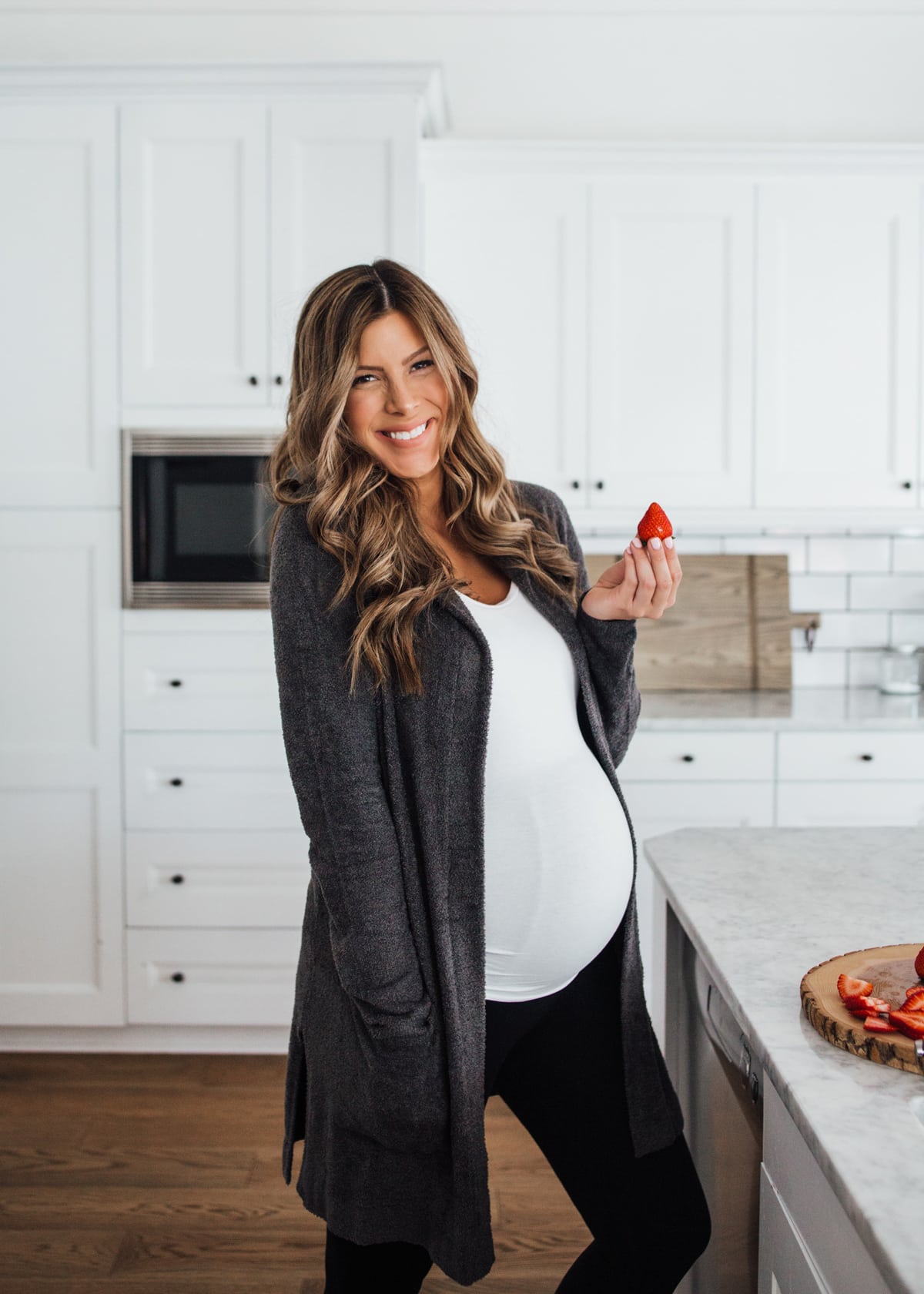 #6 Maternity tees and kimonos
One of my favorite pregnancy looks is a t-shirt paired with a kimono and maternity jeans. This is such a good way to keep things interesting because you only have to buy one or two maternity tees in neutral colors, like white or grey, and then you can layer them with a flowing and feminine kimono to mix up your look.
Kimono love
I also absolutely love wearing a kimono over a bodycon dress! It's one of my fave maternity outfit hacks for feeling super comfy but making an outfit feel just a touch more fancy. Think: what to wear to your baby shower, what to wear to church, what to wear to a girls brunch. I love searching for pretty kimonos here, here, here and here.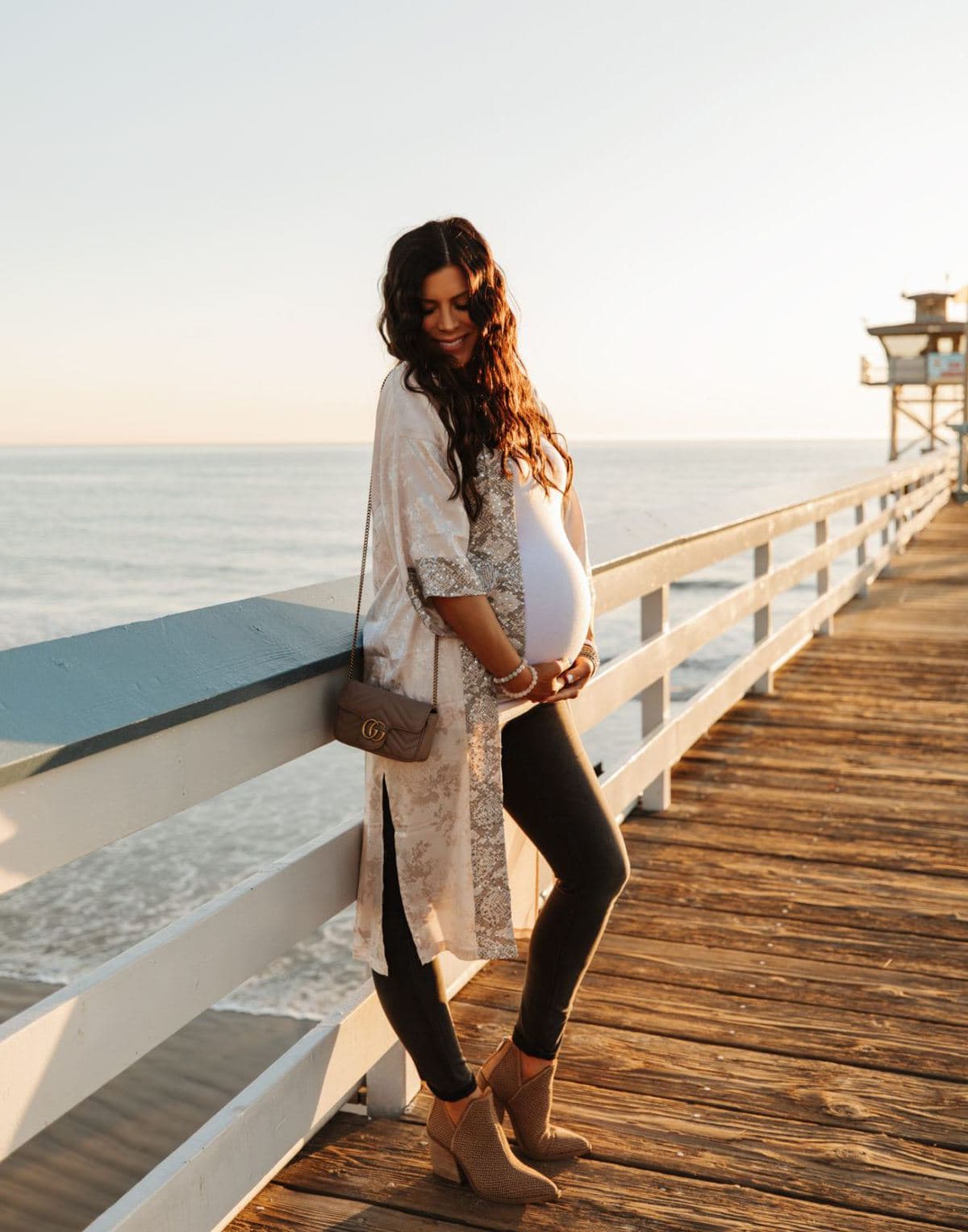 Non-maternity tunic tee
If you absolutely hate the idea of spending money on maternity tees, another great alternative is tunic length tees. The best thing about this non-maternity tunic t-shirt is the length! It is the perfect length to wear with leggings, before, during AND after pregnancy. I will warn you though, they probably won't cover your entire belly in your last few weeks of pregnancy! So at least a few maternity tops will get you through that last stretch where your belly becomes big enough to (literally) carry a watermelon. Seriously, check that pregnancy app of yours and see your last week or two of "how big is the baby" for reference.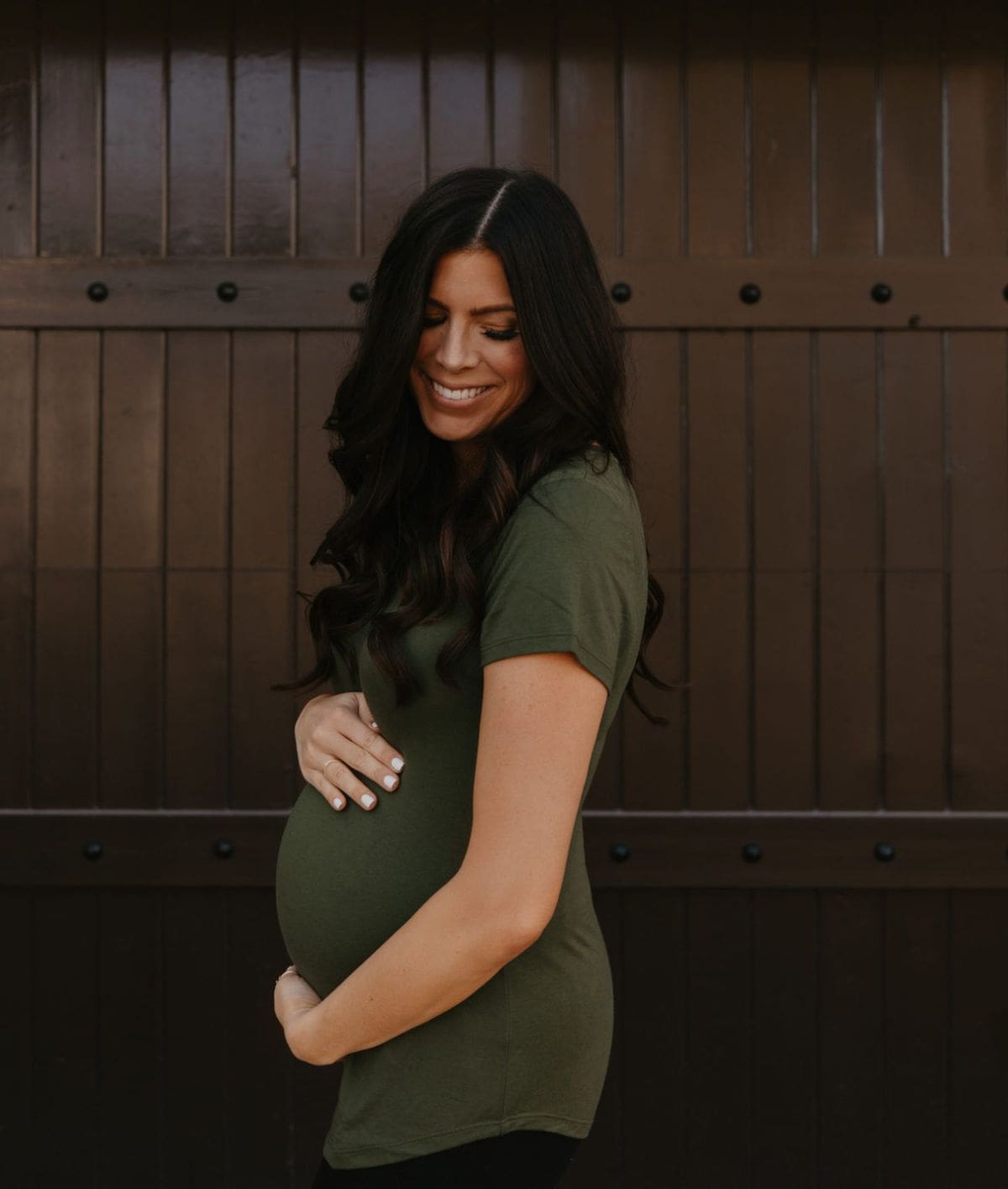 With my height and my pregnancy, I'm always in need of longer tees. This top runs true to size AND I even accidentally dried my white one (yes, I own multiple colors because under $10 a piece!!) but it was still long enough even after the dryer! I've worn these over and over and each top has held up to multiple wears and an accidental spin in the dryer! They were a total wardrobe staple before this pregnancy, and I would say comfortably all through the first and second trimester.
#7 Maternity jeans & leggings
A good pair of maternity jeans or leggings can go a LONG way! I kind of feel the same way about kitchen knives and maternity jeans: I'd rather have ONE that's amazing than a dozen that are crappy. Invest in a good pair of maternity jeans and you'll never look back!
Favorite maternity jeans
This pair was my absolute favorite when I was pregnant with Millie and during this pregnancy! They are extremely comfy and have amazing stretch without feeling like your bum is sagging by the end of the day. They do run true to size too, so order the size you normally would.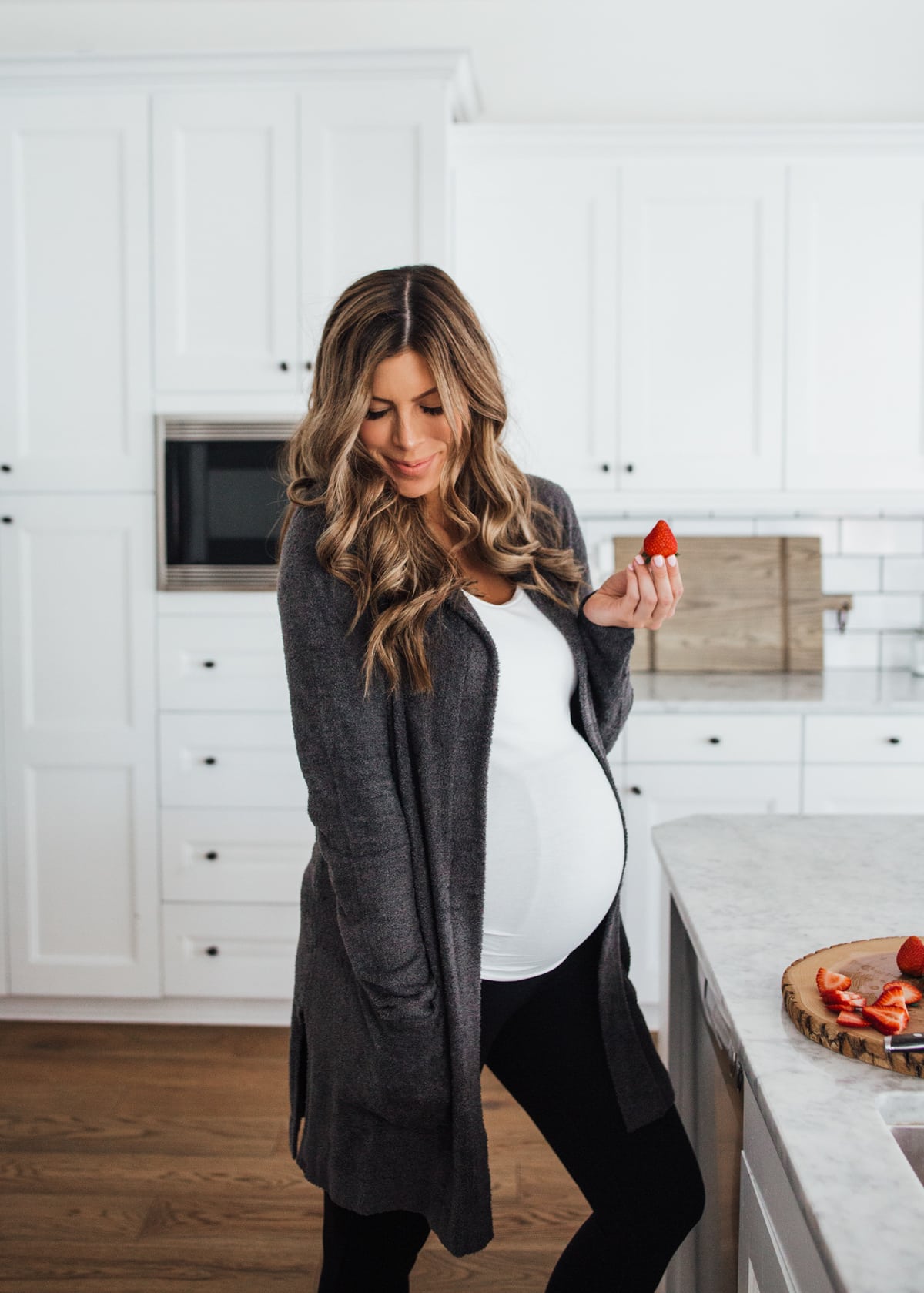 Favorite maternity leggings
These leggings are the ones I always recommend. They are full-panel so they come up and over your waist and they just make everything feel sleek and smooth and cozy. You will want to LIVE in these maternity leggings! They are also thick enough that they aren't see-through which is totally the holy grail of leggings. They're also right in the middle of the price point of my fave cheap maternity leggings (pictured below) and my fave high-end maternity leggings. I'm also super duper loving these amazon maternity leggings during this pregnancy, and I love that these ones can go over your bump or fold down for extra support, but I will do a full breakdown of ALL the best maternity leggings in a separate post soon, promise!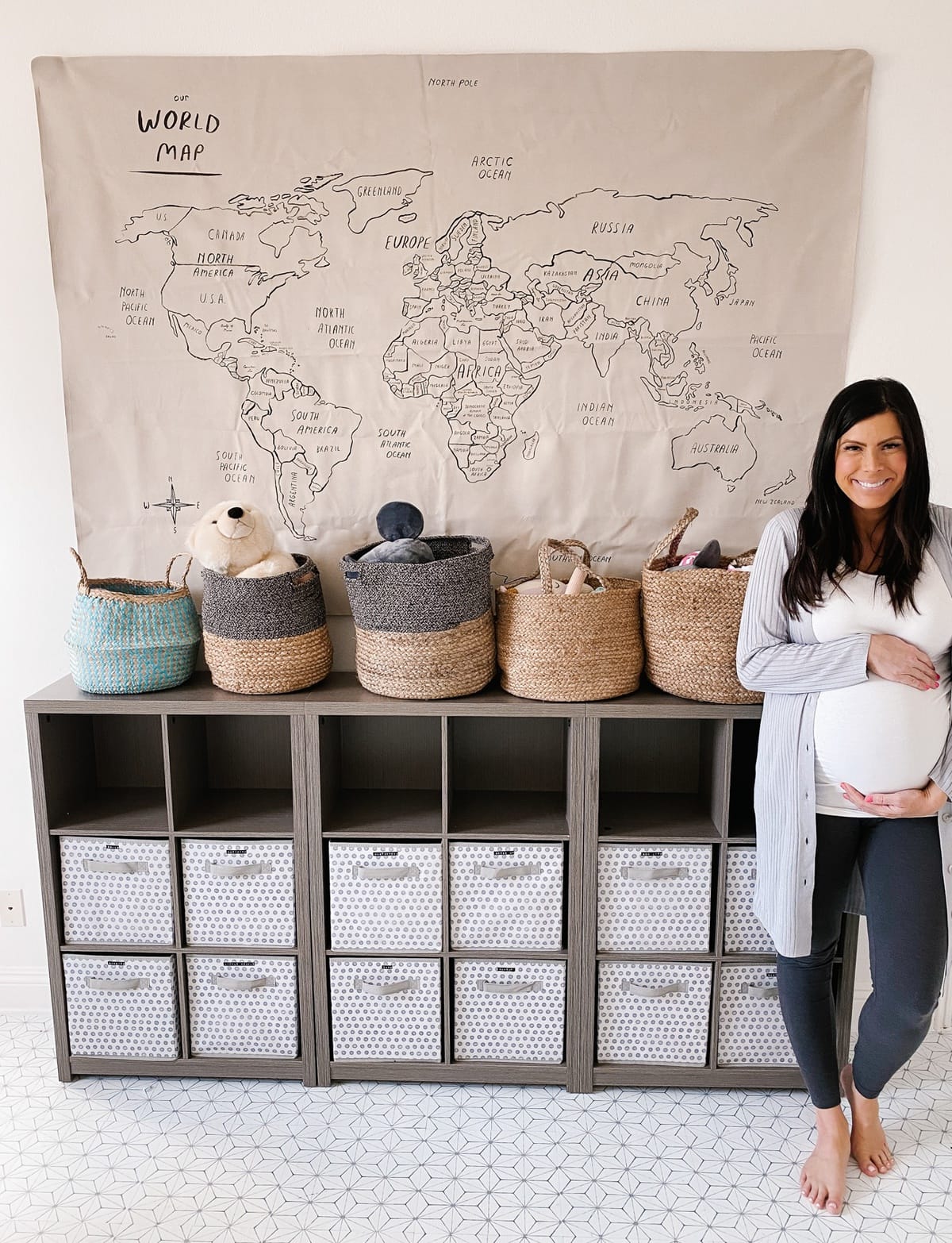 #8 Maternity swimsuit
If you're going to be pregnant during the warmer months AT ALL, you need a swimsuit that is comfortable and gives a level of coverage you are comfortable with. Seriously NOTHING feels better than cooling off in a pool, or (MY FAVE) digging a hole in the sand to take a belly-down nap while you're pregnant! Swimming is also a super low-impact way to get a workout in when you feel up to it. ASOS and Target have a lot of really cute and affordable swimmie options!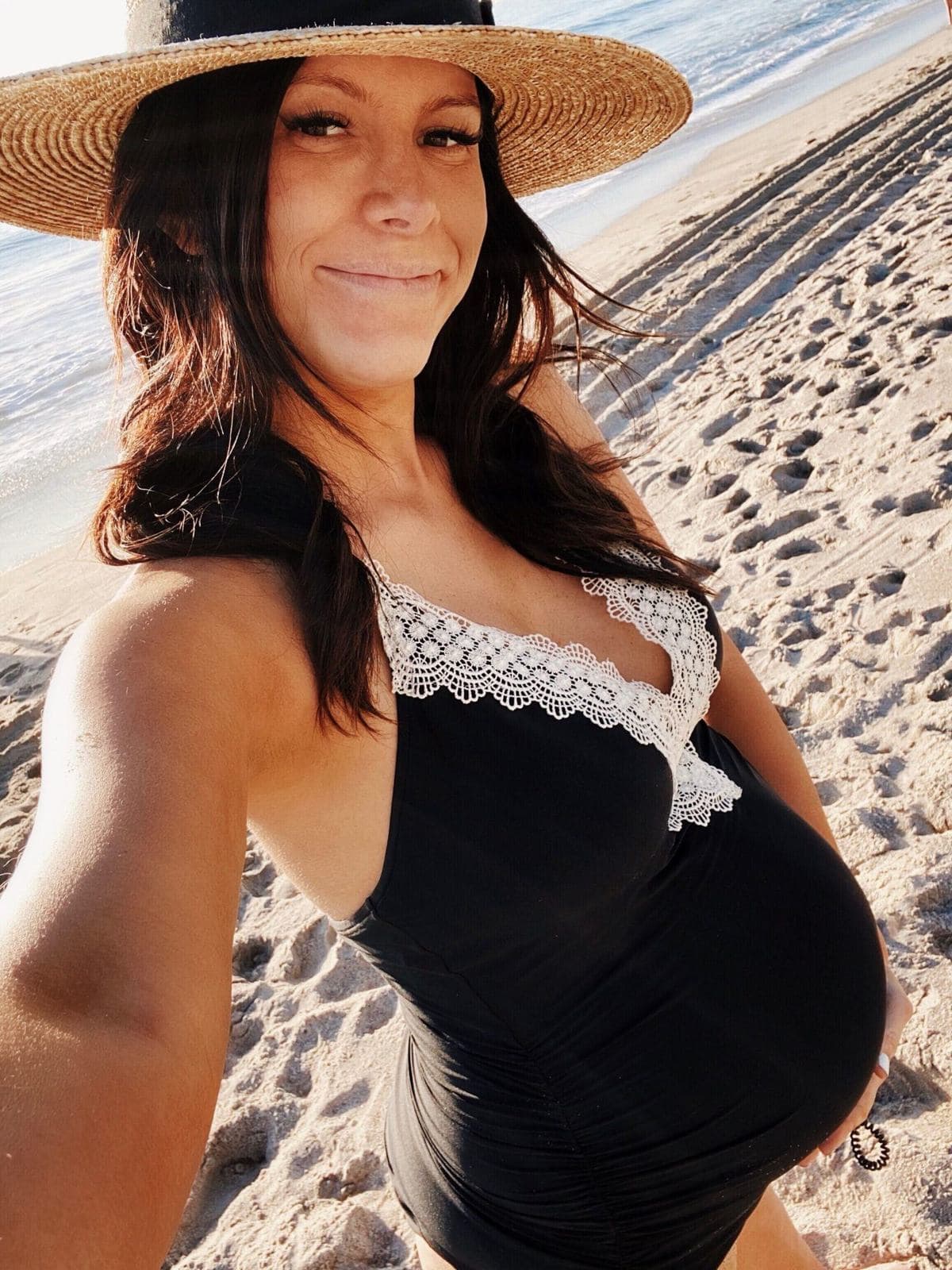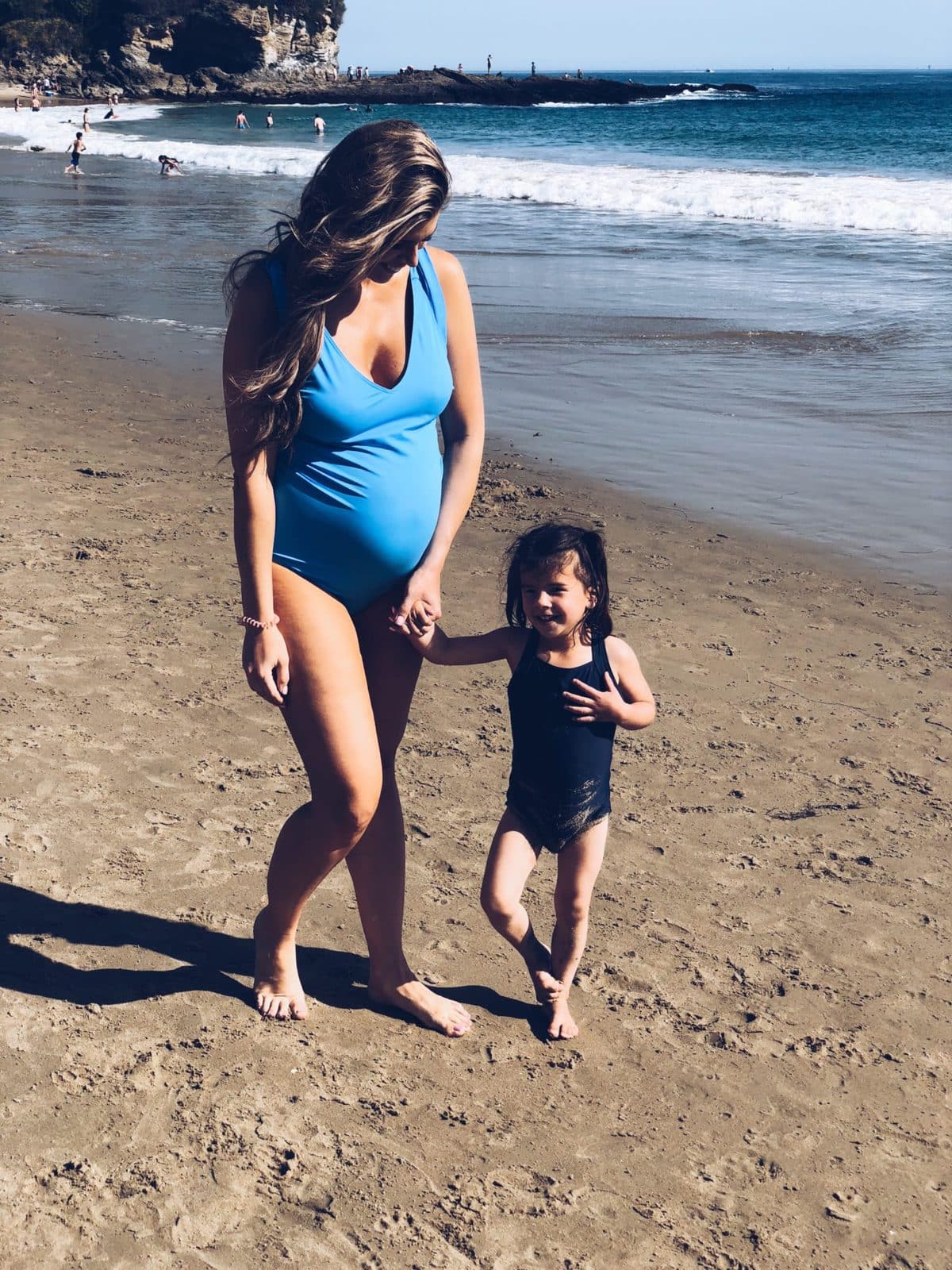 #9 Maternity workout clothes
Whether you're working out or just lounging in them (or come on, BOTH!), you're going to want some amazing gym wear that will fit you all the way to the end of your pregnancy.
Chat with your doctor about what level of exercise you should be doing, but keep moving! I'm the first one to admit that having cute workout gear is totally my fave motivator to move my body. I've worked out these last two pregnancies until about month 8 and it really does help so much with feeling better, sleeping better, and (at least last time!) recovering better too.
Since most workout gear is stretchy and comfy by nature, you probably only need to size up to keep wearing your favorite brands during pregnancy! I got away with this for almost my entire pregnancy with Millie and with this baby, while I worked out 8 of the 9 months I was pregnant, 3x a week!
#10 Maternity Overalls
Overalls are one trend that I LOVE for pregnancy! They are a really cute and versatile option that adds some fun to your maternity wardrobe. Whether you go structured and skinny or comfy and slouchy, I just love how a pair of overalls looks with a bump.
My favorite maternity overalls are these distressed ones. I love the casual and fun vibe they give as your bump grows and they are a fun late 90's/early 2000's trend that I have been super happy to welcome back! If you don't want to wait a couple of weeks for them to come back in stock, here is a cute pair you can get now.
Dress that bump
I hope this post has given you some inspiration as you plan looks for your growing bump! There are definitely some funny ups and downs of dressing a bump, from hiding it in the beginning when you're not ready to tell people, to embracing the awkward not quite a bump stage, to comfortably rocking the bump in the middle and then being at the absolute brink of feeling like you might blow up at the end haha.
Just remember that maternity clothes are AWESOME, you can re-wear a few good things over and over, and before you know it, you'll be holding the most joyful thing that has ever come into your life in your arms and it will ALL be worth it!!