Oh baby! Did February disappear in a blink or what? The first day of spring is right around the corner and I am ready to Prime myself all the things in celebration of the new season. It just doesn't get better than having all your favorite things delivered right to your doorstep in two days or less. Today I'm sharing all my current one-click faves on Amazon, including the sweater dress I'm totally loving.
Are you ready for it? Keep reading because these are the TEN Amazon finds that I'm completely OBSESSED with this month.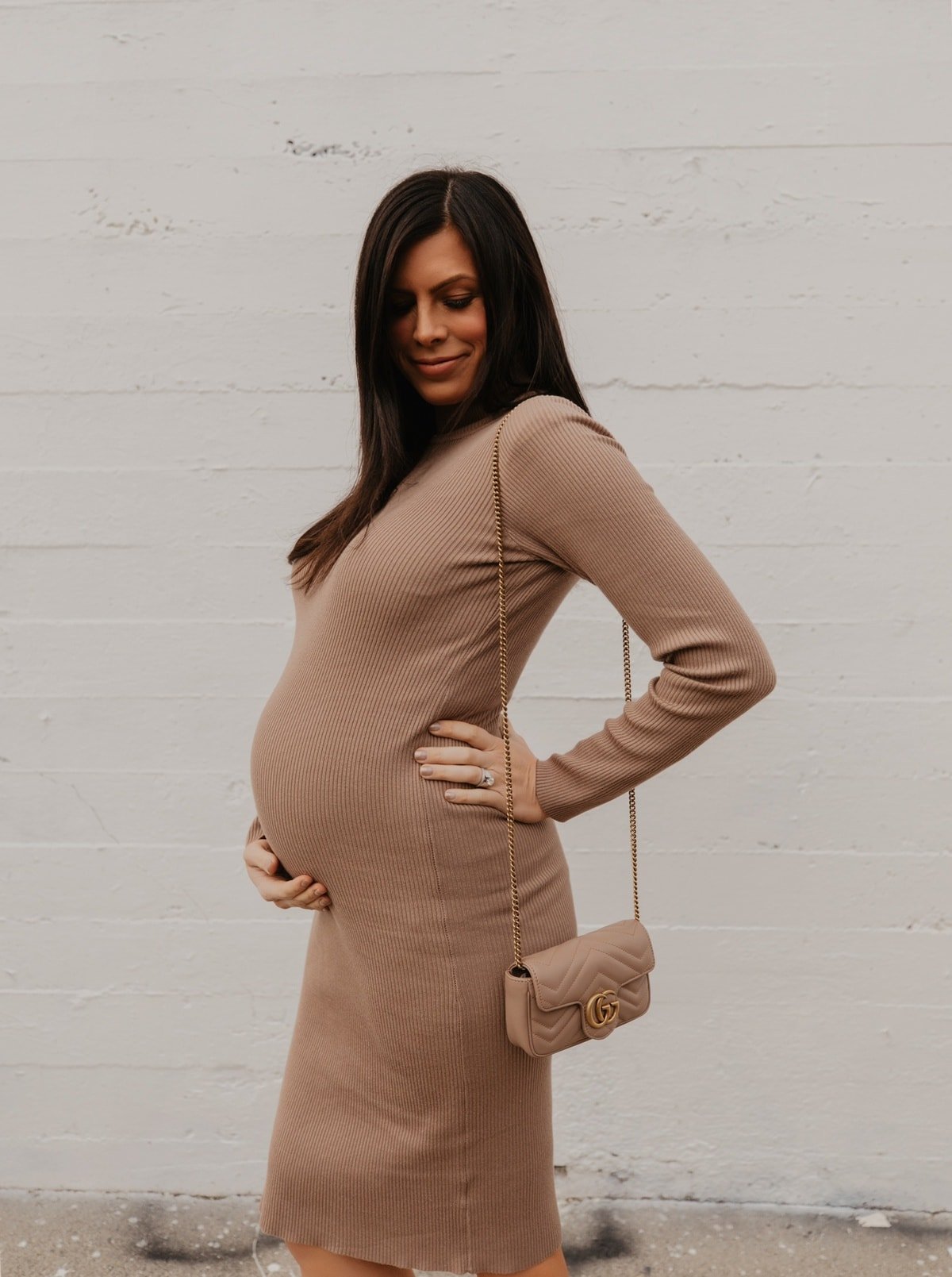 Quick Reminder
If you read my LOVE list in February than you already got the low-down on my Amazon page. But ICYMI I have a page where you can shop all of my favorite Amazon finds. EVERYTHING I love on Amazon is all collected in one easy-to-shop page, which I update regularly!
Ribbed Sweater Dress
But first, before we get to my Amazon love list, a few outfit details!!
Don't scroll past this sweater dress if you're not rocking a baby bump, because it's NON-MATERNITY! It fits really, really well. It's super comfortable. And it comes in TONS of colors. Like 19 colors, you guys. The fit is TTS and it has almost 1700 amazing reviews. I'm wearing the camel and cannot even handle how much I love it. At under $40 it's a great inexpensive staple for early spring or a great layering piece for fall or winter.
This sweater dress is such a great versatile piece. It can be dressed up or down. With a bump or without a bump. It's great for maternity and rocking a bump, but it's really just great for anyone!
I ordered my regular size since it's perfectly stretchy, and I would say it runs TTS.
Gucci Supermini
My Gucci bag was my Christmas present from Neil this year. You may remember me mentioning it on my holiday Send to Your Spouse wishlist and luckily Neil read my blog that day haha. I had my eye on it for several years and love how tiny it is. It is the perfect size for running a quick errand or for date night when I just need my keys, wallet, and lip gloss. It's a major classic but it is absolutely a splurge.
But Amazon to the rescue because you can Prime yourself a pretty good dupe for $20! It's the perfect quilted mini neutral for carrying just the essentials.
Snakeskin Booties
Animal print is such an easy way to dress up the neutrality of any outfit. It just adds a fun little pop of something special. These booties are super duper comfortable and run true to size.
Sweater dress
Booties
Shoulder bag, similar for less
Photos by Arielle Levy
March Top Ten
Shop All My Amazon Faves
I've found some very cute (Hi, sweater dress!) and very useful things (I see you, cord organizers) on Amazon over the years and you can see every single one of them in my Amazon store right now! You can always go to amazon.com/shop/mintarrow to see categorized pages of all my favorite Amazon finds.
And in case you missed it, I recently rounded up 10 Amazon home FAVES under $40 and there is some really good stuff on that list! Happy Prime shopping!