We got a Peloton bike a while back (Neil actually surprised me with it for my birthday!) and anytime it shows up in my InstaStories for more than 2 seconds I get tons and tons and TONS of questions about it! I figured instead of continuing to answer all the DMs I get about Peloton I would just put all my thoughts and feelings into one neat and tidy little blog post and tell you all about it.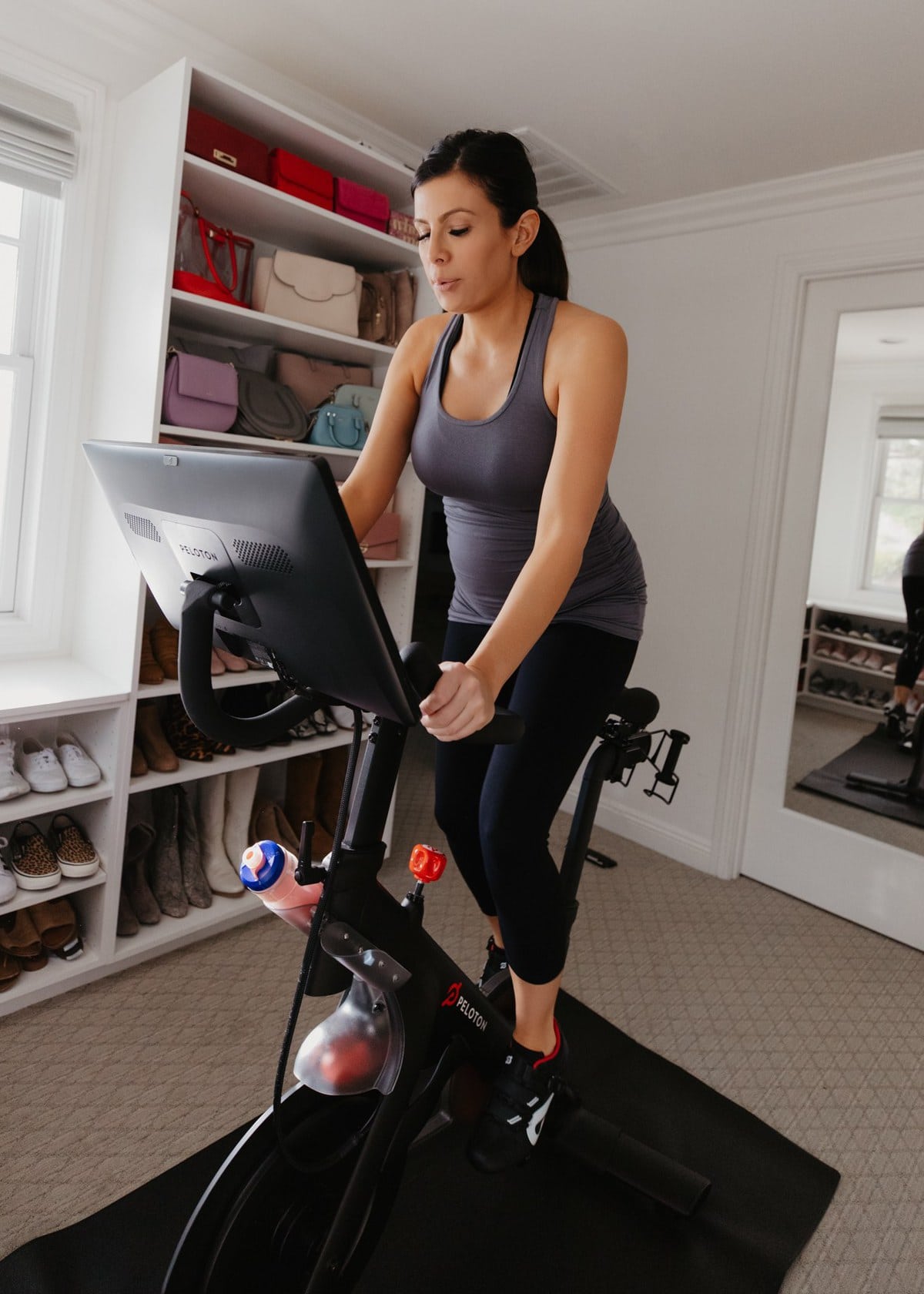 Love At First Bike
I first used the Peloton in when Neil and I were in Maui for our 8 year anniversary trip and absolutely LOVED it!! I had been to SoulCycle (and other spin classes) prior to test driving the Peloton, but their Orange County location is way too far away to be a realistic option for me, so when I discovered that I could have the SAME experience at home with the energy of a class but the convenience of a 2 second commute, I was pretty pumped.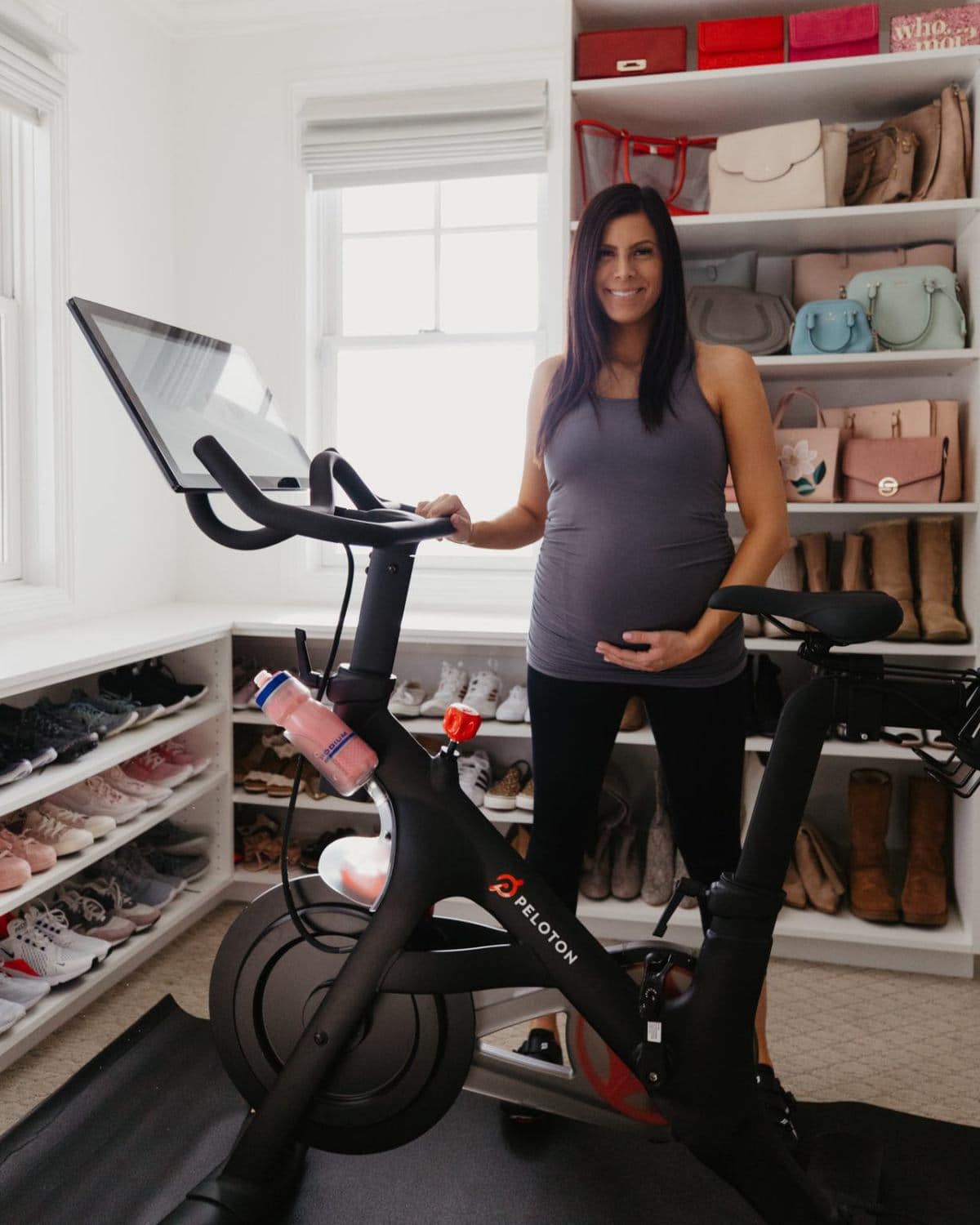 My Fitness Journey
When I just had two kids I was working out with a personal trainer really religiously and LOVED it. Even through my third pregnancy I was able to continue working out with my trainer up until the eight month mark. But after having Millie, it was really hard to consistently get to the gym or a workout class or anything!! Now between FOUR kiddos, the podcast, and a busy business, time is a super hot commodity around here! And I'm sure you'll agree because no matter what phase of life everyone is in, time is your most valuable and precious resource.
At the beginning of my pregnancy with Harry I was doing F45 and really enjoying it, but even that was hard to squeeze into my insane schedule! I also had a few complications early in the pregnancy that led to my doctor asking me to really tone down my workouts for a bit. When Neil and I started brainstorming workout solutions, I kept hinting that I would LOVE to be able to work out at home on the Peloton. Neil took that hint and ran with it for a birthday surprise and I was ecstatic when we pulled up to the house and a Peloton delivery truck was waiting there!
Why Peloton?
Putting a Peloton bike in our "cloffice" (closet + office) allows me to do easy workouts at home and I really, really LOVE it! It's so great to be able to get on the bike, do a 30 minute workout, be done and still be in my house. Not having to tack on travel time to and from the gym is kind of the BEST. I love that I can really seriously be start to finish DONE in 30 minutes. For real. I'm amazed.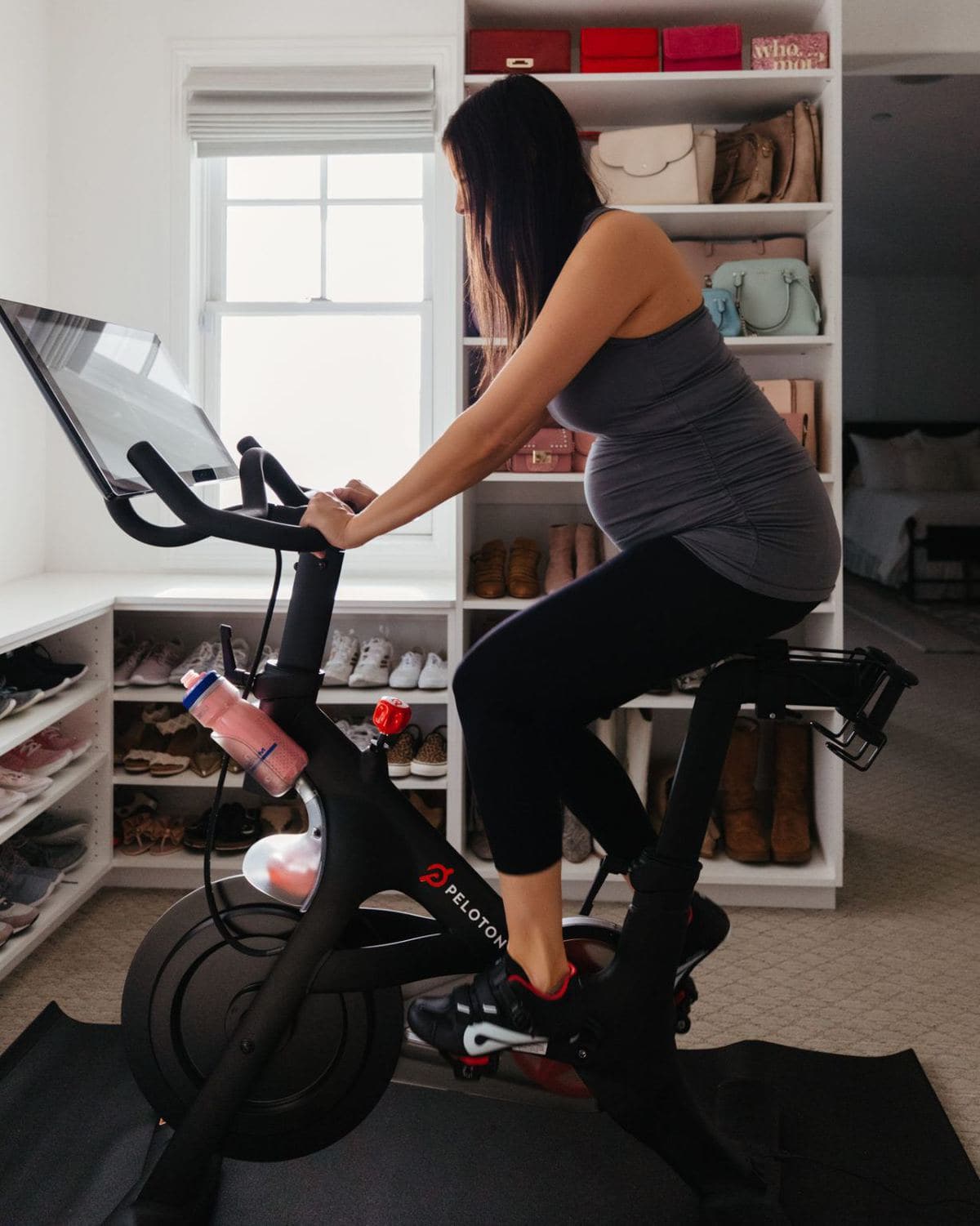 Plus, it's 100% OBGYN approved (my OB anyway!)!! It's a great low impact workout that I could do for the remainder of my pregnancy and it's the perfect easy transition back into working out post baby and c-section recovery.
It took about a week to get used to the workout and riding, but the soreness goes away pretty quick and then it's just straight up awesome!
One Inclusive Membership
When you buy the Peloton bike and have the membership, EVERYONE in your house can use it! So Neil has been using it too and really, really likes it. If there's lots of adults in your house or even teenagers, being able to share one membership is awesome and allows you to get more bang for your buck!
Plus, it comes with shoes! I just use the shoes that came with the bike and they have worked out great for me. However, you absolutely can use your own shoes. So if you already own spin or cycling shoes, you don't have to buy new shoes. Or if you just want different shoes you can do that too!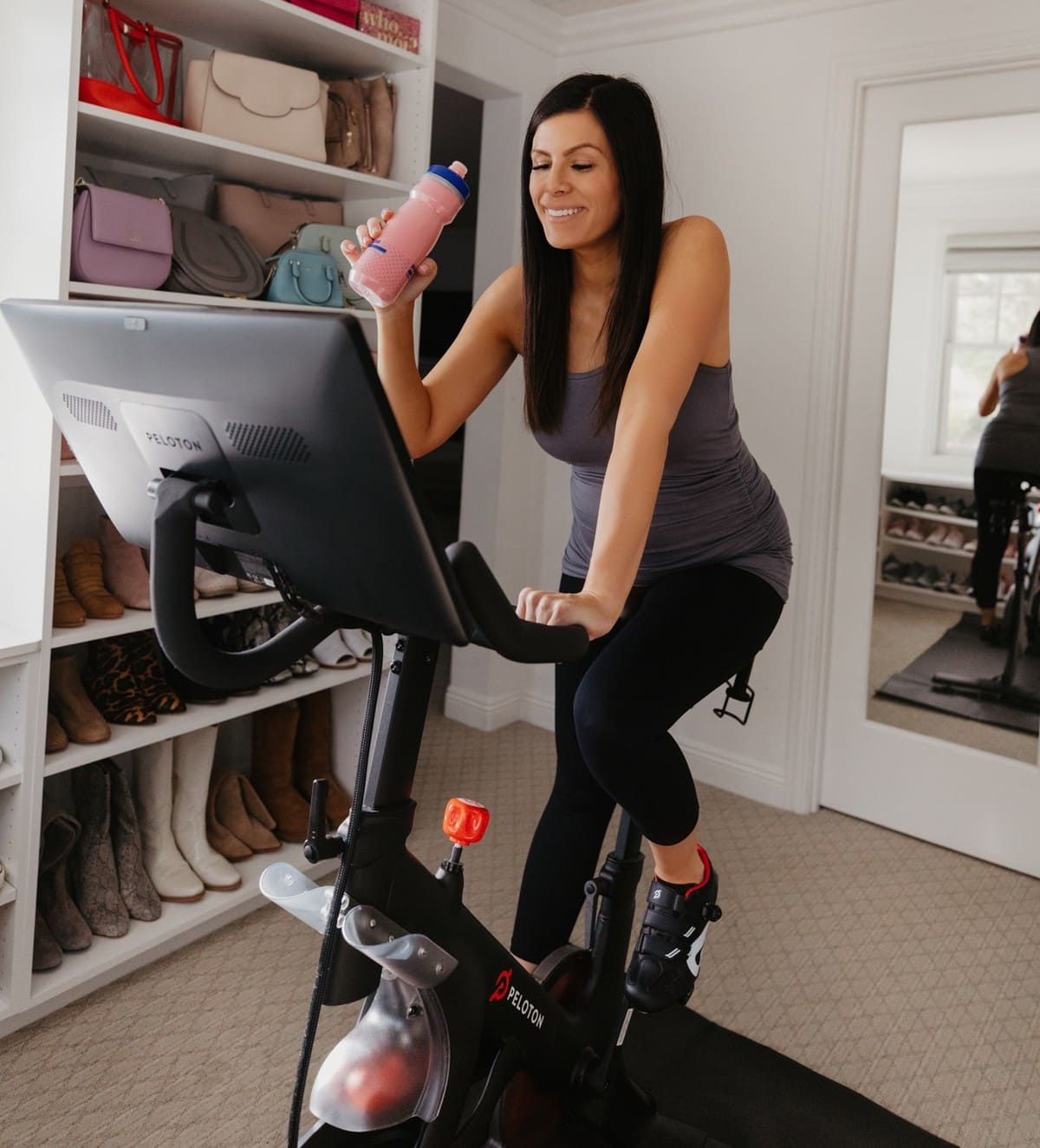 Fairly Compact
One of the most FAQ I get about the Peloton is, "Where do I put it?" Ours is in our closet area. We wanted it in a place that was convenient, but also out of the way of our kids so it wouldn't turn into a jungle gym! It really doesn't take up a ton of space and could easily fit in a large walk-in closet or guest room or home office. It has rollers so if you need to move it you can. However, it is VERY heavy so I don't recommend putting it a place where it would need to be moved often or carrying it up or down stairs.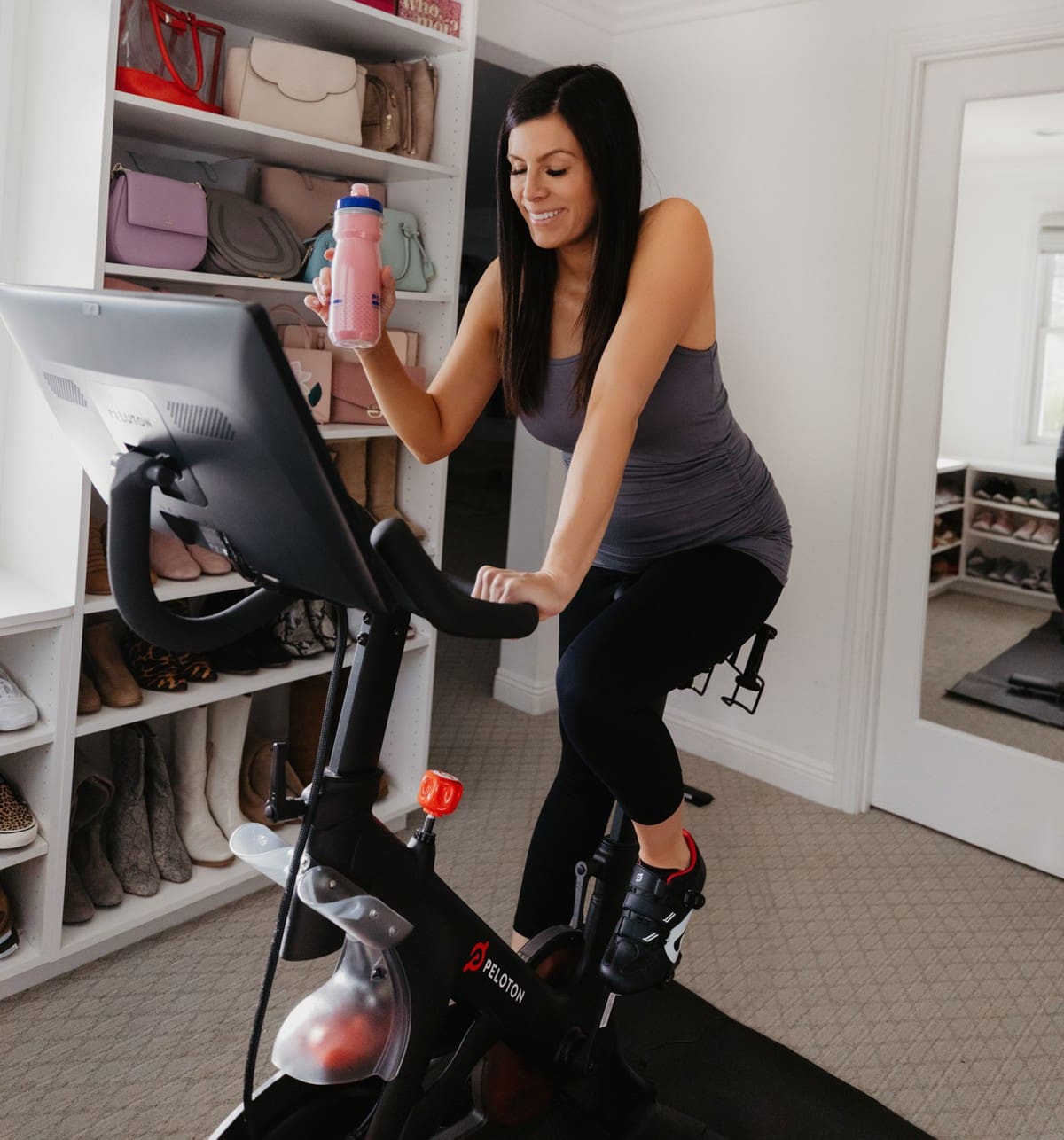 So MUCH Variety
I prefer to do the Peloton classes that mirror a more traditional spin class workout, but Neil really loves to do the open road rides. So if you want to listen to your own music or a podcast or an audiobook, you totally have that flexibility. They have all these gorgeous courses all over the world for you to choose from.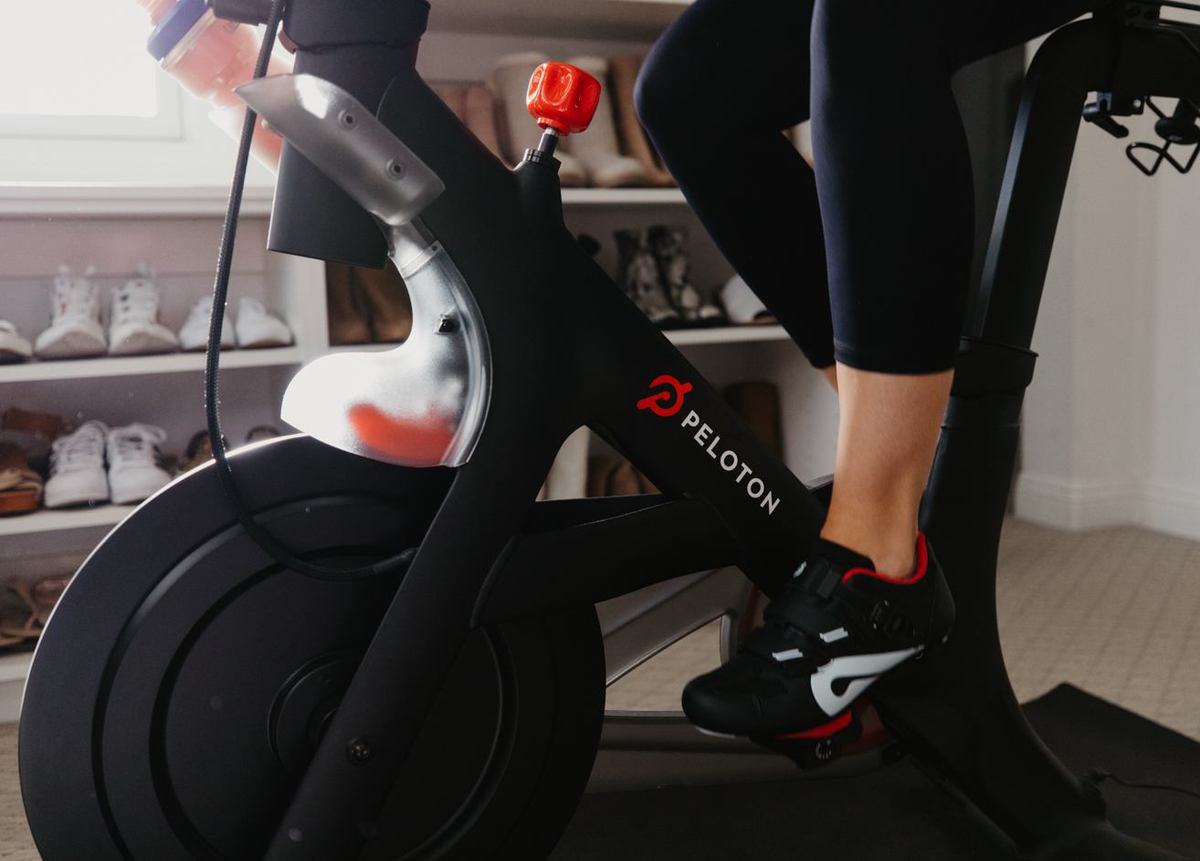 My FAVE class feature of ALL TIME: You can sort classes by music and search artists. NSYNC theme ride? YES, please. That was such a fun workout! They have everything from country to pop and nineties to disco!
There are so so many different Peloton classes and instructors to try out. Seriously they have everything from studio cycling to yoga to running to strength training. Plus you have the option to choose live classes versus pre-recorded classes. There is something super magical and motivating about taking a live class and getting on the bike and working out in real time with other people. You can high five people or get shoutouts from the instructor and it's just really fun.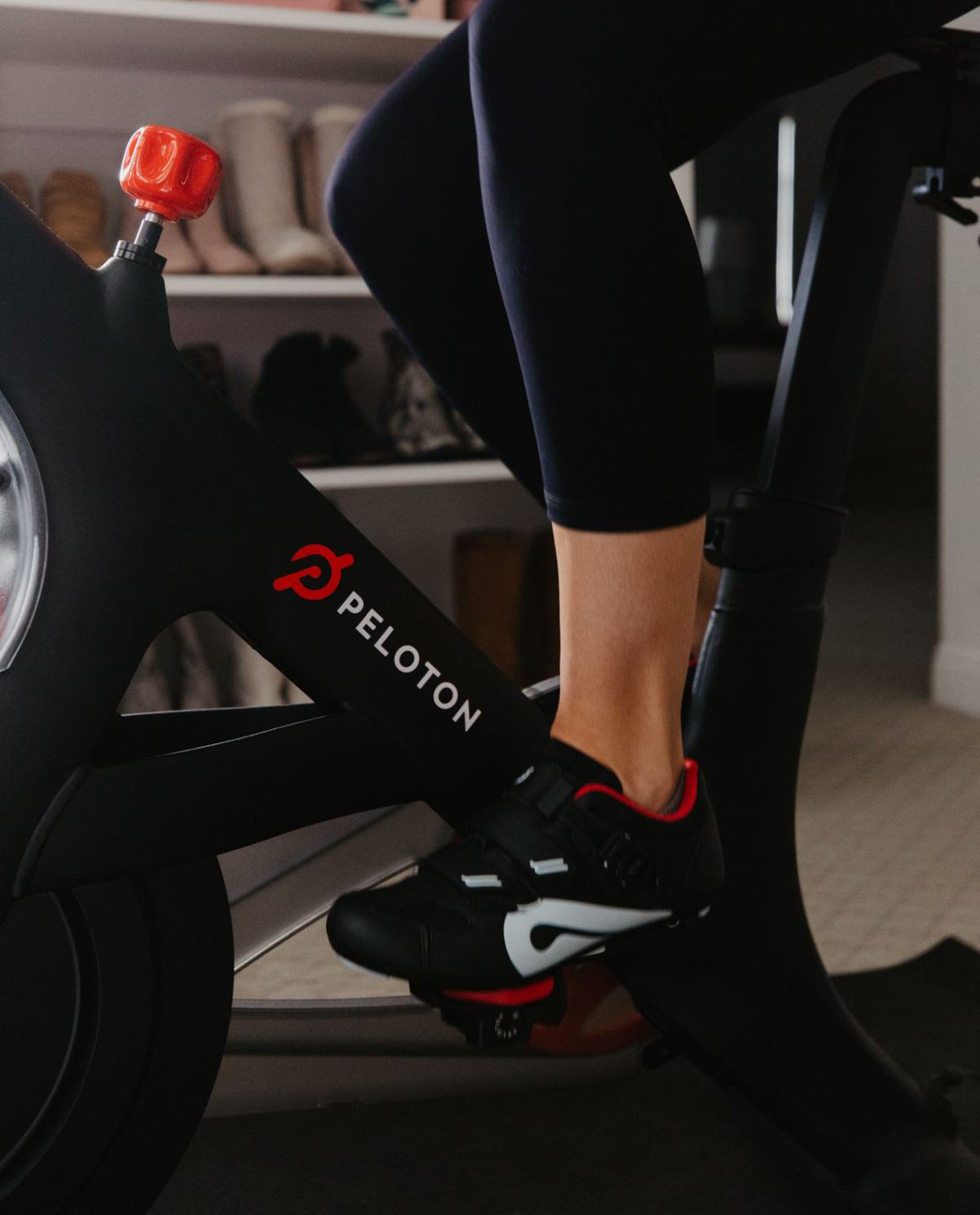 There is one downside to the classes. You cannot pause classes. Any classes. Live classes. Old classes. You can't pause either-once you start, there is no way to pause. This is the #1 complaint of everybody I know that has a Peloton. So if something comes up during your workout either you have to skip that 5-10 minutes or completely start over. Kind of annoying if one of your kids needs something, baby wakes up from a nap or you get a super important call you can't ignore, and I hope they change this feature in the future!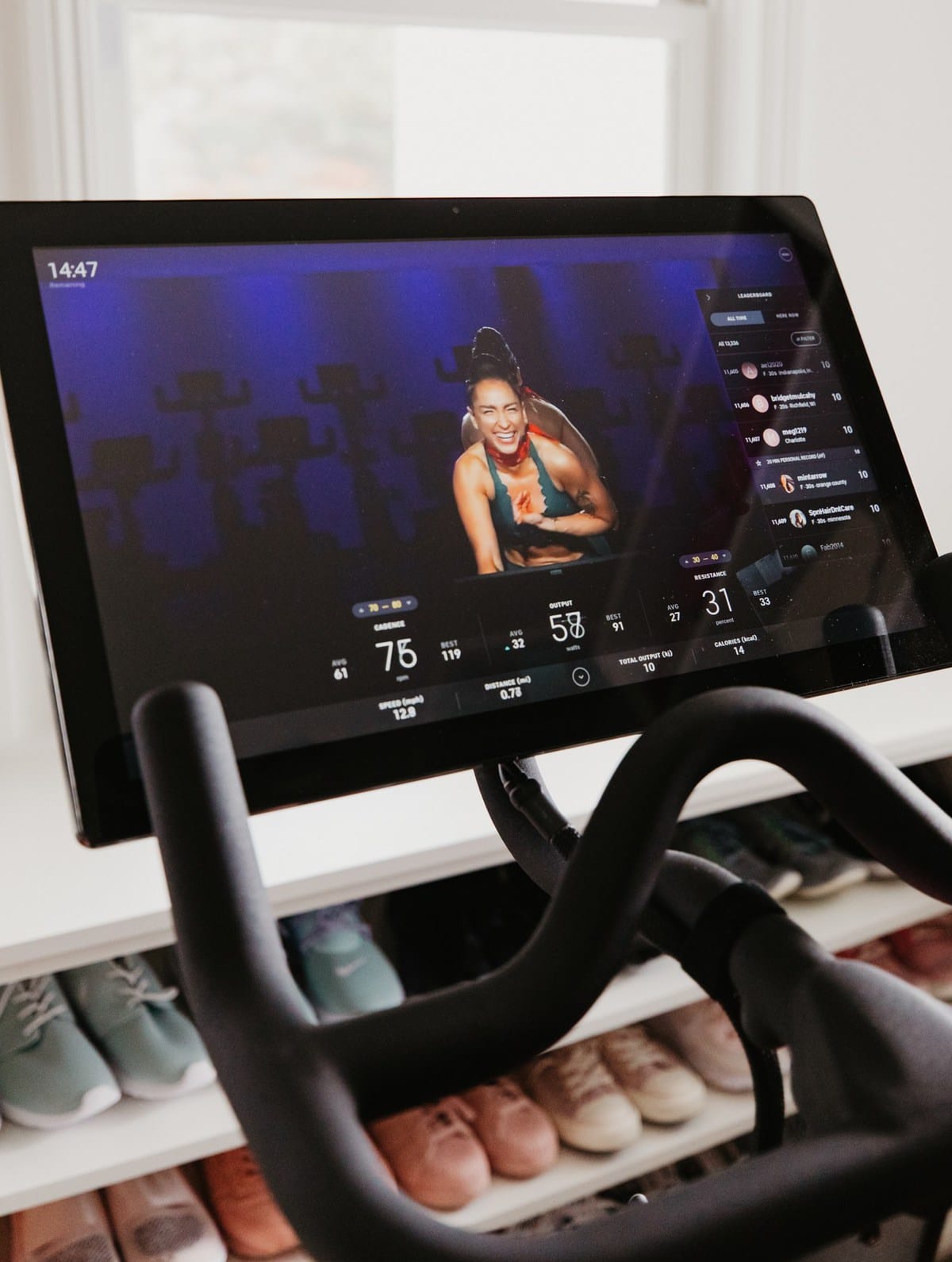 Cost: is it worth it?
The Peloton bike is not cheap. At about $2,200 it's a hefty investment. You can set up a payment plan of $58/mo for 39 months at 0% APR for qualified buyers which is really nice! But you do have to pay the monthly membership cost on top of that too so just keep that in mind. STILL, that's way less expensive than the nicer gym we were members at for the past several years and less expensive than my F45 classes were adding up to be! We made the full investment just so we wouldn't have to worry about payments but it's really nice that they do offer that option.
For me it's 100% been worth the convenience of being able to work out from home SO quickly and squeeze it in whenever I have a free moment, and it's definitely worthwhile during pregnancy and into postpartum workouts too.
Try Before You Buy
If you want to try out the Peloton workouts before fully committing to a Peloton, you can try the Peloton app FREE for 30 days ($12.99/month after). The app gives you access to all the workouts so you can take it with you to a gym and trial the workouts on the gym bikes or do a bootcamp class or a yoga class and see if you like it.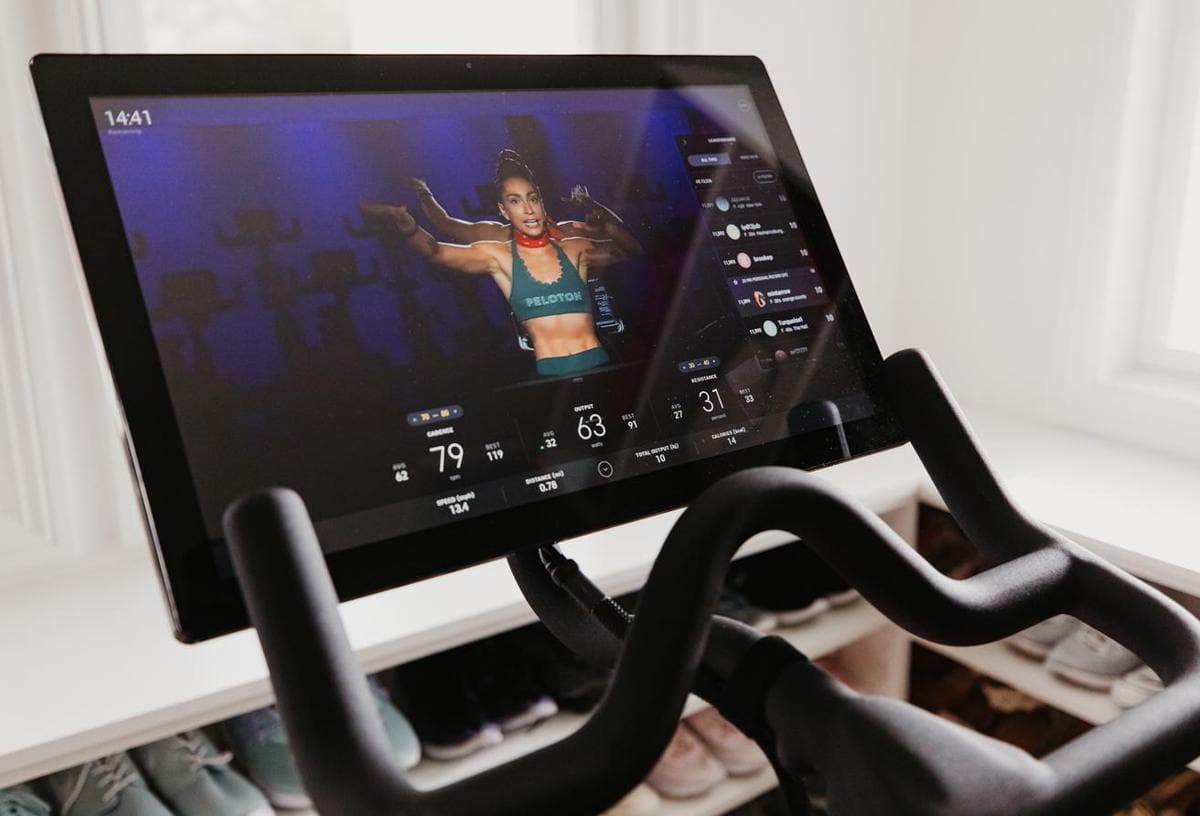 You can access the app on any devices with Airplay (Apple TV), Chromecast, or Amazon Fire TV. And there's totally a Peloton App for Apple Watch now too!
You can also try out a Peloton bike by going to one of the Peloton locations, finding a gym that has Peloton bikes, or doing what I did and trying one out at a hotel if you're going on a trip somewhere! They even have a hotel finder on their website so you never have to miss a workout if you're traveling, but are totally obsessed with your Peloton!
Peloton also offers a 30-day, no strings attached, in-home, trial if that's more your jam, but believe me, you'll fall in love and want it to stay forever!
Final Thoughts
Overall, I am super, super happy with the Peloton. Every single person that I know that owns a Peloton is also OBSESSED. I have yet to meet a person who owns one and regrets it. Everyone loves them. I think the Peloton is a great and I'm super excited about mine!!