Aloha! Remember when we went to the Valley Isle back in August to celebrate our eighth wedding anniversary? Well during and after that trip SO many of you asked where we ended up eating, exploring and what we loved most, so I thought it would be fun to share our little Maui guide! This includes our favorite places to eat, where we stayed and what to do … aside from eat shave ice, sleep and repeat of course!!
If you're traveling to Maui soon you're gonna want to pin this for later because I'm spilling lots of secrets and all my combined research and taste-testing into one easy guide for you to follow on your next trip to this magical island.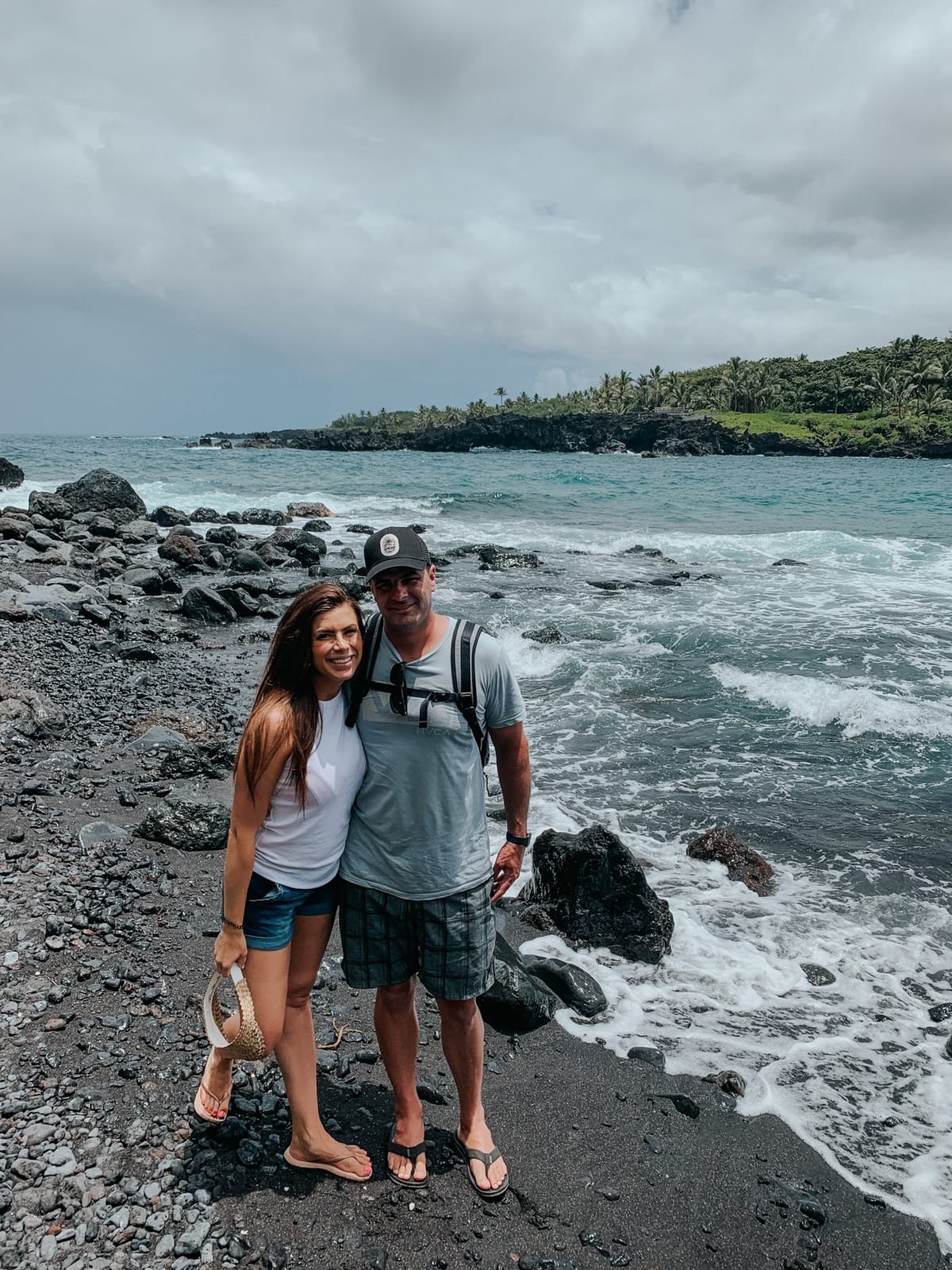 Best Place To Stay On Maui
THE RESORT: I did a MASSIVE amount of research on TripAdvisor to find one of the highest rated Maui hotels. Hotel Wailea has been voted #1 Resort in Hawaii, one of the 21 most romantic hotels in the world by Conde Nast Traveler, and one of the Top 100 Hotels in the World by Travel + Leisure. It also has over 1200 perfect 5 star reviews on TripAdvisor! Since we were taking this trip without kids, I figured why not relax at an adult-only resort?!
The whole resort is totally amazing. It is one of the MOST beautiful Maui resorts and it felt like we were there all by ourselves even though the hotel was at full capacity during our stay.
THE ROOM: One of the things that initially attracted me to this hotel was the option to book a room with a kitchenette. We had grand plans of making açaí bowls in our room and sort of staying on track with Clean Simple Eats (code MINTARROW for $15 off any of their meal plans that I'm obsessed with!!), but discovered when we arrived that I had booked a room with just a sink and fridge – whoops! Rooms with a kitchenette do exist at the Hotel Wailea if that's a set up that you're looking for. If we were to go back, I would be more specific about the type of room we were booking and make sure we got a kitchenette.
THE POOL: The pool was lovely and we always had a nice place to sit either under umbrellas or in a cabana. They have cabanas that you could pay to reserve, but they also had several that were first come first serve.
THE FOOD: All the food at Hotel Wailea was farm to table. The ingredients were super duper fresh and so delicious. I tried something different there every day and every single thing I tried was amazing!
IMPORTANT NOTE: Wailea is in South Maui. The beaches here tend to get the most sunshine and are less crowded than the ones in West Maui. However, West Maui is the MOST popular place to stay and play on Maui. So our hotel DID feel a little bit removed from all the things we wanted to try. So I felt like we did quite a bit of driving due to our location. But overall, I would 100% stay at the Hotel Wailea again.
Best Maui Restaurants & Eats
MISO PHAT SUSHI: Hands down my favorite food we ate while we were there! My single regret of the trip was not eating there TWICE! The food there was completely amazing. Pro Tip: Order the Butter Fish. Trust me, it's insane. So flaky, yummy and delicious.
ULULANI'S HAWAIIAN SHAVE ICE: The best shave ice I've ever had in my life! Passion orange, coconut & guava with vanilla ice cream + a snow cap is my combo of choice.
LEODA'S KITCHEN AND PIE SHOP: Really wish I would have gone there more than once, but it's in Olowalu and kind of out of the way. I am a total pie girl and their Macnut Chocolate pie is so yummy! BONUS TIP FROM TEAM MINT ARROW: All the food at Leoda's is delicious. If you have access to a cooler, this is a great place to pick up hoagies or sandwiches for Road to Hana! Especially because it's right next to the Olowalu Juice Stand where you can grab some fruit and a smoothie for the road.
MAMA'S FISH HOUSE: Probably the iconic restaurant on Maui. You WILL want to make reservations and plan on spending a lot of time there. This is an experience versus just a meal.
Pro Tip: Try to time your reservation around the sunset-100% worth it! When I booked our reservation I was kind of bummed that 4:45 p.m. was all that was available but it was actually PERFECT because the whole Mama's Fish House experience actually takes like 3 hours (so plan for that!) and by the time we were finishing our dinner the sun was just setting. We enjoyed the last little bit of the sunset sitting on the beach right in front of Mama's and made friends with the cute turtle below too.
So look at what time the sun sets and know that you have about a 3 hour window to catch that sunset. All of the food is really delicious, but we really loved the Mama's Stuffed Fish!
We rarely order foofy drinks but we decided to get a couple of their fruity mocktails and they were DELICIOUS.
STAR NOODLE: Amazing food. Highly recommend asking your server for their recommendations before you order. We did this and were guided to some really cool yummy things that wouldn't even have been on my radar!
KIHEI CAFFE: My favorite offsite breakfast place. The Pork Fried Rice and Eggs were delicious. I would also recommend their Banana and Macadamia Nut Pancakes, because Hawaii.
MILL HOUSE: This is a gorgeous farm-to-table restaurant that has the most INSANELY picturesque backdrop. All of the food is very fresh and yummy.
GESTE SHRIMP TRUCK: If you're looking for an amazing Maui meal right when you land or right before you leave, THIS is it! This food truck is right by the airport and my brother thinks it's absolutely to die for! We didn't get a chance to go, but would love to if we go back! BONUS TIP FROM TEAM MINT ARROW: This food truck is cash only, so make sure you're prepared. The Hot and Spicy and Spicy Pineapple are my favorites, but be warned-the shrimp is not peeled or deveined so the shrimps still have legs!
GAZEBO: I got tons of DMs about this breakfast spot before our trip. It's a tiny restaurant at the front of an older hotel, and although their food was fine, I don't feel like it lived up to the hype. It was good but not worth the 90 minutes we waited to be seated, and it was the same quality food as Kihei Caffe which only required a 10 minute wait!
If you have your heart set on eating there, go EARLY! Another option that I found out via all your DMs after is to call and place a To-Go Order. Then you can just pick it up and go eat breakfast at the beach.
SARENTO'S ON THE BEACH: Another restaurant that didn't quite live up to the hype. It's ON the beach so we got what we wanted for our last meal in Hawaii which was a gorgeous sunset, but it was very overpriced and the food wasn't that good.
Road To Hana
What to bring on the Road to Hana
Here's a basic list of things I'd do, buy, download or be sure to pack before your road to Hana!
Snacks (carb based)
Packed lunch
Cash (a lot of the vendors along the road are cash only!)
Water
Motion sickness medicine (we like this non-drowsy formula)
Download a guide like Gypsy Guide or Shaka's Guide Road to Hana (there's little to NO cell service so you need to download before!)
Download music playlists to your car
Hand sanitizer or disinfectant wipes
Swimsuit and towel
Change of clothes if you don't want to sit in a wet suit after swimming
Sunscreen esp. if you're in a convertible or jeep without the top (which we highly recommend!)
Car charger for your phone – the downloaded guides will drain your battery!
FOOD: Food options on the Road to Hana are scarce, overpriced and in my opinion: underwhelming. I would suggest packing a lunch versus eating on the road.
BONUS TIP FROM TEAM MINT ARROW: Hana Picnic Lunch Company in Paia is a great place to do exactly that! They specialize in picnic sandwiches and lunches to-go, complete with a cooler! I also highly recommend picking up something for motion sickness while you're there. There are 620 curves and 59 bridges on Hana Highway. Even if you're not prone to motion sickness, Road to Hana can be dicey. On the Road to Hana, Aunt Sandy's on the Peninsula is worth a stop for their super popular banana bread, Braddah's Hutts in Hana for a yummy Hawaiian plate lunch, and Tobi's Shave Ice in Paia for poke when you're all done!
HAND SANITIZER OR DISINFECTANT WIPES: None of the bathrooms along the road are equipped with facilities to wash your hands. This was a gross surprise that I was not prepared for. So if that's a big deal to you and you're a germ freak like me, COME PREPARED.
GYPSY GUIDE: This is a downloadable audio tour for scenic road trips. It's totally like having a tour guide in your car! It tracks your GPS and tells you stories and tips and helps you know what to stop for and what to do at all the BEST locations. I was pleasantly surprised you could still listen to your own downloaded playlists and that Gypsey guide would only interrupt and talk over your music at important spots.
BONUS TIP FROM TEAM MINT ARROW: As an alternative to Gypsy Guide, you could also do Shaka Guide's Road to Hana tour. Very similar and full of the most beautiful Hawaiian music. This was so nice since there's ZERO radio or cell reception on Road to Hana.
Our Road to Hana SECRET TIP nobody else will tell you!
If you're leaving after 8AM, the Road to Hana is very very crowded. You end up competing for space with the million other people on the Road at all the stops! Even though we were driving the Road just the two of us, every stop felt like we were getting off a massive tour bus and walking around with a herd of other tourists.
And here's the tip we discovered that no other blog, podcast or youtube video about the Road to Hana will tell you:
After a few stops like this, Neil and I decided to just power thru the drive and make notes of all the places we wanted to stop to see ON THE WAY BACK. Then once we turned around in Hana we started stopping at all those places we had marked and each one was EMPTY!
We had so many of these beautiful, popular spots all to ourselves by doing it this way. We had a romantic swim under 3 bears waterfalls, stopped off at a couple beaches, and each place was deserted. This was the best unexpected discovery of our trip!
The BEST board rental place
If you love to surf or paddle board, 808 Boards is THE place. They had the very best customer service and we had a great experience. You can rent a board just for the day (which is what we did) or you can do a longer term rental for your whole trip!
If you do a longer rental, they will drop your board off at your hotel for you and pick it up when you're done! How cool is that?! They also offer surf and stand up paddle board lessons if you've never done either, but are dying to try!
BONUS TIP FROM TEAM MINT ARROW: 808 Boards is the closet surf shop to the famous Honolua Bay which is a must surf/dive/snorkel spot if you're on Maui! It is a great place for swimming with Hawaiian green sea turtles, parrotfish, octopus and the (very) occasional spinner dolphin.
Book A Spa Day
This Maui travel guide wouldn't be complete without mentioning the spa at the Grand Wailea. Neil surprised me with a couples massage at the Spa Grand and it is hands down, 100% the BEST spa on Maui! I really loved their hydrotherapy circuit-there were Roman baths, saunas, waterfalls, jet showers and several speciality baths to enjoy before or after your spa treatment. Highly, highly recommend!
Pro Tip: Skip the Grand Wailea Breakfast Buffet. It was extremely overpriced and I would never do it again. It was very expensive and not that good.
Pulehu Chapel
This is the oldest chapel for the Church of Jesus Christ of Latter-Day-Saints in all of Hawaii. It's a very, very sweet little building with a very sweet spirit and there's a cool historical plaque on site for you to read. It was the perfect Sunday afternoon activity.
IMPORTANT NOTE: This is a historical site. Church services are no longer held at this building. I was so confused about this because I kept trying to search for church service at this building, but nothing was coming up! If you are wanting to attend our church in Hawaii, you'll want go to a service in another location and then this is the perfect activity before or after.
Best Maui Guidebook
MAUI REVEALED – Do not go to Maui without this. Do not skip this. Do not pass go, do not collect $200. But really, just get this book! You'll find all of the best local secrets for places to beach and the best foodie spots and all the most fun things to do on Maui. You can snag it at Costco when you land or buy in on Amazon before you go!
They do have an app, but it's not cheap and it was kind of confusing and clunky for me to navigate. I felt like having the book that I could mark up and flip right to the sections I needed was WAY more useful!
Beach Vacation Must Haves
Did We Miss Anything?
Tell me we missed something so that we have an excuse to go back! Please share any of your Maui favorites with us and check our Oahu travel guide here.