Aloha! It's been a few months since we've been to Hawaii, but I keep seeing people making their way back to the islands now that travel is opening back up more. So I thought it would be a perfect time to share some of our old AND new faves from one of our happiest places. We honeymooned on Oahu as newlyweds. We took a family trip to Oahu with the girls for our 5 year anniversary. And Neil and I went to Oahu ahead of our 6 year anniversary to attend his grandmother's funeral and celebrate her life (101 years!!). We babymooned before Harry on the North Shore of Oahu. And we took our girls back to Oahu this past spring and no matter how many times we go, it never gets old.
So whether you're planning a trip RIGHT NOW to Oahu or just dreaming of going someday, I hope you enjoy my guide to Oahu including our favorite places to eat, favorite beaches, and favorite things to do!
When To Go To Oahu
Is there really a bad time to go to Oahu? Historically speaking we have always gone to Hawaii in the summertime. The best weather in Hawaii is typically June, July and September. Those are the months Hawaii gets the least amount of rain and the water is the warmest. That being said, the Aloha State really only has two seasons and has pretty phenomenal weather year round!!
Summer is also a great time to go to Hawaii, because it's not peak season so it's a little bit cheaper than other times of the year.
Best Places To Stay in Oahu
We have only stayed in three places in Oahu: Turtle Bay, an Airbnb, and Disney Aulani Resort so I can only speak to these options.
TURTLE BAY RESORT – Turtle Bay is one of the most popular and most booked resorts on Oahu. It's on the North Shore close to Pipeline, tons of gorgeous beaches, and so many shrimp trucks! It's a beautiful resort with very nice amenities, but very expensive too! If you have kids I would skip it and spend your money at Aulani, but if you don't have kids and love the local feel of the North Shore + room service and nice hotel sheets, it's a pretty dreamy place to relax for a week.
And if you do go to TB, please order a (virgin) lava flow for me.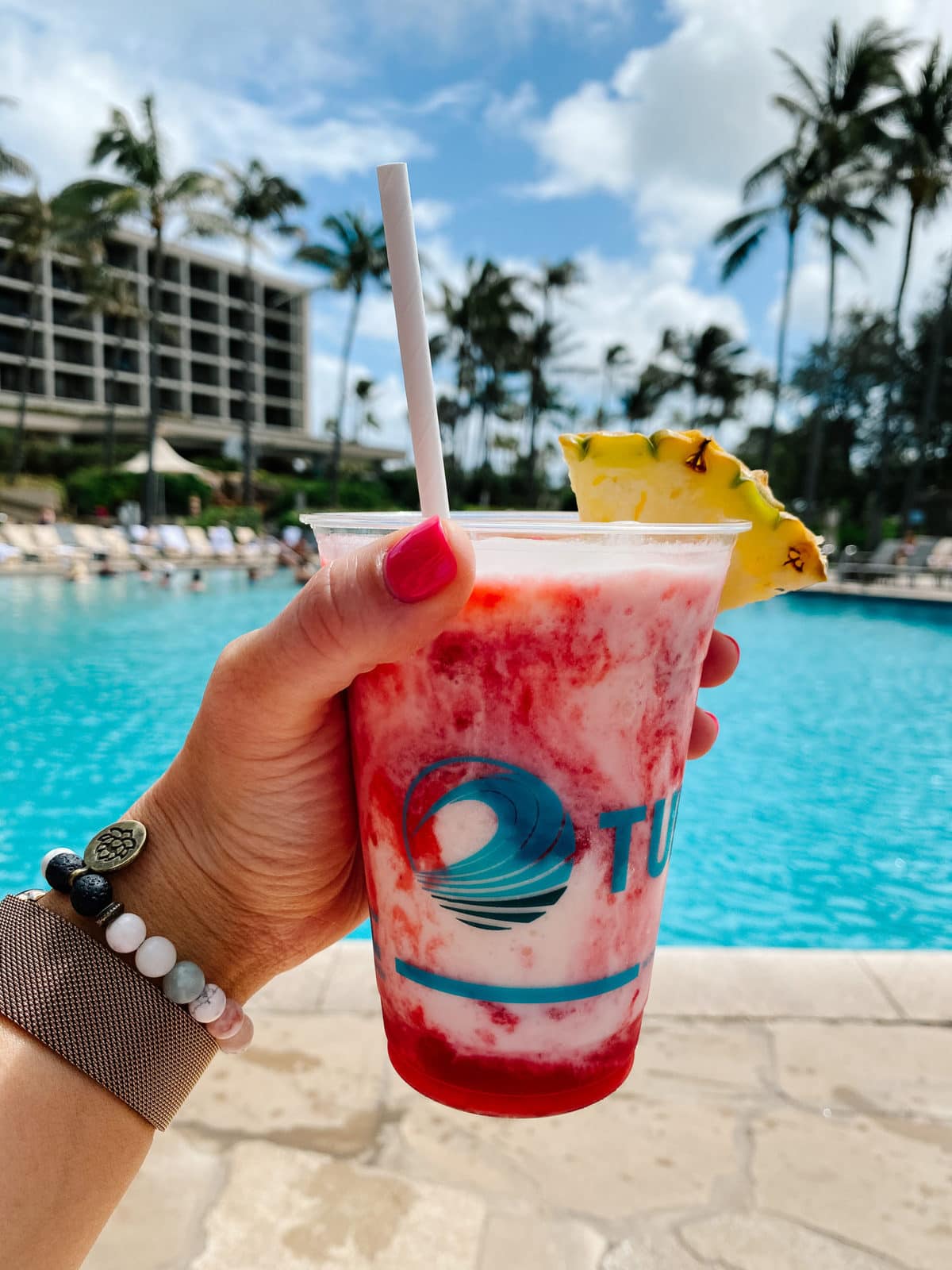 AIRBNB – We've done a couple Airbnb stays on the North Shore and mostly loved our experiences! You'll definitely want to read reviews carefully though, because in the last place we stayed we saw 3 live cockroaches crawling on the walls and floors (YIKES!).
Most vacation rentals will feel like a vacation rental, slightly run-down but totally authentic like you're one of the locals. This is a great option if you're traveling with kids because it's cozier than a hotel, you typically have a kitchen, and a little more space.
Our friends Katie and Spence own some REALLY amazing tiny homes right on the North Shore near Shark's Cove, and a huge house that can sleep like 30 people, so they have options for big, medium and really small groups. Tell them I sent you!
Our Haleiwa vacation rental that we stayed at in 2017 was right ON the sand and we were obsessed. Lyla was still little at the time and we loved that we could put her down for a nap, still be on the sand and have a baby monitor work just a few feet in front of the house.
DISNEY AULANI RESORT– Aulani is the ULTIMATE family getaway and I have never stayed at a nicer family resort. They have literally thought of EVERYTHING. It has subtle touches of Disney but it really feels like luxury Hawaii. It's pretty flawless in my opinion!
My girls loved seeing the Disney characters throughout our stay and mama loved the Dole Whips on tap! There are pools and waterslides galore and a private saltwater snorkeling lagoon!
The second time we went (this past spring), we were so in love that we booked a few extra days. NO regrets!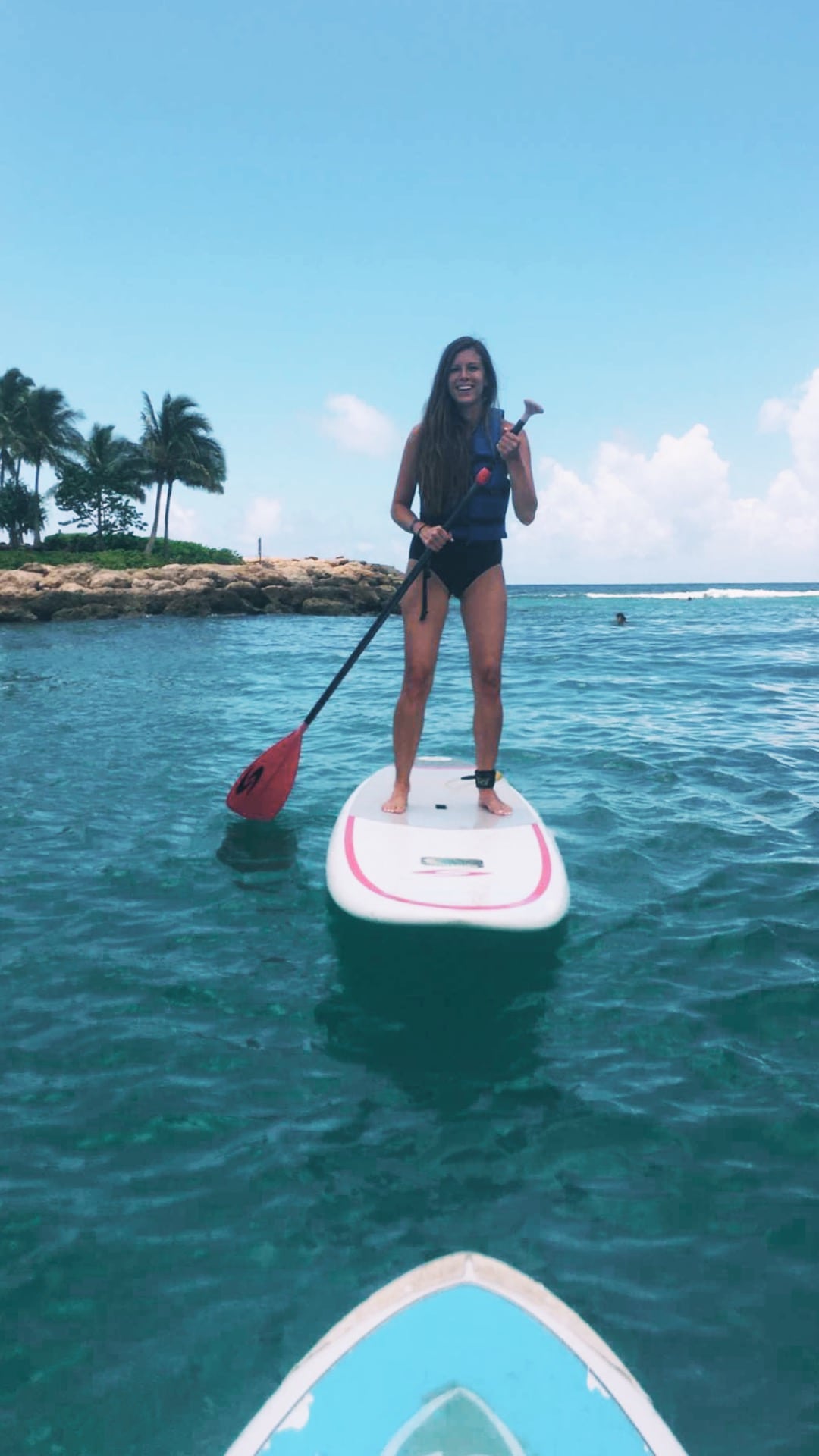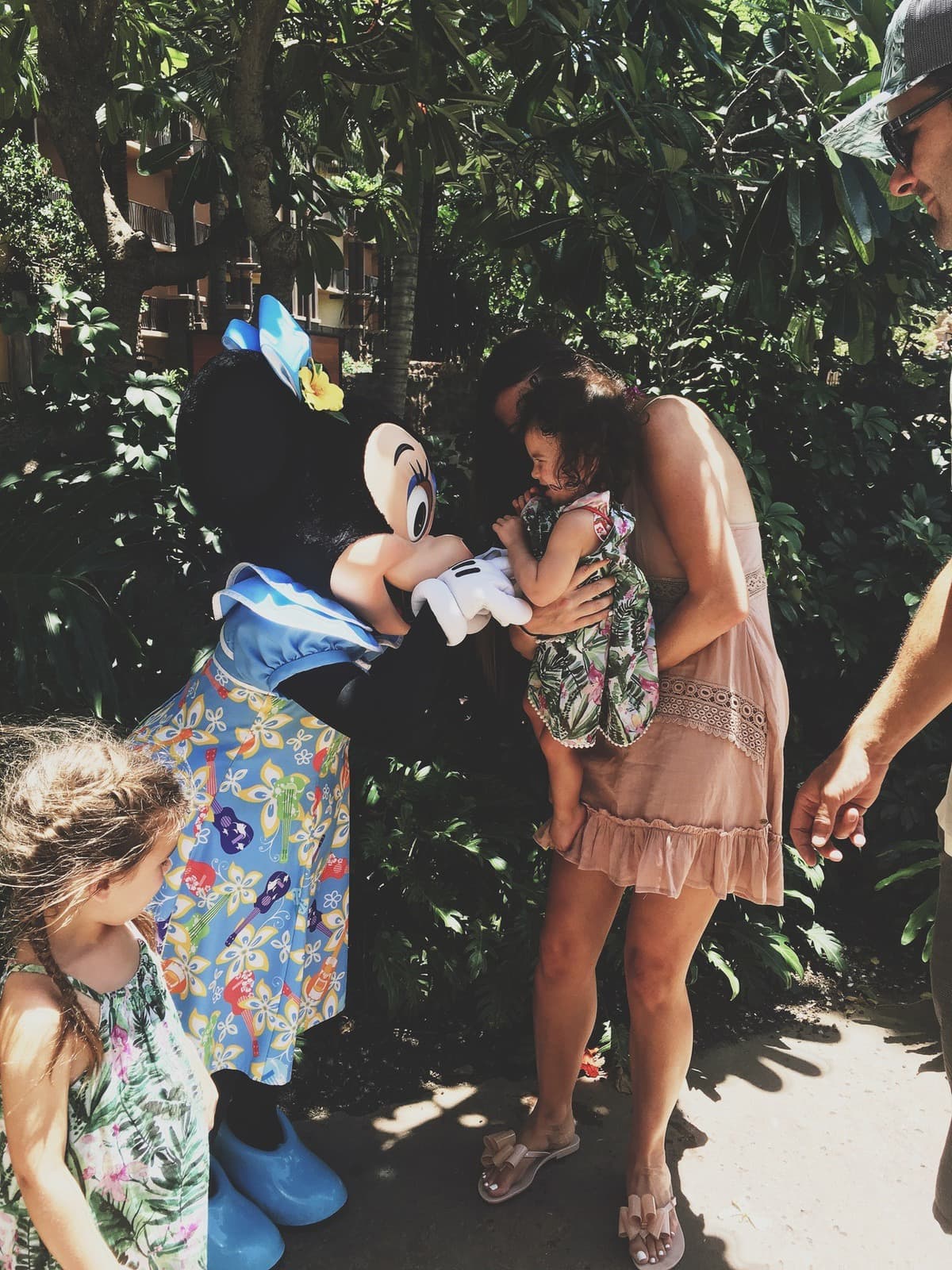 Favorite Eats
HIGHWAY INN KAKA'AKO: If you need somewhere SUPER delicious to stop right when you land, with really legit local food, this is your place.
SEVEN BROTHERS: One of our MUSTS when we visit the North Shore. It's owned by (you guessed it) 7 brothers … and they make INSANELY good burgers! The fries and shakes are good too, but the burgers are TDF. Like do not go here and order a salad. Just don't.
A couple locations to choose from – one right by BYU Hawaii and the Polynesian cultural center, and one at the Mill – super close to Turtle Bay so we end up here a lot.
RAISED BY THE WAVES: This newer spot is AMAZING for health food lovers. They feature plant-based foods like smoothies, bowls, toasts and our favorite thing was the sunrise waffle! We went a few times on our last trip, and on the last day they actually RAN OUT of waffles, but re-created the waffle on a toast for me. Right around the corner from Seven Brothers at the Mill.
GIOVANNI'S SHRIMP TRUCK – An Oahu classic! The North Shore is a prime shrimp truck paradise. I love the garlic shrimp, but be warned it's very garlicky! It's also the best shrimp you've ever tasted. Add a scoop of rice and scoop of Mac salad and you've got yourself a North Shore lunch!
TED'S BAKERY – Close to the Laie Temple and BYU Hawaii, Ted's is famous for their Chocolate Haupia Cream Pie. The pie is insanely delicious and I LOVE it, but if you want a killer breakfast, try their fried rice omelette – it's THE BEST breakfast there. Everyone was stealing bites from me the morning we went there. ALSO – I actually like their garlic shrimp a little better than Giovanni's!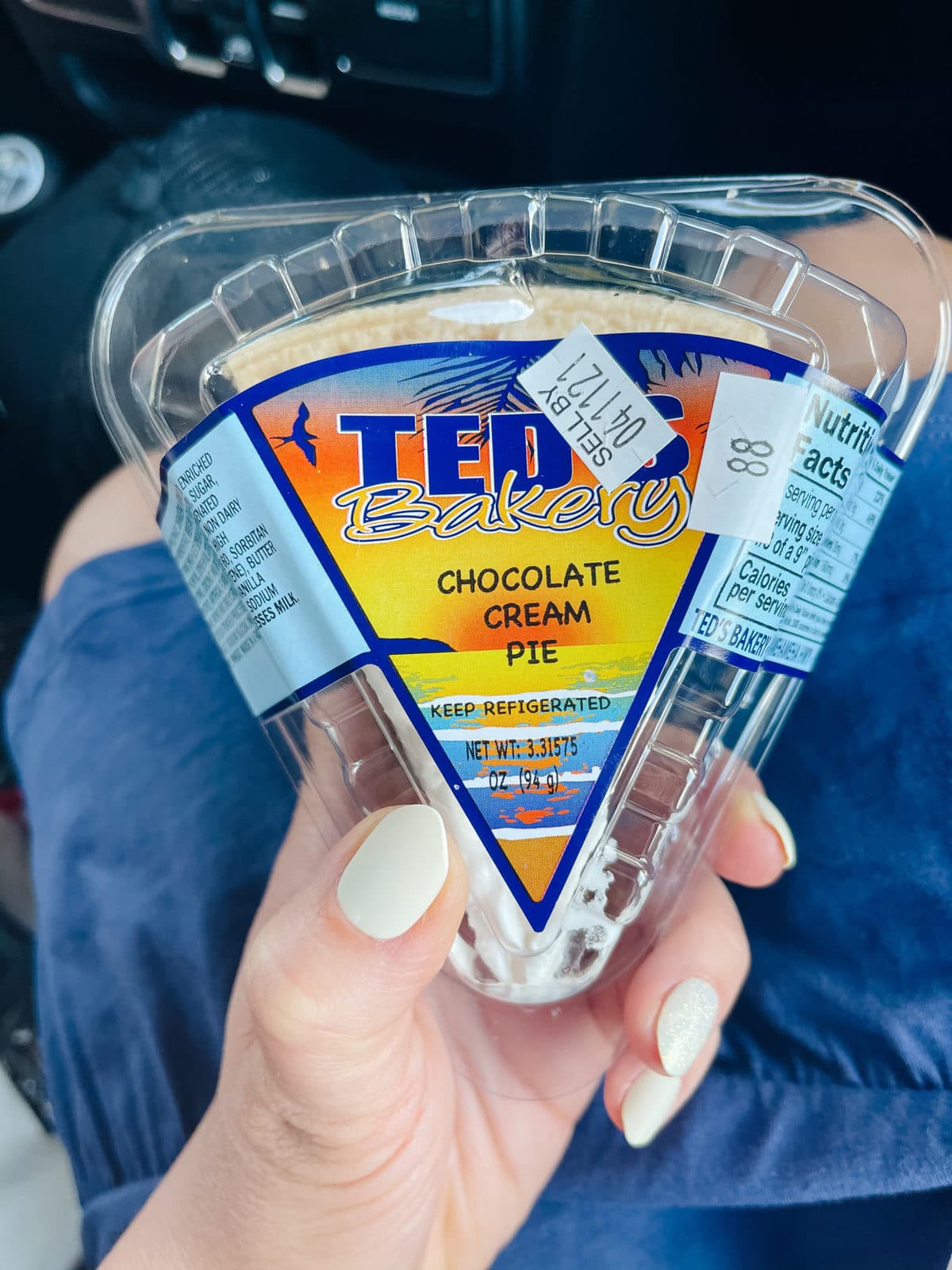 MATSUMOTO SHAVE ICE – The most in-demand and popular shave ice spot on the North Shore, for a reason! Truly heaven in a little cup of perfectly, freshly shaved ice topped with the most delicious toppings. I'm literally salivating writing this. Almost always a wait, but, TOTALLY worth the wait!! So dangerously inexpensive ($3-4) that you'll be back multiple times.
Some of my favorite flavor combos: strawberry + white cake (tastes like a strawberry shortcake), coconut + peach + vanilla, pina-colada + vanilla. NEVER EVER skip the 50 cent sweetened condensed milk cap + $1 ice cream at the bottom upgrade!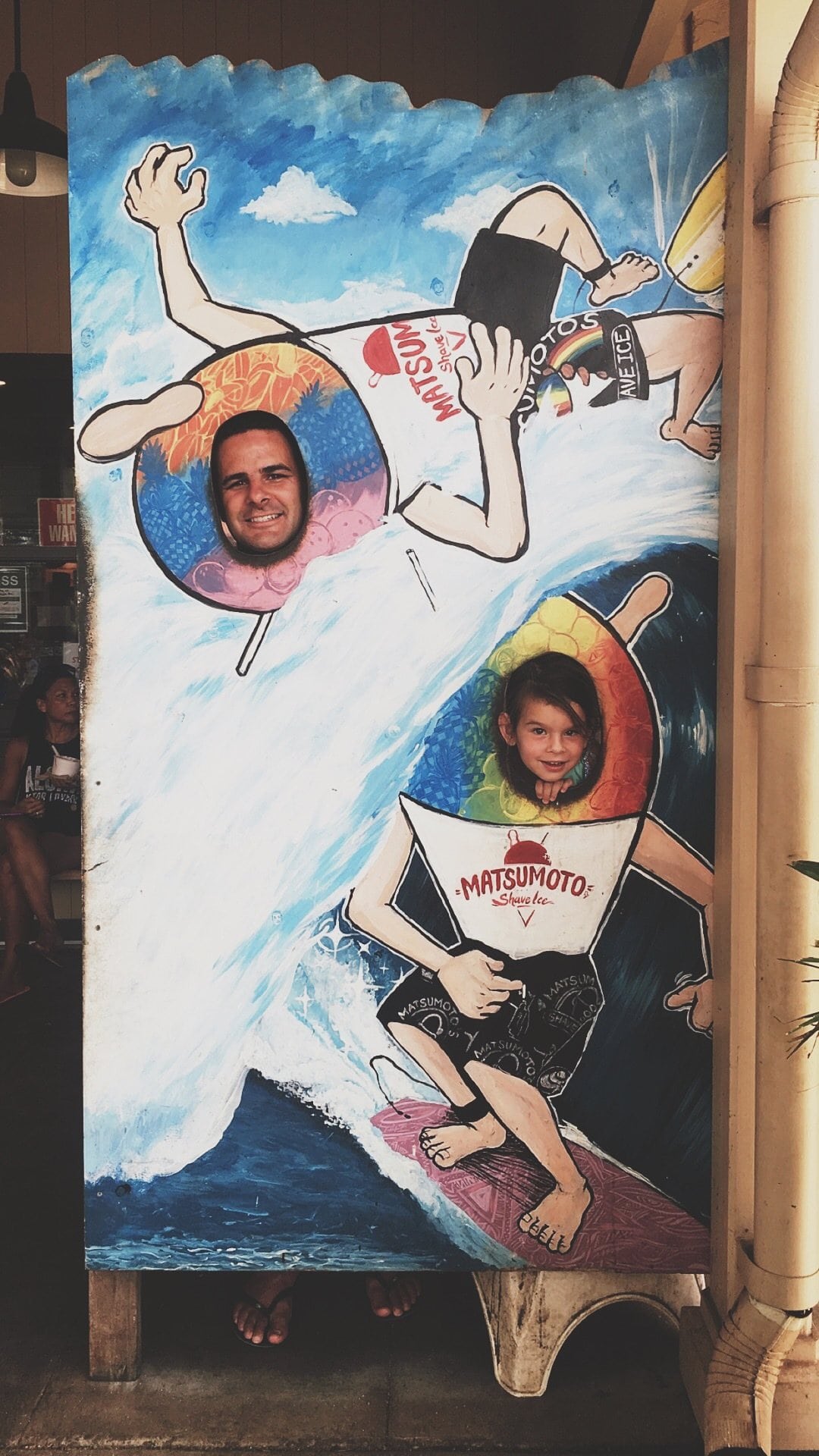 AOKI'S SHAVE ICE – THEY'RE BACK!!! After several years being off the North Shore, Aoki's has rebuilt and returned and they're better than ever. This was our favorite little discovered secret 10 years ago on our honeymoon, only to be totally bummed when they closed down "for good" a couple years later. But since our March trip of 2020 they've been back and I would even say, I maybe love them MORE than Matsumoto's?! They're on the same street so you can totally try both if you're like us and you want to frequent the shave ice spots once (or twice!) a day. We won't judge.
WAIALUA BAKERY: This yummy sandwich shop is family-owned and they have really delicious treats and sammies. Right in Haleiwa so you can grab a sandwich here before you go get your second (or seventh) shave ice of your trip.
BANZAI BOWL – We're spoiled because we have Banzai Bowl in Orange County where we live, but if you don't have one you MUST go get an acai bowl from Banzai Bowl! The Shark's Cove location is probably my favorite, but I like them all. Literally have not tried one I haven't been obsessed with.
My order: Da Kine + strawberries + mini dark chocolate chips on top!
MONKEYPOD KITCHEN: This is a chain (WAIT! Don't write them off!) but it's one of the very best places to eat in Ko Olina bay, if you're staying at Aulani or the Marriott Villas or Four Seasons! My friend Amy (fellow foodie who LOVES Monkeypod) told me to order the kalua pork & pineapple pizza and the banana cream pie, and I always order what Amy tells me to and I'm never disappointed … you won't be either!
Favorite Oahu Beaches
SHARK'S COVE (North Shore) – Totally AMAZING beach for snorkeling and scuba diving, but it's not super toddler friendly. This is a rocky beach, not a sandy beach. There's tons of marine life here and a lot of fun spots to jump off rocks into the ocean.
WAIMEA BAY (North Shore) – One of the MOST famous surf spots in the entire world! Near Banzai Pipeline and Sunset Beach. Perfect place for swimming in the summer.
THREE TABLES (North Shore) – Beautiful snorkeling spot and way less rocky than Shark's Cove. Occasionally you can see sea turtles here.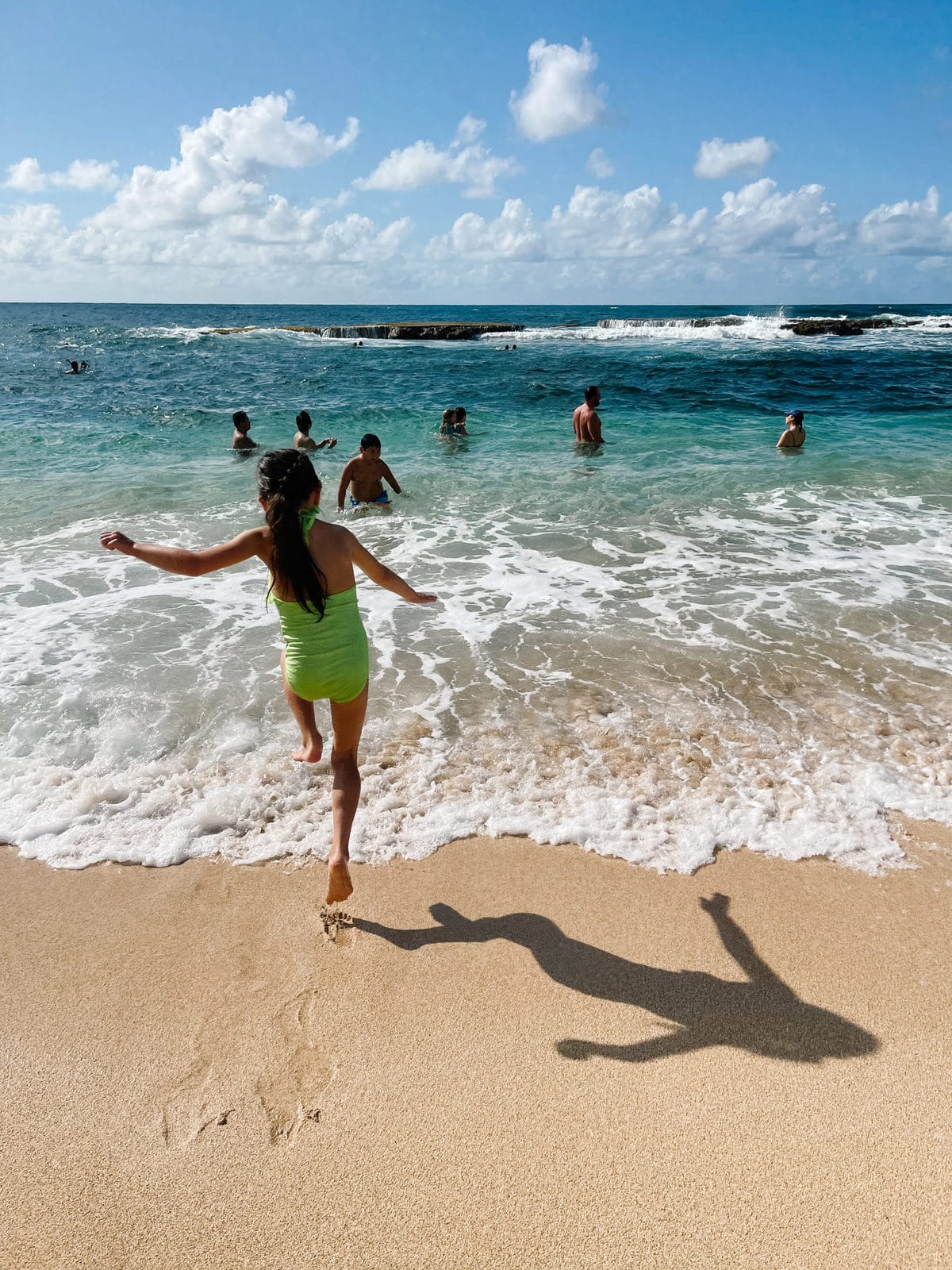 POUNDERS or LA'IE BEACH PARK (North Shore) – Neil's favorite for bodysurfing
CASTLES BEACH: Our friends Katie and Spence (who own these amazing vacation rentals!) took us to this local beach spot, where the waves are mellow and there's perfect sand for castles and we found this MAGICAL rainbow on our last trip! To find it, look up the address for Malaekahana Beach Campground, park there and then walk down to this beautiful hidden gem of a beach.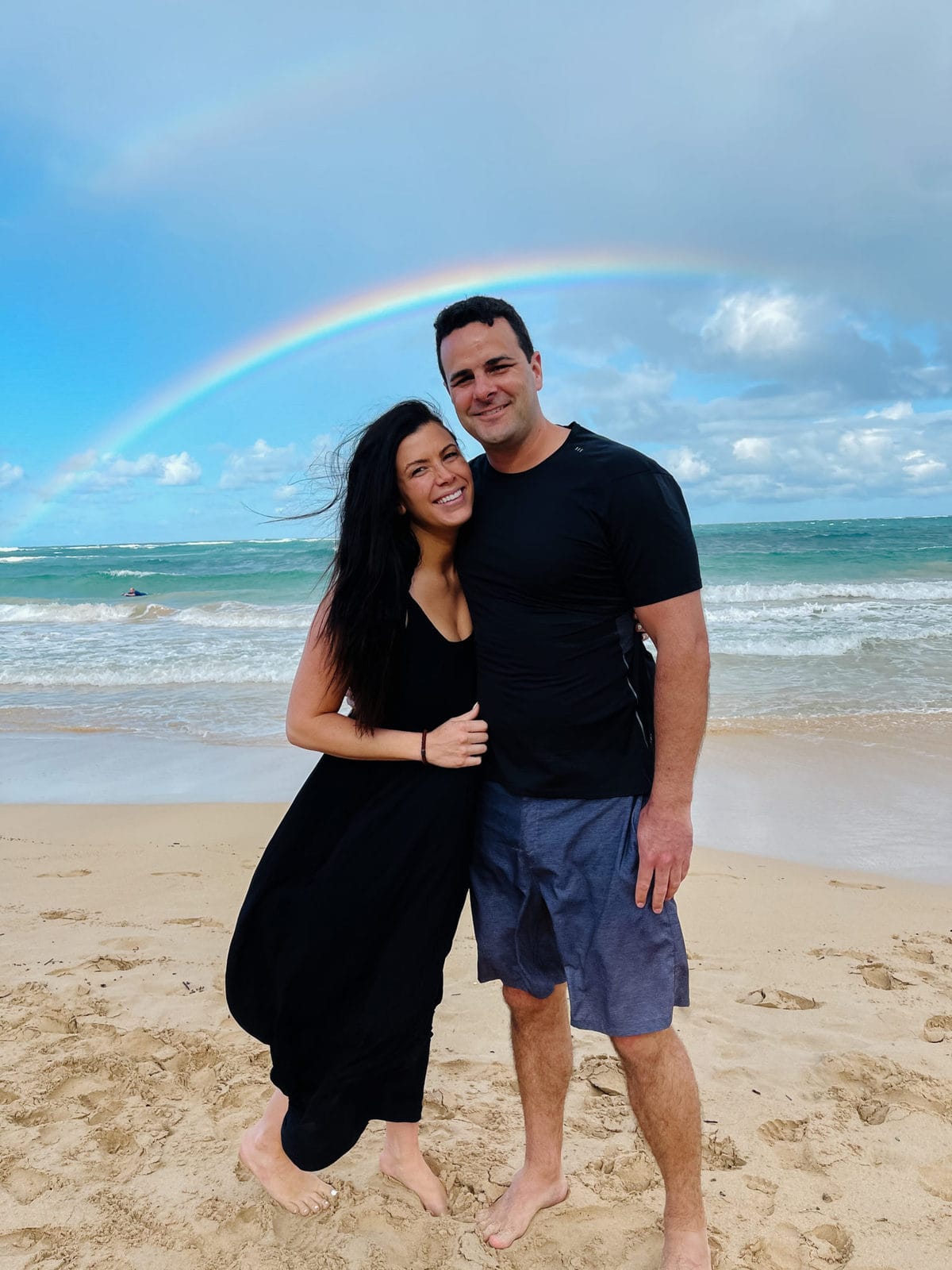 What To Do in Oahu
LAIE HAWAII TEMPLE – this LDS temple is truly one of my favorites in the world! They have a really fun visitor's center too where you can take a tour and learn more about how this temple was constructed and its history.
LUAU AT THE POLYNESIAN CULTURAL CENTER – If you haven't experienced this yet it's a MUST!! But just to be clear – you go for the show, not for the food. The food is just okay. The live show however is spectacular – hula dancing, singing, and a fire knife show at the end will literally take your breath away!
DOLE PLANTATION – We actually didn't go here because we were going to Aulani where they have all you can eat Dole Whips, but if you've never experienced the Dole Whip or you just really love pineapples you must go here!
VALLEY OF THE TEMPLES – Neil took me here the first time we went to Oahu and I was blown away by how breathtaking it was! You will feel like you're in Japan right when you drive up to this place. It's very peaceful and stunningly beautiful; one of our favorite places to stop when we're in Oahu.
Best Oahu Guidebook
OAHU REVEALED – Do not go to Hawaii without this. Do not skip this. Do not pass go, do not collect $200. But really, just get this book! I agree with 98% of everything they say here and you'll find all of the best local secrets for places to beach and the best foodie spots and all the most fun things to do.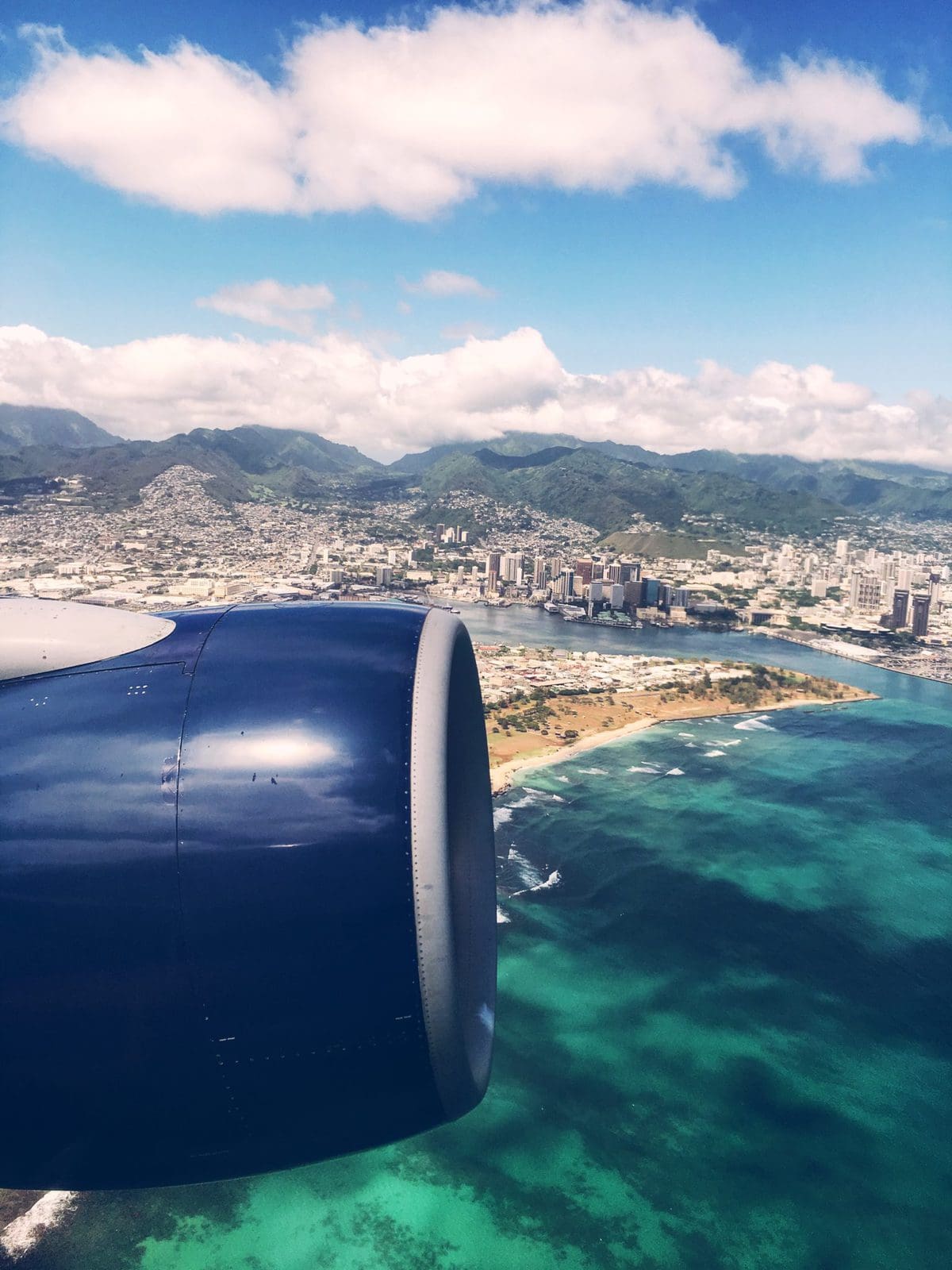 Hawaii Beach Vacation Must-Haves
Our Hawaii highlight video
Here's a little taste of our family trip to Oahu!
Be sure to check out our Orange County local's guide here!
This post was originally written on August 14, 2019 and updated on August 10, 2021.