Quick version: take 10% off your Clean Simple Eats purchase with this discount link, NO CODE NEEDED! Save on their meal plans, proteins, supplements, and more!
You know I love something when I keep talking about it over and over and OVER. And Clean Simple Eats is one of those things. I know I kind of sound like a broken record on stories sometimes when I'm professing my love for them, but it's just SO REAL!!! We've been eating from Clean Simple Eats meal plans since the beginning of 2018 and I don't plan on quitting, basically ever. The food tastes incredible, it takes all the planning and guesswork out of eating healthy and feeding my whole family, and still LOVING what I'm eating while losing weight. Win win win win WIN right?
Not only do I have a Clean Simple Eats exclusive discount to share with you, but I also answer all of my FAQ about CSE in this post. Keep reading for all the reasons I'm in love PLUS how to save!!
One of the hardest things about getting older is how much your metabolism changes. Can I get an AMEN?! It's just not like those college days of drive-thru's, late night snacking, and somehow not feeling it in my pant size. After every baby (and every birthday!) it's become more and more difficult to maintain the body weight that feels like "me!" And I'm not even talking about a number on the scale. The BIGGEST thing for me is being able to fit into my clothes.
Even though I worked out more during my pregnancy with Millie and Harry than my others, losing the weight was WAY harder! There's a reason they say "abs are made in the kitchen" and discovering Clean Simple Eats proved that! Once I started CSE it was amazing to see how quickly I shed some of that lingering post-baby fat and I just FELT LIKE myself! So much happier, so much healthier. More energy. Better sleep. Seriously, it was a game changer for Neil and for me!!!
Clean Simple Eats Discount
Take 10% off your purchase with this discount link, NO CODE NEEDED! Save on their meal plans, proteins, supplements, and more!
What Is Clean Simple Eats?
In case you've missed me fan girl-ing over Clean Simple Eats on Instagram, here's the skinny on CSE. It's a macros based meal plan that allows you to eat tacos and pizza and dessert and still lose weight! No joke. Every recipe is balanced with just the right amount of protein, fat, and carbs to keep your body fueled and satisfied AND still burn unwanted fat. All the food is super clean and super yummy.
It literally doesn't feel like a diet, because it really isn't!! It's amazing recipes and meal plans that take all the stress of figuring out what you're gonna feed your family and what you need to get from the grocery store, out of your life, and instead gives you DELICIOUS (seriously they're SO YUM) meals that take less than 30 minutes to make (sometimes even just 10 mins) that my whole family will eat.
We made these banana mac nut pancakes for Neil on Father's day last year and let's just say he wasn't the only one to gobble them up!
When I Started
I started with their Winter Meal Plan in 2018 and I'm still OBSESSED. There are things from that meal plan that I still eat on the regular. Ummm…hello Peanut Cup Oatmeal! In the winter I ate that every single morning for breakfast! New meal plans come out 4 times a year: fall, winter, spring and summer. So I've done the spring, summer, and fall plans, too. This is the grilled bruschetta pizza from the summer meal plan that I whipped up for lunch more times than I can count! See, you can have your cake (or pizza) and eat it too.
My family was so pumped when we first opened the fall plan. Because seriously is there anything better in this whole entire world than fall food? I think not. Below is everything we used to make the taco soup, that BOTH my big girls asked for seconds of!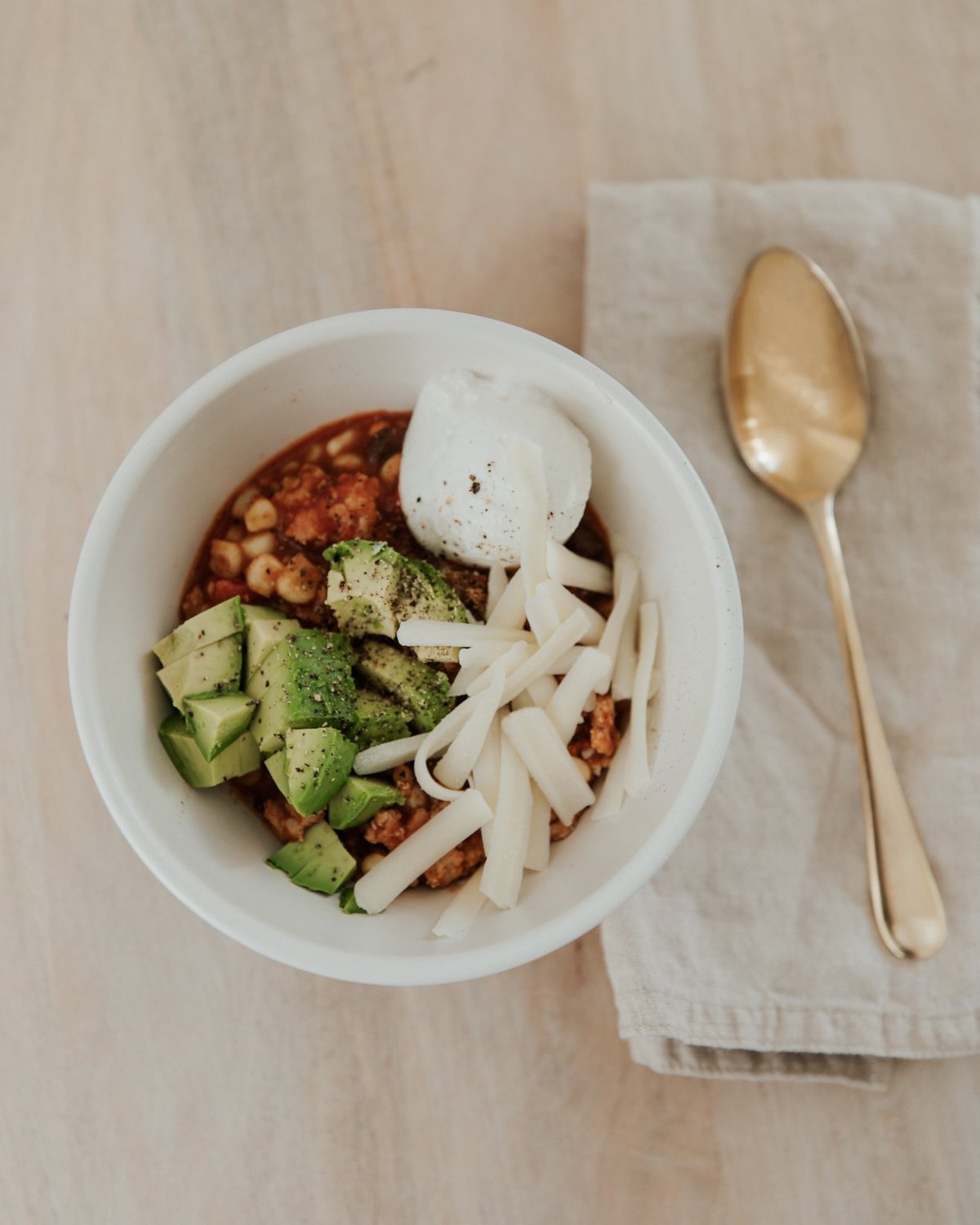 Here's a list of my very FAVORITE recipes from each season of Clean Simple Eats. It's pretty obvious looking at my list that I have a serious sweet tooth, and I love chocolate! I really have loved everything I've tried, but these are the ones I go back to over and over, even after that particular season is over.
Favorite recipes:
WINTER:
Peanut Butter Caramel Milkshake
Thin Mint Shake
Dark Chocolate Mug Cake
Banana Chocolate Chip Muffins
Chocolate Chip Cookie Dough Bites
Triple-Chip Butterscotch Bites
Cinnamon Roll Shake
Chocolate Waffles
Chocolate Peanut Butter Oatmeal (I eat this almost daily, year-round!)
Chocolate-Glazed Banana Crepes
Buffalo Chicken & Pesto Sandwich
BBQ Chicken Salad
Aloha Chicken Kabobs
Parmesan Chicken
Boss Baked Mac & Cheese
Best Ever Chili (my kids' fave!)
Italian Calzones

SPRING:
Dark Chocolate Cherry Shake
Orange Julius
Blueberry Muffins
Chocolate Chip Mug Cake
Thin Mint Cookie Bites
Hot Cocoa Pancakes
Sweet Cherry Almond Freeze
Brekkie Bruschetta
BBQ Chicken Pizza
Island Mahi Mahi & Coconut Rice
Crispy Chicken Nuggets
BBQ Chicken Haystacks
Lemon Butter Chicken
Hot Turkey & Swiss
Caprese Chicken Salad
Pesto Cream Spaghetti
Thai Crunch Salad

SUMMER:
Chocolate Covered Orange Shake
Strawberry Colada
Chocolate Speckled Frosty
Speckled Cinnamon Apple Dip
Banana Cream Pie Parfait
Chocolate Almond Joy Bites
Chocolate Lover's Acai Bowl (my second favorite breakfast!)
German Pancakes
Peach Raspberry Shake
Grilled Bruschetta Pizza
Honey lime Chicken Enchiladas
Pear & Candied Pecan Salad
Thai Chicken Lettuce Wraps
Summer Cobb Salad

FALL:
PB Toasts
Pumpkin Chocolate Chip Mug Muffin
Almond Joy Protein Shake
Bacon Egg & Avocado Sandwich
Double Chocolate Peanut Butter Oatmeal
Pumpkin Cocoa Shake
Harvest Cobb Salad
Chicken Fettuccine Alfredo
Grilled Cheese & Tomato Basil Soup
Thai Chicken Pizza
Turkey Pot Pies
Grilled Caprese Panini
Cheddar Ranch & Chicken Potatoes

Why I love Clean Simple Eats
The Food
The food is delicious. I'm not talking delicious for being "diet food," I'm talking straight up DELICIOUS. Everything tastes amazing. My whole life I've been under the impression that healthy food that's going to fill you up just isn't going to taste good. Clean Simple Eats is a total game changer. I haven't made one single thing since we started that I don't absolutely love. Bonus: Neil and my kids love everything, too!
I never felt good about doing a diet that would require me to make food for myself and then turn around a make a separate (maybe less healthy) meal for my kids. So I LOVE that when I take the time to make the Clean Simple Eats food, I'm feeding the WHOLE family! For example, my family loved the chicken tacos I made from CSE here. But they've asked me to repeat several Clean Simple Eats meals over and over!! Hello…MOM WIN.
Millie ate this exact same lunch with us from the fall meal plan when she was a lot younger (minus the spinach and pecans) and it was SO EASY to make work for her age. I just cut up the chicken, eggs, and roasted butternut squash really small and she devoured it!
The Grocery Lists
I'm in love with the grocery lists. They make it super easy to get everything I need for the week in a snap. These lists also include instructions for the meal prep which is amazing. With Clean Simple Eats you only meal prep twice a week. Could you die? Nothing is that low maintenance! Additionally, every single meal takes 30 minutes or less to prepare! That's pretty much heaven for any busy person and if there's anything I've learned as an adult it's that we're ALL BUSY! It seriously doesn't get much more doable to eat healthy than this.
The Eating Out Guide
As somebody that LOVES food and is usually on the go a lot (when I'm not on bed rest!), it's just not realistic for me to never be able to eat out! The guide is SUPER comprehensive and it lists tons of popular restaurants, the best macro-friendly options you should order from each place, even instructions on what to sub or omit. But even if I'm not at a restaurant that's listed I can still find a restaurant that's similar and get some ideas!
I'm Never Hungry
Really and truly, I was worried when I started Clean Simple Eats that I was always going to be hungry and I'm NEVER hungry!! If I'm good about sticking to the plan and eat my breakfast, lunch, dinner and a snack or two I'm full all day. The protein balls are AH-mazing! Honestly, I always feel super full and not like I'm starving myself, EVER.
The Workouts
I mainly use the workouts when I'm traveling or I'm not able to make it to a class and I still want to do a work out. Some people I know use these workouts exclusively. It's super nice that the workout is already all written up for you and a total no brainer!
What About the Grocery Bills?
The cheapest way to do Clean Simple Eats is with Trader Joe's. I can typically get out of Trader Joe's usually for UNDER $150 with all of our Clean Simple Eats food for the WEEK! The first week of the fall meal plan cost me $120 at TJ's.
Trader Joe's always has all the random, weird ingredients that you might need so you're not making a million grocery stops. The longer you do Clean Simple Eats, the cheaper it becomes because there are less of these random ingredients to buy! It was a little bit of an investment in the beginning, but in the long run it's easier to keep up with.
Do you have to buy the Clean Simple Eats proteins?
You totally do not. When we started out, we were using up other protein powder we already had in our pantry. You can really use any vanilla or chocolate proteins to make the required foods. But…I DO think their protein powder tastes better than ANY other protein powder I've ever tried. Once you try it, you'll never want to buy anything else because it really does taste THAT much better.
Below is evidence of my summer obsession – the CSE acai bowl that I had seriously almost every day from May to August one summer. Every time I ate this I felt like I was having dessert for breakfast. I'm getting hungry just thinking about it!!!
The CSE Challenges
Every season when Clean Simple Eats releases a new meal plan, they also start a community based health and fitness challenge. At the end of the challenge they choose one male grand prize winner and one female grand prize winner for the biggest overall transformation. In the past the grand prize winners have won vacations to Kauai, Hawaii, and Walt Disney World!! Yes, please!!
They also do weekly Instagram challenges to help you stay motivated and have the opportunity to win prizes along the way. So fun, right? It's kind of like having a buddy to do the whole thing with you, except like thousands of buddies who are eating the same things, buying the same groceries, cooking the same food, giving each other tips and tricks along the way and motivating each other. I absolutely love being part of their community!!!
Macros Makes It Easy
Macros is a fun puzzle that allows me to eat other yummy off-plan foods so I never feel like I'm sacrificing anything! I put these foods into my macros and just figure out where I need to cut back to stay within my daily allotment. Since I can really eat what I want, it doesn't feel restrictive AT ALL, it just makes me accountable!
Clean Simple Eats has really helped me to understand my diet. Where protein is coming from. Where extra calories that I don't want are coming from. And how to make smarter choices about food choices that are going to be low carb, but still fill me up!
Dessert FOREVER!
Dessert is my favorite thing of life! You can have dessert EVERY single night and this is HUGE for me! I love that with Clean Simple Eats I don't have to sacrifice that. I can make myself one of their amazing milkshakes to treat myself and still lose weight. There's a Speckled Frosty in their summer meal plan that I can't get enough of! It's so super yum-you would never guess it has cottage cheese in it! And these German Pancakes below from the summer plan were so crazy delicious that I kept asking myself, "how is this healthy?!" They're like heaven.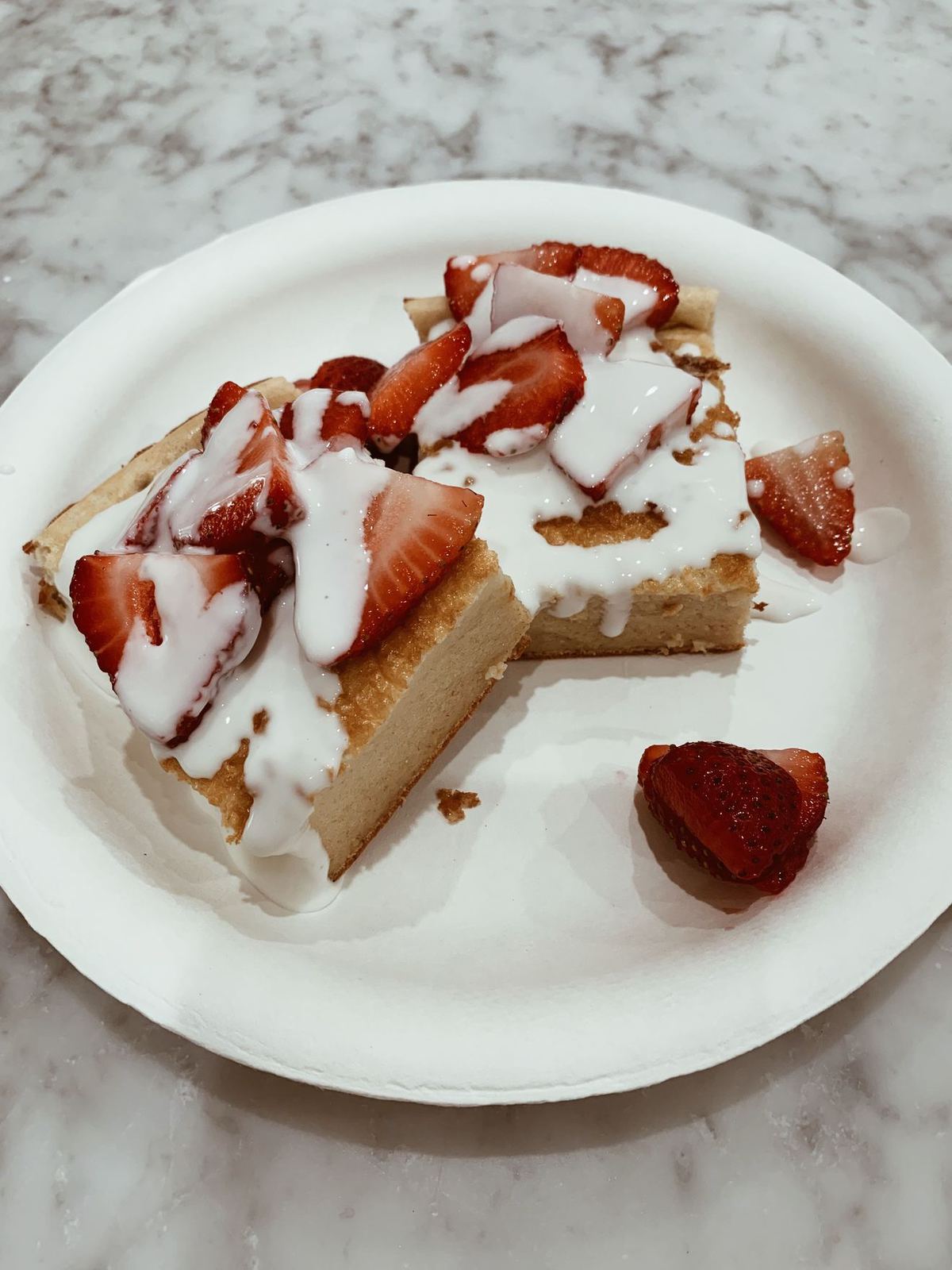 Does Clean Simple Eats Work?
I lost weight right away, Neil lost weight right away, and MOST OF ALL, I feel so much better when I'm doing Clean Simple Eats. My clothes fit, I know exactly what food to order at the beginning of every week, I never have to guess what to make for any meal, my whole family is eating healthy and I'm so happy about it!
Clean Simple Eats solved my problem of trying to figure out how to eat healthy and still have things taste good, stick with a "diet" that was actually sustainable in the long run, not stress at dinner time about what to make each night, not eat junk at lunch time because I was stressed and hangry, not walk around aimlessly at a grocery store trying to think of recipes off the top of my head, and most of all, how to fit back into my skinny jeans and feel GREAT about life because I'm eating yummy food and feeling my best!
Are you part of the CSE family?
Have you tried Clean Simple Eats yet? If you haven't, or if you need to buy one of their meal plans you don't have yet, use THIS LINK to get 10% off your purchase, no code needed! If you're already a member of the CSE fam, tell me what your favorite thing to eat is!