Today I'm so excited to share our first reveal from the new house!! In this new house I really had my fingers crossed that our furniture would all fit and look okay and was SO relieved when it all fell into place like puzzle pieces. I love keeping the big, main details classic, and then changing out accessories and knickknacks around different trends and seasons. In this blog post, I'm going to share a few small changes we made to the family room and kitchen that had a gigantic impact!
I want to give a HUGE shout out to my decorator Tahni Hansen! She has an incredible eye and picked out the cutest decor pieces to help make small family room and kitchen updates with a BIG impact.
Textures
The Opalhouse home line at Target is totally my jam right now. It's all earthy tones, really fun patterns, and gorgeous textures that work to create a dreamy and slightly boho vibe. It felt like a natural choice when I was making changes in my living room. I want this to be a central space for my family to play, chill, talk…a real room for living! Ha!
Colors and Patterns
When accessorizing the living room I gravitated mainly toward pillows and vases to add new colors and patterns. The Opalhouse textiles are so eclectic, and the macrame patterns, fringe, and tufting on these pillows (this, this, and this!) spruced up my couches in a really fun way. I loved that the textures here allowed me to keep a more neutral color palette without losing interest. I also kept some of the pillows we already had from our last home.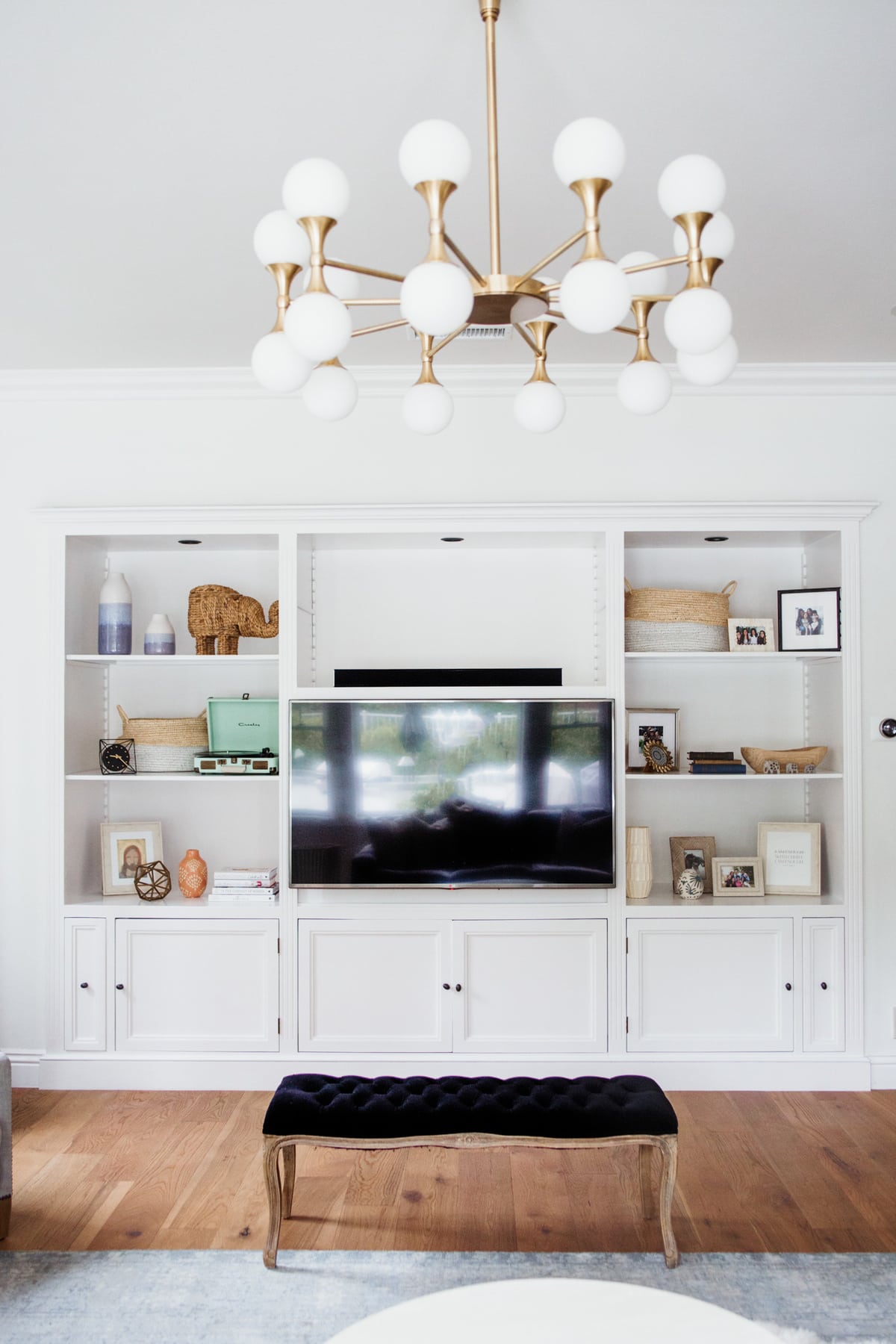 Shelf Decor
For vases, I chose three (this, this, and this!) in varied, but coordinating colors and in different heights and patterns. This is one of my favorite ways to change up shelves, and I often find myself moving them around my house when I want a little change! Vases like this work in pretty much every room of the house, and it's so fun to add a little seasonal greenery from outside when we have a party or special occasion.
A circular picture frame always feels a little unexpected and adds some variety to a shelf or gallery wall. One thing I love about the Opalhouse frames is that they all come with a graphic or art print already framed, so even if it takes you a bit to get around to replacing the print with your own photo, (like me!!) it still looks pretty cute.
Colorful Art Print
This "Do It Anyway 2" – Art Print by Kristi Kohut gives the family room a soft feeling that ties all of the colors in here together. I love that it has some really and beautiful pinks incorporated without feeling too feminine–this is still Neil's house too, after all!
Wired Basket
Having a wired basket lets the pretty blankets we store inside shine while still keeping everything organized.
Gold Side Table
I have loved this side table so much in our home! It's sold out but this one is pretty similar and so cute. It's been moved around several times in our house but it fits so cute in our new family room, especially with the new light we installed.
Layered Rugs
I kid you not, every single time I do an insta story in this room, at least 1 or more people ask me where I got this blue rug. It's so pretty and looked perfect in our old house, as well as our new. I couldn't be happier with it!
I layered the blue rug with this ultra soft sheepskin rug which has held up beautifully in both houses. We even had Winnie get it dirty recently and I threw it in the washer according to the directions, air dried it over our bannister, and it was good as new.
Astoria Chandelier
Finally, we replaced the lighting in here! This is the change that I'm definitely most excited about in our home. To say I wasn't a fan of the old one is kind of an understatement…I was so excited to say good riddance and replace it with this beautiful fixture from Hudson Valley Lighting! I love how elegant their Astoria chandelier is, and it makes this room feel bright and sunny all the time. It fits in seamlessly with the feel that I wanted this space to have, and it makes me smile every time I turn the lights on.
Let's talk Kitchen
Getting our new kitchen all set up has been so much fun. I love a fresh start, especially in a space we use so often! I was really grateful for the insights I gained with the kitchen remodel we did in our last home. In many spaces in this home the name of the game has been small changes, big impact. We already have so many of the main pieces for our home, so we just wanted to make little tweaks in order to get things just right. This kitchen didn't need a complete overhaul…it just needed some special touches to make it feel like ours!
Black Grout Stain
Staining the grout was a really incredible way to dramatically change the look without changing all of the tile. The grout color before was supposed to be white but was actually a weird yellow/pink hue that just never looked clean to me. This grout stain was $16 for a bottle and I love the contrast that using a flat black brought into this space! This saved us so much money that my head is still spinning.
Touch Faucet
I went with the same touch faucet that we used in our last kitchen. After living with it and using it every day, I just knew I couldn't go back to anything else! I didn't even realize how often I have nasty things on my hands while cooking that I don't want touching the faucet. Being able to just tap it with my forearm saves me from spreading egg or raw meat germs all over the kitchen. Such a game changer! The only thing we did differently with the faucet this time around is the finish. We went with the flat black instead of gold to tie in with this space a little better.
Pendant Lighting
For lighting, we chose the Massena pendant from Hudson Valley, one of my favorite places to shop for lighting fixtures for our house. My favorite thing about this pendant is that it has an industrial look with some really great details to soften it for a family space. The interior of the dome has a glossy white finish, so it casts a really pretty, bright light downward, plus it has cutout vents on the top that send light up and out, too.
Bar Stools
We also got new bar stools. I love how casual and conversational a seat at the counter feels! My girls can sit and draw or play while I get dinner ready, and it's also a fun place for friends to sit and chat over appetizers while watching a game or before eating. I love the European feel these chairs have, and the classic white is such a pretty neutral in this space!
Family Room:
Square Oversized Cream Pillow Macrame
Global Stripe Oversize Square Pillow
Cast Sunburst Frame Gold 4″x4″
Earthenware Bubble Vase – White/Green
Earthenware Vase Orange
Tufted Oversize Square Pillow
Earthenware Vase Large – Cream
"Do It Anyway 2" – Art Print
Blue Printed Rug
Sheepskin Rug
Maxwell Sofa
Astoria Chandelier
Wired Basket
White Coffee Table
Kitchen:
Barstools
Massena pendant from Hudson Valley
Grout Stain
Touch Faucet
Photos by Arielle Levy
Big impact = Small changes
Overall, I'm so happy with the big impact these small changes have made in our home! The family room and kitchen feel totally fresh now, and I didn't spend a fortune making it happen. ICYMI, The Every Girl featured our family room and kitchen on their blog, and you can read all about it here!