We've been in our house for almost two years and until now, our office space has always been the catchall, throw all the junk in the room. Raise your hand if you can relate! Between having babies that needed nurseries and refreshing more frequently used spaces, this room was pretty low on our priority list and kept getting put on the back burner. Pretty bananas since we work from home! But we finally, finally put our home office altogether and it has been so nice!
In this blog post, I'm sharing how we recycled high-quality pieces we really loved from elsewhere in our house and added a few new hero pieces to create the PERFECT home office space.
And with SO MANY PEOPLE working from home right now, I'm also going to give you guys my best tips for working from home! I've been working from home for the past 8 years and Neil has for the past 6, so we have a LOT of experience WFH. Read on for our tips!
Barn Door Bookcase
I was on the hunt for a piece like this barn door bookcase forever and ever and EVER. We really needed space in our home office to store items I order for blog posts or if we are working on a collaboration so that there aren't just boxes everywhere. This gorgeous and uber functional storage unit was the ideal solution because it was way cheaper than doing custom built-ins and solved one of our very biggest problems.
Our barn door bookcase is ON SALE today – originally $1299.99 but marked down right now to $975 with code MORESAVINGS – that's a discount of $375!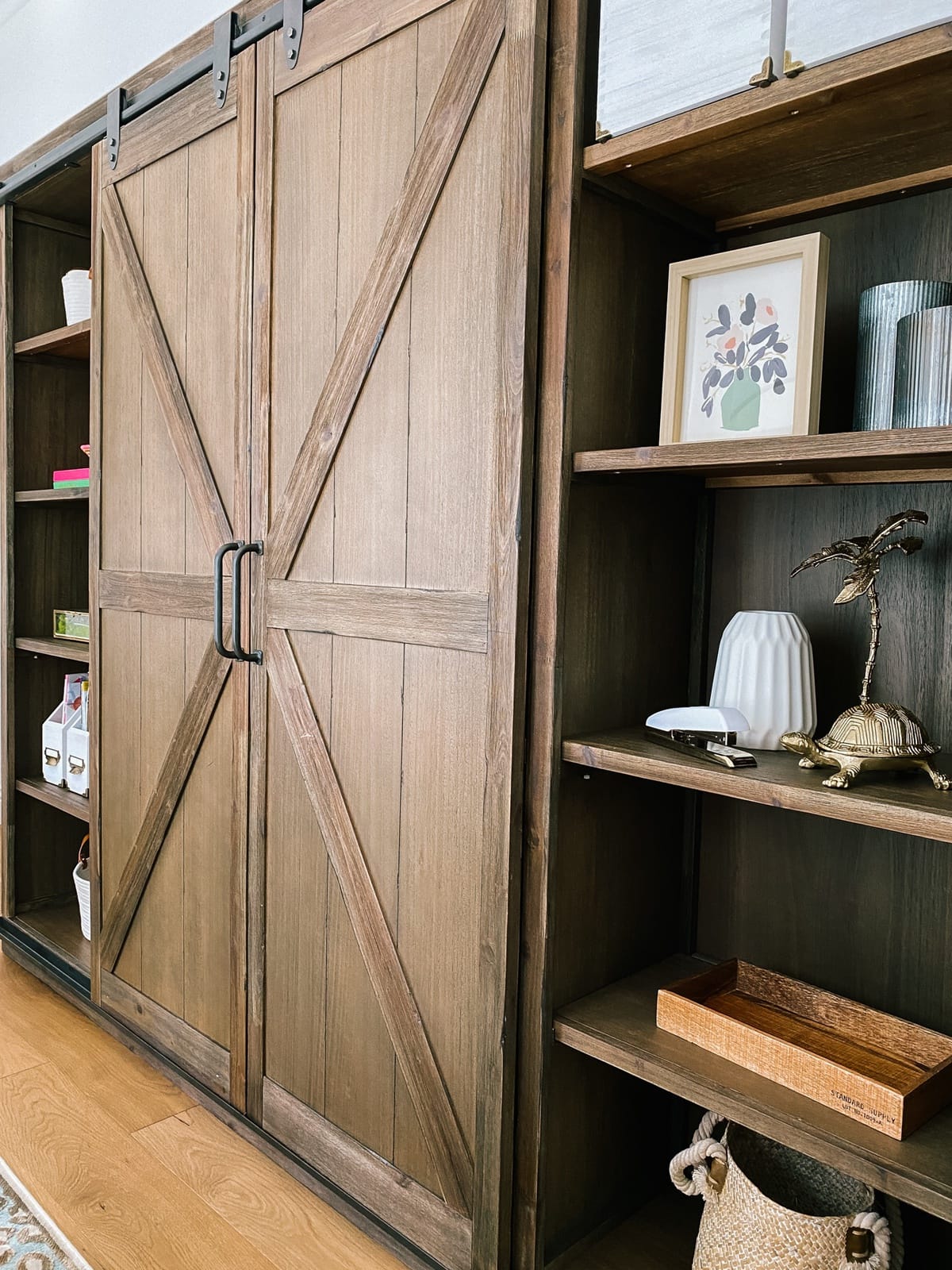 We can adjust and remove and configure and organize all the shelves inside to meet our business needs and then just cover it up. Like magic!
This piece gets super amazing reviews and over 90% of reviewers would recommend it to a friend. So this is me, recommending it to all of you, my Mint Arrow Besties!
Shelf Styling
This particular shelf reminds me that I've promised myself someday to go back to Rwanda and continue working with the women at ADC who make the on purpose collection for kate spade. That basket was hand-made from Rwandands and the books are kate spade. It makes me happy every time I look at it.
Filing cabinets don't have to be ugly! These wood crates are so pretty and fit perfectly into our barn door piece, and they have the little metal bars across the top to slide file folders onto.
I frequently use magazines for blog post inspo but it drives Neil CRAZY to have them lying around the house. I used these pretty magazine filing boxes to keep them all organized and looking nice!
I also got some really cute inexpensive pieces to style the shelves with from H&M home. I didn't want to spend an arm and a leg styling all the shelves and that was the perfect place to fill in a lot of the gaps with cute useful little things that I can store jewelry in for collabs or display fun pieces that are meaningful to me after we've worked with them.
Subtle Leopard Rug
You know how much I love leopard print. It's my favorite neutral! So I was obviously obsessed at first sight with this super subtle stone and aqua leopard rug. It's such a fun accent piece for the office space and so so soft.
Cream Swivel Chair
All the heart eyes for the prettiest office swivel chair I've ever seen! It was very highly rated on Amazon and fairly affordable. The clean, modern lines are so beautiful and pair perfectly with the desk.
Dramatic (But Inexpensive) Curtains
These curtains were just an affordable ticket to creating a little privacy in this space. I absolutely love that they're tall, but create a pretty little puddle on the floor. They add the perfect amount of dramatic flair to our office decor.
Pretty Beaded Chandelier for Less
I've had an obsession with beaded chandeliers for a while now! I'm still in LOVE with the one in our formal living room and glad we got that one since it's the first room you see when you walk into our house, and I also love the one in Lyla's room that's about to be Millie's room, but if you're looking for an inexpensive but REALLY pretty one, I love this brand new affordable beaded chandelier we used in this office!
It's ON SALE today too – originally $229 but it drops down to $160.25 (a discount of $68.95!!) with code MORESAVINGS.
Reduce, Reuse, Recycle
Some of the hottest trends in retail right now are sustainability, upcycling and recycling. Sustainability is actually one of the things we love MOST about our new sactional-it is truly meant to last a lifetime.
I loved that we were able to reuse so many high-quality pieces from former home projects and spaces in our home office decor, like the big artwork behind the desk as well as the big artwork on the other side of the room. All from minted, but originally purchased for our family room in our last house and our master bedroom in our last house!
St James Desk
We have had this desk for SIX years and it has just been absolutely stellar. It is a bit of an investment piece but we have moved it from house to house and totally love it. The dimensions of it fit so nicely in this space. But if I were buying a brand new desk because I suddenly had to work from home, this marble and gold one is super cute and only $99.
Wall Art
Like I mentioned a second ago, the two prints that hang behind the desk used to live in the master bedroom of our previous house. I love how perfect they look hanging in our home office.
The colorful print we had hanging in our family room also found a new home here. All the pretty, soft pops of color help tie everything together. Plus this is such a great versatile piece. We had it hung vertically in our family room but we were able to remix it and hang it horizontally in here to fit the space better and it's just as beautiful!
Comfortable Chairs
When we got our sactional, these chairs needed to be relocated to a new space. Since we work from home, we wanted our office space to be functional but still comfortable. Putting these chairs in here is giving me all the chill office vibes. Like we're here to work, but maybe in a robe.
Pipe Clothing Rack
This clothing rack is one of my 10 most asked about home pieces. It is one of my favorite things to use when I'm planning outfits for posts. It is so helpful for me to have it here in the office so when I have clothes I want to shoot for the blog, they can hang out down here and not get lost up in my closet!
Swivel Chair
Rug
Office chairs sold out, similar
Pillows
Curtains
Gold Round Mirror sold out, similar
Barn Door Bookcase – ON SALE with code MORESAVINGS
Sitting Pretty I art print
The Rapids art print
Side Table
Desk
Do It Anyway 2 art print
Flower in Vase Artwork
Magazine File
Wood File Crates
Chandelier – ON SALE with code MORESAVINGS
Clothing Rack
Stapler
Wooden Tray
Gold Turtle
Palm Tree
Textured Vase
Similar Galvanized Vases
Dress sold out, similar
Shoes
After nearly two years, it's just been really nice to have a home office space that we can actually work in and works for us! You guys make it so much fun to share this home we love so very much! If you end up using any of these pieces in your own home, make sure you tag me. I love seeing how they work in all different spaces and places!
Work from home tips!
Stick to a schedule
Just like I mentioned in my post a few days ago about what to do with kids during social distancing, not just kids but adults also thrive off routine! I work soooo much better when I'm in the habit of doing things a certain way and I have a routine that my body and brain can anticipate. I also think, for me, it's absolutely vital to have time set aside before I start working to read scriptures and pray each morning. This is just essential to me being able to focus, do my best work, and have spiritual grounding before I jump into my work day.
Designate an office space
As I mentioned earlier in this post, it took us TWO YEARS to get our office totally cleaned up and decorated and ready to go. For years we've worked off our kitchen table and it's the perfect place where Neil and I can sit right next to each other and bounce ideas off one another and work together. It doesn't have to look fancy, it just has to be designated.
The first year or so of working from home, I would bring my laptop to bed with me. I started hating my bed after a while though! SO, I really suggest keeping work outside of the bedroom so your bedroom can still be a peaceful sanctuary where you come to rest at the end of the day. I make exceptions when I'm recovering from having a baby, or when I'm a few weeks away from having a baby (like right now!) and I need to be lying down. Even then though, I always prefer lying down on a couch over my bed. My bed has to be my safe space as much as possible!!
Time block
I cannot emphasize enough JUST how important it is to time block!! If you just sit down and start working on whatever gets thrown your way, you will not get a lot done. This isn't just a work from home tip, it's a work from anywhere tip but one that's super powerful. You can use a cute time blocking cube like this, or a free app. I like Block & Flow.
Give kids work too
If you've just starting to work from home and not used to your kids being around and they're begging you for attention, good attention OR bad attention by getting into trouble, chances are they just want to be close to you and feel like they still matter. If I have to get something done and Neil does too and we don't have a sitter here to help out, I set my kids up with "work" for them to do too, like a little school workbook, a craft, coloring, listening to an audiobook with headphones, a typing game, anything to make them feel like they're sitting at the kitchen table working too. It really does work out so well especially if I tell them, "I need 30 minutes to complete this project, so you do this and I'll do that and then we'll break for a snack!"
Break it up
Speaking of snacks, make sure you take breaks for drinks, snacks and LUNCH. I'll admit I eat lunch next to my desk more than I'd like, but that's usually to maximize the time I have before our sitter leaves. However, if I just had an open schedule and was suddenly working from home full time I'd be WAY more diligent about making sure I'm taking a lunch break. And when I do force myself to do this, it's like my brain had a chance to reset while I stepped away and ate something. Lunch breaks = highly recommend.
Airplane mode
If notifications are distracting you a lot – EVEN work ones like slack – go on airplane mode for small amounts of time, or close slack out if you need to. 20 minutes or 30 minutes here or there, but you'll be amazed how much more you get done!
Systematize your email
Always remember that email is usually you answering to someone else's agenda, not the other way around. So if you become a slave to your emails, set up systems to sort and break down emails to be priority, requests, and info. Those 3 folders are all you really need!
Whistle while you work
Okay not literally, but I'm one who works SO MUCH BETTER when I have a little music in the background. Neil is kind of the opposite, but he's adapted and puts up with me haha. I just can get so sidetracked with noises around the house, ESPECIALLY right now with our kids at home too! A little music (especially with headphones on if necessary) helps me drown out distractions and really focus on my task.
When working with a spouse
If you've never worked with a spouse or partner by your side, buckle up! Ha. It has actually been a dream come true, but a LONG time in the making for Neil and me to work together. We had to kind of learn to work side-by-side first for about 3 years, before we were ready to work together. We did an entire podcast on our story of working together and tips on how to work together here!
Get dressed and ready, or don't
I'm not gonna tell you to always get dressed up because I just don't do that (and in fact I LOVE that I can work in loungewear), but I do feel like getting ready and putting on makeup if that makes you feel like a more confident version of yourself, is a really good practice to keep up on if that's something that makes you feel more like yourself or if it's a creative outlet. I have a post coming SOON on the best loungewear because loungewear is my love language.
Look for the good
I hope these tips were helpful to you, whether you're looking to refresh an office space or you just needed some work from home inspo. Remember to count your blessings and look for all the GOOD things that you get to enjoy while you work from home and you're social distancing. You might just miss it once it's gone!