URGENT PSA!! But first, a questionnaire: Do you wear leggings 8 days a week? Do you like the look of a long tee to layer with? Do you like spending less than $10 on wardrobe staples? THIS TUNIC IS FOR YOU! And your neighbor. And your mom.
This tunic top is literally the BEST $7 I've spent in a while. Right up there with a pint of Handel's ice cream (if you have a Handel's by you, RUN. And order Graham Central Station immediately. You're welcome.)
I have been so excited to share this find with you guys, because I've legit been wearing one of these tees on the DB (daily basis. Because I'm not a regular mom, I'm a cool mom!) Keep reading to see how I styled this tee!
Maternity Leggings FTW
If you've been my friend for even 5 days around here you probably already know that leggings are my love language, and these maternity leggings are my new BFF. I own these in every color (black, navy and gray) and I can't think of a better way to wear these leggings than with my fave tee and a cardigan! Comfortable, chic, and effortless!
They're on sale right now for $17 and worth every penny for an easily layered, thin but not see-through, comfy but not pajamas-look!
THE Tunic
Ladies (and gents?), the famous tunic. The best thing about this tunic is the length! It is the perfect length to wear with leggings and therefore I shall be wearing it weekly (read: daily) until the end of time! It comes in FIFTEEN colors, so you're not even being excessive if you grab 3 or 4 colors! Because moderation.
This tunic is normally $17, but right now it's on sale for $7.99, BUT if you use the code 4HOLIDAY at checkout it's only $6.79!! JCPenney is the BEST at having promos to make their already amazing prices even LOWER!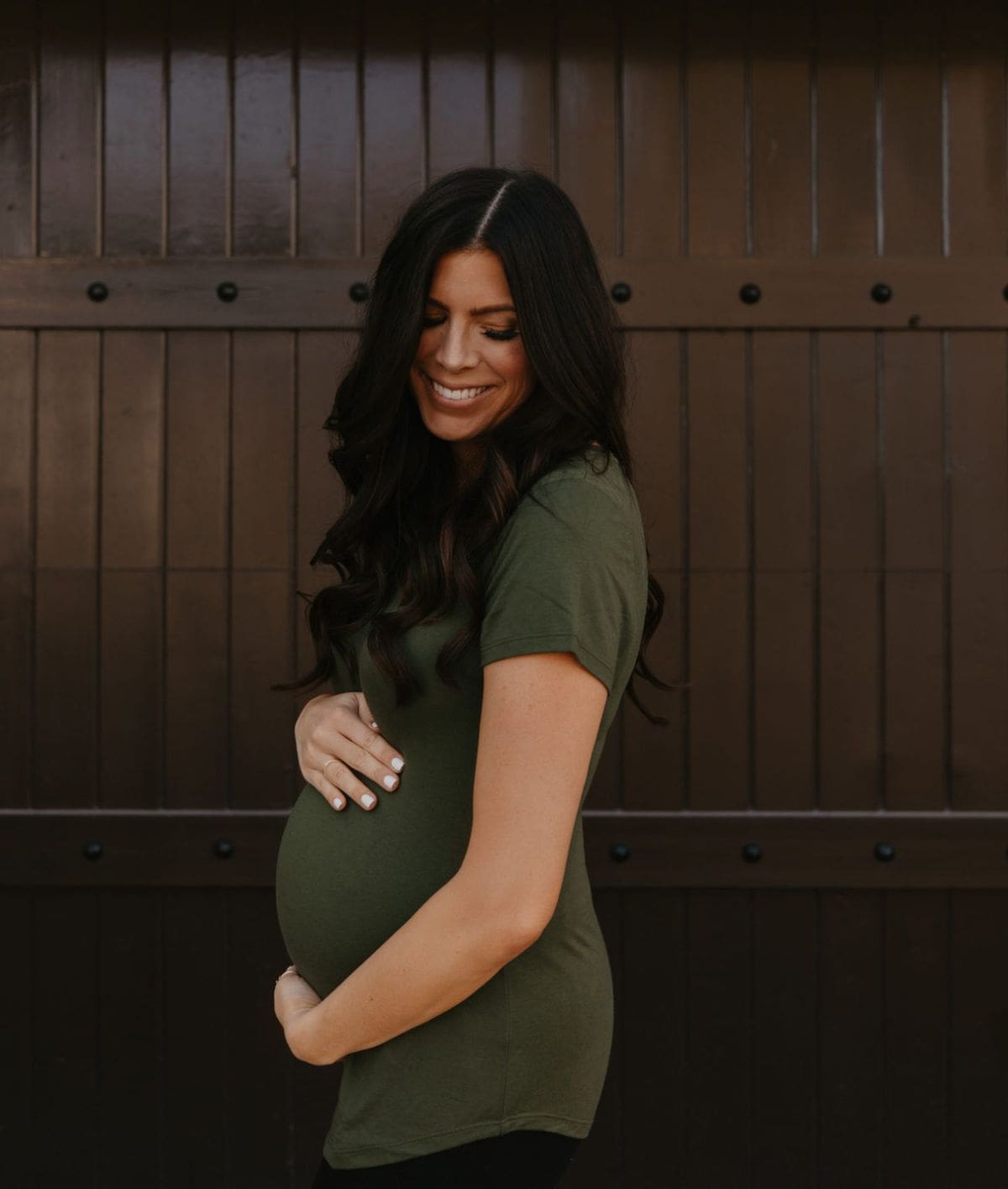 With my height and my pregnancy, I'm always in need of longer tees. Especially right now, I haven't exclusively transitioned into maternity tops yet but I NEED something long enough to cover my leggings waistband or the panel from my maternity jeans! The top runs true to size AND I even accidentally dried my white one but it was still long enough even after the dryer! I've worn these over and over and each top has held up to multiple wears and an accidental spin in the dryer!
Colorblocked Cardigan
This color-blocked cardigan is a dupe for a very popular $100 cardigan and I can tell you, this one stacks right up with the more expensive version (I own both, and the pricier version has actually pilled under the arms!) The bold stripes and fall hues are right on trend, and I love that you can throw it over pretty much anything!
It runs true to size AND is on sale for only $21.99 right now (reg $44), but $18.69 if you add the code 4HOLIDAY at checkout! Cue jaw-drop. It comes in 4 different color options, and I think you'll find a spot in your wardrobe for at least one (or two) shades! You can never have enough long cardis come winter!
As you get older (or have children), you realize just how important pockets become in your wardrobe! Especially when you're wearing leggings, pockets become muy importante in another part of your outfit. Keys, phone, chapstick, an LOL doll and a handful of cereal all fit comfortably in these pockets, so no need to wear a fanny pack around your house 😉
Dressed up: block-heeled boots
I wanted to showcase this outfit dressed up or down, depending on shoe choice! These block-heeled black shoes are MEMORY FOAM (mic drop). They also come in three incredible neutrals, so it was hard for me to choose which color I wanted! I love the black, they are so versatile and, as I mentioned, crazy COMFY!!
These boots are usually a little pricier at $90, but they are actually $44.99 and $38.24 with the code 4HOLIDAY right now!! Say whaaaaat?! They are sold out in black, but here's another cute option.
Dressed down: shearling boots
These swan boots are a MUST HAVE! If you don't want to spend the full price of designer boots, this version is so warm and cozy and will get you through the winter months in STYLE! They slide on and off easily and are a great knock off version of shearling boots!
Word to the wise: if you're in between sizes (and aren't going to be wearing super thick socks), size down! Get these boots right now for $18.69 with code 4HOLIDAY (reg $60)!
Tunic
Leggings
Cardigan
Boots Block Heel, similar
Swan Booties
Pictures by Arielle Levy
Leggings, and tunics, and cardigans, oh my!
This outfit may just be my uniform for the next (long) while! I seriously can't say enough good things about this top, or how badly you truly need it! There's also so many amazing sweaters and layering options on JCPenney right now, check out the roundup below for all the best cold weather updates! (may take a few seconds to load 🙂