I love the idea of "New year, new me," but sometimes a complete overhaul feels, well, daunting! I've learned that taking care of my physical and emotional health has a huge bearing on being able to be present for my family, my job and LIFE!! Today I'm sharing all my most recent faves from Nordstrom's site in wellness products for mind, body, and soul!!
Vitamins, check.
My most recent bloodwork showed that I'm a little Vitamin-D deficient (not sure how that's happening since I live in Southern CA but whatever.) I actually think this is super common, especially in the winter! Here Comes the Sun Vitamin-D Supplement is a super-easy way to supplement your diet with what you need! Did you know Vitamin-D is responsible for a healthy immune system, glowing skin, strong bones and teeth, and hormone regulation? That's kinda a big deal on all fronts. These highly absorbable HUM vitamins are super affordable, only $20 for a month's supply!
Healthy glow
I tried the Tan-Luxe Hydra Mousse on my recent trip to Phoenix and LOOOOOVED IT! I know the reviews are kind of all over the place, so it was nice to test it out on hotel sheets (HA!). But lo and behold, the color didn't transfer at all!! Like I literally put it on five minutes before jumping into stark white hotel sheets and woke up to a beautiful tan and still-white sheets! I also love that Tan-Luxe uses "cleaner" ingredients, so I don't worry about using this while pregnant!
Workout gear
I got this Vibrating Fitness Foam Roller for Neil for Christmas and it is next.level!!! Foam Rolling is a great way to warm up or recover from a workout or soothe sore muscles, and its such a huge trend in the fitness world. Seriously though, this vibrating foam roller takes the cake above all other foam rollers I've ever tried!! It also makes an AMAZING gift!
I love that this Girlfriend Collective Sports Bra is a little longer than the traditional sports bra, so it meets up with high waisted leggings without exposing a huge strip of skin! I wear mine with the Girlfriend Collective maternity leggings and seriously I think the material is infused with butter.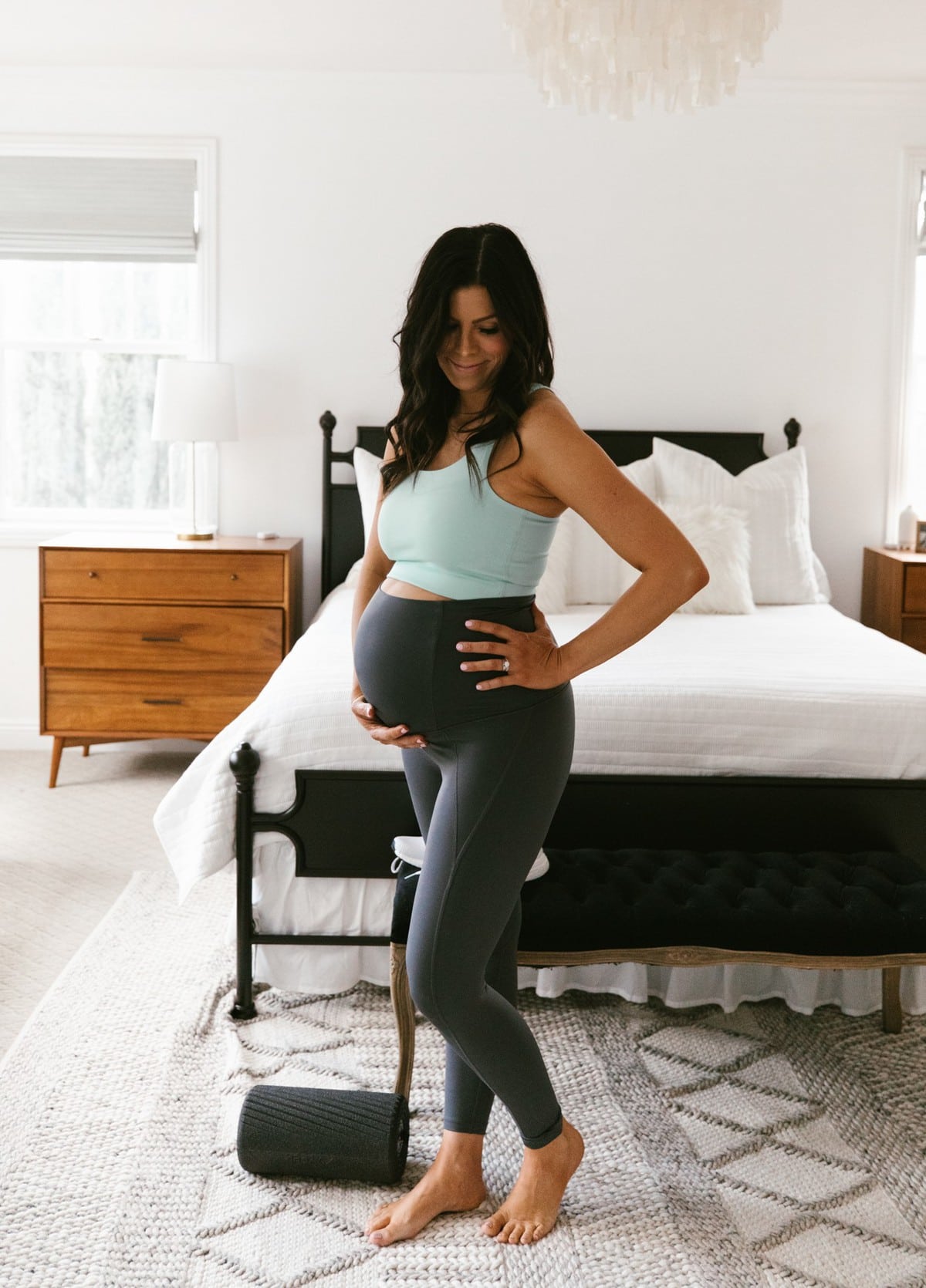 The BLANQI Body Cooling Maternity/Nursing tank is so comfortable and I love that I can wear it pregnant AND nursing! It's super stretchy but holds its shape (so important!)
These Adidas no show socks are hands down the BEST I've found! It drives me absolutely crazy when socks slide down, and these actually STAY IN PLACE!!!
Adidas UltraBoost are just my very favorite, most comfortable work out shoes as of late. I wear them all the time and don't see myself stopping any time soon! (Try the Adidas Edge running shoe for a less-expensive option too!)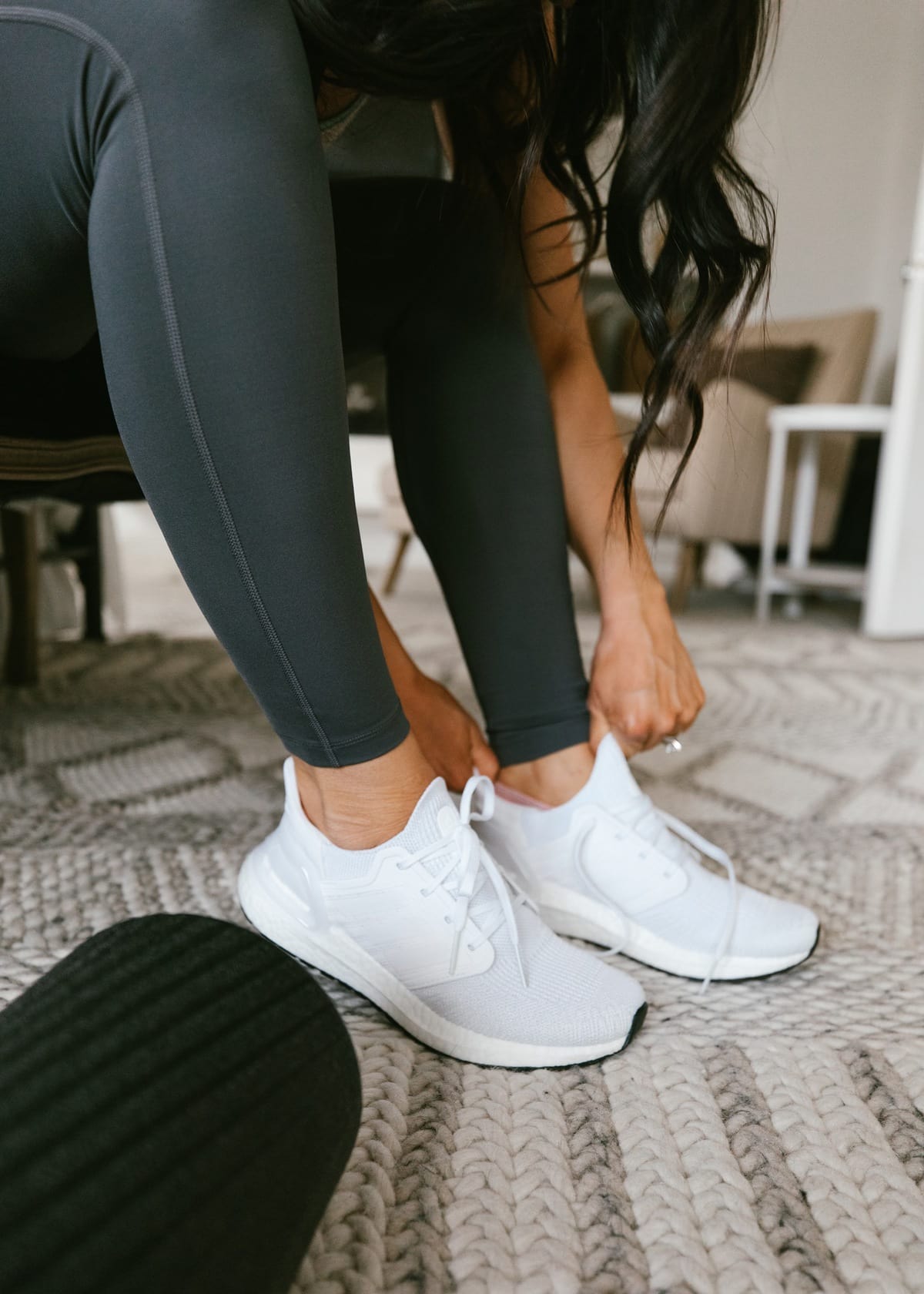 Skincare, always
If you're trying to get into the routine of cleansing your skin every day with something just a step above drugstore and don't know where to start, this First Aid Beauty Pure Skin Face Cleanser is PERFECT for a beginner, a college girl on a budget, a teenager or a mom who has to buy soccer cleats and pink ballet tights out of the same budget as her skincare.
Neil loves it too, and the 175+ near-perfect reviews prove it's not just us! I love that it is pH-balanced and infused with antioxidants, which actually PROTECT your skin throughout the day. It leaves my skin supple and never dry! It's perfect for all skin types, and at $11 for the small size and $21 for the large bottle, it really is SO affordable.
When I go to Utah, my skin dries up like a cross between shriveled prune and a sheet of sandpaper!! My number one go-to after the skin catastrophe that is 0% humidity (or hours and hours on an airplane) is the GLAMGLOW THIRSTYMUD Mask. I've never found anything that works better for a moisture-intense treatment! I tend to put it on and sleep in it all night, and the next morning my skin is HAPPY again.
I talked about switching to clean makeup a couple of months ago, and ILIA True Skin Serum Foundation is the best place to start! This award-winning foundation is full of ingredients that will make your esthetician rejoice because it's practically skincare. I wear the color Catalina SF7!
I've used a lot of jade rollers, and this one beats them all! The Skin Gym Face Sculptor's double-sided wand is a game changer! The deep, massage-like movements help your skincare to absorb more effectively AND tone your skin at the same time. There's just something too about that double sided roller that feels like it's literally contouring your face as you perform the lymphatic drainage that's all the rage in skincare right now.
I'll talk about Elemis Pro-Collagen Cleansing Balm and the joys of the double cleanse until I'm blue in the face! I'm just so obsessed with this oil-based cleanser and what it's done for my skin. It's so gentle, perfect for winter, and leaves my skin makeup-free, but filled with moisture.
Body talk
LALICIOUS Extraordinary Whipped Sugar Scrub smells like heaven!!! I love using this to exfoliate before using self-tanner to get a more even coverage. This is one product you don't HAVE to go luxe on, you really can just bring a cup of sugar into the shower or bathtub and after your skin is wet, rub that on your skin to exfoliate.
BUT, if you get this Whipped Sugar Scrub the next time you want to treat yo self, I promise you won't be disappointed. The smell alone is worth it, plus it will exfoliate AND moisturize your skin at the same time. Double win.
I've been using charcoal bar soap for almost a year now and I love the detoxifying effect it has! It's so naturally clean and pulls toxins out of the body! Herbivore Botanicals Bamboo Charcoal Cleansing Bar Soap also has tea tree in it to fight infection and is gentle enough for daily use! I like to use it to keep my keratosis pilaris in check, AND it's great if you're detoxing your pits from aluminum deodorant. Yes that is a thing.
I kept seeing people talk about the Necessaire The Body Wash so I HAD to try it! It smells like a spa, especially the eucalyptus one I got. There's just something about a dreamy body wash that turns a shower into a simple daily pleasure and this one absolutely does not disappoint.
Hair diaries
According to my hair dresser, apple cider vinegar is the BEST thing you can do for your scalp!
Now you can absolutely do this with just straight ACV from the grocery story, but the R+Co Acid Wash ACV Cleansing Rinse feels more gentle than straight vinegar, and it's infused with more than just ACV to nourish your hair while you're getting your scalp squeaky clean. Also, the bottle it comes in is genius because it makes the application sooo easy! This is one I'll absolutely be buying again and again.
Hum Nutrition Vitamin D Supplement
Vibrating Fitness Foam Roller
Hydrating Self-Tan Mousse
High Waist Full Length Maternity Leggings
Sports Bra
Maternity/Nursing Tank
No-Show Socks
UltraBoost 20 Running Shoe
Edge Lux 3 Running Shoe
Pure Skin Face Cleanser
Hydrating Treatment Mask
ILIA Foundation
Face Sculptor
Elemis Pro-Collagen Cleansing Balm
Sugar Scrub
Botanicals Bamboo Charcoal Cleansing Bar Soap
Necessaire The Body Wash
R+Co Acid Wash ACV Cleansing Rinse
Treat yo'self
Some of these items from Nordstrom's wellness section are more luxury, but the idea is the same whether you use a cup full of sugar from your kitchen to exfoliate or a fancy version with a label: TREAT YOURSELF with a little self-care! Use ingredients that work FOR you, whatever that looks like in your life and budget. Take time to take care of your body, inside and out, and it will THANK YOU!