As busy women, sometimes grabbing a face wipe (or baby wipe, no judging here!) is the most we can do to wash our face at night! But honestly lately I've really tried to up my skincare game and take care of my skin in my 30's. I talk a lot about doing a "double cleanse" during my night time skincare routine and I realized that I have never done a full explanation of this! Today I'm breaking down that whole process along with my full night-time routine. It's pretty basic but it makes me super happy so come follow along and you might pick up a new idea or two for your own routine too!
Good oils, bad oils
Most people immediately cringe when they hear the word "oil" in the near vicinity of any skin care. BUT I'm here to tell you that oil can be your skin's BFF!!
Contrary to popular belief, skin oils are actually the perfect cleansing mechanism because the top layer of our skin is made up of oils! This means that utilizing oils on our skin is actually more compatible than using soap to cleanse. Take a moment and marinate in this new info: good oils actually dissolve bad oils and pollution and replace it with hydrated, glowing skin! Have oily skin? No problem. Facial oils balance, prime, protect AND can shrink pores!
Convinced yet? Keep reading for my full night time routine!
First cleanse
When using an oil-based cleanser, don't try to mix it with water and make it foamy! Remember how at the science fair you learned that oil and water don't mix easily? That same concept applies here because you can literally apply the oil straight to your face to melt the makeup away! Then use a wet washcloth or makeup eraser cloth to wipe away the day's makeup. It's THAT EASY!
I was afraid to use an oil-based cleanser with my lash extensions, but throughout the week the only eye makeup I usually wear is just my lashes! So all I have to do is use this oil on my skin and watch my face makeup melt off! That way my lash extensions last longer too because I'm not messing with them or even touching them with a cleanser at all!
My two faves BY FAR are this Biossance oil and this Elemis cleansing balm. You can totally just pick ONE but I like to go back and forth between the two, just like with different shampoos. Like for a few days, I'll do one, then I'll switch to the other for a few. It works like a charm for me!
Second cleanse
I really LOVE using the Biossance Squalane + Tea Tree Cleansing gel for my second cleanse during my night time skincare routine. This bottle lasts forever and is only $29!
I squirt this on my PMD pro for an extra squeaky clean, WITHOUT any drying effect. Normally foamy cleansers dry my skin out. But this one is formulated without the harsh sulfates (I see you, Sodium Laurel Sulfate, you devil!), it's SO gentle and effective. The Squalane also locks in hydration that I can truly feel!
Hyaluronic Acid
If you haven't incorporated Hyaluronic acid into your repertoire, move that to the top of your 2020 #goals list! This little molecule packs a HUGE punch because it holds 1,000 times its weight in water. Hyaluronic acid makes all the hydration dreams a reality, and I try to never skip this step in my skin care routine!
I've been using this serum, which also slowly builds a sun kissed glow! SUCH a great addition to your night time skincare routine! Also it's THE highest rated tanning drop solution on Sephora's site so you know I'm not the only one obsessed!!!
Eye on the prize
I don't want to sound like a broken record, but I will risk it to declare my love for the Biossance eye creams! I love that I can use the Squalane + Peptide Eye Gel under my makeup, so I don't have to use a different eye cream for day and night! Or if I'm craving some extra moisture, I use the Biossance Squalane + Marine Algae Eye Cream to really up the ante. It's a tall glass of water for your under-eyes and you'll definitely see the difference in the morning!
If you're looking for something more affordable, Clinique's Moisture Surge eye gel is AMAZING and lasts forever! You only need a half-pump applied with your ring finger (your weakest finger so it doesn't tug or pull the delicate under-eye skin)!
Sweet dreams, night cream!
I've talked about this Elemis Pro-Collagen Overnight Matrix cream before here, and it's just simply the.best. It's a little on the pricier side, so I'm always keeping my eye out for deals for you guys! I love how cooling this feels on my face, especially if I keep it in the fridge and apply it cold! This night cream has RAVE reviews, amazing active ingredients and insane technology that really WORKS!!
Dental cleaning at home!
We got these new toothbrushes from our amazing dentist Rich Hada and I can'tstopwon'tstop raving about them! I literally feel like I've just been to the dentist every time I use it! During pregnancy, dental health is hard for me because my teeth get soooo sensitive. This toothbrush takes the guess work out of dental hygiene for me!
A dental assistant told me that she can ALWAYS tell when a patient is brushing with a good electric toothbrush at home. I love being the star student, so this toothbrush was a no-brainer. Although, I truly didn't think I would ever feel this passionately about a toothbrush, here I am touting it for the world! It's THAT GOOD! I use it with the Burt's Bees toothpaste for the cleanest clean and the freshest breath.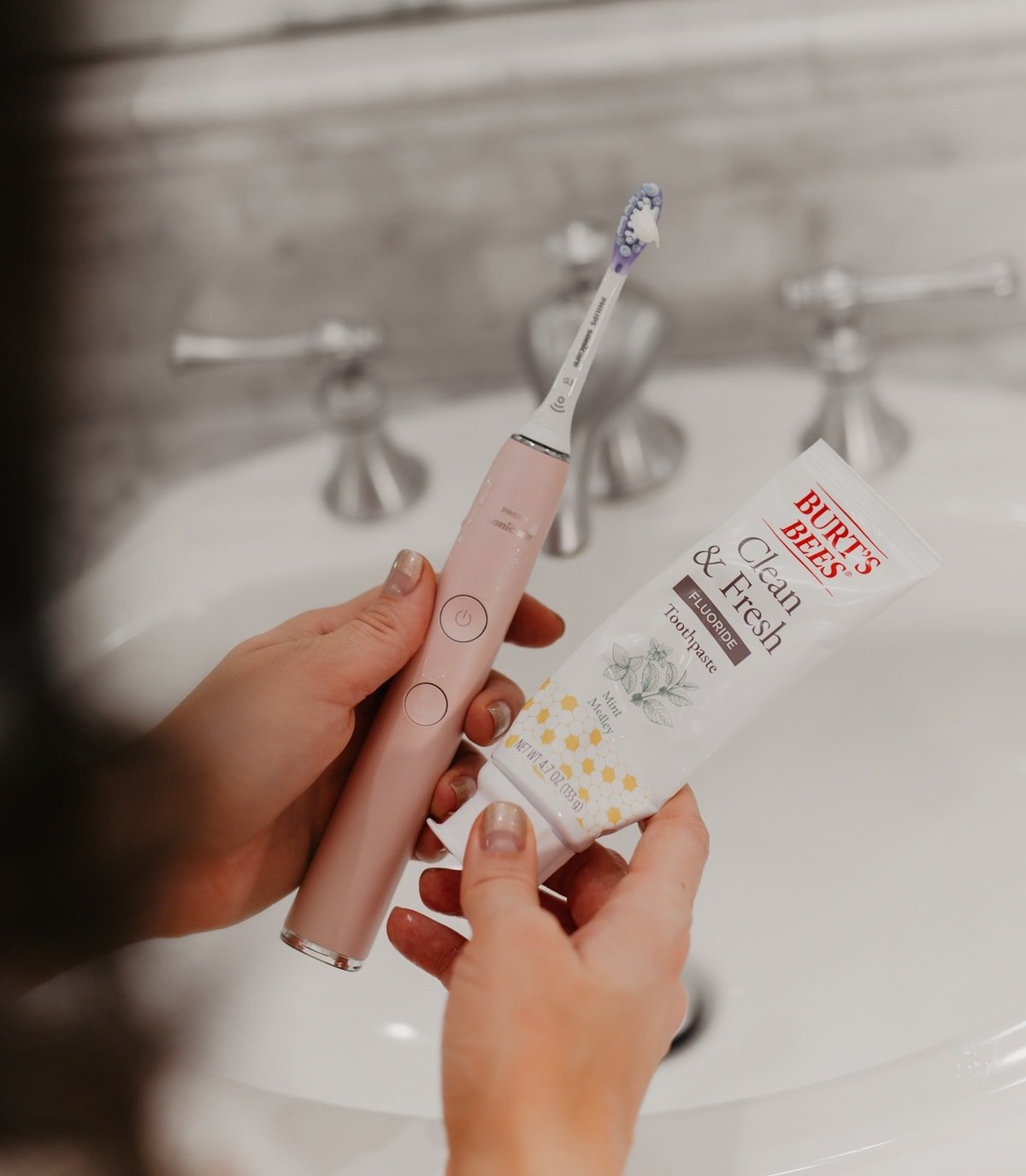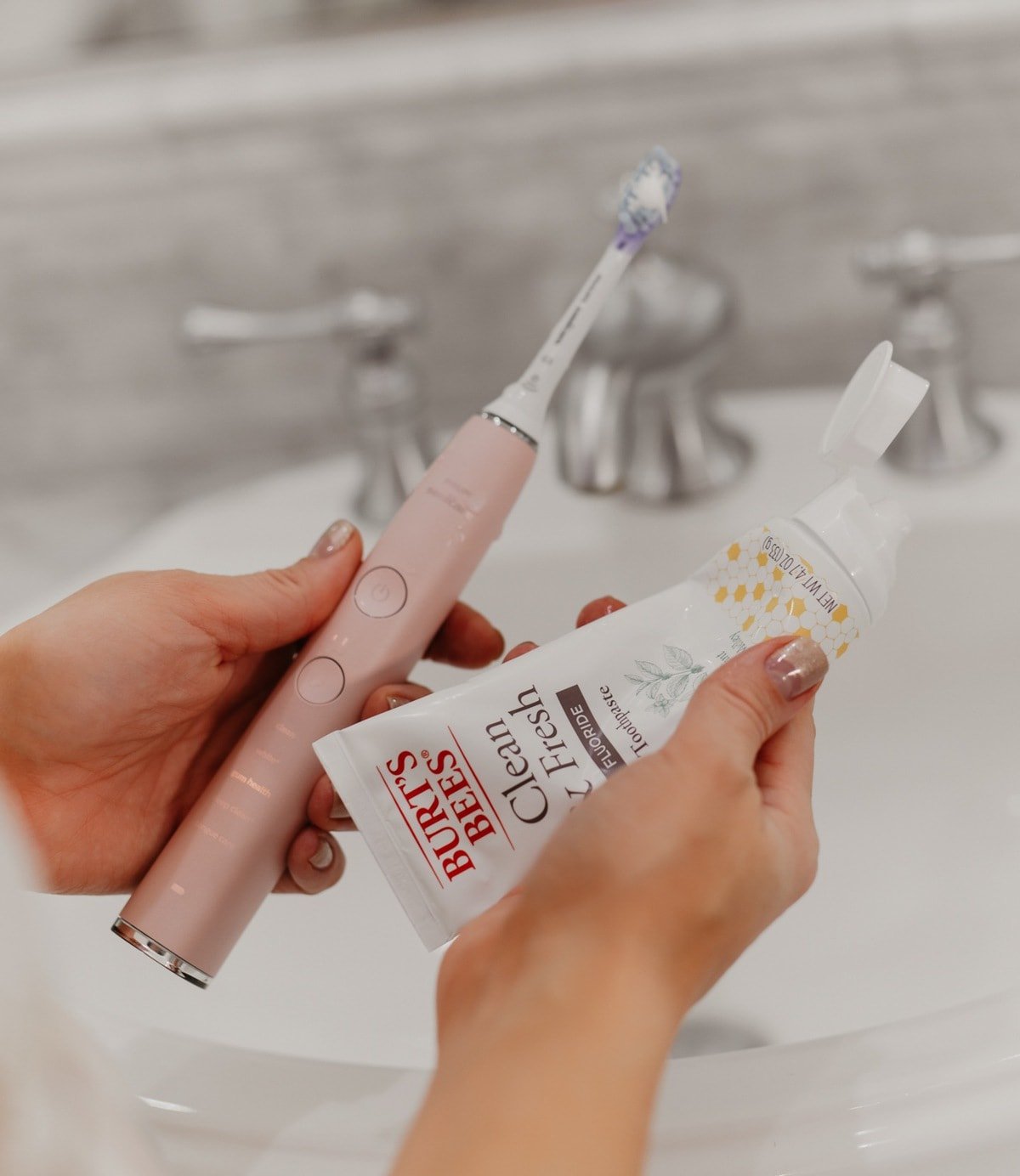 Elemis Pro-Collagen Marine Cream and Cleansing Balm Set
Biossance Squalane Cleansing Oil
Biossance Squalane + Tea Tree Cleansing Gel
Pmd Clean Pro
Hyaluronic Self-Tan Serum
Biossance Squalane + Peptide Eye Gel
Biossance Squalane + Marine Algae Eye Cream
Clinique Eye Moisture
Elemis Pro-Collagen Overnight Matrix Cream
Philips Sonicare Electronic Toothbrush
Burt's Bees Toothpaste
Robe
Photos by Arielle Levy
Love the skin you're in!
The thing I love about skincare is that ANYTHING is better than nothing when it comes to your night time skincare routine! Start small, even just using a simple night cream when you weren't before will make a huge difference!
Also, to get the most of your skin care, make sure you are putting the products on in the proper order! Smaller molecules first, building to the largest molecule (usually a night cream!). For me, this means cleansing first, then serums and eye cream, and topped with my favorite thick moisturizer. This allows the products to penetrate effectively and leave you with the BEST results.
See all my fave nighttime routine products below and let me know if you found any of these tips helpful!!