Quick version: these are the best Easter dresses for women, teens/tweens, and girls in 2023!
Easter is in TWO weeks! Have you found you/your girls Easter dresses yet? This year I shopped at Nordstrom to get the perfect Easter dresses for my girls and myself, and I was SO happy with all of their options – I think you'll be super excited about adding them to your spring wardrobe, too! It's the perfect time to shop.
Easter can be a great time to take a step back from all the craziness happening in the world, and think of the real reason you celebrate. We love to make Easter Sunday special by dressing up that day for our Sunday service. Even if you don't have Easter Sunday plans, maybe you can still do fun family gatherings, like an outdoor picnic, or a special, fancy Easter brunch? Just some ideas!
We went through alllll the dresses at Nordstrom and found these super cute Easter dresses for my girls and me. Let's talk about our fave options first and at the very end you'll find a bunch of other really cute styles, too!
In a hurry? Shop our looks below:
Sunday Will Come
As I was preparing this post a few years ago, I vaguely remembered a talk called "Sunday Will Come" so I looked it up and reread it. I couldn't imagine anything more perfect to share here during what felt like coming out of a kind of dark and confusing time.
If you're still feeling the weight of all that happened the past few years and even the turmoil of the world right now, here's a talk that I hope will lift your spirits because it certainly lifted mine. Here's a favorite excerpt: "Each of us will have our own Fridays—those days when the universe itself seems shattered and the shards of our world lie littered about us in pieces. We all will experience those broken times when it seems we can never be put together again. We will all have our Fridays.
But I testify to you in the name of the One who conquered death—Sunday will come. In the darkness of our sorrow, Sunday will come.
No matter our desperation, no matter our grief, Sunday will come. In this life or the next, Sunday will come." – Joseph B. Wirthlin, Sunday Will Come.
Our Easter Dress Tradition
I've always LOVED to find an Easter dress, and I love finding Easter dresses for my girls, too. That's a tradition my mom did with me and my sister when we were little girls, and now it's something I love to do with my girls and they love it, too. This year we headed straight to Nordstrom to find beautiful dresses for EVERYONE in all the different sizes, ages, and phases of life. We found something really age-appropriate for everybody and I'm so excited to share everything!
How to pick the perfect Easter dress:
There are so many different kinds of Easter dresses to choose from, and we list a ton at the bottom of this post. When thinking about Easter dress shopping, I like to look for details, including lace, embroidery, or an eyelet fabric. I also love pretty sleeves (ruffles or puffed), and pretty spring colors!
There's something so elegant about pastels, especially once the weather starts to warm up again. When choosing an Easter dress, I always look for something bright and springy because it really does make me so happy to kick off my warm weather wardrobe (and to feel extra pretty doing it, too!).
Easter dresses for little girls/toddlers!
Every year since I was a little girl my mom took me to get an Easter dress so I continued that tradition with my girls which is so fun. Like I said, I've always LOVED to find an Easter dress and it's something I love doing for my girls, too.
For as fun as shopping for my girls is, they can really be quite picky too!! Nordstrom makes it super easy to find something for all of them and add to cart at the same time – if it's not a hit, the free return policy and shipping makes it seamless.
Let's start with little Millie… she was super excited to get her seersucker dress with a bow (she was mostly excited about the bow)! We paired Millie's dress with Mini Melissas which are our go-tos, and of course she loved the light pink. They're the perfect blush color that's just so versatile and will go with everything.
All of the girls' dresses we found were some shade of pink! Lyla got this cute iridescent pink dress with purple-y tones, and she was just thrilled about it the moment she laid eyes on it. This dress has just enough shimmer to match her personality, but not too much that it'll distract too much from an Easter Sunday.
Lyla was absolutely over-the-moooooon thrilled about her little sequin-heeled dress shoes. She's excited to wear these with every single outfit possible for as long as they'll fit her feet!
Flowy + light little girl dress
Lyla is super girly and of course wanted her dress to reflect it last year, too. She wore a really cute star flutter-sleeve dress that's sold out now, but this year's version is a really pretty mauve floral that'd be so pretty on Easter! It has that same light + flowy fabric but is tiered with floral embroidery. SO cute!
Tween/Teens Easter Dresses
Ani's in that really tricky tween phase, where she's not into little girl stuff anymore, but she's also not quite ready for full-on teen/adult stuff either. So when I found this dress for her, I was equal parts thrilled and relieved! It's an adult-sized dress, but with enough of a younger girl look to it that it fits her tween style and stage of life. And Ani just loves this dress! It fits everything she was looking for with comfort, flowiness, and length!
Shopping for shoes for Ani's tween phase is also pretty tricky, but we found these super cute sandals that are just darling and perfect for her age. These sandals are SO cute and have insanely good reviews! Because she's constantly growing and I didn't want to spend a lot of money on shoes she'll probably outgrow by next month, I was super happy that these are pretty affordable.
Relaxed floral pattern tween dress
Last year to fit Ani's style, I found the perfect beachy, relaxed, and lightweight floral dress for her! It's out of stock now, but here's something similar that looks just as comfy + springy with florals and short sleeves.
Women's Easter Dresses
This year's dress
I was so excited to find this really fun pink dress for me to wear on Easter! Someone specifically said in the reviews that she wore this postpartum and felt really good in it. So when I read that, I knew I needed to try this dress and it turns out, I LOVED it too! It was definitely too low for me, so I wore a layer like this underneath it. But everything else was perfection – the fit of it, the fun sleeve detail! I love it!
Can't forget accessories
I was also SO excited when I found these pink heels that match my Easter dress perfectly! They're actually super comfortable and if you don't want the hot pink to match with the hot pink dress, you can buy these shoes in more neutral colors, too. But I can't stress enough just how extremely comfortable these are, especially for heels. Walking around in these for hours is a piece of cake!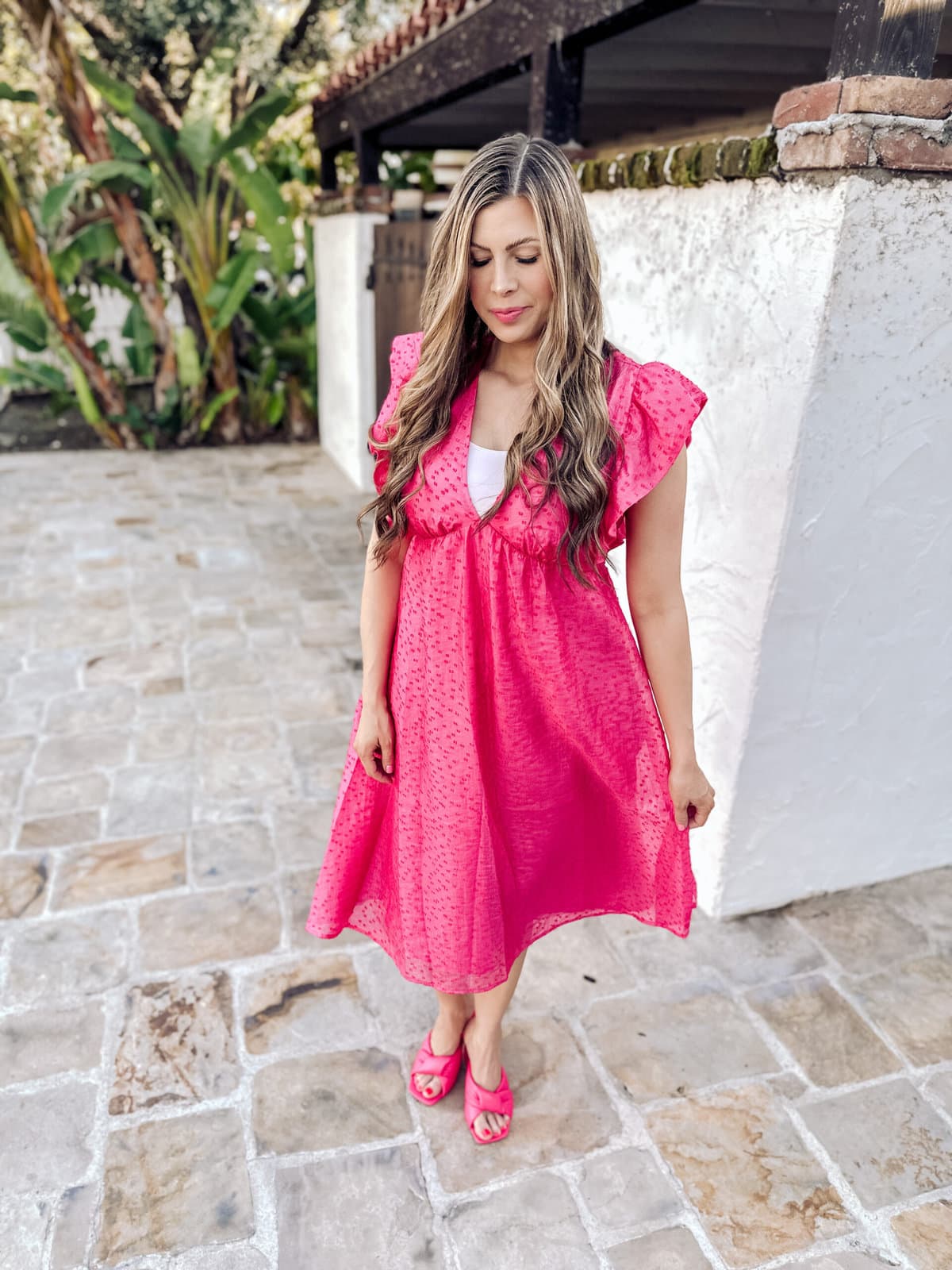 Pastel swing dress
Last year I wore a lilac plaid swing dress that I still love!! Pastel colors for the win. It's sold out now, but there are a few sizes left in this year's version.
This has a loose, frock fit and is perfect if you're not into wearing something super tight. I love the detailing on the sleeves with pretty bows.
I also love that this midi dress has an ever so slightly shorter hem in the front and still falls at the perfect length for $100. If you're not sure about the fit for you, Nordstrom lets you reserve online and try on in store, or get free alterations as part of its Loyalty Programs and Services!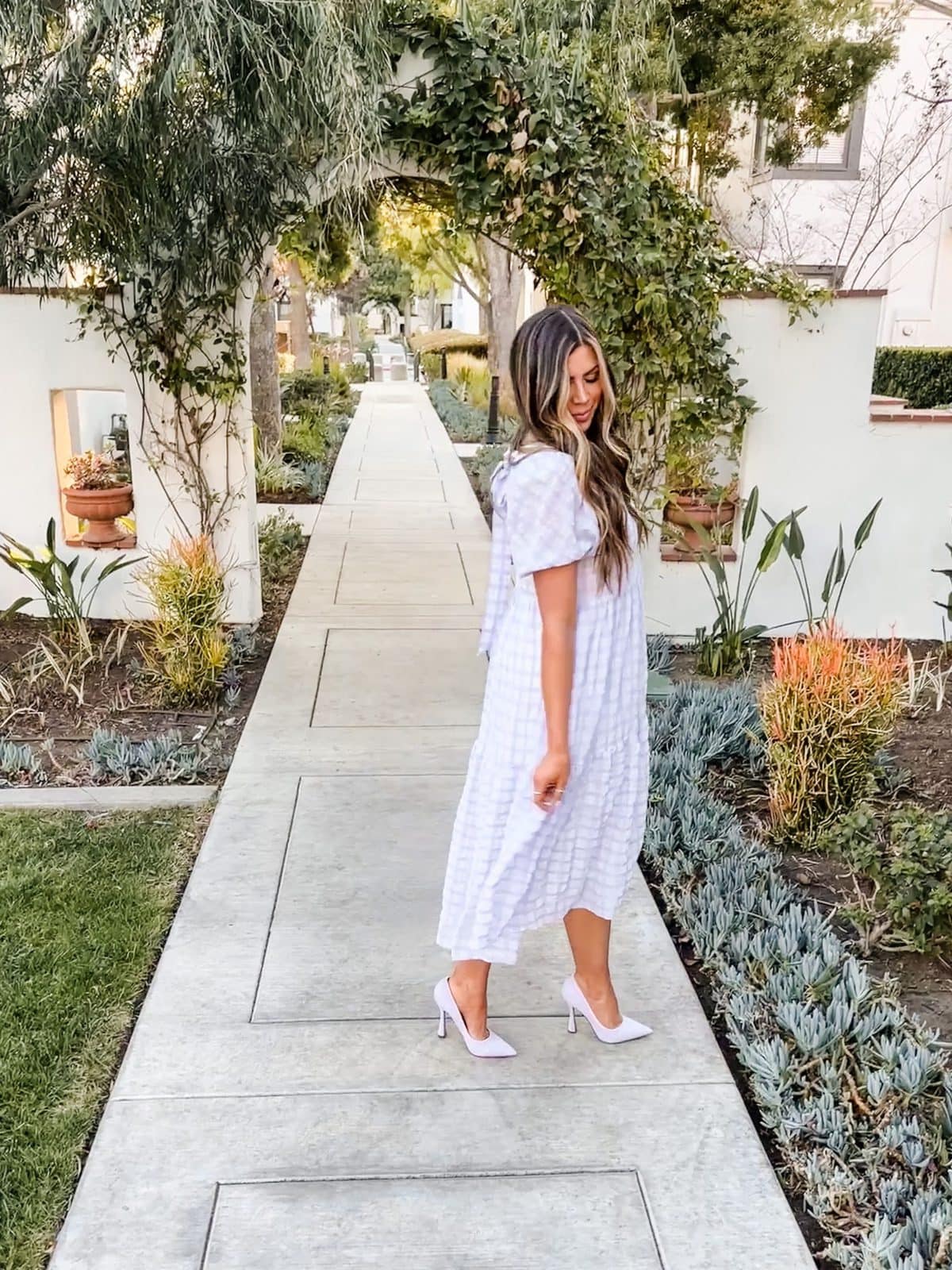 Wrap style dress
If you're currently pregnant, the wrap style is my absolute favorite. It just creates the most beautiful silhouette… and I love it without a bump, too! A few years ago when I was pregnant with Millie, I was super excited to find a dress with a waist that would tie perfectly right above my baby bump – so flattering and pretty! This wrap dress was just over $100 and has the very prettiest blue tone.
It's sold out right now, but here's a really pretty wrap dress that comes in three different color shades!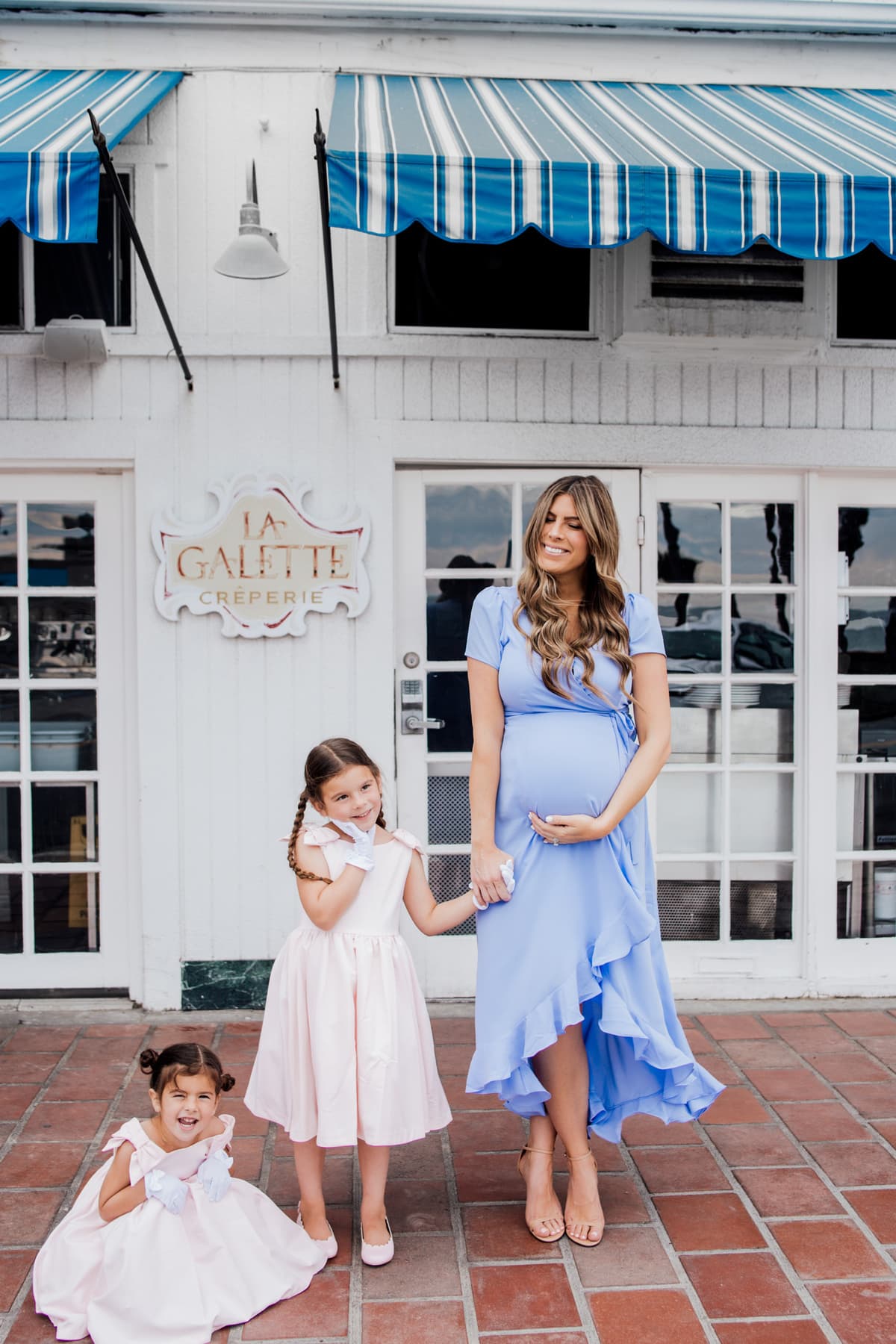 Floral maxi dresses
A dreamy dress with bold florals is a guaranteed compliment magnet. Whenever I'm wearing one, I can't walk into church or a meeting or a wedding without people saying some variation of, "WOW that's a beautiful dress!!" And the floral print is absolutely perfect for a spring, Easter dress. This exact one's sold out but ALL the heart eyes for this one with a vibrant print!!
Top Easter dresses for women AND girls
We spent hours combing through Nordstrom and looking at all the Easter outfits, for you + your kids! We rounded up ALL of our favorite Easter dresses this year for women and girls from low price points to high price points and everything in between – check out our Easter collection picks below.
As I mentioned earlier, no matter where you celebrate Easter, I hope that you can still make it a special Sunday where you gather and create memories and take a picture, and if you believe as we do, that you remember the Savior and His resurrection on that day.
Women's Dresses:
Teen/Tween Dresses:
Girls Dresses: