Easter Sunday is still several weeks away, and I know some people might even be questioning "are we even going to church this year for Easter Sunday?" In our faith, all religious gatherings have been cancelled due to COVID-19 until further notice. So will Easter Sunday still happen?
My answer is, yes! Easter Sunday will still happen. In fact, maybe it will be even more memorable this year? Amidst all the chaos, we will be able to remember His resurrection and sacrifice that day, even if we can't all gather together as large congregations in places of worship.
I love to get dressed up for special days, even if they're just days spent with my family. On Thanksgiving every year for example, my mom always asked us as kids to wear something a little nicer, so I still like to dress my kids up in something that looks nice so we can take a family picture that day. If you're feeling stressed or bummed about Easter coming up with all of the closures, cancellations and adjustments surrounding coronavirus, I still think it can be a great time to step away from all the media and the stress and worry and take time to think of Jesus and the real reason we celebrate Easter, even if it isn't exactly the way we are used to celebrating.
We spent hours combing through all our favorite sites to find all the prettiest Easter dresses for women and girls, plus handsome outfits for your little man this year! We covered all the price points from low to high, so there's something in this roundup for everybody, so you can still make it a special day, even if you're just at home with loved ones.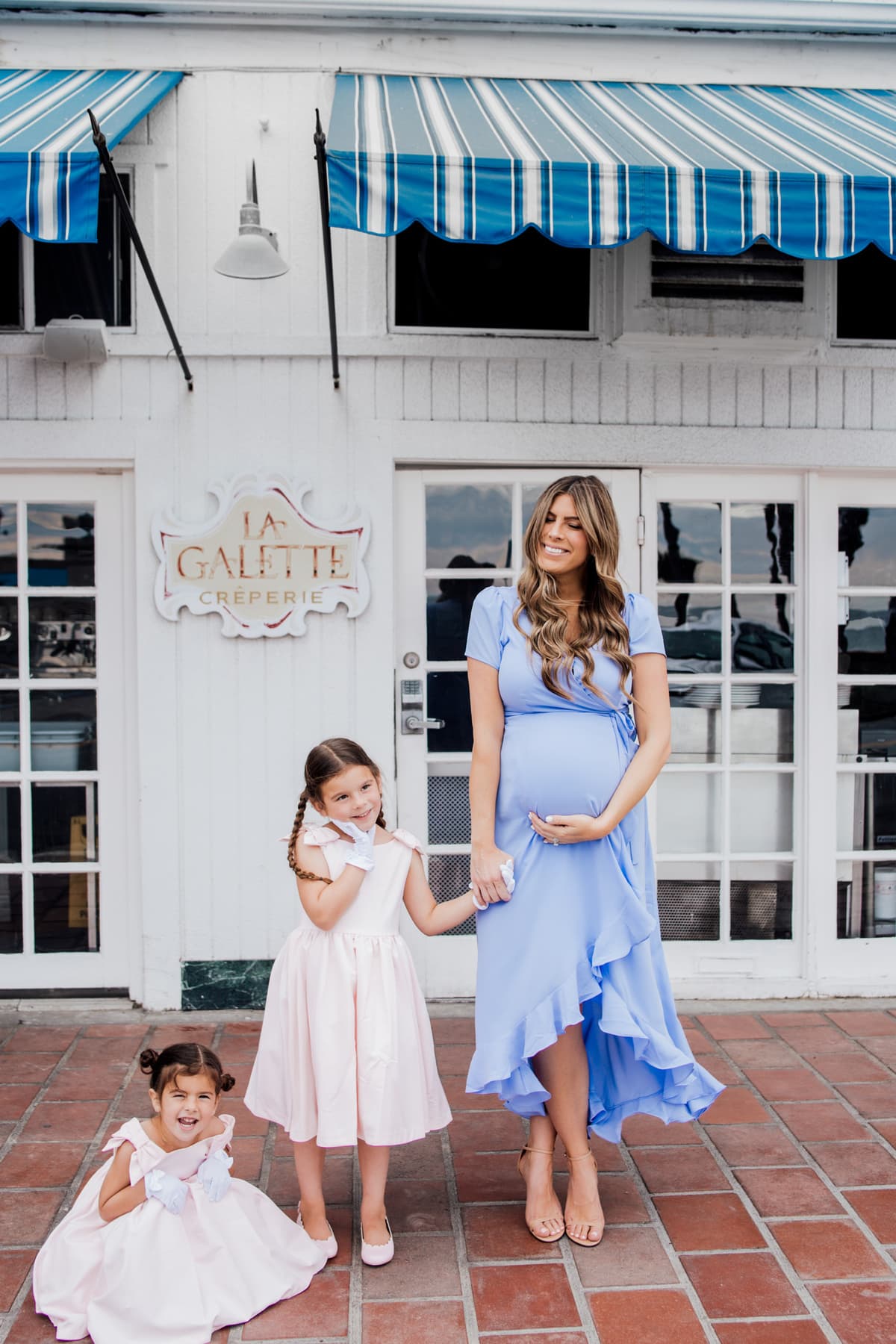 Sunday Will Come
As I was preparing this blog post this morning, I vaguely remembered a talk called "Sunday Will Come" so I looked it up and re-read it. I couldn't imagine anything more perfect to share here during what feels like a kind of dark and confusing time. Yesterday at Costco here in Orange County, everyone's countenances it seemed were so somber, so serious. People looked sad, stressed and a lot of them totally frenzied. Nobody was smiling.
So if you're feeling the weight of all that is happening with Coronavirus too, here's a talk that I hope will lift your spirits because it certainly lifted mine. Here's a favorite excerpt: "Each of us will have our own Fridays—those days when the universe itself seems shattered and the shards of our world lie littered about us in pieces. We all will experience those broken times when it seems we can never be put together again. We will all have our Fridays.
But I testify to you in the name of the One who conquered death—Sunday will come. In the darkness of our sorrow, Sunday will come.
No matter our desperation, no matter our grief, Sunday will come. In this life or the next, Sunday will come." – Joseph B. Wirthlin, Sunday Will Come.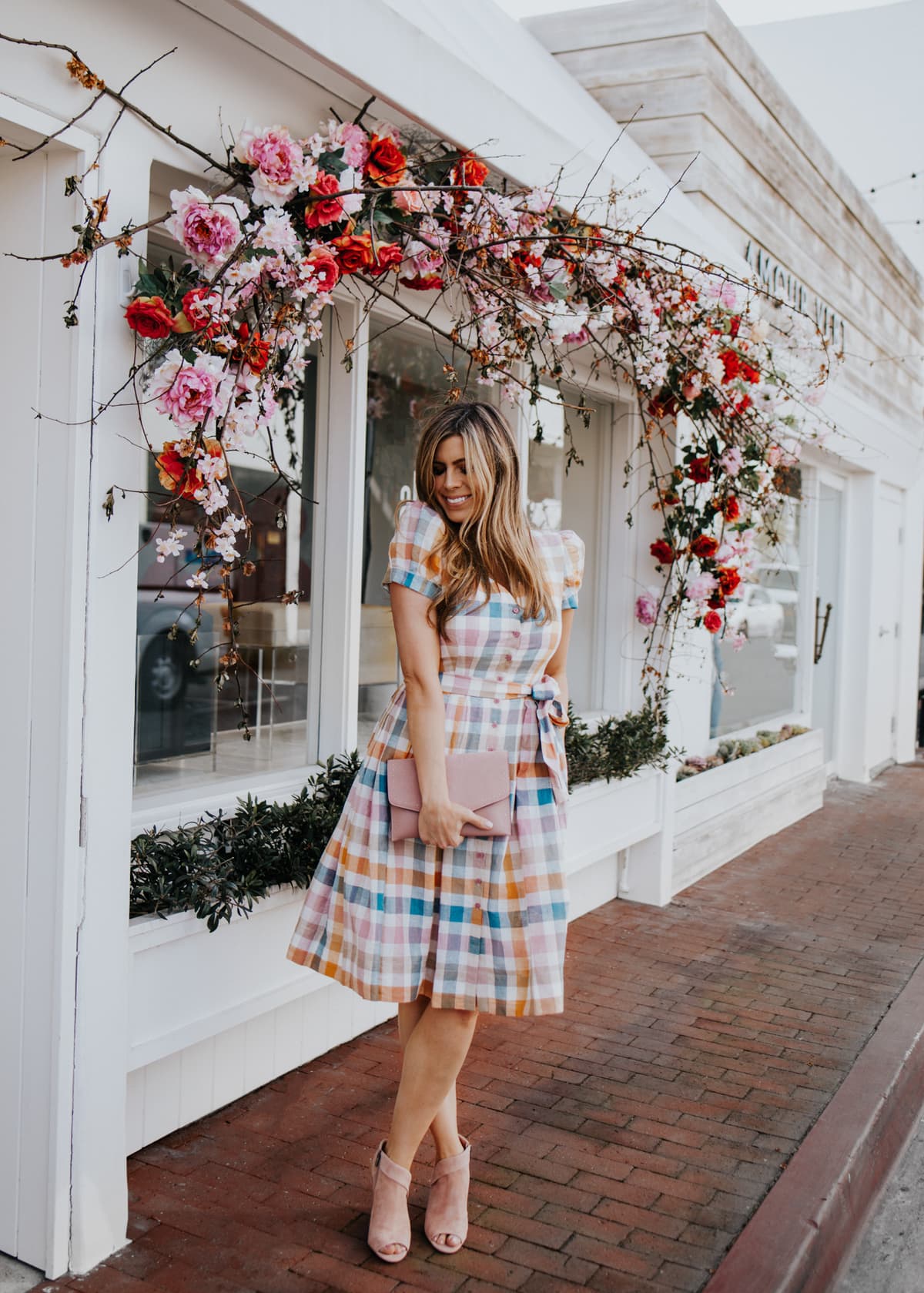 Perfectly Plaid Dress
Of all the Easter dresses I tried on last year, this gorgeous plaid dress was the clear winner! The shirtdress is always such a classic silhouette and it's one I turn to again and again and again! This one was the perfect blend of preppy and girly, classic and chic.
This dress is from last year and is sold out, but here's a similar one in the same gorgeous colors.
Beautiful blue wrap dress
A couple years ago when I was pregnant with Millie, I was super excited to find a dress with a waist that would tie perfectly right above my baby bump! This wrap dress was just over $100 and has the very prettiest, flattering blue tone and perfect fit with or without a bump.
It's sold out right now, but here's a really pretty blue dress here, and a similar dress in white here, or a pink or mint option here.
I paired my wrap dress with my favorite neutral heel sandals here, but you can get a really great less expensive dupe pair here!
Pretty in pink
My girls died over these girly pink Easter dresses from 2 years ago! They were also VERY excited to wear little gloves with their dresses haha. My mom has the funniest story about me wearing white gloves to church as a little girl, during the annual primary program where all the children perform. I sat on the front row on the stand and proceeded to pull one of my gloves off and pick my nose in front of everyone hahaha. I have never and probably never will live that story down!
These pink dresses are sold out since these were from a couple of years ago, but here's a similar one for this year.
Pink pastel dress
This pretty pink Easter dress was my very favorite of ALL the Easter dresses I tried on a few years ago! Priced just right, length just right, sleeves just right, and most importantly (ha) shade of light pink just right! This dress is sold out, but this dress and this dress are great similar options!
Top Easter outfits for women, girls, and boys
We spent hours combing through all our very favorite sites on the internet and looking at all the Easter outfits. We rounded up ALL of our favorite Easter dresses this year for women and girls and the most handsome outfits for your little men from low price points to high price points and everything in between.
As I mentioned earlier, I know this might be a different Easter this year, but even if you just celebrate in your home with family, I hope that you can still make it a special Sunday where you gather and create memories and take a picture, and if you believe as we do, that you remember the Savior and His resurrection on that day.
Women
Girls
Boys