It's time for our annual Easter dress roundup!! This year I really did find some majorly cute Easter dresses to celebrate one of our favorite reasons to dress up, in just a little over a week!We really love Easter here, not just because of Cadbury mini eggs and an excuse to get a new dress, but because we believe this is the real reason for the season. I love that Easter is focused on not just the sacrifice of our Savior, but of His resurrection and victory over death. I am so grateful for Him and that everything in my life that is good is because of Him.
We do love dressing up for Easter and this year we'll actually do it a week early because next Sunday we'll be watching General Conference, one of two favorite weekends of the entire year where we get to hear what we believe are messages from God from prophets (just like times of the bible!) about how to live a happier life, parenting advice, how to be kinder and more forgiving, how to have a better marriage, it's always so enlightening and I LOVE that we get to enjoy it this year during Easter weekend.
But before that we'll be sure to wear our Easter dresses to church tomorrow and maybe sometime this week we'll grab a picture with an Easter bunny too … our last attempt at this 2 years ago was a major fail with Lyla but I think she's old enough this year to be excited and not scared haha. We'll see!
Here are the Easter dresses I found for all of us this year!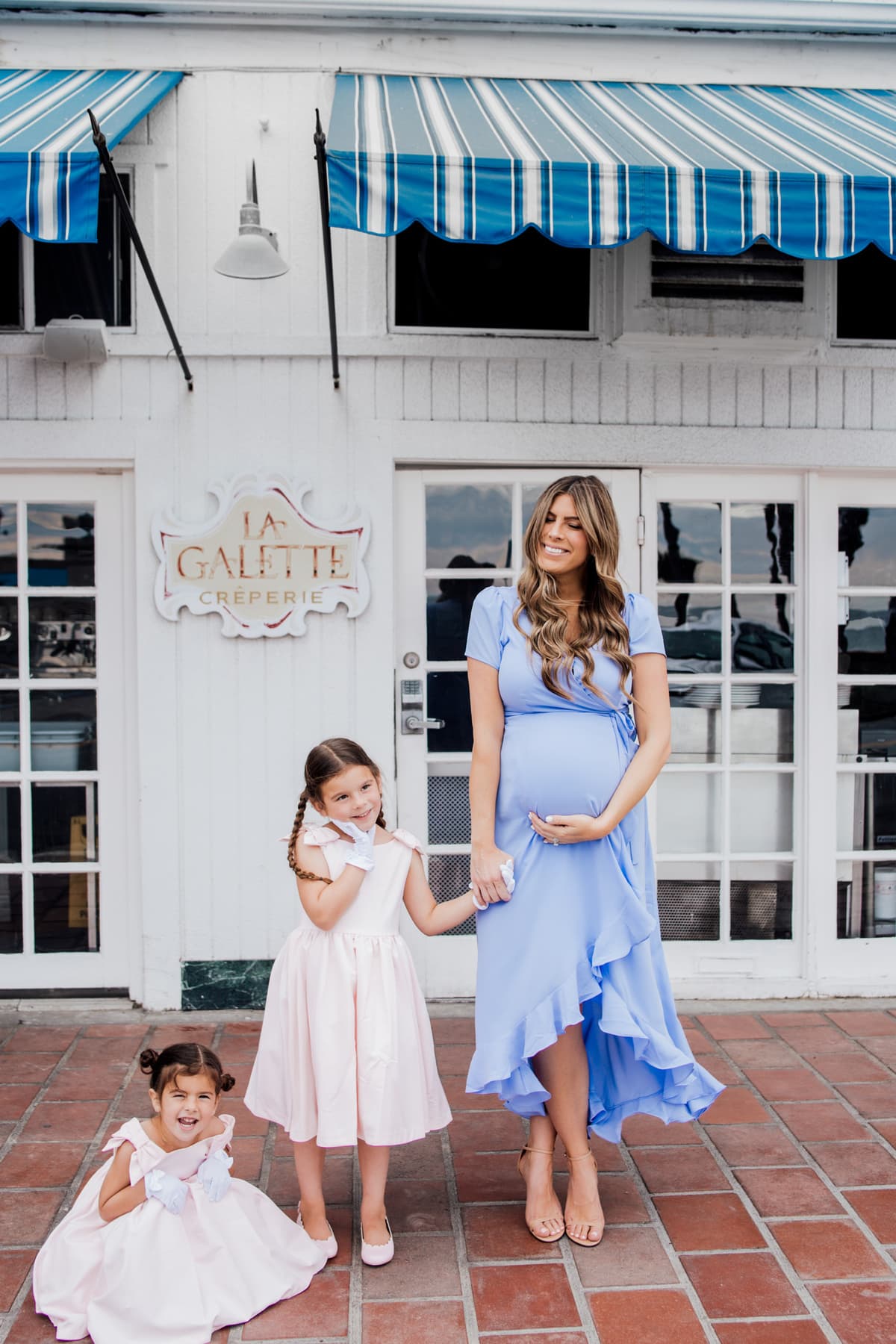 My girls died over these girly pink dresses with shoulder bows! They were also VERY excited to wear little gloves with their dresses haha. My mom has the funniest story about me wearing white gloves to church as a little girl, during the annual primary program where all the children perform. I sat on the front row on the stand and proceeded to pull one of my gloves off and pick my nose in front of everyone hahaha. I have never and probably never will live that story down!
I was super excited to find a dress with a waist that would tie perfectly right above my baby bump! This wrap dress is just over $100 and has the very prettiest, flattering blue tone and perfect fit with or without a bump. I paired it with my favorite neutral heel sandals here, but you can get a really great less expensive dupe pair here!
Girls Pink Dresses sold out, similar
Girls White gloves
Girls Pink Shoes sold out, similar
Blue Wrap Dress sold out, similar, similar in white
Nude Heels, less expensive dupe
photos by Arielle Levy
I've got a roundup of ALL my favorite Easter dresses for women this year here, including my Easter dress last year that's available again!!
And here's my favorite little girl Easter dresses, and even some little boy Easter faves too!