I don't know if you can relate, but our playroom pre-makeover was seriously just a total muddled (and super overwhelming) mess. The proverbial notion of a place for everything and everything in its place was for sure NOT happening in there. One of my major goals with this makeover was to change that and give everything a home. JCPenney Home had everything we needed to whip this space into shape without breaking the bank. Keep reading for the step by step breakdown that I promised on Friday, on how we executed our playroom organization.
Step One: Marie Kondo all the toys
We started our playroom organization by pulling ALL of the toys into the center of the playroom and then deciding what sparks joy. The girls and I dumped all the toys out in the middle of the room and did an initial sweep. In this first pass, we got rid of things that were old and tattered or broken. These were things that simply needed to be thrown away.
Step Two: big joy versus little joy
There were still A LOT of toys after our initial sweep, so then we had to start sorting big joy versus little joy. Many of the toys in that pile were toys that they just don't play with anymore but it was still really, really tough for Ani and Lyla. They wanted to keep absolutely EVERYTHING!
We had a heart to heart with the girls about giving away some of these toys to kids who need them or don't have as many toys to play with. It was very sweet and tender to watch this mind shift and their ensuing excitement over helping some other kids have fun things to play with.
Step Three: the stuffed animal problem
The thing we had the very most of was stuffed animals. That playroom was bursting at the seams with stuffies. Which meant we still had way too many toys. So now we had to sort all their cuddly friends into two piles. Pile one was stuffed animals that were really nice, really meaningful, or that they really love. Pile two was everything else. After the initial sort, pile one was still too big and full of stuffed animals they wanted to keep and Mom thought they needed to go.
Step Four: the Mompromise
We compromised and I allowed the girls each two saves from pile two. After they each rescued two stuffed animals, they helped me bag everything else up to give away. Helping them understand that giving some of their toys away was a kind gesture made this a positive, fun experience for them. Plus it meant I didn't have to throw anything away behind their backs. #momwin
Step Five: getting organized
Once we had tackled the stuffed animals, it was time to organize and sort everything else. In my opinion, having all the toys mixed together wasn't conducive to imaginative play. So we put all the Barbies together, all the dolls together, all the magnetic toys together, all the dress ups together, etc.
Keeping all of the like things together makes it much easier to clean up, but also makes it easier for them to find what they want to play with. If they want to play dolls they simply have to pull out the bin with all the dollies. Such a helpful step in our playroom organization process.
Storage Units
They must be my children because they were bananas excited about this step! We purchased a few of these super cute gray shelving units at JCPenney and then measured the cubby holes for bins that would slide right in.
These storage units are the perfect height for little humans. Neil secured all the units to the wall and then we used all the storage bins for our newly sorted toys.
Cute + useful bins
These super affordable gray and white polka dot bins fit perfectly into the cubby holes. It was so nice and I absolutely love how it looks!
Baskets
We purchased several baskets to house all the stuffies. The girls were told ALL the stuffed animals had to fit in these five baskets or we would have to get rid of a few more. Lucky for them, they all DID! I love the visual interest of having a few different types of baskets. The small one adds such a fun pop of color.
Step Six: labels are my love language
Maybe it's because I'm nesting before baby boy arrives, but I am all about putting all the labels on all the things. Once we had all the sorted toys in their respective bins we used the label maker I mentioned in Friday's post to label all the bins. The girls loved helping name all the bins. Luckily for this mama, they are better at naming bins than they are at naming babies. HA!
Sigh of relief + final touches
It was so so nice to see everything all cleaned up and our playroom organization ideas come to life. I'm swooning over the transformation.
Rainbow connection
One other organization tip: rainbow sorting is SO FUN. If you have a lot of something (anything really!) and you can rainbow sort it, I highly suggest involving your kids and having them do that. My girls LOOOOVED sorting all the books they owned into a rainbow, and I didn't even need to tell them how to do it. When I said "oh my gosh there are so many books, where should we start?" my four-year-old Lyla replied as if I was crazy to even ask, "MOM! Red, orange, yellow, green, blue, don't forget the purple too!" Incredible how smart kids are 🙂
We sorted the books on a shelf that we already owned, but if you're looking for a brand new one I like this one that's only $99 with code 4BUNNY at checkout.
Table + Chair set
I fell in love with this table and chair set on site and I'm super thrilled it has a home in here. Before I found this, we had a super cheesy and cheap plastic desk in here that was forever breaking. I am super excited that the kids have a cute (and useful) space in our playroom to read or color or host an impromptu tea party.
Rug
I have plans to get a rug in our playroom at some point, but haven't gotten around to it yet! However, this gray and white striped one from JCPenney is a strong contender. Super cute, gender neutral and versatile enough to move around our house in other rooms if needed!
Outfit details
JCPenney has been delivering some seriously cute and affordable fashion lately. Cardigans don't get much dreamier than this one. It's super thin and silky and lightweight. The perfect spring layer. It's currently sold out, but here's a similar one.
My maternity tank is UNDER $13 (depending on color) and a great pregnancy staple. These leggings are another maternity staple that I can't live without or stop wearing. And at only $19.99 a piece, I literally own them in every color.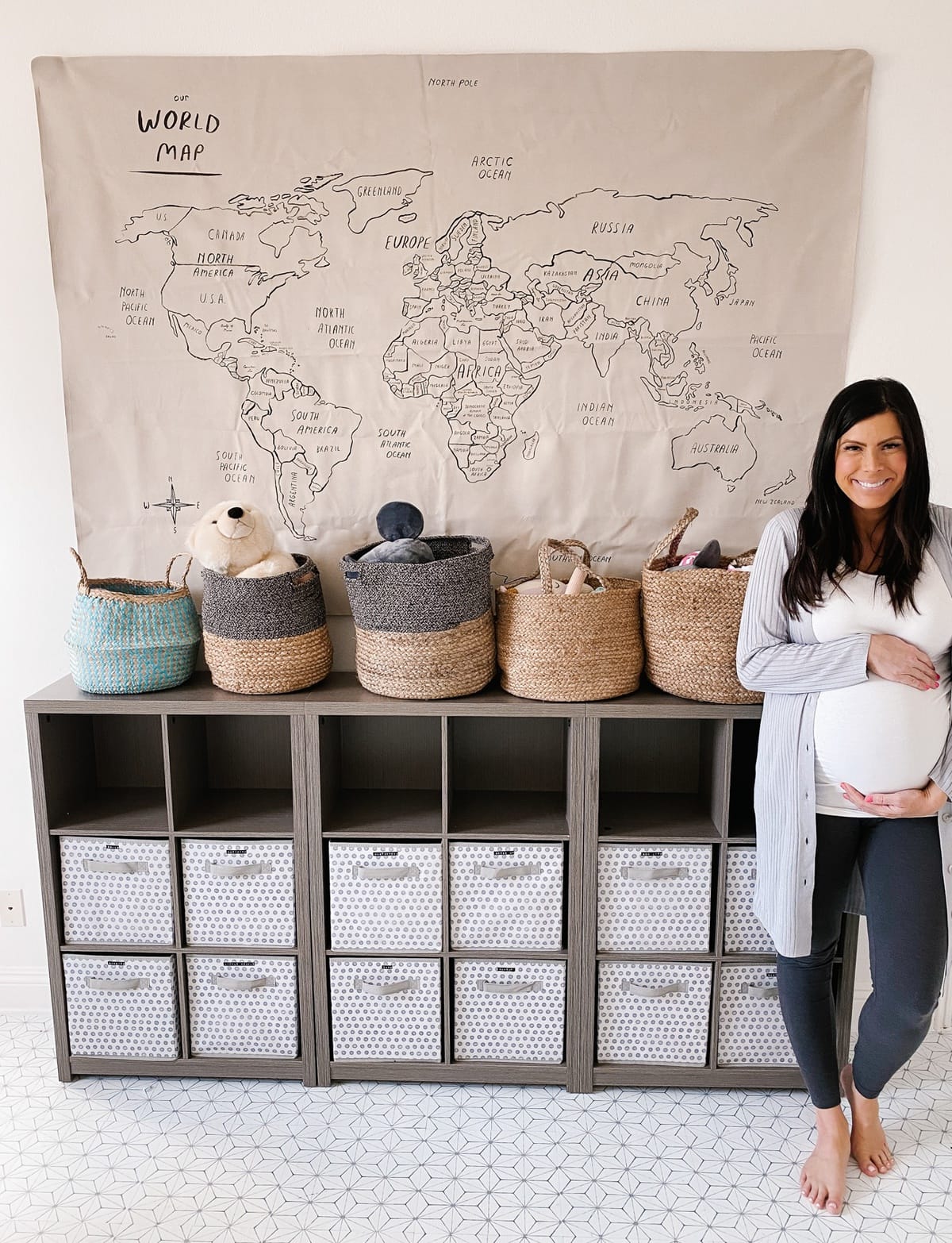 Small Aqua Decorative Basket sold out, similar
Brayton Baskets
Parrish Baskets
Storage Bin Dots Design
Table and Chair Set
Shelving Unit
Stripe Rugs
Maternity Leggings
Cardigan sold out, similar
Maternity Tank Top
Get your organization on
There really is just something so amazing about being able to give everything in a space a home. It was super fun to tackle this playroom organization project with my girls and have some teachable moments about sharing our blessings with others. Hopefully this post helps you tackle an organization project of your own, and gives you some ideas of things you can use too from JCPenney Home to get your own little space all organized too!