Pinch me because it's FINALLY done and I can hardly believe it!! Our playroom has been the very, very lowest item on our priority list since we moved into our house TWO YEARS ago. The office was a super close second but once we tackled that it was time to move on to the playroom.
In this blog post, I'm sharing how we made minimal changes to our playroom that had a HUGE impact. I absolutely love the way it all came together and cannot wait to show it to you!
A Vision in White
I absolutely love bright white spaces and if you've been my friend for even a minute, you know white is 100% my jam. Something about a bright white space just brings me joy. It's such a clean and pretty blank canvas that aesthetically makes me so happy. Going bright white in a playroom might seem a little crazy (kind of like committing to a white sofa), but starting with a super neutral palette allows us to go anywhere with it. We can transition from pastels to primary colors to whatever and just let the room evolve and change over time with our kids.
Triple Threat Floor Tiles
Beautiful? Check. Easy to install? Check. Super affordable? Check, check, check! When we moved in two years ago we replaced the carpet in every room but the playroom. I knew I didn't want to keep the old carpet, but also knew I didn't want to put the same nice (and expensive) carpet in there that we were doing in all the bedrooms.
What I wanted was flooring that would be durable, easy to clean, and economical. Carpet was a no-go because thinking about our kids spilling it or coloring on it or whatever gave me way too much anxiety. Carrying our existing oak hardwood floors into that room was going to be a budget-buster so that option was out too. Enter the peel and stick tiles!
These pretty peel and stick tiles were super highly rated and ridiculously affordable. Currently, they're selling for $9.98 and come in a pack of ten so that's like $1 a tile! It cost us about $300 to tile the entire room versus the $1500-2000 it probably would have cost us to do hardwood floors. I am really really happy with how it turned out and it was super easy to do-no special tools or experience required!
We ripped out the carpet and just to make sure they would stick well, Neil put down a primer coat on the floor first.
Playhouse Painting Pro Tip
A full step-by-step tutorial on our playhouse makeover is coming soon, I promise! But I wanted to drop an important tip in here. We really wanted to overhaul their playhouse and make it cute. I had seen so many super cute Pinterest ideas and tutorials on painting it.
Since we really wanted the girls to participate in the process, we decided to paint the playhouse BEFORE ripping out the carpet and I'm soooo glad we did! I'd either suggest that, or painting outside or in a garage where you can use a couple REALLY big drop cloths. Because involving our girls (which was one of my fave parts) = a lot of dripped paint!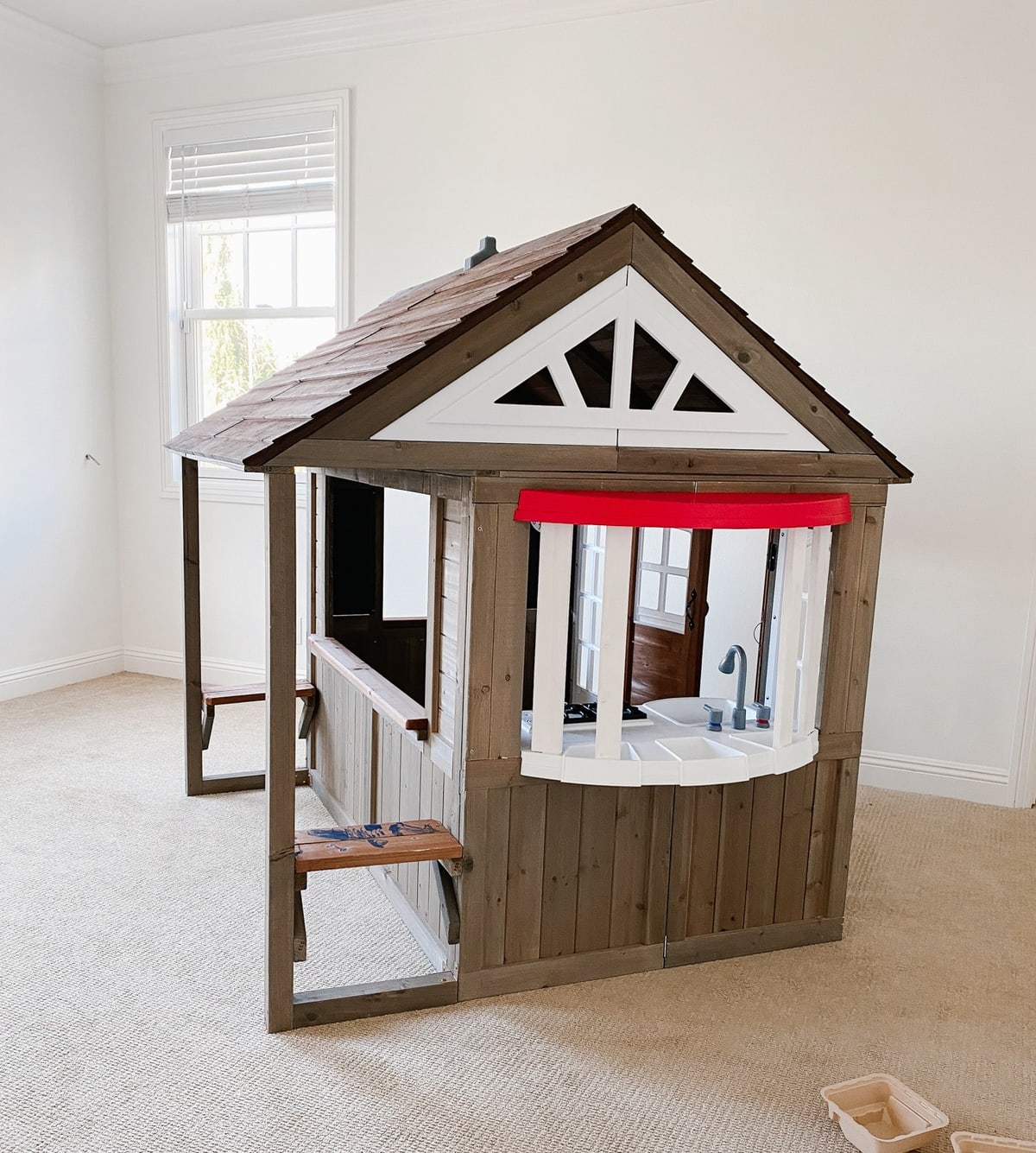 I highly recommend this if you're painting a space (or in a space) and replacing the flooring. PAINT FIRST. When paint inevitably got dripped on the carpet, it didn't matter because it was going bye bye bye anyway.
Slide on By
The gorgeous white wood slide is Millie's very most favorite thing in the playroom. Before COVID19 and self-quarantine when we were still going to church, Millie would spend all of nursery going up and down and up and down the plastic slide. It was her very favorite thing so I KNEW we needed to put a slide in the playroom.
The design of this all wood slide is absolutely timeless and it's the perfect combination of beautiful and fun. Mrs. KKW herself and the British royal family both have this exact slide in their playrooms and I am in LOVE. It's very aesthetically pleasing, very safe, and very highly rated.
Lay It On Me
I plan to put a rug in this room eventually but just haven't found The ONE yet. Obviously it needs to be cute and fun but also durable enough to handle kids and a high traffic zone. I'll keep you posted when I land on the perfect one.
A Whole New World
We absolutely love our Gathre mats. We take them to the beach with us and use them when we craft and when we travel and we just really love them. Their World Map mat made the perfect wall hanging for this room.
This Gathre mat went with the colors beautifully and I love that it's an imaginative launching point for childhood adventures. The girls love learning all the countries and dreaming about all the places in the world they can go. All it took was a few Command strips and it was done! Easy peasy.
Keep It Cool
Very occasionally we use our playroom as a last resort guest bedroom if we have a full house because it has its own bathroom. We do have A/C that runs through the entire house but wants to make sure our guests are comfortable so we didn't want to completely eliminate the fan. However, the old fan HAD to go because let's just be REAL honest, it was pretty hideous and weird. We replaced it with a plain white one that had super good reviews, was easy to install, only cost about $100, and just blends in with the room.
Label it
When I found this label maker a month ago I threatened to label our whole house to death. I may not have covered the whole house (YET!) but our playroom wouldn't be complete without labeling all the things. Okay maybe not everything, but labeling these bins is going to be super duper helpful for helping the girls keep the room clean and organized. All the Barbies and toys have their own designated space so it will make playing and clean up a total breeze.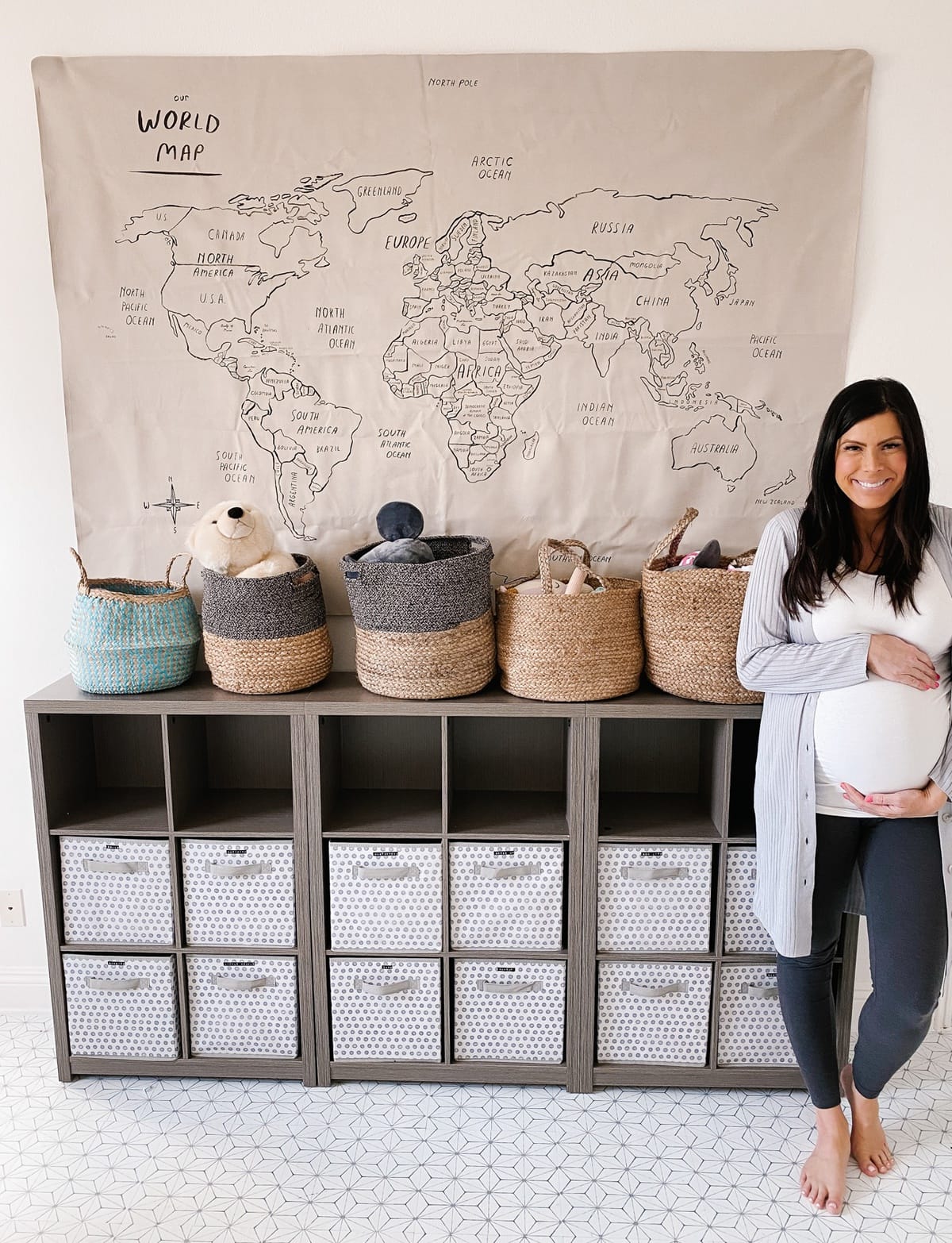 Floor Tiles
Gathre Mat
Wooden Alphabet Chunky Puzzles
Wooden Number Puzzle Sorting Stacking Toys
Cookware Set – Pastel
Wood Slide
Pastel Wood Rainbow
Ceiling Fan
Label Maker
White Book Shelf
Pink Kitchen
Shopping Cart
Small Aqua Decorative Basket
Brayton Baskets
Parrish Baskets
Storage Bin Dots Design
Table and Chair Set
Shelving Unit
Stripe Rug
Maternity Leggings
Cardigan sold out, similar
Maternity Tank Top
Girls Dresses
Playhouse sold out, similar here, here and here
Come Back Monday
It's kind of bananas that all we did was swap out the flooring and the fan, add a little organization (more on that MONDAY) and it totally transformed the space! Talk about minimal changes for maximum impact!
The organizational Marie Kondoing was obviously HUGE too. Come back on Monday because I'm breaking down the details on how exactly we decluttered and organized our playroom space. Have a good weekend everybody!