Okay, here's a riddle for you: what's so versatile that it can take you from a workout to a casual summer day, that acts like leggings, but feels like nothing, sucks your tummy in, that 78k people are obsessed with? BIKER SHORTS. And for Prime Day they're on major sale!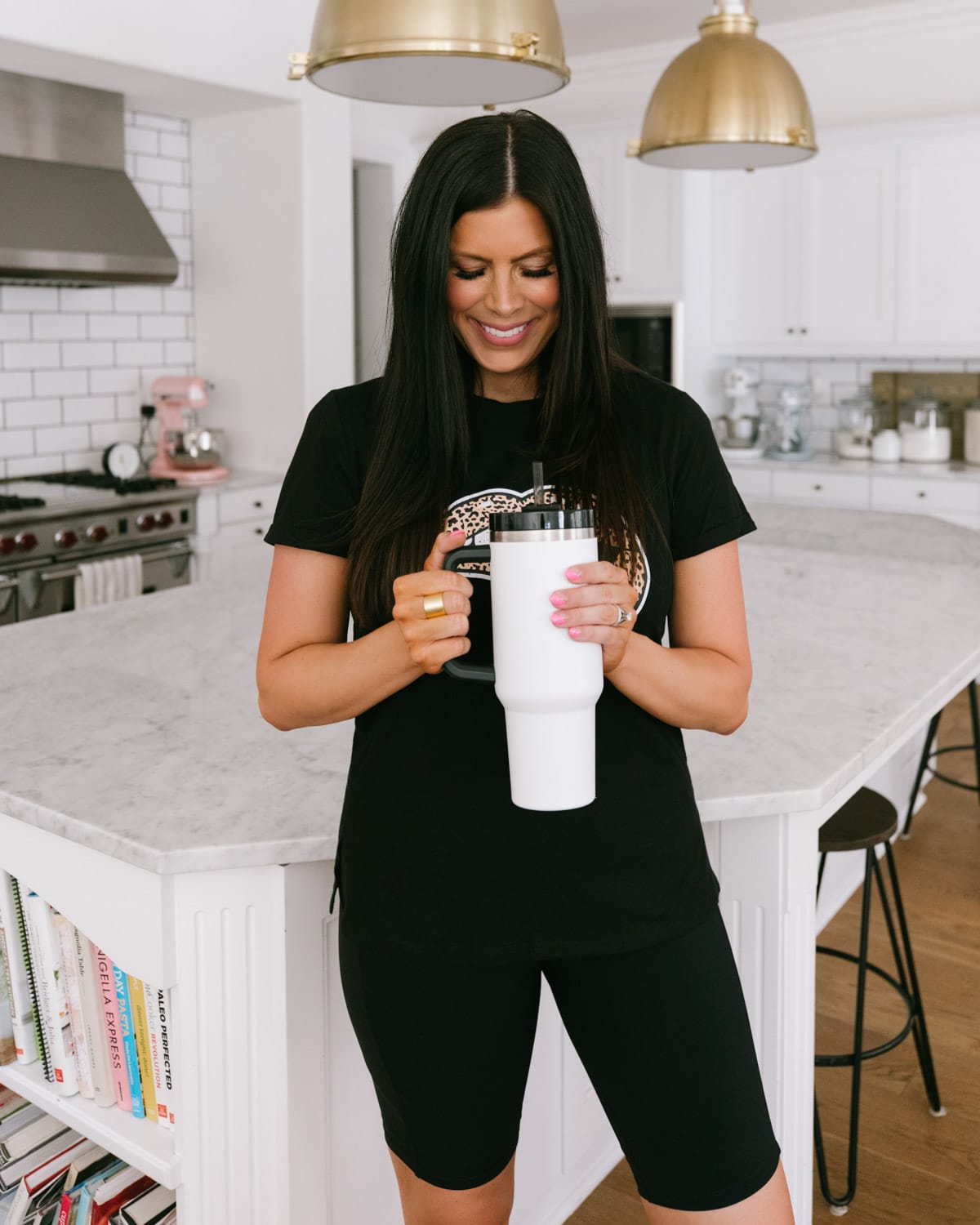 In a hurry? Shop the deal below!
Sometimes our hottest deals sell out REALLY fast, so if you want to be in the know and find out FIRST, you can join our bestie group text! And don't worry, I'll only send you the VERY hottest deals that have the highest sell out risk – PROMISE. To join the list, text DEALS to 949-506-2558
The biker shorts DEAL
Right now you can get these Amazon biker shorts for 33% off when you check off the extra coupon code below the price! Normally $26.99, but with this Prime Day deal, you can get it for as low as $17.99.
Plus there are SO many different cute colors and lengths to choose from, so there's something for EVERYONE. I might have to get myself one of every color with a deal this good!
Biker Shorts
Leggings, but for SUMMER
If you're the kind of girl who LIVES in leggings and sweatshirts in the winter, but panics once summer hits and you're worried about sweating in your regular momiform, you need to convert to biker shorts. They're basically the same thing as leggings except the summer version!
Working out? No problem.
They're also called biker shorts for a reason – duh – because you can bike or run or do any workout in them! All fellow Peloton peeps, you need these in your life!
Rave reviews
I haven't tried this EXACT brand of biker shorts yet, but here's what a TON of reviewers had to say about why they've earned more than 78 THOUSAND rave reviews!!!
"I really like the tall waistband. I love it as it helps to hold in the tummy and what is even better, is that the hidden "key" pocket is so much bigger than with other running pants! You could easily stash a key, your ID, cash and a credit card, plenty of room in that pocket. Fabric is nice and thick! I have NO concerns that they will go see-through. It is a super comfortable and stretchy poly/spandex blend that finally will not show off your bits and pieces even if you bend over! I love these so much, I am ordering another pair, and my running buddy begged me to order her a pair as well!"
"Great shorts! Comfortable, tummy control , thick so they're not see through and they're great for working out! Just took them out on a 10 mile bike ride in 93 degree weather! Great side pockets – perfect for my phone and keys."
"I love these shorts! I bought the longer version & liked them so much that I bought a 2nd pair of the 5" medium length. They are great for holding your phone while running and do not slide down at all. They are not see-through and they are super comfy! I wear these lounging around the house also."
Add these biker shorts to your closet!
I'm not kidding you when I say you'll be HOOKED when you first put on these biker shorts. They do all the dirty work and give you a suuperrr comfy, buttery feel while sucking everything in. Work out in them or wear with basically any other outfit! We're obsessing over here. FIVE stars!
MORE Amazon Prime Deals
TOP TRENDING Amazon Prime Day Deals
BEST of BEAUTY on Amazon Prime Day!
UPDATED: The best Amazon Prime Day BABY deals!
Craziest Amazon Prime Day HOME deals!
BETTER than Prime Day Traeger grill deal!
The BEST Women's Fashion deals of Amazon Prime Day!!!
Best deal EVER on Amazon Echo for prime day!
The BEST tech deals on Amazon Prime Day!
Amazon Prime Day kids toys at amazing prices!
HOT Disney deals for Amazon Prime Day!
Prime Day deals on my favorite Amazon leggings
HOT Amazon Prime Day deal on our FAVORITE pajamas!
20 HOTTEST Prime Day deals on women's accessories!!
Nugget ice maker 26% OFF for Prime Day!
BEST Amazon Prime Day swimsuits starting at $23!
The BEST kindle sale of the year!!!
HOT! Crazy good Levi's jeans sale for Prime Day!
The best biker shorts on sale, thanks to Amazon Prime Day!!!
Amazon Prime Day snacks with STOCK UP PRICES!!
$110 OFF the BEST electric toothbrush I've ever used!
HOT deal on the BEST men's electric shaver ever!!
HOT! Honest Diapers on sale – high sell out risk!
Amazon Prime Day SUNSCREEN deal!
Rating Shine Cosmetics' best makeup dupes, a HOT DEAL + an extra 10% off code
My favorite Always Pan & Perfect Pot 20% OFF!!
The BEST fake plants, ALL on sale for Amazon Prime Day!
Biossance on sale for Prime Day!
These Amazon slippers = UGG look-a-likes + they're on major sale for Prime Day!
TODAY ONLY! KitchenAid Mixer 35% OFF + my fave recipes
Clean Simple Eats guide & exclusive discount!!
The CUTEST Amazon Prime Day dresses on sale!
The collagen I swear by is $20 off today!
Top Amazon Prime Day GAMES to add to your cart