Want to know a secret? I have a teeny bit of a tumbler problem. It's an extreme passion of mine and I pretty much have one with me at all times! The volume of tumbler cups I have purchased over the years is borderline ridiculous. Even more ridiculous is the price tag on my very favorite one. Guess how much? Just a cool $15,000. You know, just the average cost of giving birth in the United States. Because all moms know that the ULTIMATE tumbler is the one the hospital gives you as your little trophy when you have a baby.
If you don't want to spend $15,000 or have a baby, but you DO want an amazing tumbler cup, keep reading because I'm honestly reviewing my two very favorites!
The Grown Up Sippy Cup
This Amazon tumbler is hands down my #1 tried and true very most favorite. I refer to it as my grown-up sippy cup because it has a leak-proof, anti-spill lid. It's like MAGIC!
The 28oz size is just $25 and comes in 25 super fun colors. I am currently obsessed with the matte black but own this exact tumbler cup in a few other colors including a super cute ombre. I love that it's skinny and tall and super lightweight.
Because this is skinny and lightweight, it's easy to carry, easy to hold and totally fits in your cupholder (MEGA important!). It is also double-walled and double-insulated so it keeps hot drinks hot and cold drink cold for HOURS. This also means it never sweats, so you don't need to bust out your coasters or koozies. Basically it's the most perfect tumbler of all time!
Starbucks has a similar tumbler, but it's just a little too big and the lid often gets stuck when I am screwing it on.
This obsession-worthy tumbler cup makes a great (and affordable) gift. I gave this exact one to my sister for her birthday recently and she said she gets compliments on it all the time. Everybody wants to steal it from her-including her husband! She told me it looks like something that Steve Jobs would carry around and I agree 100%!
MOM HACK: Your drink is totally concealed, so you can absolutely drink Diet Coke in front of your kids without them knowing and begging for all the sips!
Big Drinks: Handled
A lot of people think the Stanley cup is the most perfect tumbler cup in all the land. For me, it comes in second. It holds 40oz, which is amazing and nearly double the capacity of my #1 tumbler. If you're trying to stay hydrated or headed to the pool/park/beach for a few hours, the capacity of this cup is king. However, the increased size means it's also heavier and bulkier. Especially if you're like me and love a lot of ice. For reference, my Amazon tumbler weighs less than a pound and the Stanley cup weighs almost 1 1/2 pounds.
The skinny bottom fits perfectly into a cupholder, and I even wedge mine into my Peloton! I prefer to drink out of straw when I workout, so this Stanley tumbler is perfect for that and my drink lasts for my whole entire ride.
This Stanley cup legit keeps drinks cold for the longest time. According to the stats on their website, it keeps drinks cold for 11 hours and ice for TWO DAYS. What?! It's also 100% dishwasher safe which is a total convenient win.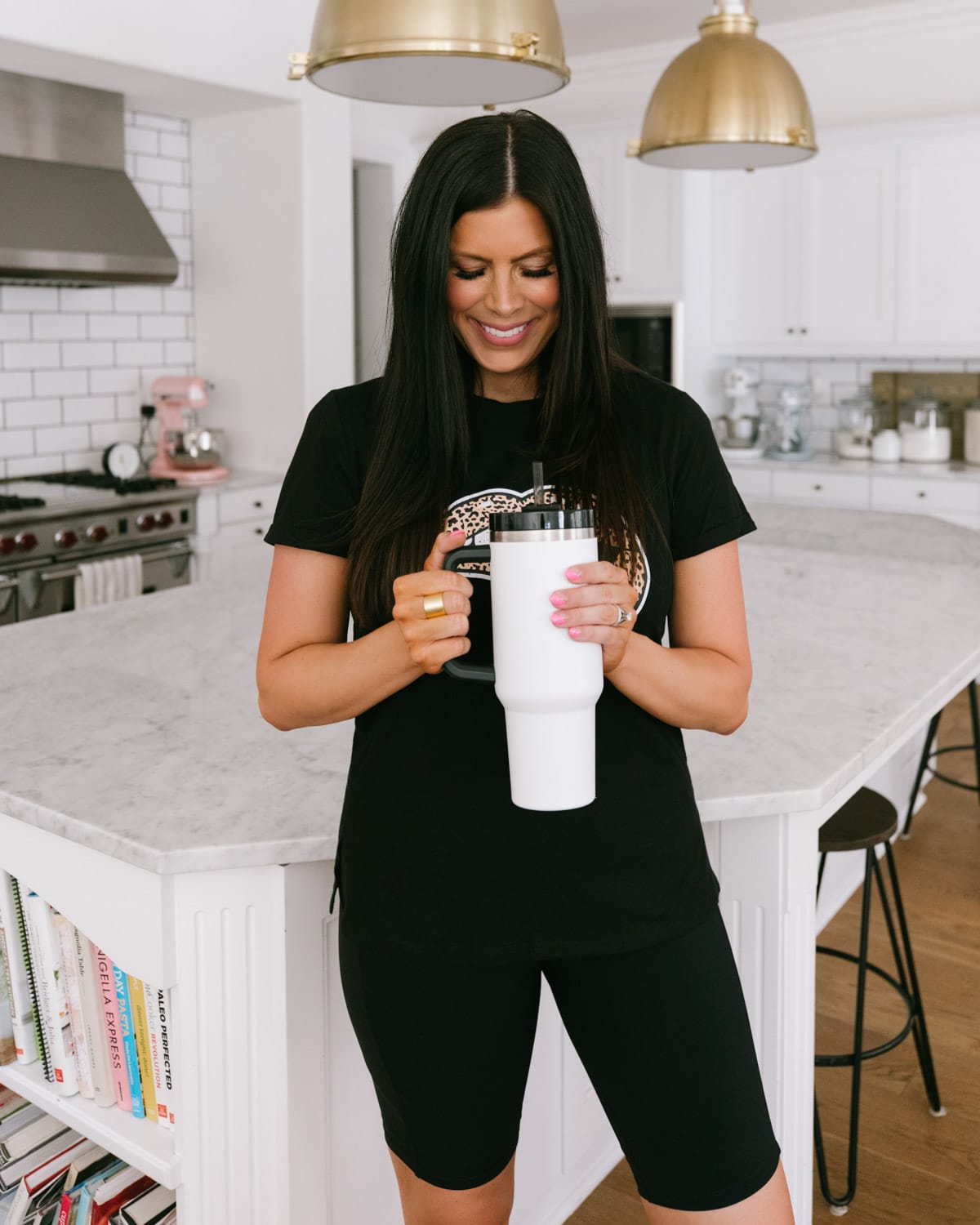 SWEET Stanley Tumbler Deal
The Stanley cup is regularly $40, but right now through August 31st you can take 15% off your order with code SHOPSTYLE15 at checkout! That means this summer perfect cold drink darling is just $34 right now!!
TIP: If you're having issues purchasing, try creating an account at checkout instead of checking out as a guest
Two Perfect Tumbler Cups
Sleek versus utilitarian. That is really the question when it comes to these two amazing tumblers. They both earn 5-stars from me, it just depends what your tumbler needs and likes and wants are! The Amazon tumbler is cuter and fits in my hand really well, but the Stanley holds more and has a handle (kind of the cup equivalent of a pocket, ha!). I love them both and really, really love cold drinks apparently. Cheers!