I still can't believe it's finally here – Amazon Prime Day!! Today is the day you'll get the very best deals of the year at our favorite one-stop shopping destination. Our entire team is working like crazy, scrolling through and finding ALL the best deals on ALL the things – and this post is all about the BEST women's Amazon fashion deals!
Trust me when I say there is A LOT to love and some truly AMAZING deals. Plus, we've done all the work to make it easy for you to find what exactly what you want!
In a hurry? Shop our top picks below!
Alo Leggings
I love Alo Yoga and these high-waisted leggings were perfect to wear after I had Millie + Harry. They're stretchy and soft and oh so comfortable. And the high waist holds everything in! You can get these on sale in four cute colors for up to 31% off.
Bermuda Shorts
If you're wanting to invest in some summer staples while all these amazing Prime Day sales are going on, let it be these Bermuda shorts, and these perfect, white Keds! I found both of these super cute items on Amazon on sale today, and I am obsessed. I promise you will wear these over and over again all summer long!
These Levi's Women's Bermuda Shorts are comfortable, stretchy, and look expensive (the shopping trifecta!). They come in TONS of different washes and are 61% OFF depending on which style you get!
These Levi's shorts run a little big, so I would definitely size down (gotta love vanity sizing!). They come cuffed, but to accommodate my height (I'm 5'10"!), I unrolled them so they come right to my knee like a traditional Bermuda short!
And you can also get my favorite Keds for 37% off today! Keds are super comfy and cute and neutral. And cute with everything! This is a wardrobe staple that looks cute with sweats or jeans or a dress or leggings or anything else you can dream up.
Prime Day's best High Rise Skinny Jeans
I am absolutely shocked at how amazing the price point is on these classic skinnies! These are SUCH a great option if you're currently in between sizes, or if you want to try a new trend without a massive investment.
You know I love a good high-rise, so these are a definite Amazon fashion WIN in my book.
These jeans are 40% off their normal price of $69.50, bringing them down to $41.70! AMAZING!
They also run TTS!
Ray-Ban Aviators
The ultimate classic in sunglasses is a Ray-Ban aviator, am I right?! They'll just never go out of style!
I really, really love these sunnies because they're so lightweight, and you can wear them all day without getting a headache. Plus, they're one of my favorite closet staples, too, because you can wear them with your dressiest outfits, or running errands in yoga pants and a tee!
These are usually really hard to find on sale and in stock, so grab these soon while they are 30% off for Amazon Prime Day!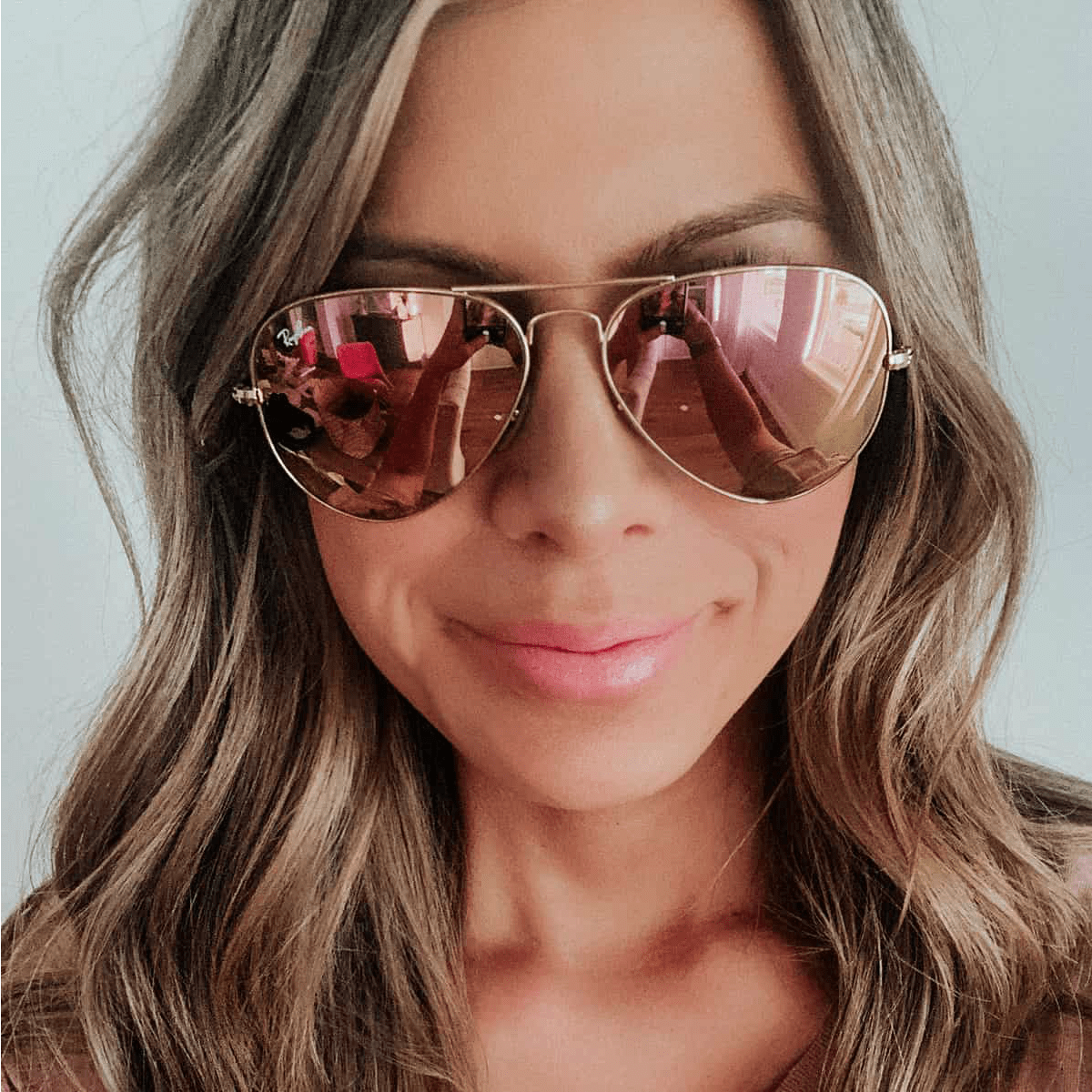 These round retro sunglasses are one of Ray-Ban's newest, cutest, and smartest styles. They are so cool because the lenses change and get darker or lighter with sun exposure so you're getting the perfect amount of coverage.
The lighter and brighter it is outside, the darker the lenses get and vice versa. No more taking on and off sunglasses with changing sun conditions, dashing inside for a quick errand, or hopping into a car. How awesome is that? I love that they're also stylish, and super highly rated. So fun to give this brand new style a whirl and I give them a full 10/10.
Right now, you can get these round retro sunglasses for ONLY $114.24 (reg. $163) for Amazon Prime Day!
All Tied Up Top
This Amazon top is my VERY fave Amazon fashion find! It has buttons (hello nursing life!) and it's lightweight enough to wear on warm days, but it can still be worn all the way into the fall, too!
It also pairs PERFECTLY with leggings which, hello, is life in my book! I seriously want it in every color and $21.59 (reg $26.99) right now, I can actually add more than one to my closet!
This top runs true to size!
The BEST v-neck loose waffle knit top
Pssttt…you're going to want this in every color! This is one of my favorite everyday v-necks that has a relaxed fit.
I grabbed this top in mint for only $22.99! You can wear it off the shoulder or have it fit slouchy as a regular v-neck. I'm obsessed with the sleeves on this top and love to tuck it into my jeans or leggings!
The waffle knit texture makes it super casual and perfect for activities with the kids outside.
Mer(made) to perfection
This mermaid style sweater dress completely won me over after trying on a TON of different Amazon sweater dresses. The figure is EXTREMELY flattering, and I was super thrilled with the amount of coverage top to bottom!
The length is seriously perfection. It's really hard to find a sweater dress that's a good length. A lot of the time when I try on sweater dresses they're set well above my knees, but this one had the exact length I would choose if I designed it myself.
And the mermaid ruffle at the bottom is really the icing on the cake with this style! It's the perfect amount of detail, without being overbearing or distracting from the simplicity of the dress. I also love that it's a little tighter at the bottom, giving that super pretty hourglass figure to every body type!
Get this dress for 50% off today making it ONLY $17.99!!!
Pencil Sweater Dress
This pencil sweater dress is SO minimal which is super on trend right now, and it's actually really flattering and cute on, too. It comes in 10 different colors, and it's only $33.59 + don't forget to add on the additional 15% discount!! (reg $49.99), so you can totally grab a couple of different shades if this one leans into your style!
Flannel Shacket
The shacket is still tending and we are noooot mad about it. And we're even MORE not mad about the fact that there are super cute ones available on Amazon!
When we saw this one in particular, we were automatically obsessed with the fun pink color scheme. But if pink's not your thing, there are seven other super cute colors to choose from!!! They have everything from a super neutral black & cream, to a fall burnt orange, to deep reds and blues. Whatever complementary color you need with your tones – they've got you!!
Sometimes these shackets are a rough wooly texture and not soft at all – but this one ACTUALLY is incredibly soft and super duper cozy! In fact, this is probably one of the most comfortable shackets out there right now, even compared to the most expensive options on the market.
Grab your favorite color (or two or three!) for only $28.79!
THE Matching set
Never ever ever. Please stay in style forever. Matching sets are one of the best trends to hit the 2000s and we are SO happy they're such a huge thing right now. Especially because this set is not only so super cute for fall (the perfect color!), but it also straight up feels like PAJAMAS.
You don't look like you're wearing pajamas in this set – but you definitely feel like it – so it's basically the best combo since grilled cheese hit the scene. Get it for 22% off right now (UNDER $30)!!
More of the Hottest Deals on Women's Fashion
Only the BEST
We rounded up ALL our favorite Amazon fashion deals for Prime Day below, just to make your life a little easier! We'll be covering ALL the best Amazon Prime Day deals ALL DAY today and tomorrow – just like we do on Black Friday – everything from baby to kids to tech to home, so keep coming back all day long!!
MORE Amazon Prime Deals
TOP TRENDING Amazon Prime Day Deals
BEST of BEAUTY on Amazon Prime Day!
UPDATED: The best Amazon Prime Day BABY deals!
Craziest Amazon Prime Day HOME deals!
BETTER than Prime Day Traeger grill deal!
The BEST Women's Fashion deals of Amazon Prime Day!!!
Best deal EVER on Amazon Echo for prime day!
The BEST tech deals on Amazon Prime Day!
Amazon Prime Day kids toys at amazing prices!
HOT Disney deals for Amazon Prime Day!
Prime Day deals on my favorite Amazon leggings
HOT Amazon Prime Day deal on our FAVORITE pajamas!
20 HOTTEST Prime Day deals on women's accessories!!
Nugget ice maker 26% OFF for Prime Day!
BEST Amazon Prime Day swimsuits starting at $23!
The BEST kindle sale of the year!!!
HOT! Crazy good Levi's jeans sale for Prime Day!
The best biker shorts on sale, thanks to Amazon Prime Day!!!
Amazon Prime Day snacks with STOCK UP PRICES!!
$110 OFF the BEST electric toothbrush I've ever used!
HOT deal on the BEST men's electric shaver ever!!
HOT! Honest Diapers on sale – high sell out risk!
Amazon Prime Day SUNSCREEN deal!
Rating Shine Cosmetics' best makeup dupes, a HOT DEAL + an extra 10% off code
My favorite Always Pan & Perfect Pot 20% OFF!!
The BEST fake plants, ALL on sale for Amazon Prime Day!
Biossance on sale for Prime Day!
These Amazon slippers = UGG look-a-likes + they're on major sale for Prime Day!
TODAY ONLY! KitchenAid Mixer 35% OFF + my fave recipes
Clean Simple Eats guide & exclusive discount!!
The CUTEST Amazon Prime Day dresses on sale!
The collagen I swear by is $20 off today!
Top Amazon Prime Day GAMES to add to your cart