You know I absolutely love a good deal on baby gear, and I know you do, too! Lucky for us, this year's Amazon Prime Day is full of them!!! I spent more time sourcing deals for this than any other post today, and we have all the BEST Amazon Prime Day baby deals covered for you in one neat little post so you don't miss out on anything. Ready? Let's go.
Not an Amazon Prime Member?
If you haven't joined myself and a bazillion other people who are addicted to Amazon Prime, you can try it FREE for 30 days here! If you're a student, Prime Student is a discounted membership option for college students, with a six-month trial and just $7.49 a month after — half off! Qualify for government assistance? You can get a free 30-day trial here, plus a discounted membership option. Also, if you happen to be a business owner, you can get an Amazon business account here.
SNOO Bassinet
The SNOO bassinet is practically like having a mother's helper around the clock in your house…FOR REAL! It's a smart sleeper that actually responds to your baby's fussing. So if it senses them crying out, it will respond with increased rocking and white noise to soothe them! It comes with tracking capabilities on your phone, including how long the baby's longest stretch of sleep is by the day. You can also set it to a more gentle mode if you have a preemie baby, and a weaning mode when you're ready to wean them and move them to the crib.
The price on the SNOO bassinet is definitely up there, and I don't think for a minute it's a necessity to getting your baby to sleep. But it is for sure REALLY nice and when people ask me (all the time) whether it's worth the splurge I always say, "YES! It totally is." Because if you're the type of person who's considering splurging on it, and it's reasonably within your budget, I think it's an AMAZING help to mom and dad who could use more sleep at night.
Right now during Prime Day you can get the SNOO bassinet for 20% off bringing the price down to $1,356 (reg $1,695)! I hardly EVER see this go on sale so if you have been eyeing this, now is the perfect chance to get it!
CARSEATS
Graco SnugRide
Get the Graco SnugRide SnugLock 35 LX Infant Car Seat for 33% off! This is such a classic and affordable infant seat PLUS it has TrueShield side impact technology to keep your baby safe!
Right now, this car seat is $76 off, which is such a good price for this infant car seat!
Baby Jogger City Go
We LOVE this infant car seat for so many reasons. It easily clicks into our Baby Jogger strollers, is lightweight, and has all of the safety features you could want in a car seat.
Right now, this car seat is $130 off, and I have a feeling this deal won't last long before it sells out!
Maxi-Cosi Pria 3-in-1 Convertible Car Seat
Maxi Cosi convertible car seats are at the top of our family's list! It's definitely got the most cushion and comfort, so if getting some good sleep in the car is a priority for you, THIS is your car seat. It's super comfortable for long road trips or snoozing during errands. I've bought this one more than any other because of the comfort factor.
ALSO, it's machine washable AND dryable! You can pull the whole thing apart, wash it, and then you don't have to wait for it to air dry. This is a huge bonus for me!! It makes it so quick and easy to clean up those kid messes that are just a part of traveling.
During Prime Day you can get this car seat for only $188.99 (reg $299.99)- 37% off!
STROLLERS
Baby Jogger City Mini GT2
We absolutely LOVE our City Mini stroller for its one-hand quick fold, its super lightweight, and amazing quality push and glide. It's basically like the Cadillac of all travel strollers! If I had to choose just ONE stroller to recommend to a parent who travels a lot or is on-the-go, this would be it.

During Prime Day this stroller is $200 off! You can also grab the Baby Jogger City Mini GT2 Double here for $2300 off, OR the City Tour™ 2 Ultra-Compact Travel Stroller for 37% off!
We hardly ever see deals like this on Baby Jogger so be sure to grab them before they sell out!
Bob Jogging Stroller
W swear by this stroller for running and for any rough terrain. This is the only stroller we will take on our beloved beach trail too, because any other strollers get stuck in the sand!
It's super durable and has great suspension and a really nice big sun shade for the baby. We found it today for Prime Day for only $375.99 (reg $469.99). (Note: The one pictured below is a different version of this stroller)
You can also get this Baby Jogger Summit X3 Double Jogging Stroller for 31% off and the BOB Gear Revolution Flex 3.0 Jogging Stroller for 20% off!
OTHER Baby Items on Sale
Freshly Picked Diaper Bag
We LOVE Freshly Picked around here and this Freshly Picked Diaper Bag is no exception! This Freshly Picked diaper bag is the ultimate. I chose it because of its sleek design, how lightweight it is, AND that is has a laptop sleeve! It literally checks all the boxes. Get it on sale today for 25% off at just $149.25 (reg $199.99)!
Nanit Baby Monitors
Nanit baby monitors are super highly rated and we are so excited to see these two on sale for 34% OFF today for Amazon Prime Day!!

With the Flex Stand (formerly the Multi-Stand) you can move your camera—the world's most advanced baby monitor with computer vision technology—from room to room or take it with you on the go (think playdates, travel, grandma's house) to get a 130° view. That means you can monitor your baby and capture those unmissable moments–almost anywhere, anytime! Amazing right?!
The Nanit Pro Smart Baby Monitor & Floor Stand is more of a stationary monitor but it works just as well and has the same amazing quality as the Flex Stand!
Honest Diapers
I trust Honest Company diapers more than any other because they've given me the very least amount of leaks and blowouts of all the diapers we've ever tried, allowing us to get out and do life without stressing about wardrobe changes for baby OR me.
What else makes these diapers different than other brands? They are:
Non-toxic and hypoallergenic, made with plant-based materials.
SO dang cute. How many diapers can you say that about?
They are literally engineered to be leakproof and blowout conscious, so it's not just my experience.
I also love that The Honest Company Diapers have a blue line indicator so you can tell when the diaper is wet!
The best part? You can get them for 15% off today for Prime Day!! Shop more sizes + Honest Company wipes and other products on sale HERE!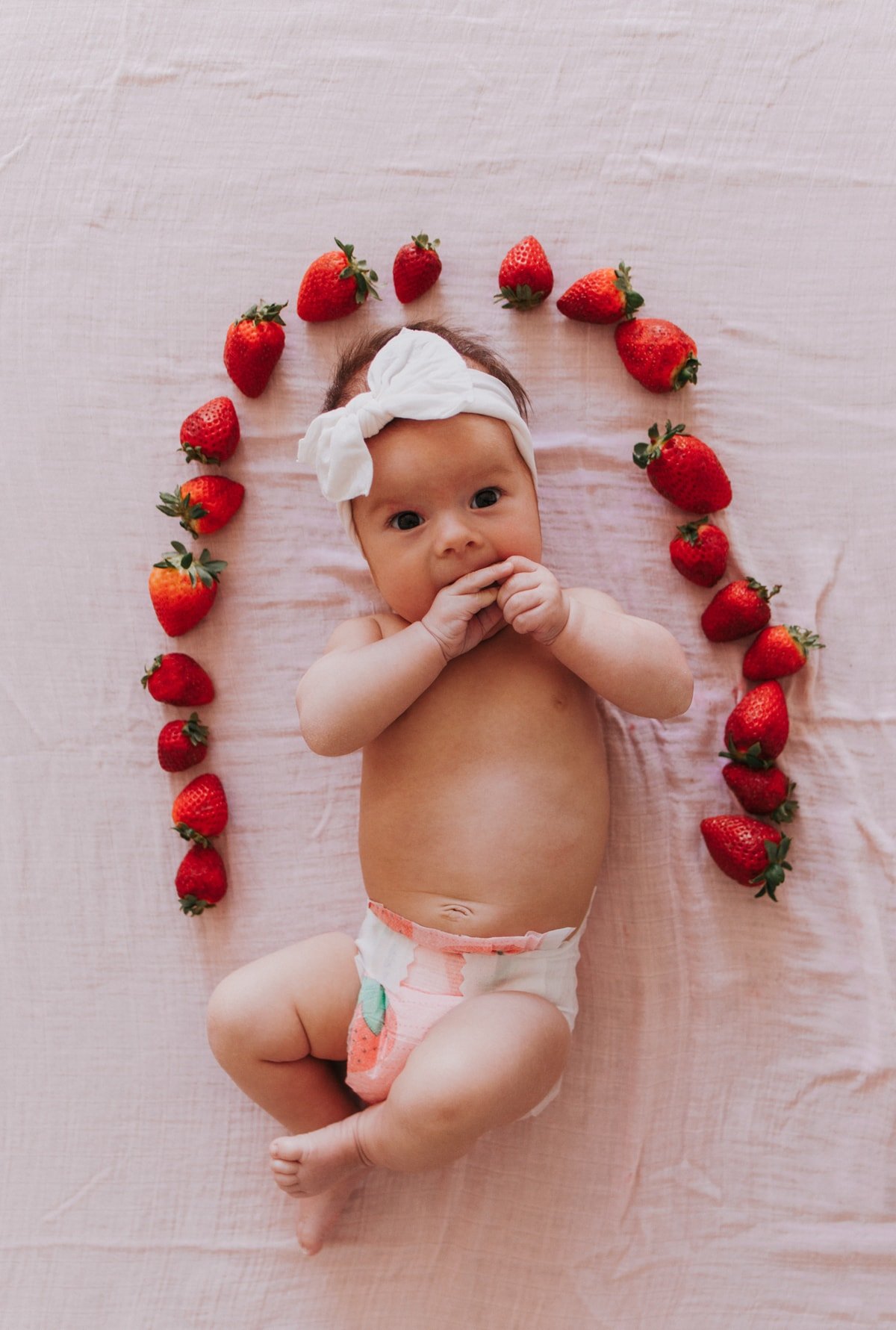 FridaBaby – Mom Kit
I bought this FridaBaby Mom Kit for myself and then gifted it to my sis when she had her baby and we both LOVED IT!!! In her words, "it's everything the hospital will give you for recovery, but BETTER."
I couldn't agree more, and I only used half of it because I had a c-section! (Now they have a c-section recovery kit though and it's 39% off today!)
She had vaginal deliveries and said she would buy this for herself, but bring it to the hospital next time. And she's a minimalist so that's saying a lot!
During Amazon Prime Day, you can get the FridaBaby Mom Kit for 30% off making it only $34.99 (reg $49.99).
FridaBaby – Baby Basics Kit
You can get the Baby Basics Kit by FridaBaby for 25% off today! This kit is geeeenius. Seriously. The snotsucker may sound gross, but it's honestly the best invention ever. As well as the gas passer! All of the little uncomfortable things newborn babies go through, is covered in this single pack. A must for sure, especially when it's 25% off!
Boppy Nursing Pillow
Boppy Nursing Pillow: I've been a huge fan of Boppy brand nursing pillows since having my first. They make it easier to feed or even just relax while holding baby. During Prime Day they have so many different styles on sale for 20% off!
Maxi-Cosi 6-in-1 Minla High Chair
How PRETTY is this Maxi-Cosi 6-in-1 Minla High Chair? You can't say that about many high chairs, but this one will actually look good in your kitchen! Love that it grows with your kids (for 6 years!) so you don't have to purchase a million other products. Get it for 30% off today making it just under $175 (reg 249.99)!
Pacifier Clips
These Pacifier Clips are currently on sale for 20% off making them only $9.27 (reg $11.59). I love how cute and neutral they are! Plus, they're super highly rated so you know that they're really good quality.
Portable blackout shades
If your kids are used to sleeping with blackout shades (ahem, MY kids), portable blackout curtain blocks are life.changing. They have suction cups and are amazingly designed to not damage any window! They're so ridiculously easy to take on and off, and definitely the best option I've ever found for darkening rooms.
Before I bought these, I had even resorted to bringing tin foil with me for the windows! It has been such a source of stress for me, so I love that these are so versatile and functional. We bring three of these and it's always been enough for us.
It's been so worthwhile to invest in these for any time we are staying somewhere where blackout curtains aren't available. They're also super easy to travel with and don't take up much space at all (only 1.4 pounds each!). There's definitely a reason why they've earned over 5,000 stellar reviews.
These Portable Baby Travel Window Blackout Blind Shades are currently on sale for $15.99 (reg $19.99).
Joovy Walker
So excited to see this popular Joovy Walker on sale for 15% off! It has three adjustable heights, so it can grow and adjust along with your child, plus it also features an extra-wide base to help provide strength, stability, and mobility. The tray is also dishwasher-safe (!!!) and the seat cushion is even removable + machine-washable.
White Noise Machine
I've said it before, I'll say it again – babies don't need music to fall asleep, they need white noise! Babies are used to white noise in the womb so it really calms them down when it's time for a nap or to go to sleep for the night.
You can get this Magicteam Sound Machines White Noise Machine on sale today for 41% off making it only $17.59 (reg $29.99)!! Be sure to clip on the 5% coupon too!
Frida Baby 3-in-1 Humidifier
A humidifier is always something you don't realize you need until it's the middle of the night and your baby is sick and you're feeling helpless! This Frida Baby 3-in-1 Humidifier with Diffuser and Nightlight has over 8,000 amazing reviews and it can run for 24-hours! You can use the humidifier, diffuser and nightlight all together, or individually which is so convenient.
Get it today so you're prepared for those sick nights (or even if you're in need of a nightlight/diffuser right now!) for 30% off saving you $13.50!
Maxi-Cosi Swift Play Yard
OKAY, this Maxi-Cosi Swift Play Yard for starters is actually not bad to look at! Plus, it can be used as a newborn bassinet, toddler sleep space and safe + play yard. Reviewers say it's so easy to fold and put up and down. It's also super lightweight at about 18 lbs. Get it today for Amazon Prime Day for 30% off saving you $82!
Maxi-Cosi Bassinet
Another Maxi-Cosi product that's worth buying if the Snoo isn't in your budget! This Maxi-Cosi Bedside Bassinet has four different hight positions and we love the storage underneath! Perfect for an extra change of clothes, a sleep sack, and diapers + wipes for all of those late night diaper changes. Get this bassinet for 30% off today at $188.99 (reg $269.99)!
Happiest Baby Sleepea 5-Second Swaddle
This is the swaddle I referenced in my post about whether you NEED a Snoo or not and how to create a Snoo-hack if you want your baby to sleep well but don't want to spend the coin on a Snoo bassinet.
This Happiest Baby Sleepea 5-Second Swaddle is on sale for $23.96 today (reg $29.95).
Gently Weighted Swaddle
If you're into weighted blankets, you KNOW how amazing this swaddle is! It really does give your baby a sense of security when they feel that small amount of weight on their chest (or back if they sleep on their tummy!). Both Millie and Harry LOVED this swaddle.
This Nested Bean Zen One – Gently Weighted Swaddle is on sale for $40.79 today (reg $50.99)!
Comotomo Baby Bottle Bundle
Comotomo bottles feel like a boob! My kids loved these, they feel the most like a boob and real nipple so they're supposed to cut down on nipple confusion if you're worried about that! They also are designed so you don't need a bottle brush to clean them out which is SO NICE. They have vents as well to help with proper digestion and to avoid colic or gassiness by reducing the amount of air they're gulping.
This Comotomo Baby Bottle Bundle is currently on sale (with coupon) for 20% off making it only $52.64 (reg $59.99)!
Joovy Push Tricycle
How fun is this Joovy Tricycoo 4.1? You can use it FOUR different ways to cater to your little's changing needs as they continue to grow + explore, plus it's HEAVY-DUTY, so it will actually last! Get it today for 15% off!
Baby Monitor
This HelloBaby monitor is one of the highest-rated AND one of the most affordable baby monitors! I tried it out just so I could know if it was good enough to recommend and my answer is YES 1000%. It has amazing range, clear picture and sound, and I can keep an eye on the baby when I'm outside or on the other side of the house while they are napping.
You can get this baby monitor today for $42.34 (reg $49.99) – 15% off!
Silicone Baby Bibs Set
If you haven't jumped on the silicone bib train yet, you need to! They are SO cute (BLESS whoever thought it was time to make some neutral, minimalist baby bibs), SO easy to clean, and right now you can get a Silicone Baby Bibs Set of 2 for $9.99 (reg $15.99)!
2 Piece Long Sleeve Pajama Set
Hanna Andersson is another clothing brand I LOVE for my kids. Their pajamas are super cozy and really good quality as well. You can get the Moon and Back by Hanna Andersson Pajamas for 25% off today for Prime Day. You can also get these one-piece pajamas for 25% off!
Oh baby!
We hope you're able to grab some amazing baby deals today for Amazon Prime Day! To see all my baby favorites and must-haves, go to my best baby registry list ever! Make sure you check back here tomorrow, too, because I promise we'll update you with all the best NEW Prime Day baby gear deals then!