Quick Version: Save MORE on quality cookware bundles that you'll use for years to come!
You've probably heard before about my love for the gorgeous Our Place pots and pans. There's a good chance you've even added them to your cart at some point during the past year or so. Well, if you haven't purchased them yet, or if you're looking to get an incredible deal on the most AMAZING addition to your home, then I have the perfect deal for you today! You can get some of my fave pots and pans for up to $60 off during this sale! Keep reading for my full review on these Our Place kitchen favorites and to find out all of the deal details!
In a hurry? Go straight to the deals below!

Deal details
Right now you can bundle and save BIG on some of the best sets from Our Place! This is the perfect time to invest in super high quality cookware! Whether you're looking for a new pan that will replace eight different pieces in your kitchen!
These are some of the AMAZING bundle deals included in the sale!!
Keep scrolling to find out why I truly LOVE the Always Pan and the Perfect Pot and all of their iterations!
Our Place sets on sale:
1. Always Pan Duo – $50 OFF
This duo includes my long time love, the Always Pan PLUS it's miniature counterpart, the Mini Always Pan!
So why do I love the Always Pan and it's mini sidekick so much? For one, the Always Pan looks beautiful sitting out. It's available in ten pretty colors to match or coordinate with any kitchen.
It also cleans better than any other pan I've ever used. Things literally just slide out of it as if it's constantly coated in butter (but the non-stick coating is totally nontoxic!).
Best of all, this do-it-all wonder pan was made to replace EIGHT traditional pieces of cookware so you can do a ton with it (and always use it!). It boils pasta super quick, I love that it comes with a strainer, and we even used it to make the perfect turkey gravy for Thanksgiving dinner before!
Despite being super well made and super high-quality, it's also surprisingly lightweight. And did I mention the spoonula and spoonula rest? Totally GENIUS! The lid even fits over the spoonula. This pan is seriously a kitchen wizard.
This Duo hardly EVER goes on sale, so it's even more amazing when you can get it for $50 off making it only $220 (reg. $270)!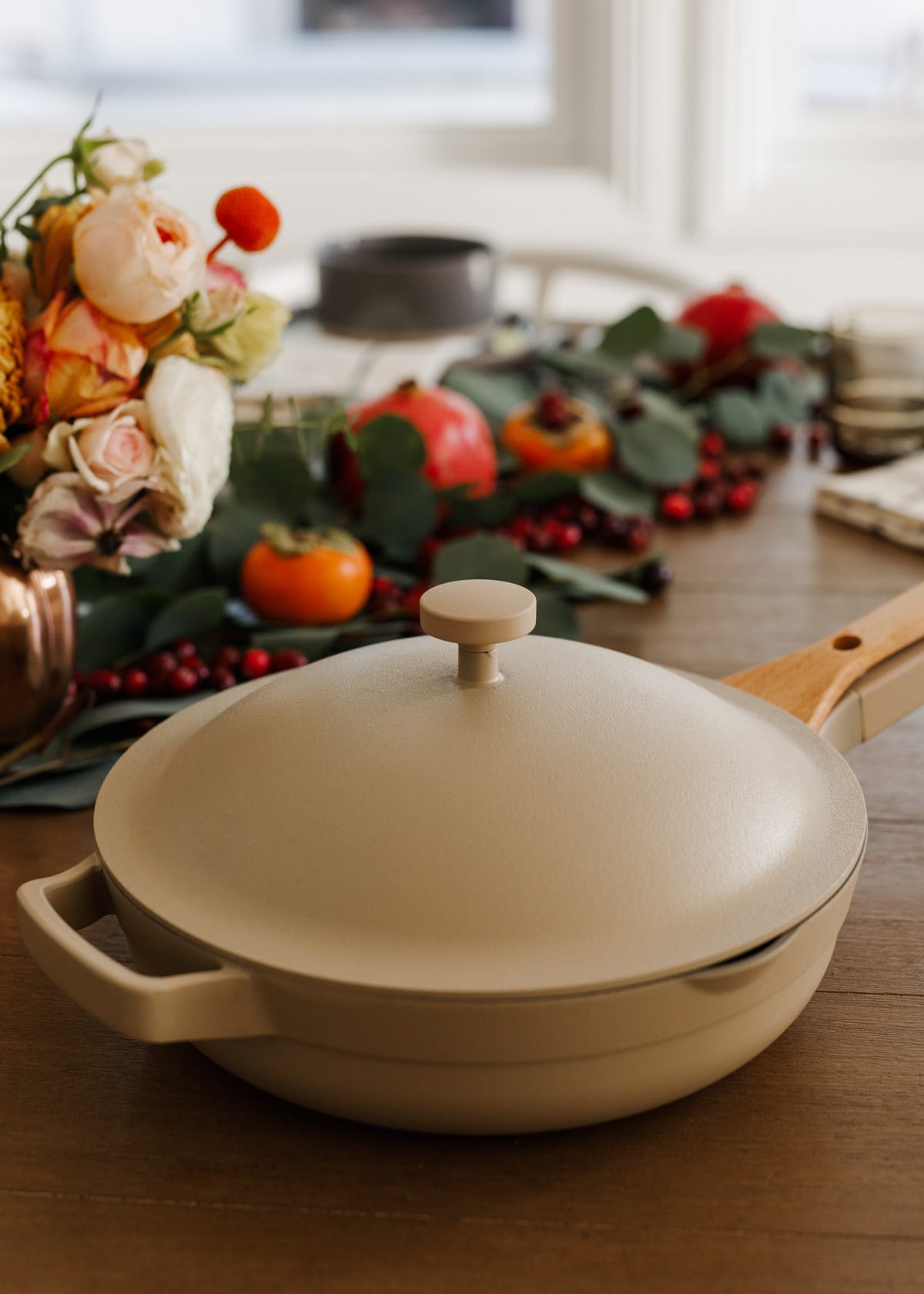 2. Home Cook Duo – $60 OFF
This duo includes the Perfect Pot and the Always Pan 2.0! Not only is the Perfect Pot non-stick (and they mean it) just like the Always Pan, the coating's also nontoxic, free of Teflon, PTFEs and PFA. The Perfect Pot is multifunctional and takes place of several pots. Boiling? Baking? Crisping? Steaming? This is your go-to for all of the above!
Factor in its large size, and it's 110% the perfect choice for cooking – whether it's just for your family, or for a larger gathering! We love our pasta (don't underestimate Harry's appetite), and the Perfect Pot ensures we get a full meal in literally one pot. I can even drain the pasta without a colander!
This awesome set also comes in a mini version of the Always Pan and the Perfect Pot.
The Perfect Pot replaces 9 kitchen tools and will save you both space and time.
Right now you can get the Home Cook Duo set for only $255 (reg. $315) – that's $60 off!
3. Cast Iron Pan + Always Pan Duo – $55 OFF
This duo comes with the classic Always Pan and the Cast Iron Always Pan for cooking up all sorts of delicious meals that only a cast iron pan can create!
You already know what I love about the classic Always Pan. As for the Cast Iron version of this kitchen staple, it's truly the best size cast iron at 10 inches in diameter and just under 7lbs. It makes it super easy to transfer this pan around the kitchen from stove to oven with one hand.
I love that you can get one of Our Place's signature glossy colors on the exterior, but still have that classic matte black interior of the cast iron. The interior is designed not only to look good, but cook SO well. Even if you don't use seasoning on something, the Our Place Cast Iron Always Pan is going to brown your food to perfection.
You can get this duo during the sale for only $250 (reg. $305) – $55 Off!!
Be blown away for LESS
Don't miss out on this Our Place sale happening right now!! It's SUPER rare that we see discounts this good on so many of their amazing kitchen products! These are for sure the most genius kitchen additions!