You have probably heard before about my love for the gorgeous Always Pan and Perfect Pot. There's a good chance you've even added them to your cart at some point during the past year or so. Well, if you haven't purchased them yet, or if you're looking to get an incredible deal on the most AMAZING addition to your new home, then I have the perfect deal for you today! Keep reading for my full review on these Our Place kitchen favorites and to find out all of the deal details!
In a hurry? Go straight to the deals below!
Sometimes our hottest deals sell out REALLY fast, so if you want to be in the know and find out FIRST, you can join our bestie group text! And don't worry, I'll only send you the VERY hottest deals that have the highest sell out risk – PROMISE. To join the list, text DEALS to 949-506-2558
Perfect Pot – deal details
If you have been wanting to try the infamous Perfect Pot, then I have a deal for you! Today if you purchase two Perfect Pots you'll save $70 during the seeing double sale. That means you can get two for ONLY $260! (reg $330 for 2) This is the perfect deal if you have been looking for the perfect gift, plus you get to keep one for yourself- WIN WIN!!
Keep scrolling to find out why I truly LOVE the Always Pan and the Perfect Pot!
The Always Pan – the most amazing kitchen addition
So why do I love the Always Pan so much? For one, the Always Pan looks beautiful sitting out. It's available in six pretty colors to match or coordinate with your kitchen.
It also cleans better than any other pan I've ever used. Things literally just slide out of it as if it's constantly coated in butter (but the non-stick coating is totally nontoxic!).
Best of all, this do-it-all wonder pan was made to replace EIGHT traditional pieces of cookware so you can do a ton with it (and always use it!). It boils pasta super quick, I love that it comes with a strainer, and we even used it to make the perfect turkey gravy for Thanksgiving dinner last year!
Despite being super well made and super high-quality, it's also surprisingly lightweight. And did I mention the spoonula and spoonula rest? Totally GENIUS! The lid even fits over the spoonula. This pan is seriously a kitchen wizard.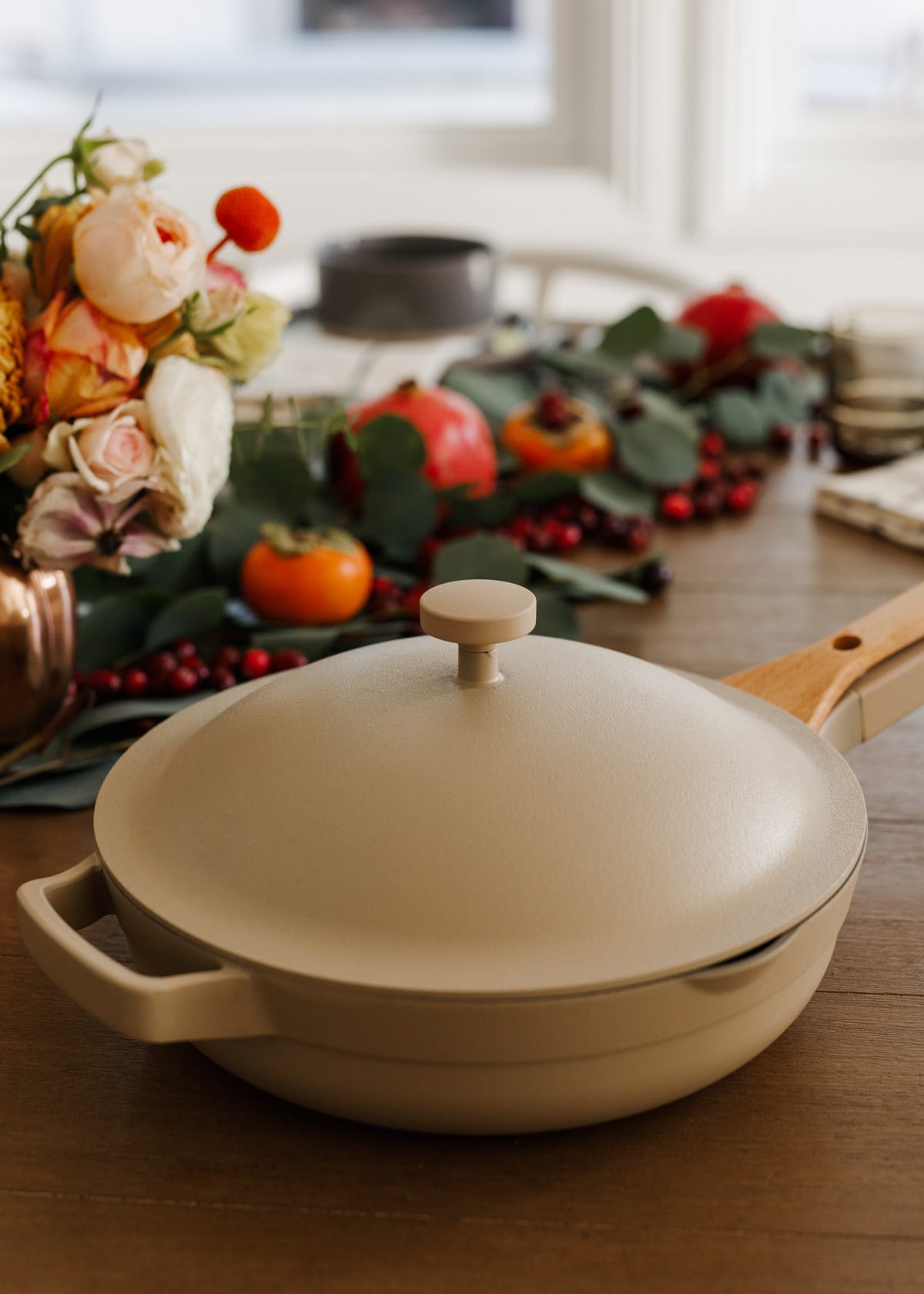 I don't say this often, but this pot is literally PERFECT
Not only is the Perfect Pot non-stick (and they mean it), the coating is also nontoxic, free of Teflon, PTFEs and PFA. The Perfect Pot is multifunctional and takes place of several pots. Boiling? Baking? Crisping? Steaming? This is your go-to for all of the above!
The Perfect Pot replaces 9 kitchen tools and will save you both space and time. Right now buy 2 and save $70! That makes each one ONLY $130! (reg $165) Just add two to your cart and you will see the discount applied automatically.
Bonus deal – basics bundle!
BONUS! Right now you can get a bundle deal on some of my favorite plates and drinking glasses as well! I love their beautiful dishes and glassware so much that I even purchased extra to display in our kitchen remodel. When you buy the basics bundle you will save $15!
Be blown away for LESS
Don't forget today you can get TWO Perfect Pots for only $260! That's $70 OFF. This is the perfect time to buy one for yourself and give someone a gift they are sure to LOVE!! These are for sure the most genius kitchen addition!