Get ready to double your Thanksgiving pleasure, because I am sharing SO much Thanksgiving dinner preparation content goodness today. This year I am hosting Thanksgiving for the very first time (my sister and her cute family are coming!) since my parents are serving a mission in Spain.
I was very lucky to be able to sit down with my mom, A Bountiful Kitchen, for my podcast and talk all about how to host Thanksgiving dinner! I have done Thanksgiving dinner with my mom every year of my life, but have never hosted all by myself so I loved being able to glean all of her hard-earned Thanksgiving wisdom for the big day.
We talked through all the things you should start laying out, prepping, and making sure that you have for your Thanksgiving dinner. And now I'm sharing all that knowledge with you in one neat and tidy post!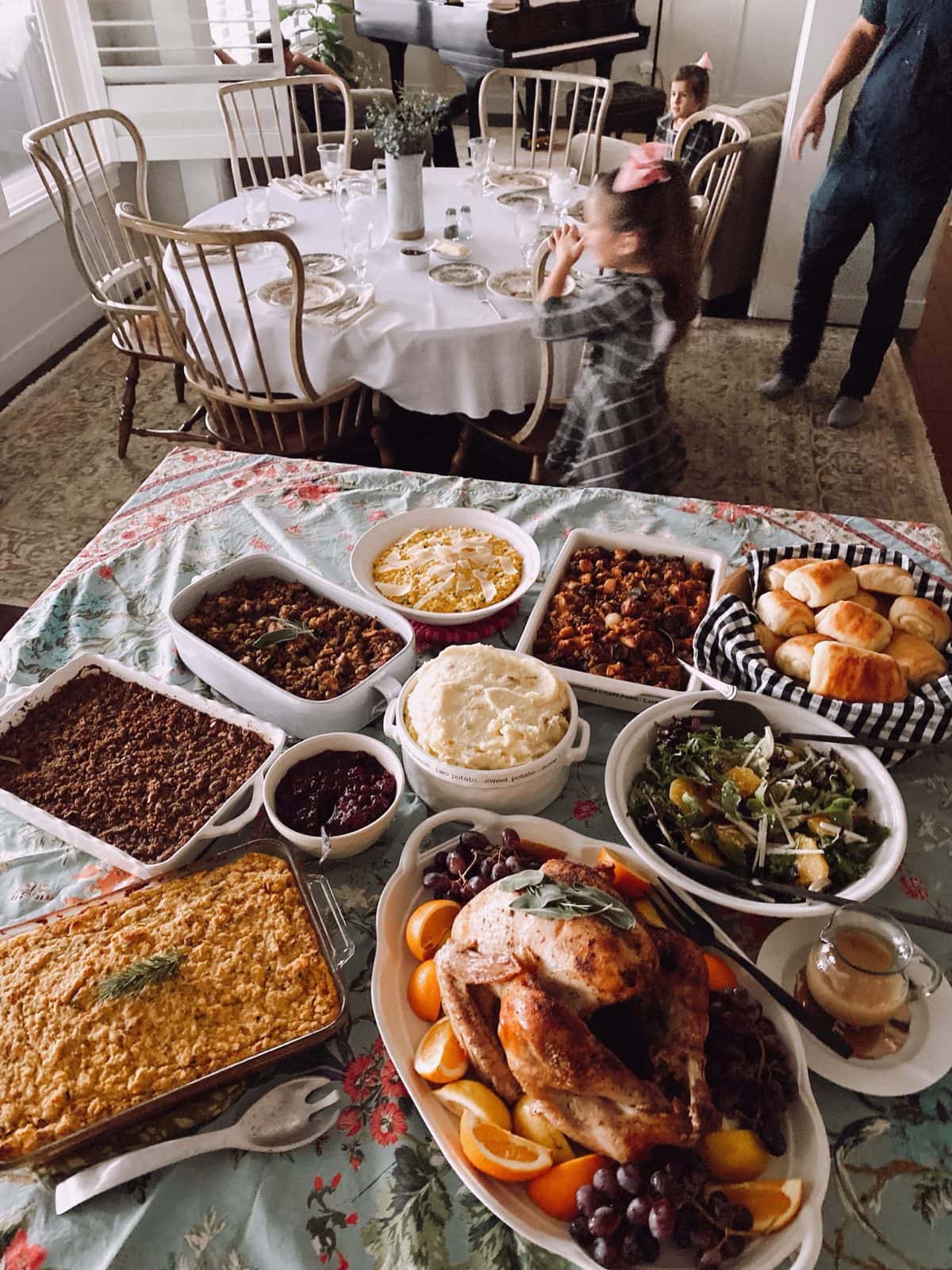 Don't panic
There is a good chance you already own all of these things or a lot of these things, and if you don't it might be worth the small investment to get a few of the items on this list. You absolutely don't need everything on the list, so don't feel overwhelmed. All of these items will just help hosting Thanksgiving dinner feel a little easier and help you feel totally prepared and a little less stressed.
Thanksgiving dinner 101
My mom already took ALL of the guesswork out of the Thanksgiving process and put together a comprehensive How To Host Thanksgiving dinner guide. It has all the recipes you could ever need and all of your prep work outlined. She even has an e-book with printable checklists, grocery lists, and TONS of tips!
Literally, every Thanksgiving subject has been covered, including ten ways to use your leftover Thanksgiving turkey. It is THAT level of comprehensive and totally amazing!
Stress-less checklist
What I'm bring to the (Thanksgiving preparation) table is some cute things and some "nice to have" things that you could buy to help you get ready for Thanksgiving dinner and make Thanksgiving day less stressful.
Prep the dishes
If you have special Thanksgiving plates or dishes that you only pull out a few times a year, my mom recommended washing those plates and napkins ahead of time to cut down on day of dishes and laundry. As Mrs. Potts said in Beauty and the Beast right when she realizes she has her first dinner guest in years, "stoke the fire, break out the silver, wake the china!"
Disposable Dishes + Flatware: There are a lot of really beautiful and real looking disposable plates and flatware and napkins if you really want to cut down on dishes and make dinner more stress free.
Disposable napkins: These legit look like cloth napkins and I absolutely love them. It is one of my favorite hosting hacks and this pack of 200 will last you months.
Bamboo plates: Talk about BEAUTIFUL! I am obsessed with these bamboo plates and the 48 piece set comes with salad plates and dinner plates making it perfect for Thanksgiving.
Disposable Flatware: There are also tons of gorgeous options when it comes to flatware. Both options that I've linked at the bottom of the post have rave reviews and come with enough pieces that will last beyond Thanksgiving for other nice occasions.
Disposable dinnerware is a really nice alternative to traditional dishes if all the Thanksgiving dinner dishes are something you're stressed out about.
Double up
Measuring Cups + Spoons: Having more than one set of measuring cups and measuring spoons makes food focused events like Thanksgiving dinner a little easier. Constantly having to wash (and rewash) these items as you prep really isn't any fun.
Glass Mixing Bowls: On a big cooking and baking day like Thanksgiving, you are also going to run out of mixing bowls pretty quickly. I love having extras and all the different size options. I have owned a set similar to this highly-rated one for probably fifteen years and I use them constantly. They store really nicely since they all nest inside each other, and $42 is such a low-key, worthwhile investment. They also look nice enough that you could absolutely serve right out of them and cut down on dishes.
Gigantic Mixing Bowl: this was one of my mom's suggestions for prepping Thanksgiving dinner (an ESSENTIAL when making a huge batch of stuffing, or a big cranberry apple pie!) and I just ordered a second one on amazon today.
No fowl play
Turkey Platter: One of the most important things to make sure you have for Thanksgiving dinner is a turkey platter. If you own several platters (like I do), just make sure it is large enough for your bird and wash it in advance. This is the one I've had for YEARS and will be serving up our turkey on this year!
Roasting Pan: You might also need a new roasting pan to cook the turkey in! I bought this Lagostina Roaster pan that I shared recently on the blog and I can't WAIT to use it this year!
Whip it good
Immersion Blender: An immersion blender is not a must-have, but is very nice to have for Thanksgiving dinner prep. If you are planning to make gravy, you can count on this little kitchen gadget to get it perfectly smooth. This inexpensive whiz is also great for sauces or smoothies. It is a kitchen tool that you will use over and over again for YEARS. Neil gave me one when we were dating and I still use it.
Whisk: A really good whisk is so worth every single penny. This $13 one is my absolute favorite and was included on my Mother's Day gift guide this year because I love it so much. It's super nice and super high quality.
Silicone Spatula: The silicone spatula is a kitchen must-have. It is a very multi-functional kitchen tool that performs beautifully every time. I love that this set is heat resistant and dishwasher safe for easy cleaning. Plus the mini spatula is gold. Believe all the hype. They are way more helpful than you think and I am always bummed when mine is dirty. This three-piece set is just $11.99. Williams Sonoma also makes a slightly prettier, but more expensive four-piece set.
Potato Masher: You can absolutely use the paddle attachment to mash your Thanksgiving dinner potatoes if you own a KitchenAid, but if not, a potato masher is super helpful. Often the KitchenAid is already in use on Thanksgiving for bread or rolls, etc. Plus with a potato masher, you will never over-mash your potatoes-which is a risk when you use a machine.
Easy As Pie
Bench Scraper: This is one of my all-time favorite kitchen tools. If you have granite, marble, or quartz countertops you might need this $8 tool. You can use it to easily scrape any cooking mess off your countertops prior to cleaning and not accidentally end up with surprise bits in your food or pies. Makes counter clean up quick and easy.
Pie Plates + Pie Dishes: My mom loves glass pie plates because you can keep an eye on your crust and ensure your crust is cooked all the way through and golden. It's a low cost investment that will last you forever. I'm pretty sure my mom's kitchen even includes a few she inherited from her mom!
My very very favorite pie dish is this pretty ruffled one. They're so beautiful and make the crust look equally beautiful. If you have everything else on this list and are just looking to buy one new fun thing this Thanksgiving, treat yourself to this pie dish! This is kind of an investment but if you love baking pies for Thanksgiving, it's worth it and will last forever. It's also currently on sale in a few colors.
Pastry Mat: Neil hates cleaning this pastry mat, but I absolutely love using it. The measurements are so helpful if you're trying to roll out a specific size crust to fit a dish. It's completely dishwasher safe and oven safe and one of those items you can use year-round. I also love using this mat for rolls because you can cut your dough and ensure your rolls are all evenly proportioned.
Apple Peeler + Corer: An apple peeler/corer is a MUST if your Thanksgiving dinner spread includes apple pie. This tool is a total game-changer and will save you so so so much time. Even if you only make one apple pie in your life, the investment is worth it.
Cover your bases
Apron: Cover your bases….and cover your clothes. A good, classic, high-quality apron is a kitchen staple that will last you for forever once you buy it. If I'm in the kitchen, I'm almost always wearing an apron. The Williams Sonoma aprons are my very favorite and several colors are currently on sale for $12-16.
Invest in the best
KitchenAid Stand Mixer: The stand mixer is a Thanksgiving dinner workhorse and worth all the pennies. I will end up using mine for rolls, mashed potatoes, and pie fillings.
Instant Pot + Slow Cooker: The best way to do mashed potatoes is either in a slow cooker or an InstantPot. On Thanksgiving, I'll most likely do my mashed potatoes in my slow cooker and the sweet potatoes in the InstantPot. I heavily researched my slow cooker before I bought it and it was the #1 recommended slow cooker by Cooks Illustrated at the time. If you are only going to invest in one product, I recommend the InstantPot since it can also perform slow cooker functions.
Glass Measuring Cup Set
Measuring Spoons Set
Disposable Napkins
Disposable Palm Leaf Plates
Silver Plastic Cutlery
Gold Plastic Silverware
Porcelain Rectangle Platter
Immersion Multi-Purpose Hand Blender
Glass Mixing Bowls
Silicone Pastry Mat
Whisk
Apron
Pie Dishes – on sale!
Silicone Spatula Set, William Sonoma Spatula Set
Ceramic Pie Dish
Measuring Spoons
Potato Masher
Apple Peeler/Corer/Slicer
Slow Cooker
Instant Pot
KitchenAid Stand Mixer
Bowl Scraper
Stainless Steel Mixing Bowl
Oval Serving Platter
Traeger Grill
Kitchens Turkey Oven Bags

Beauty and the feast
I am so excited to host Thanksgiving dinner this year and now feel totally prepared to tackle this beast of a feast! I really hope this checklist helps you feel excited and ready to slay your turkey day too.