We are back for day #2 with our favorite beauty items ON SALE!! It's just not Amazon Prime Day if we don't talk beauty deals! As always, Amazon is delivering big time with beauty discounts that are way too good to pass up. No joke, some of these discounts are crazy! We've definitely got a few hot items you'll want to use that 1-click button for, including a killer deal on the cult favorite St. Tropez bronzing mousse, a few sparkling deals for your pearly whites, and so many hair products you'll love! This year's Amazon beauty deals for Prime Day are going to blow your mind!
Not an Amazon Prime Member?
 If you haven't joined myself and a bazillion other people who are addicted to Amazon Prime, you can try it free for 30 days! Also, if you happen to be a business owner, you can get an Amazon business account here.
In a hurry? Go straight to my picks below!
Elemis Cleansing Balm
Everyone knows how OBSESSED I am with this Cleansing Balm, I will never get over how good it is!! Buttery soft, melts off your makeup, leaves your skin feeling like a million bucks. AND for Prime Day it is 35% off at only $41.60!!! That's an INCREDIBLE deal if you've been dying to try this tried and true fave of mine.
ELEMIS Rose Pro-Collagen Cleansing Balm
This special-edition rose version of our cult favorite Elemis Cleansing Balm mentioned above is just as amazing, plus it SMELLS amazing! Get it today for 35% off at just $41.60 (reg $64)!!
Peter Thomas Roth Correction Pads
This brand has some of my very favorite skincare products. These pads are no exception! They slough away dead skin and improve texture, tone and fine lines! These are SO easy to use and seriously make a huge difference. Usually they are $46, but today they are 30% off at $32.20!
Peter Thomas Roth Pumpkin Mask
This Peter Thomas Roth mask is my FAVORITE MASK of.all.time. I know that's a tall order, but it's truly one of the few masks that I feel actually does what it says. It smells so good you will want to eat it (even if you're not obsessed with pumpkin spice)!
This stuff also feels amazing because of all its incredible ingredients! A combination of pumpkin enzymes, alpha hydroxy acid, and polishing crystals make for a smoother more radiant complexion immediately. It's always one of the top-selling masks at high-end beauty retailers, with insane reviews to match. Get it right now for 30% OFF the original price of $60!
NYX Butter Gloss
This NYX Butter Gloss is ONLY $3.30 at checkout for Prime Day (the additional 20% comes off a checkout)!! I've tried a TON of the colors and I love them all, but my fave is Creme Brulee. They are pigmented enough to wear alone or over a lipstick or lipliner to add softness and shine.
Elemis Dynamic Resurfacing Facial Wash
This cleanser is so gentle yet effective. It does a great job of taking off that day's face (makeup or not!) AND doesn't dry my skin out! This is super important to me, and something I've come to expect from all my Elemis favorites! I also love that if you don't have time to exfoliate, this cleanser includes Elemis' Tri-Enzyme Technology that actually resurfaces as you cleanse! I'm SO excited that you can get this for 35% off today!!
Anastasia Brow Wiz
This Anastasia Brow Wiz might be my oldest favorite product. I've used it for at least 100 years and ALWAYS have it in my makeup drawer. The color Taupe literally matches almost everyone's hair and I use it when my hair is blonde or brown! Today this iconic brow pencil is only $16.10 (30% off the usual $21!!)
Image Skincare Daily Ultimate Protection SPF
This Image Skincare sunscreen has quickly risen to the top of every beauty lover's wish list! It layers amazingly under makeup, has physical sunscreen to protect your face to the max, and smells amazing! It's normally $44, but is on sale for Prime Day for only $32.20 (27% off)!!
St. Tropez Bronzing Mousse
St. Tropez Tan Bronzing Mousse is my secret to bronze skin in between spray tans! I'm convinced that the mousse formulation is key: it's SO easy to rub in and literally streak free! Don't forget the tanning mitt to go with it, it really takes the guess work out of the whole self tan experience. Buy it now for $27.93 (reg $42)! I promise you, this deal WON'T last!
Elemis Pro-Collagen Marine Cream
If you missed our amazing Elemis deal with QVC, for Amazon Prime Day you can get the Elemis Pro-Collagen Marine Cream for $83.20 (reg $128)!! This is an even lower price point to jump into Elemis than the QVC deal, so it's a good place to start for someone who's really trying to stick to a budget. I can't say enough about this skin care line, so without repeating myself too much I'll just say GET.IT. You won't regret it!
ELEMIS Advance Eye Treatment
I get asked constantly which ELEMIS eye cream is my favorite and I always tell people about the ELEMIS Advanced Eye Treatment! I love that it lasts me forever; the product is potent so you don't need to use a ton to see a difference. It's not heavy and it layers really well with my concealer! One reviewer said that she noticed a difference straight away, and I have to agree. I'm SO excited that you can get this today for Amazon Prime Day for ONLY $44 (reg $68)! That's 35% off!
Stila Waterproof Liquid Liner
The stila Stay All Day Waterproof Liquid Liner is incredibly easy to apply and won't budge ALL DAY. The thin, marker-like applicator is the least daunting liquid liner we've tried, and will make your eyeliner look pro-inspired every day! And today you can get it for $12.6 instead of $22 at checkout!
Pureology Hydrate Shampoo & Conditioner
Pureology Hydrate Shampoo & Conditioner is 30% off for Amazon Prime Day, and I have a feeling this deal will go QUICK. This sulfate-free conditioner hydrates without hair weighing down, resulting in healthy, bouncy hair that smells like a DREAM! You can also get this Pureology Leave-In Conditioner for 30% off too!
MATRIX Total Results Mega Sleek Conditioner
Right now the MATRIX Total Results Mega Sleek Conditioner is 30% off, so it's only $17.85 at checkout (reg $25.50). Such a good Amazon beauty deal for Prime Day!! Provides frizz control and gives you silky-smooth hair results. Made with shea butter so it helps seal the cuticle and protect against humidity. Oh, and it smells amazing!
I SWEAR by this to keep my girls' craziest tangliest hair days under control (see it in our tangly fine hair guide). And back when I did pageants (yes, in an earlier life ha) I could ONLY get my hair to brush out after tons of hairspray and back-combing with this magical conditioner. It is worth EVERY PENNY. I'm stocking up big time at this prime day price of $17 for an entire liter!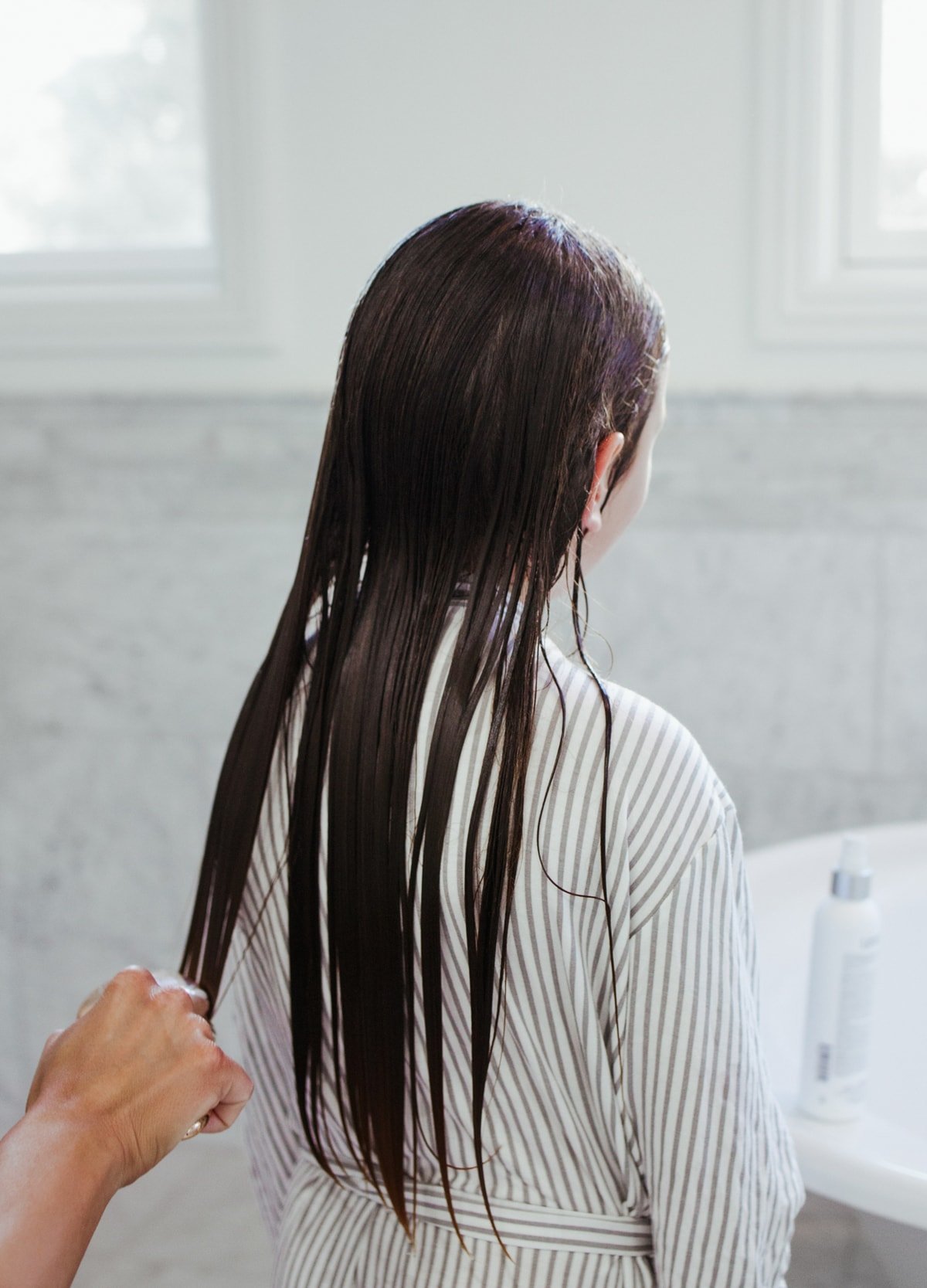 Matrix Total Brass Off Shampoo
If you're any degree of blonde, you know all about purple shampoo and the real life struggle to find a really good one. Matrix Total Brass Off is AWESOME if you have blonde in your hair, it's just a really gentle way to maintain the perfect blonde. Get it today for 34% off!!
Side note: I also have a favorite purple conditioner! Did you know that was a thing? Give this Evo Fabuloso 3-5 minutes and you'll have the perfect, cool blonde of your dreams! Bye bye brass!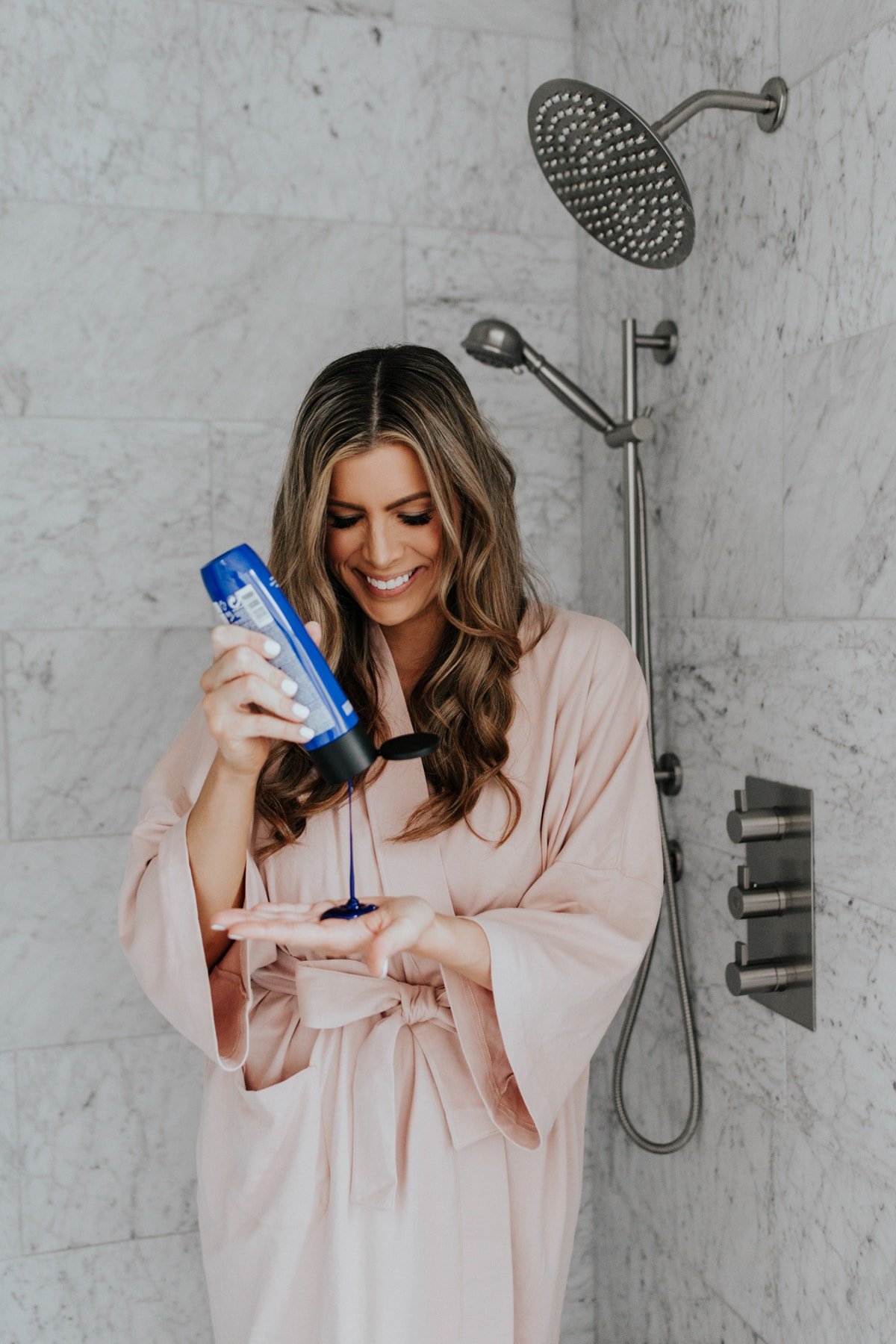 R&Co Death Valley Dry Shampoo
This R&Co Death Valley Dry Shampoo is 30% off at just $22 (reg $32)!! I love the smell and cleansing power of this R&Co dry shampoo! It's a fave of mine for sure and even made it into my favorite dry shampoos post!
Burt's Bees Toothpaste
The Burt's Bees Toothpaste Purely White is flavored with essential oils and cleans teeth without all the harsh chemicals! If you're looking for a fluoride-free option, the Amazon Prime Day deal gives your THREE tubes of this natural toothpaste for only $11.99 (reg $17.99)!
stila Huge Extreme Mascara
Can a cruelty and paraben free, non-toxic mascara still deliver on the volume we crave for our lashes?! YES! stila HUGE Extreme Lash Mascara is formulated with a triple-black hue, and claiming to be the darkest mascara on the market to deliver the thickest, boldest lashes. Get it today for 30% OFF!
Grande Cosmetics Brow Serum
We've been concentrating on our lashes so long that we've forgotten to work on our brows! Grande Cosmetics Brow Enhancing Serum to the rescue! This award winning serum promotes brow hair growth for thicker and fuller brows in 6-8 weeks. Dermatologist and ophthalmologist recommended, this serum is UNDER $50 (reg $70) for Prime Day only! (Might as well grab a GrandeLash while you're at it! 30% off at only $45.50!)
GloPro
Right now you can get the Beautybio GloPro Tool & Microtip Attachment Heads for 30% off and almost $100 OFF! The GloPro creates a controlled (TINY!) wound in order to kick start your body's wound response. When your skin goes into that healing mode, your body naturally produces more collagen and elastin (hellllllo, fountain of youth)! The idea is for your skin to regenerate itself for a more glowing, youthful appearance.
Crest Whitestrips
Crest 3D Whitestrips have over 45,000+ (!!!) amazing reviews. It's one of the best at-home whitening systems, and today you can get it for 44% off!! Normally $50, these acclaimed whitening stripes are only $27.96! Here's to whiter teeth!
Foreo Luna
I've used the both the Luna 2 and the mini Luna and they're super comparable to the PMD clean. I honestly think any of these is a great option for your daily skincare regimen. Using medical-grade silicone to scrub your face and facilitate that double cleanse is always a good idea. Grab the Luna 2 for 30% off and the mini Luna for 41% off during Prime Day!
Redken ONE Leave In Conditioner
Take 35% off this Redken ONE Leave In Conditioner for Prime Day! Normally $25, but today you can get this for ONLY $16.25. What's better than one really good hair product? A really good hair product that has ALL of the best things in ONE! This Leave In Conditioner is a heat protectant, detangles, hydrates, fights frizz, adds shine & prevents breakage. Love, love, love!
This is another tried and true FAVE that I reference in our best products for tangly fine hair post, and I ALWAYS have this stocked at our house. We use it literally every night after showers when the girls are in jammies and I'm brushing out their hair!
IGK FIRST CLASS Charcoal Detox Dry Shampoo
Get 30% off IGK FIRST CLASS Charcoal Detox Dry Shampoo! Sooo many dry shampoos to try from but I LOVE this one because it deeply cleanses your hair and scalp with a charcoal powder that eliminates odor and oil. Safe for any hair color or hair type. For those who don't like scented dry shampoos, this one is for you!
This is a new love for me but I can see why so many people swear by this and ONLY this dry shampoo. It's for sure a top 3 of all time for me!
Revlon Air Brush
Have you heard about the Revlon One-Step Hair Dryer & Volumizer Hot Air Brush? It's like the Dyson one we've posted about but ONE TENTH of the price! You can get it today for ONLY $44.99 (reg $59.99)! That's 25% off and an amazing Amazon beauty deal! It has over 200k AMAZING reviews and will give you a salon-esque blow dry at home every day!
CC+ Cream
The CC+ Cream is my VERY favorite IT Cosmetics product. I've been using it for years! It's won tons of awards (including Allure magazine Reader's Choice Award) and is a cult favorite of makeup artists and consumers alike. From 2016-2019, no other CC cream in America has been sold in the same volume. Plus it was developed by plastic surgeons and dermatologists, so it's literally makeup and skincare all in one! If you're in a hurry, you don't need to stress about SPF, a primer, or moisturizer because this ALREADY HAS IT ALL!
When I was on a national TV show, the professional makeup artist had literally every kind of foundation and brand imaginable at her fingertips and chose to use THIS IT Cosmetics CC Cream over every other option. It's good enough for HD TV, so it's good enough for me! Depending on the brush used, it can be full coverage or light coverage so it is SOO versatile! If you're trying to figure out your shade, they even have a handy chart AND a live consultation to help you find your best foundation match.
Braun Shaver Series 9
Neil has used a million different shavers and this Braun Series 9 shaver is hands down his very VERY favorite. And I love them because they're the only shavers that don't leave a million little tiny hairs all over the bathroom sink. 31% off for Prime Day saving you $95!!
BEST Amazon beauty deals
Find all the specific deals mentioned above, plus a few more we're dying over, in our roundup below! You can access all of the Amazon beauty deals here as well!
MORE Amazon Prime Deals
TOP TRENDING Amazon Prime Day Deals
$13 biker shorts, thanks to Amazon Prime Day!!!
STOCK UP PRICES on pantry snacks for kids!
20 HOTTEST Prime Day deals on women's accessories!!
HOT Buxom Lipgloss Amazon Prime Day Deal!
Amazon Prime Day kids toys at amazing prices!
HOT Amazon Prime Day deal on our FAVORITE pajamas!
HUGE Target Pillowfort sale! Items starting at $5
BEST of BEAUTY on Amazon Prime Day!!
HOT!!! Treat yourself to a FREE Amazon gift card!
HOT DEAL on the Philips DiamondClean – the most amazing electric toothbrush I've ever used
HOT! Best FREE Kindle unlimited deal ever!
The BEST tech deals on Amazon Prime Day!
HOT! Crazy good Levi's jeans sale for Prime Day!
The best Amazon Prime Day BABY deals!
HOT Prime Day Deal on the BEST men's electric shaver ever
Craziest Amazon Prime Day HOME deals!
The BEST Women's Fashion deals of Amazon Prime Day!!!
HOT! Honest Diapers on sale – high sell out risk!
Prime Day deals on my favorite Amazon leggings
HOT! Nugget ice maker $100 off!
BEST Amazon Prime Day swimsuits starting at $23!