Whether you're my good friend, a follower on IG, or found me through The Best Baby Registry List Ever, chances are you've asked me about CAR SEATS!! Truly, it's my most FAQ. Everyone wants to know: what is the BEST infant car seat and HOW do I choose? Let's have a chat about this, friends!
First, just know that there really is an infant car seat out there for every need and every budget! The most important thing is thinking about your lifestyle and finding that perfect fit for you and your kiddos. These are some of the most popular options out there right now and my thoughts on each one.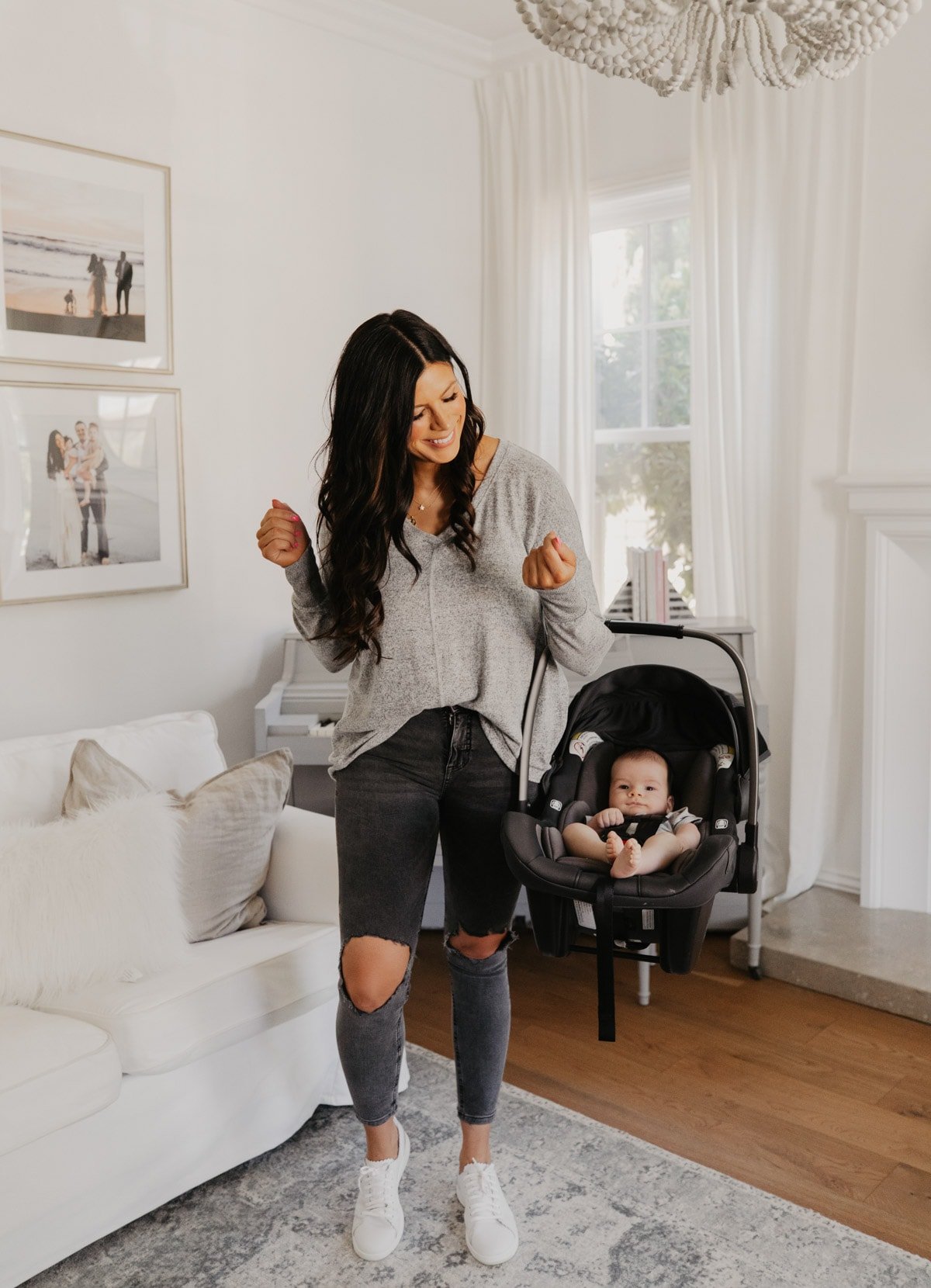 My FAVES
Most lightweight infant car seat
The Nuna Pipa Lite LX is my FAVORITE infant car seat ever! Although it's on the pricier end at $419.95, there's so much I love about it. I love that it has a "dream drape," a UPF 50+ that protects babies from the bright sun (we use this with baby Harry all the time on walks!). At only 5.7 pounds, it is THE most lightweight infant carrier on the market. It adapts easily to any high-end stroller, which makes it even better!
Word to the wise: This car seat does NOT have a car seat thread, so you have to use a base with it (think traveling in taxis, planes etc)! This hasn't been an issue for us because on our 3rd and 4th kid, we had another infant car seat we used for these one-off trips. The Nuna Pipa Lite LX infant car seat was TOTALLY worth getting for all the use we've gotten out of it with two babies. Plus, my arm doesn't threaten to fall off every time I carry it because of how ultra-lightweight it is!
Happy medium!
If the light-weightness of the Nuna Pipa Lite LX is appealing to you but you cannot live without the functionality of being able to buckle without a base, you might love the original Nuna Pipa. It's still very lightweight at 8 pounds, comes with a base AND a car seat thread! It also comes in FOUR color combos. It's also priced quite a bit less than the other Nuna at $299.95.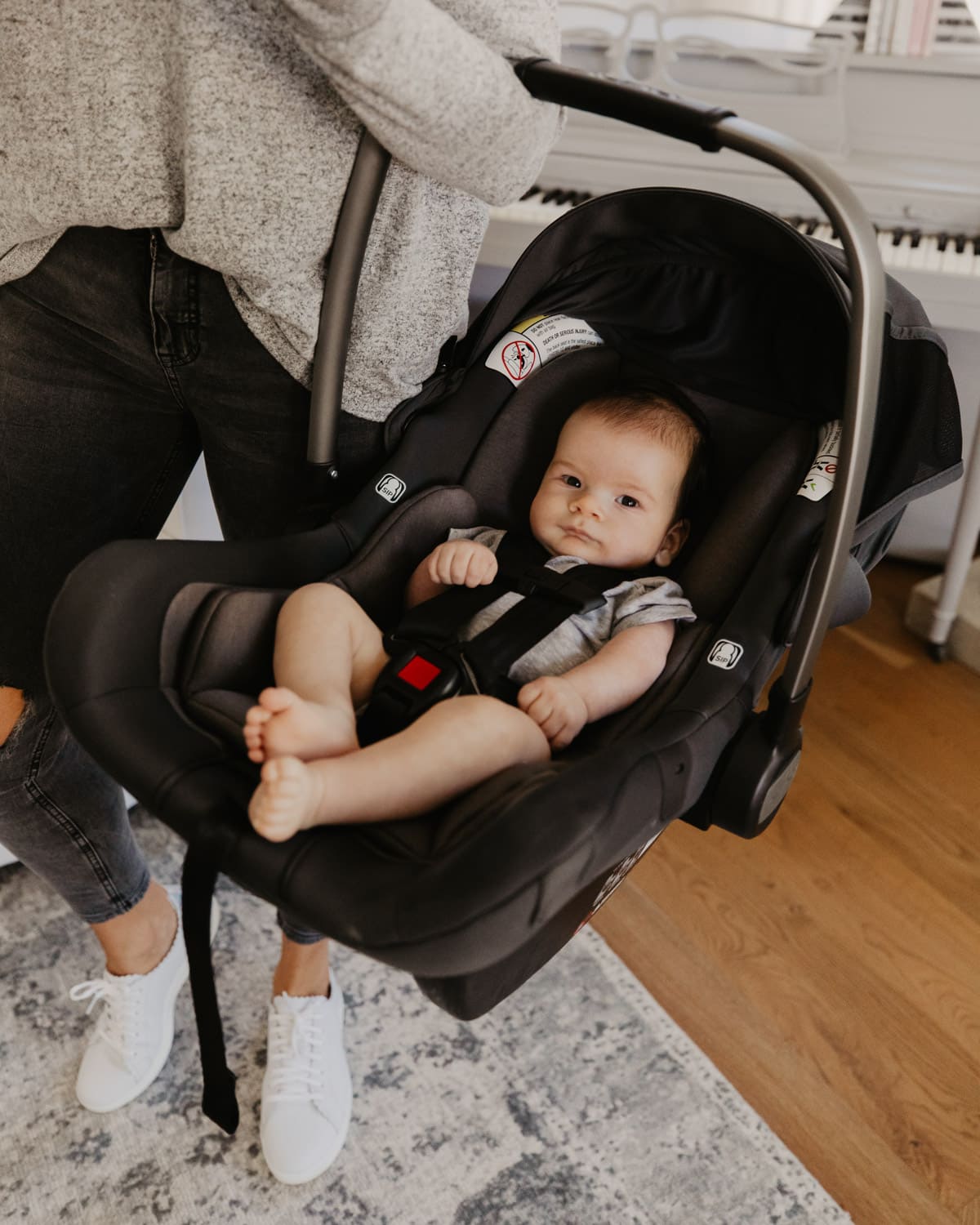 Baby Jogger City Go
When we were in San Francisco with Millie two years ago, and again recently with Harry on a quick family visit to Utah, we were so glad to have the Baby Jogger City Go infant car seat. It was perfect to carry around and buckle in and out of Uber or Lyft cars super easily with the taxi-safe belt path, or to buckle right into a rental car.
It's also SO easy to click baby right into the City Tour Lux stroller that we found a KILLER DEAL ON for you guys on Friday! BONUS, it doesn't require an extra purchase of an accessory to make the City Go click into the City Tour. It comes totally compatible, no accessory required!
Although it's not as lightweight as other models on the market, it's not the most heavy either at 10.2 pounds, making it totally doable to pull in and out of the back of cars. I loved including Millie in our adventure to SF two years ago, and bringing Harry along to our little Utah getaway recently, and the City Go gave our babes a cozy and safe spot to come along in!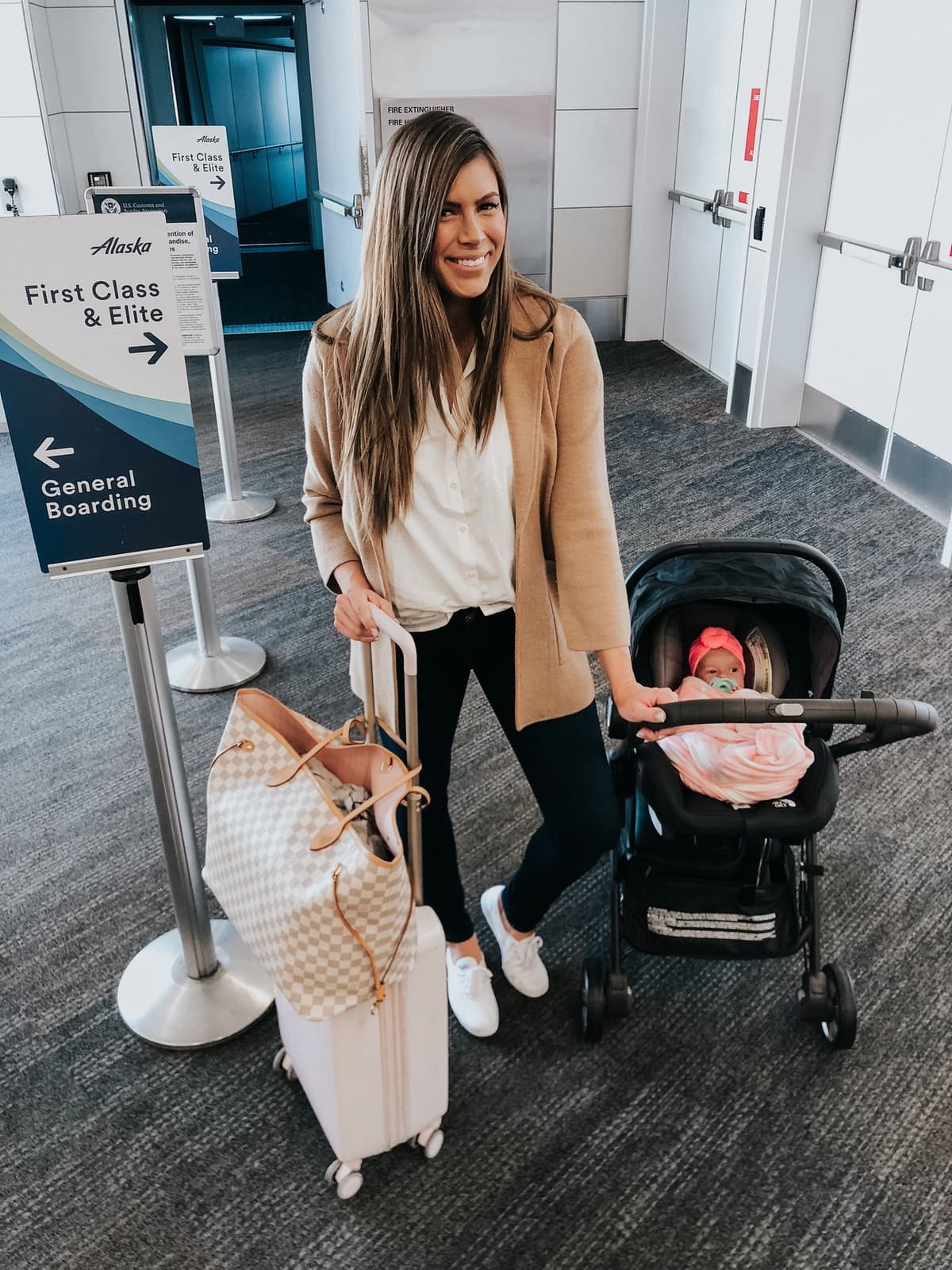 Slim shady
Also DEFINITELY worth mentioning, the City-Go car seat does come with a base for convenience when you're working from home base (ha). If you're looking to fit 3 car seats across the back seat of a car like we were a couple years ago when we added Millie to our pile of kids, I highly recommend reading about how we did that with the help of Baby Jogger's VERY versatile, slim, convertible car seats! I explain the whole thing in this post.
This one also does come with a shade that isn't quite as big as the Nuna Pipa Lite mentioned above, but DOES provide 50 UPF sun-screenage!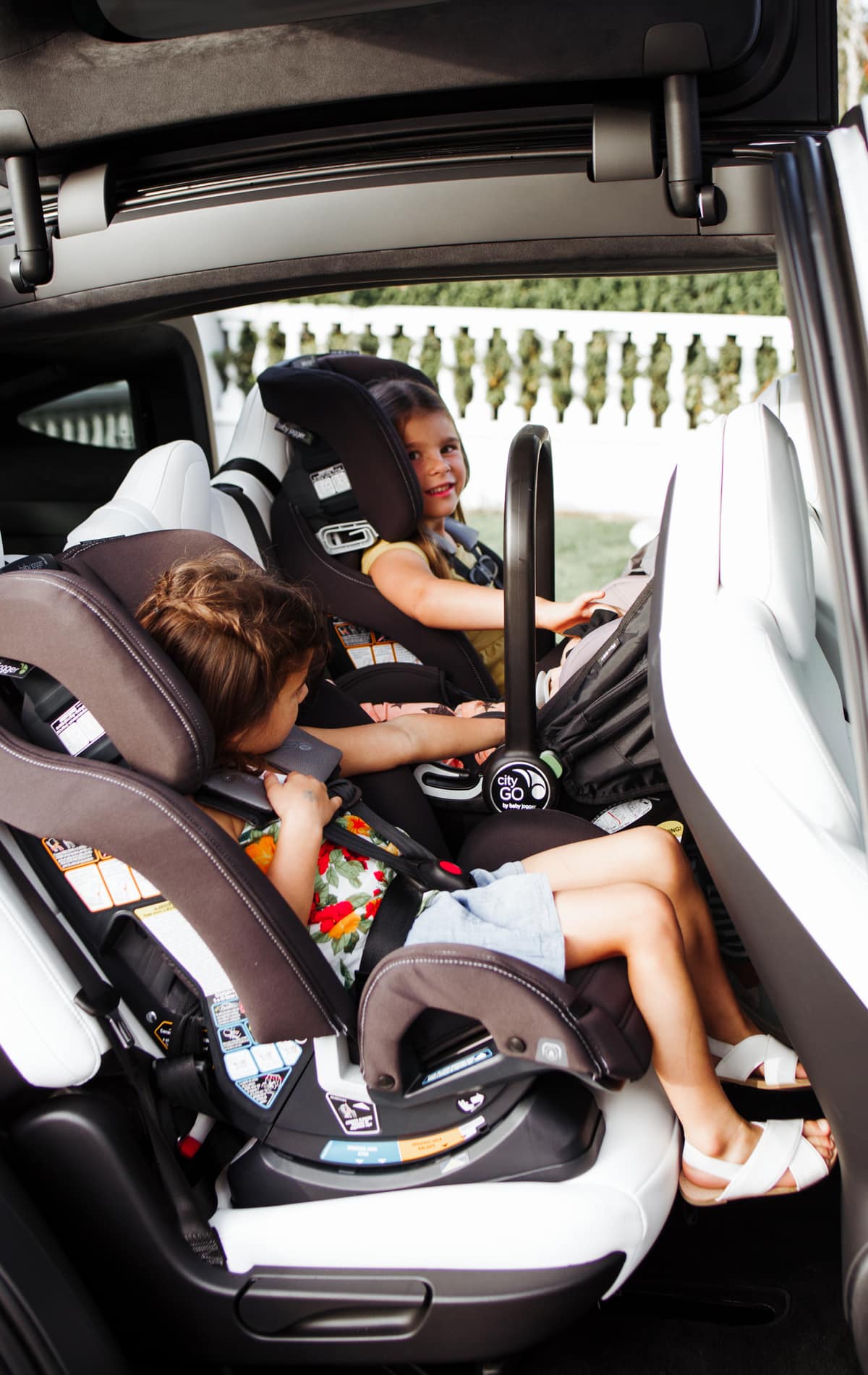 Affordability
At only $160.99 here currently, this is one of the most affordable options on the market right now too! I think this is an amazing deal combined with the 40% off City Tour deal we just posted about on Friday. This is the stroller/car seat combo my sister Female Foodie used on their year-and-a-half adventure of living out of a suitcase, including an entire summer in Europe!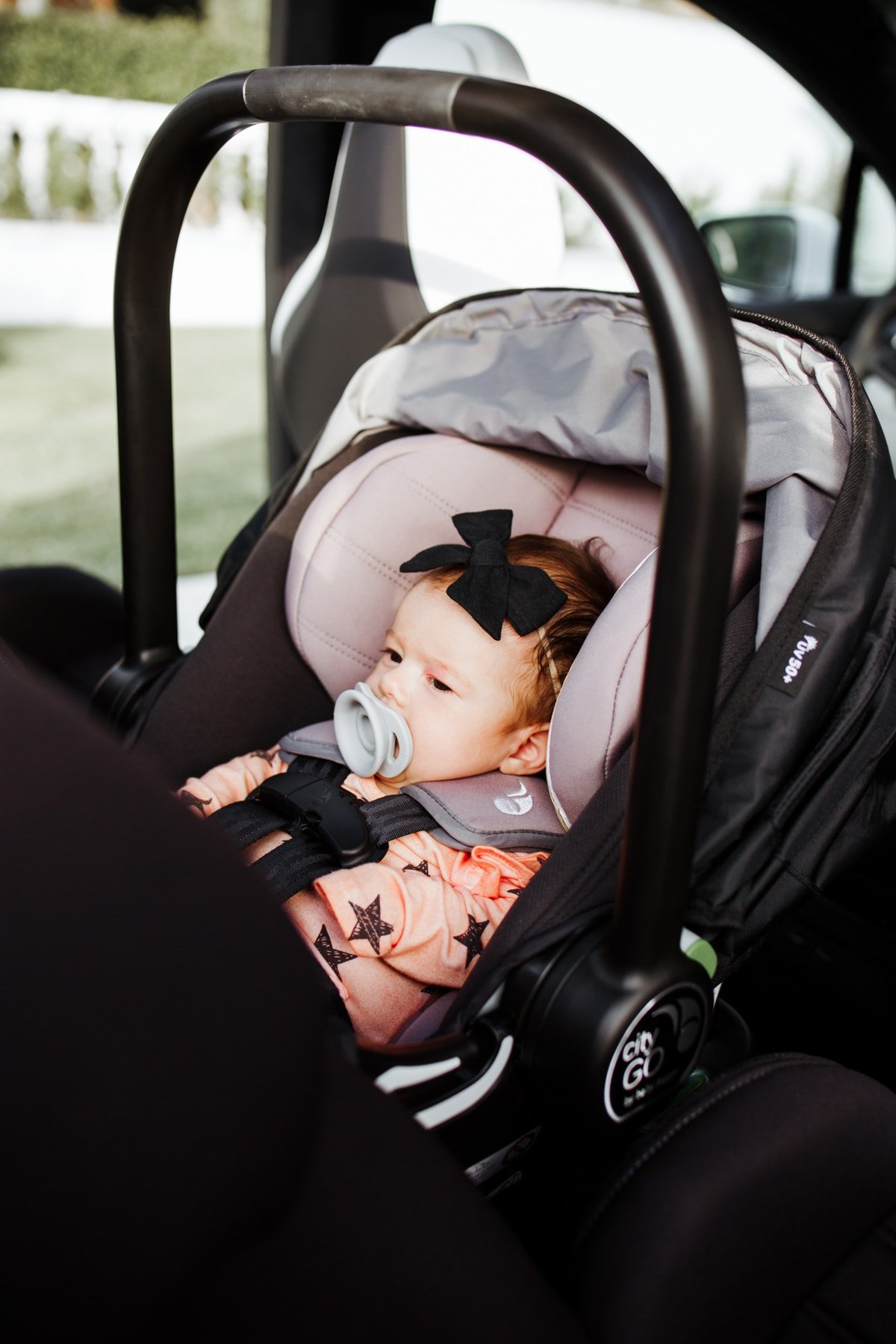 More budget-friendly options
I have not personally tried these specific infant car seats, but I've done TONS of research and these are the ones that keep popping up on every site!
Chicco Key Fit 30
The Chicco Key Fit 30 is the #1 rated infant car seat in America, and it's only $199! It also won the 2019 What to Expect award amongst What to Expect When You're Expecting community members. The installation is a no-brainer and it comes with a built in level to make sure the recline is juuuuust right. Plus the cover is machine washable! This one is 9.6 lbs without the base.
Graco SnugRide
This Graco SnugRide SnugLock 35 LX is such a classic and affordable infant seat, PLUS it has TrueShield side impact technology to keep your baby super safe. It also has a 4 position adjustable base that lets you customize the fit to your vehicle! GENIUS.
This one is $180 and weighs 9.75 lbs without the base.
Evenflo LiteMax
The Evenflo LiteMax consistently has AMAZING reviews, at 8.7 lbs without the base and for UNDER $90, you're getting a total bang for your buck! It's excelled in rollover car testing, and has an ergonomic handle to make it more comfortable to carry. It has also been nationally recognized by safety experts for use in low birth-weight babies.
What to know before buying an infant car seat
Infant car seats are NOT the same as convertible car seats. They are meant to be portable, and come with you in and out of the car. They snap in easily and are designed for convenience! Babies can safely be in infant car seats until they are about 30 pounds.
Infant car seats are ALWAYS rear facing and are safest when used with the base that comes with the seat. Look for seats that have side-impact protection and energy-absorbing foam.
Make sure you are aware of your stroller compatibility before buying! Many brands sell travel systems with a stroller and an infant seat together. You can also purchase infant car seat adapters that will fit most strollers.
Safety first
Ultimately, the MOST important thing is finding the car seat that's SAFE and the right fit for you and your family!! Since everyone has different needs and lifestyles, you just have to assess what kind of travel you're doing and what will make the most sense. Don't forget to check out our post on the best convertible car seats for the next stage of your baby's life!