If you search my blog, you'll see that I've written about Baby Jogger countless times, because it's a brand our family truly loves and trusts, and is one of the MOST popular baby brands among our loyal readers.
You know what I LOVE to talk about? If you guessed cute shoes, delicious places to eat, comfy clothes, or the latest and greatest car seats or stroller, you would be right. And car seats have become a huge obsession for me over the past 6 years of being a mom and a blogger. So I really do spend oodles of time researching and reading up about every new car seat that hits the market. And the two I'm gonna share today are SO. DANG. GOOD. Good enough it's almost like a magic trick that perfectly fits three car seats across the back row of a car, like perfect little puzzle pieces. And guess what?! You can get my favorite car seats on sale right now for 15% OFF with code: SEPTEMBER ! How great is that?
We just barely bought a new car and the last two SUVs we've purchased we've opted for two bucket seats in the second row, but what's funny is I've found that when you have an infant car seat it's actually easier to have a second ROW so that the infant seat can be in the middle! This allows the front seat passenger to sit in a normal position, instead of so far forward that their knees basically touch the dashboard! So with this new car we elected to have a second row (with a third row option!) but that posed the challenge that SO MANY parents find themselves in: how in the world do we fit 3 car seats across a back seat?! Baby Jogger to the rescue!!!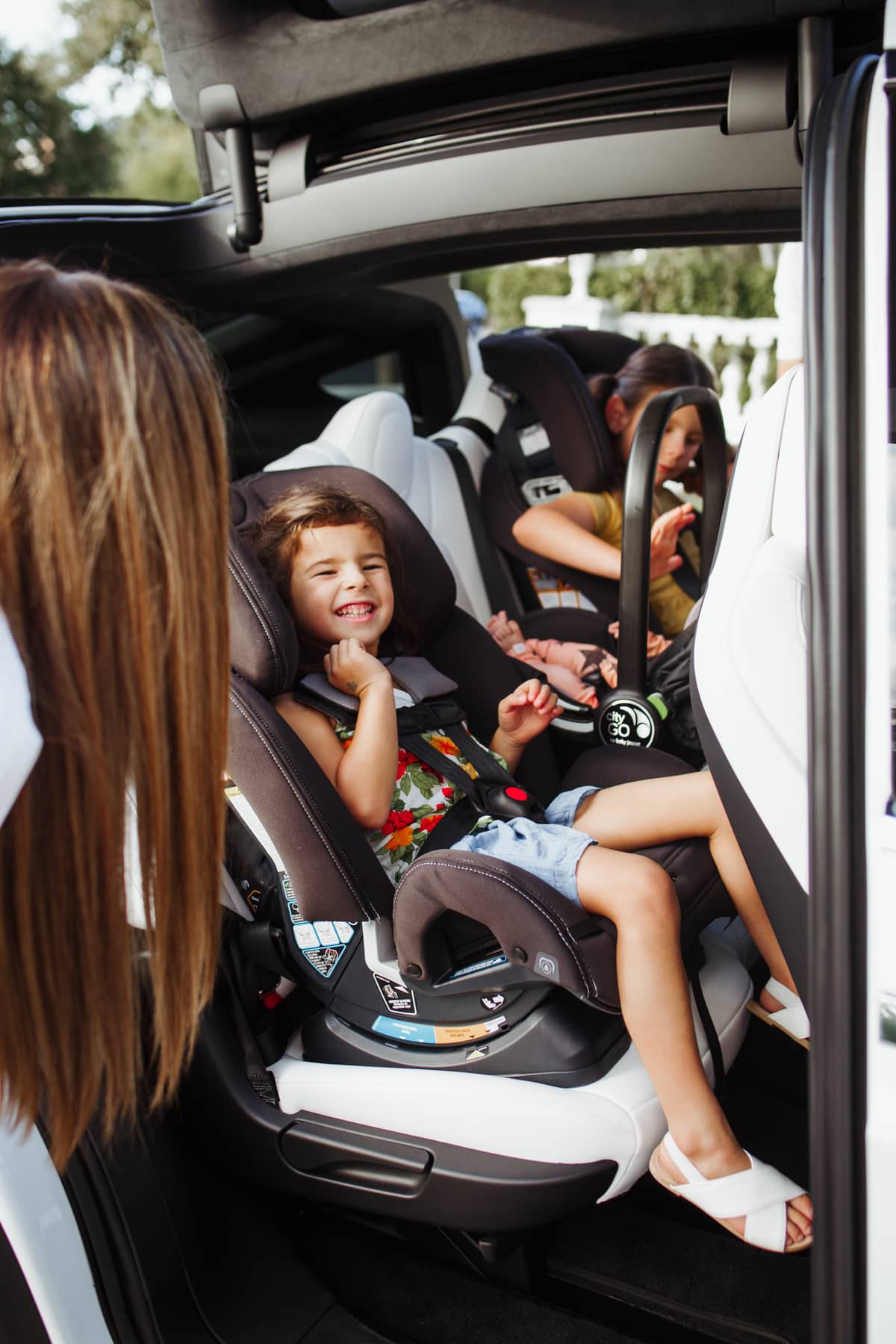 I love having all three in the second row where I can easily distribute toys, snacks, and hold their little hands. Baby Jogger's brand new City View car seats are made slimmer than most car seats, meaning I can fit everyone side by side! I was so excited to get these three car seats in a row installed across the back of our car. Getting car seats that were narrow enough to fit three across the back row was such a huge priority for us, and I was so relieved when Baby Jogger came out with this new City View seat that was not only comfy enough for my kids to ride and fall asleep in (very important in my book ha!) but also that these car seats are skinny enough that they could all sit next to each other.
It's also SO nice to have baby in the middle because it's just easier for me to reach back and put the binky back in her mouth (since I don't have Elastagirl arms…although wouldn't that be awesome?!) or have big sisters help if they're in the car!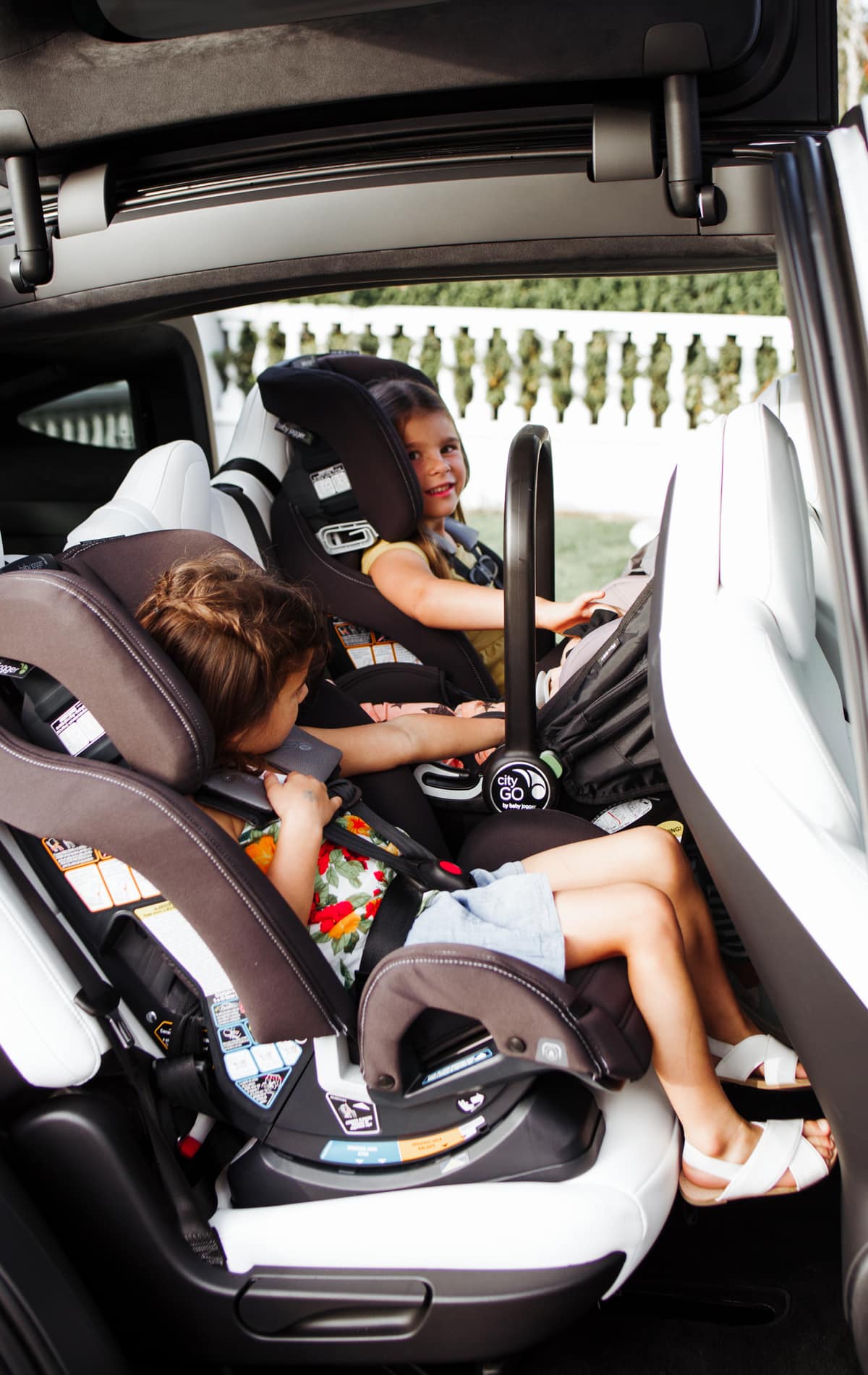 Another car seat question I get a LOT, that we faced about a year ago when Anabelle grew out of her convertible car seats (#tallkidproblems or maybe #tallparentproblems, #tallgeneproblems ? HA!) was where to find a 5-point harness booster seat! Most five year olds aren't quite mature enough to just sit in a booster seat that uses a traditional seat belt, even if that's what they qualify to use with safety standards. The Baby Jogger City View converts from a rear facing car seat to a forward facing car seat to a 5-point harness booster to a booster with a seatbelt! So it really does grow WITH your kids, and if you need one of your cute littles to be 5-point harnessed into their seat, you can totally do that until they're mature enough to stay put in a seat belt 🙂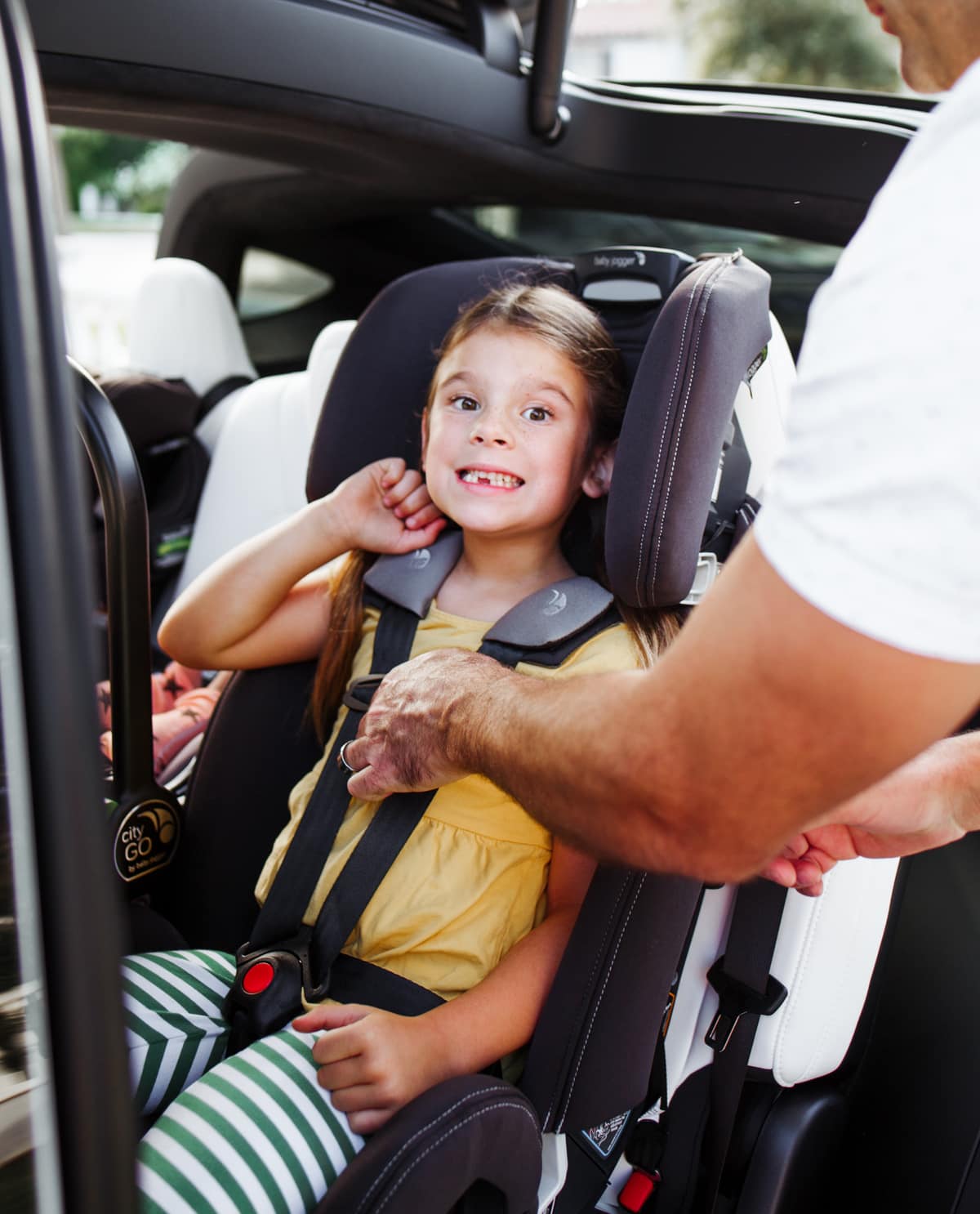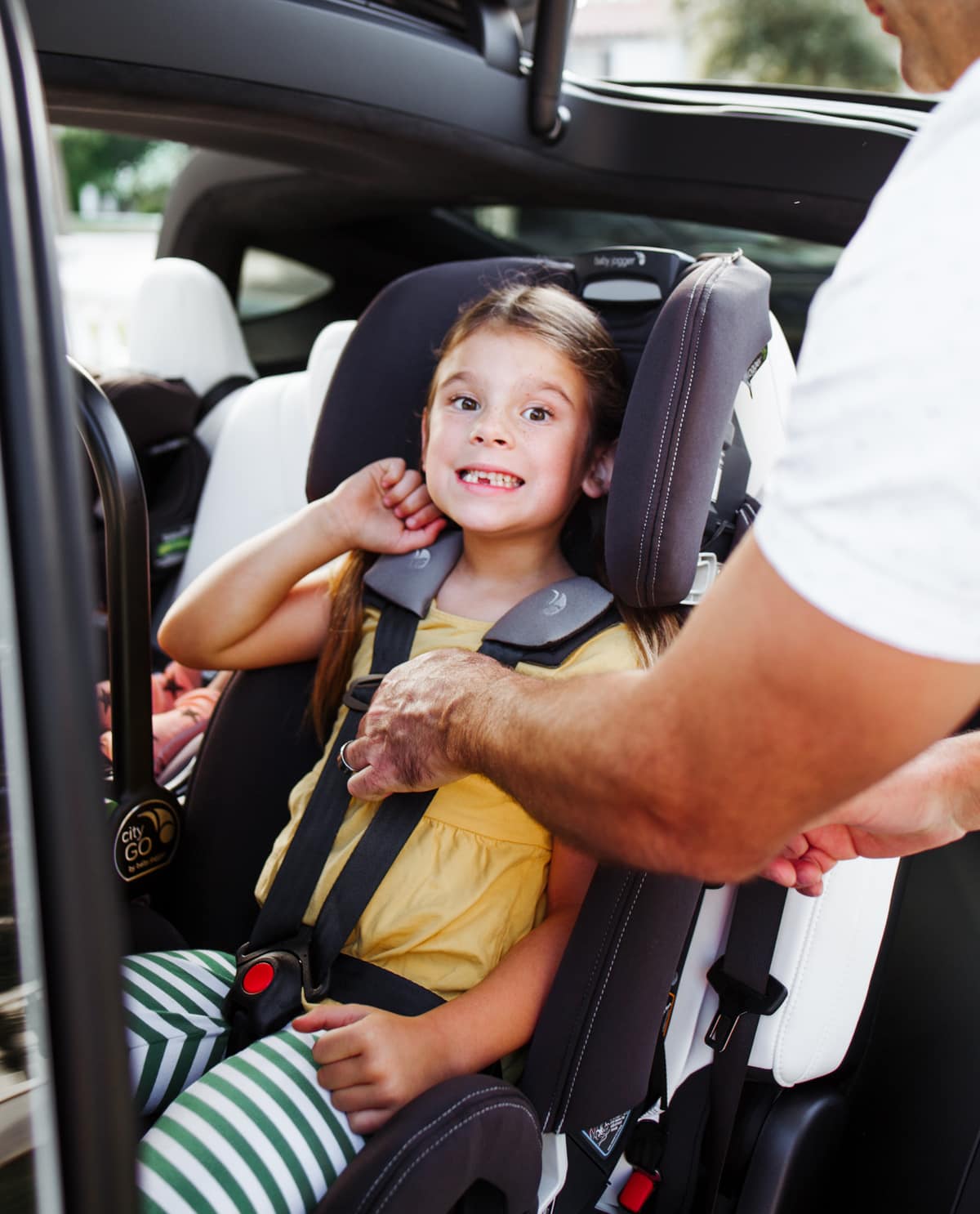 I know a lot of mamas worry about losing safety features with a seat as slender as this one, but Baby Jogger is known for being sticklers about safety standards! Their seats are all side-impact tested, and they even have an additional TRUE test that they do to make sure it stands up under extremes. Talk about peace of mind!
I'm also a huge fan of their sleek and modern design of Baby Jogger car seats, an added bonus that never hurts!
We LOVE traveling as a family, even though it's definitely a "trip" not a "vacation" when kids are in tow if you know what I mean 🙂 Keeping them safe and secure is our first priority, whether we're flying, road tripping, or in a ride share! When we were in San Francisco with Millie a few weeks ago we were so glad to have the Baby Jogger City Go since it was easy to carry around and buckled in and out of taxis and Uber or Lyft super easily with the taxi-safe belt path. It was also SO easy to click her right into the City Tour Lux and it was so crazy lightweight also to pull in and out of the back of ride-share cars. I loved including Millie in our adventure to SF, and the City Go gave her a cozy and safe spot to come along in!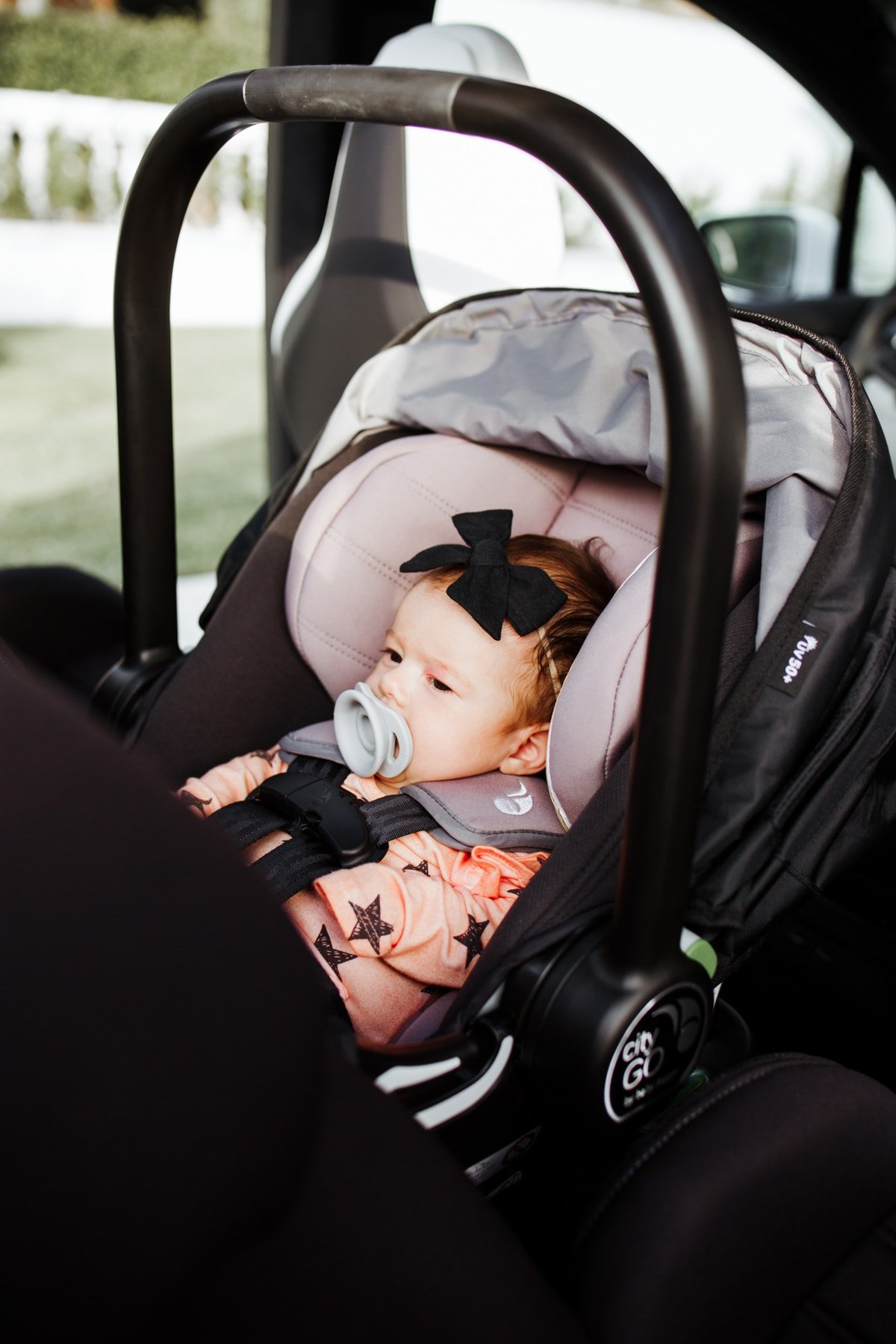 City View
City Go
White Top
Camo Skinnies
Photos by Arielle Levy
Getting my kiddos safely from place to place is one of my top priorities as a mama, and the convenience of super slim car seats that my kids won't grow out of in five minutes is so awesome!! Baby Jogger car seats are so easy to use and if you love any of their strollers like the City Select or City Mini or City Mini GT as much as we have for years and years, you'll love these car seats so much too!!