One of my most FAQs in DMs, emails, and even texts from friends is about car seats!! I gets asked ALL the time from parents who originally found me from the Best Baby Registry List Ever and friends and family asking "which convertible car seat is best?" So let's have chat about all the best convertible car seats!
There really is a convertible car seat out there for every need and every budget! So, the most important thing is thinking about your lifestyle and finding that perfect fit for you and your kiddos. These are some of the most popular options out there right now and my thoughts on each one.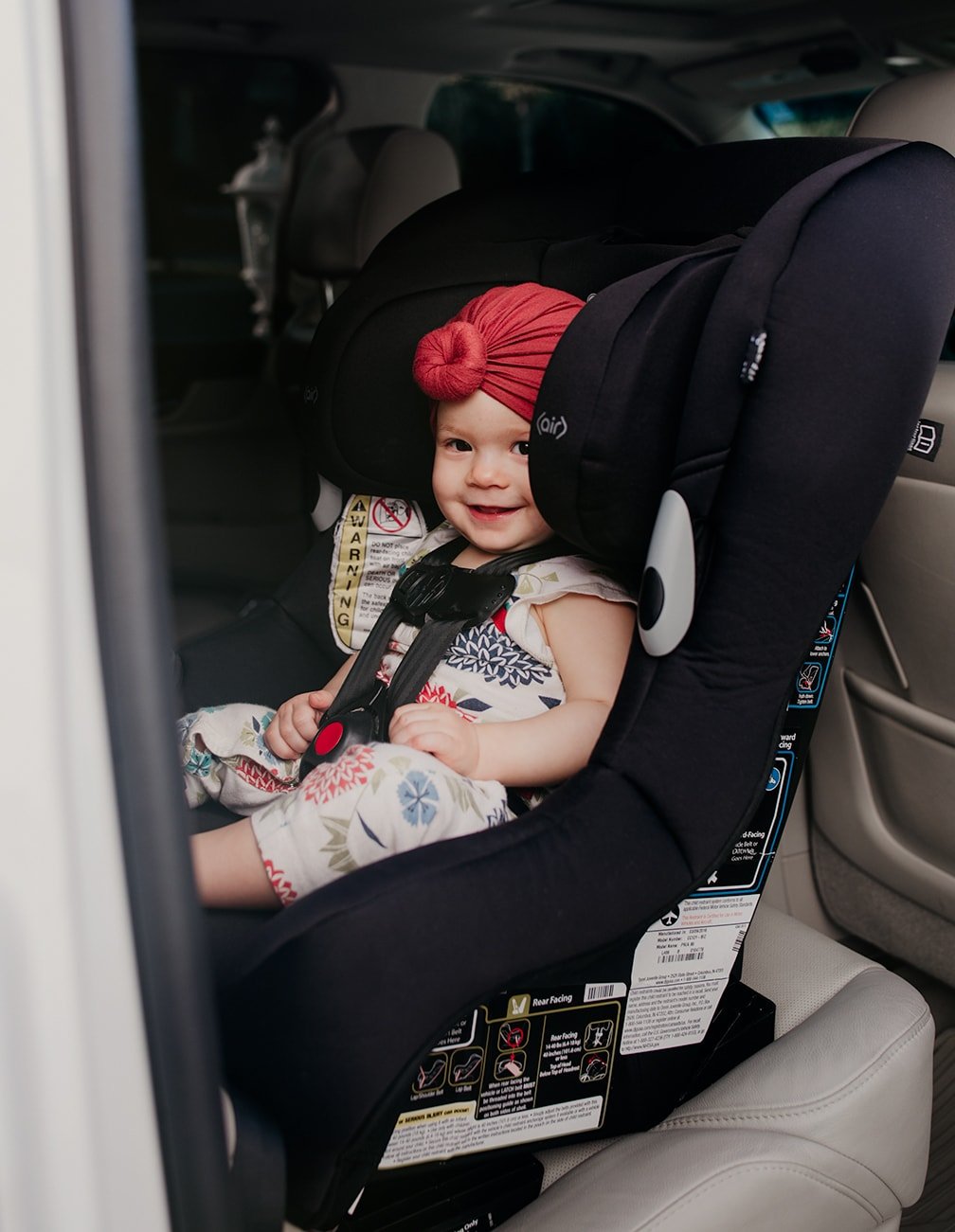 Our family favorite car seat
Maxi Cosi convertible car seats are at the top of our family's list! It's definitely got the most cushion and comfort, so if getting some good sleep in the car is a priority for you, THIS is your car seat. It's super comfortable for long road trips or snoozing during errands. I've bought this one more than any other because of the comfort factor.
ALSO, it's machine washable AND dryable! You can pull the whole thing apart, wash it, and then you don't have to wait for an air dry. This is a huge bonus for me!! It makes it so quick and easy to clean up those kid messes that are just a part of traveling.
The Maxi Cosi convertible car seat also offers the MAXIMUM leg room to the person sitting in the seat in front of the car seat. So if this car seat is rear-facing behind your driver's seat or passenger seat, you'll have the most legroom in the seat directly in front of that car seat with this one.
Most popular choice
The Britax Marathon click tight car seat is probably the most popular on my list among parents in the US, and for very good reason! First of all, Britax is one of the most reputable car seat companies on the market. Second, their seats are SUPER user friendly. It's really easy to adjust the harness size since it's as simple as pushing a button and sliding it up or down. This is really convenient if you have more than one kid using it or if you carpool.
Also, the click tight feature on this convertible car seat makes installation crazy easy because you literally JUST use the seatbelt to clip the car seat down and get a perfect install every single time. And if the car ever gets into an accident, the seatbelt clenches down on the carseat and the car seat basically BECOMES part of the car, setting the child up for maximum safety!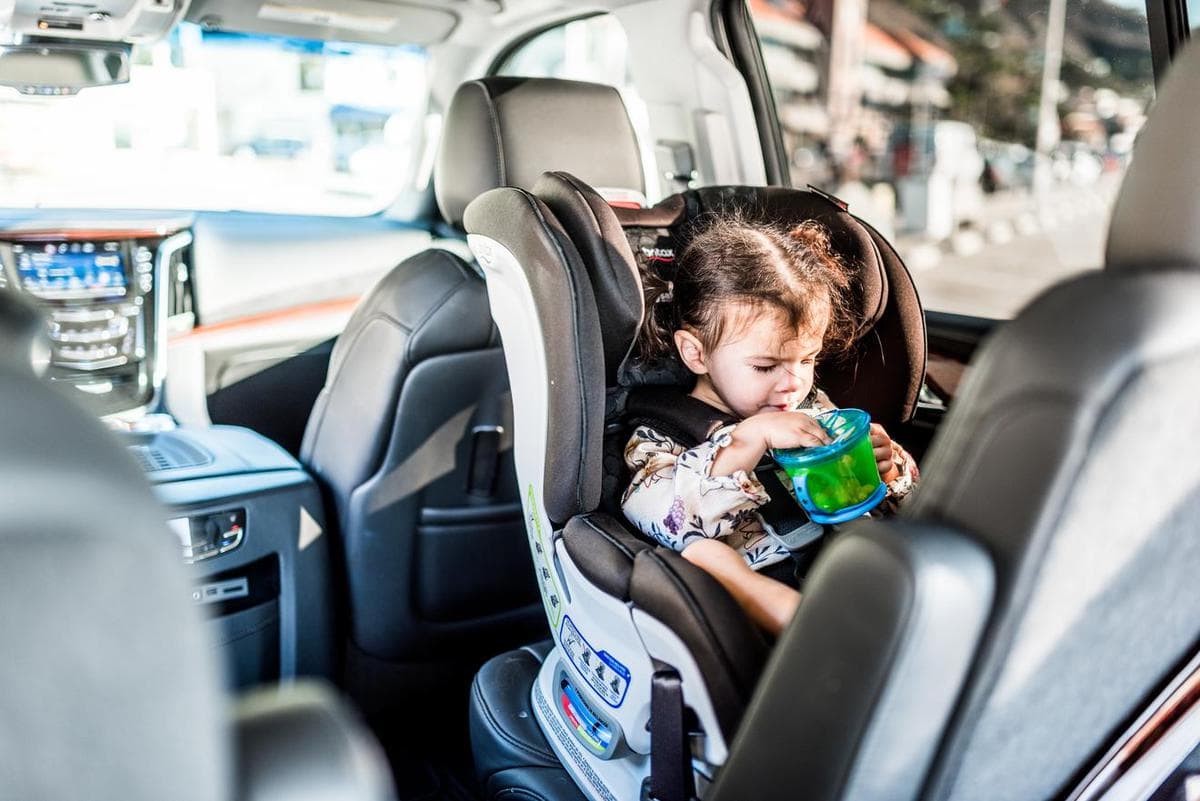 Honestly, ALL car seats have to pass extremely stringent safety tests in the United States so ALL of the car seats listed here are safe. But a lot of parents really like the way the click tight technology works because it is difficult to get a correct install on many seats, but this one is a no-brainer!
And if you're looking for an incredible booster seat that still offers a 5-point harness (which is HARD to find), we really really love the Britax Frontier Click Tight booster seat!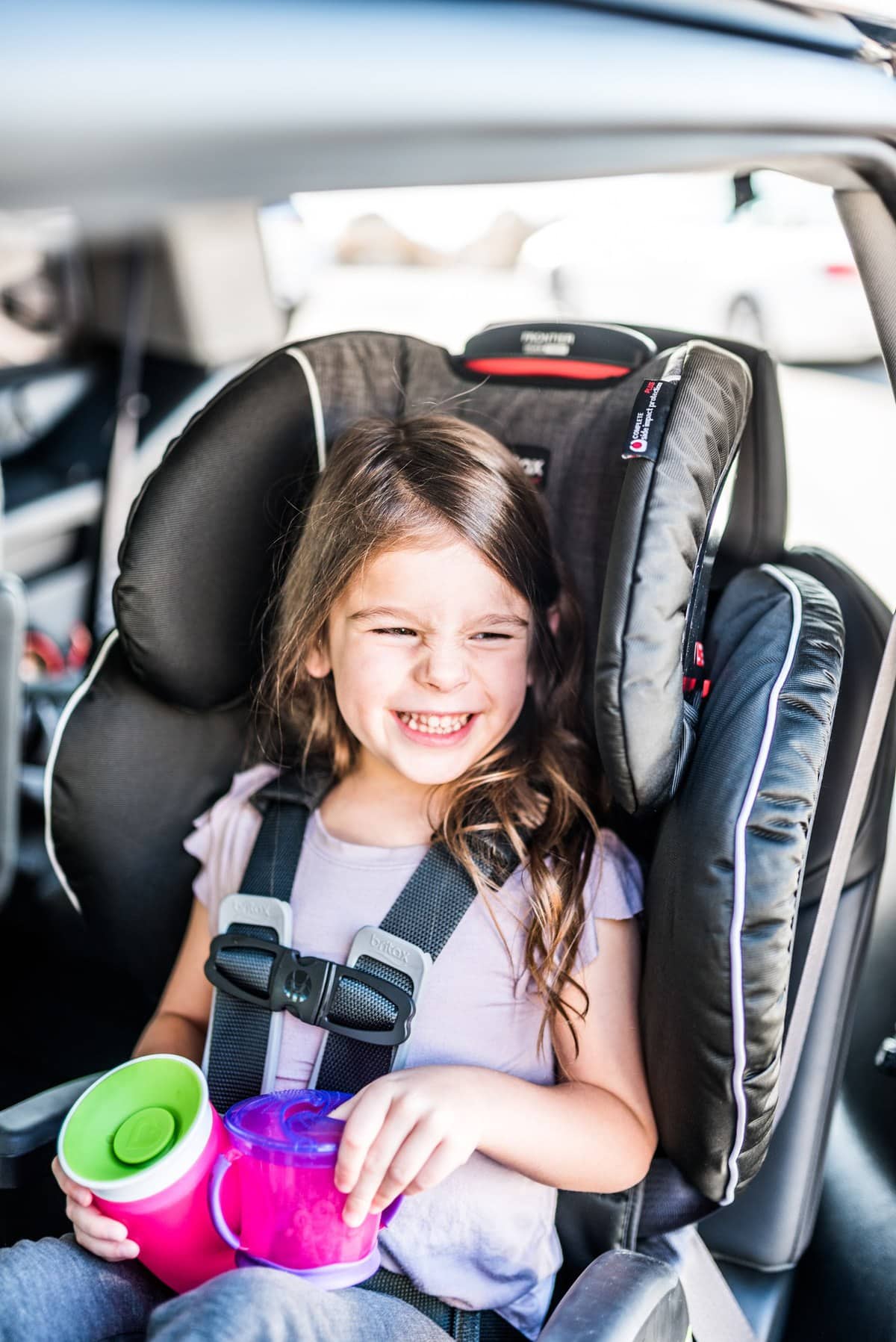 Highest rated
If you're looking for a highly rated convertible car seat, you might want to try out the ULTRA popular, very highest rated by Nordstrom shoppers, the Nuna Rava convertible car seat!!
I wish I had more to say about this myself, but we've personally never owned or used this car seat. BUT, it comes from the same family as our beloved VERY favorite infant car seat, the Nuna Pipa Lite, and the Rava have insanely high ratings.
Budget friendly pick
When it comes to budget options, the Cosco Scenera convertible car seat is hands down THE most popular choice. It has thousands of 4- and 5-star reviews and you can get it shipped free or pickup in store! My favorite feature of the Scenera is that it's SUPER lightweight! If you're going to be lugging a car seat through the airport, this is a super smart choice because it only weighs 10 lbs (compared to the Britax Marathon that weighs 27 pounds!!).
The downside here is that it's not very padded, AT ALL, so it's not the most comfortable option on my list and definitely not my top choice for long car rides. It's also difficult to re-thread everything if you have to take the harness apart since it all has to be done manually! But that under $50 price point and 10 pound weight is hard to beat if you need something lightweight or budget friendly!!
Most versatile car seat
Okay finally…the Baby Jogger convertible car seat! The main thing to highlight about this one is that it's slim enough to fit three of them side by side in a standard back seat…which is crazy and so convenient!! I talked more about it in this post.
It also transitions from rear facing to front, to a five-point booster, OR a booster under a seat belt, so it really does grow and adapt with your little one! Such a good choice if you have a couple little ones close in age! Both my big girls are sitting in this car seat in these photos below.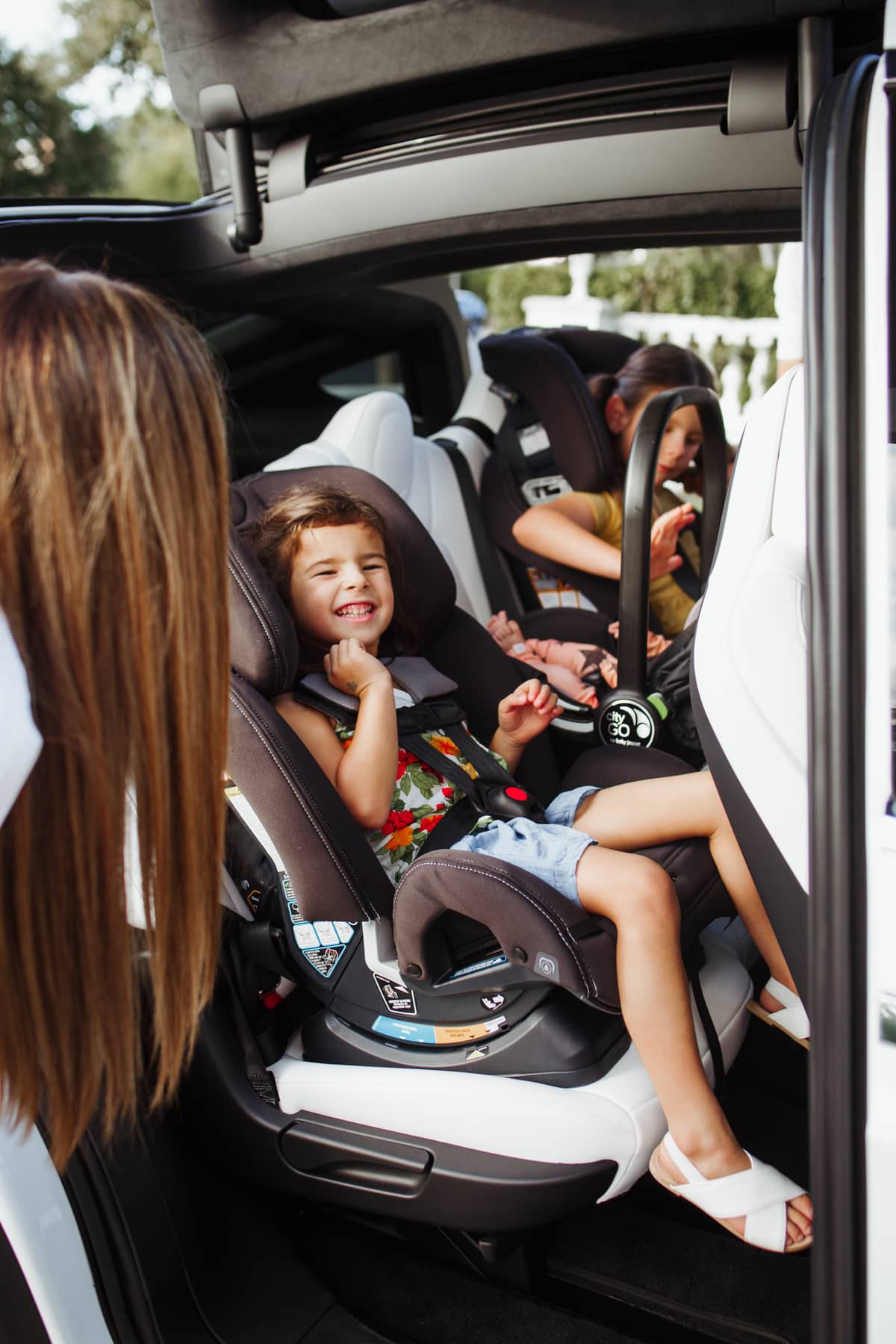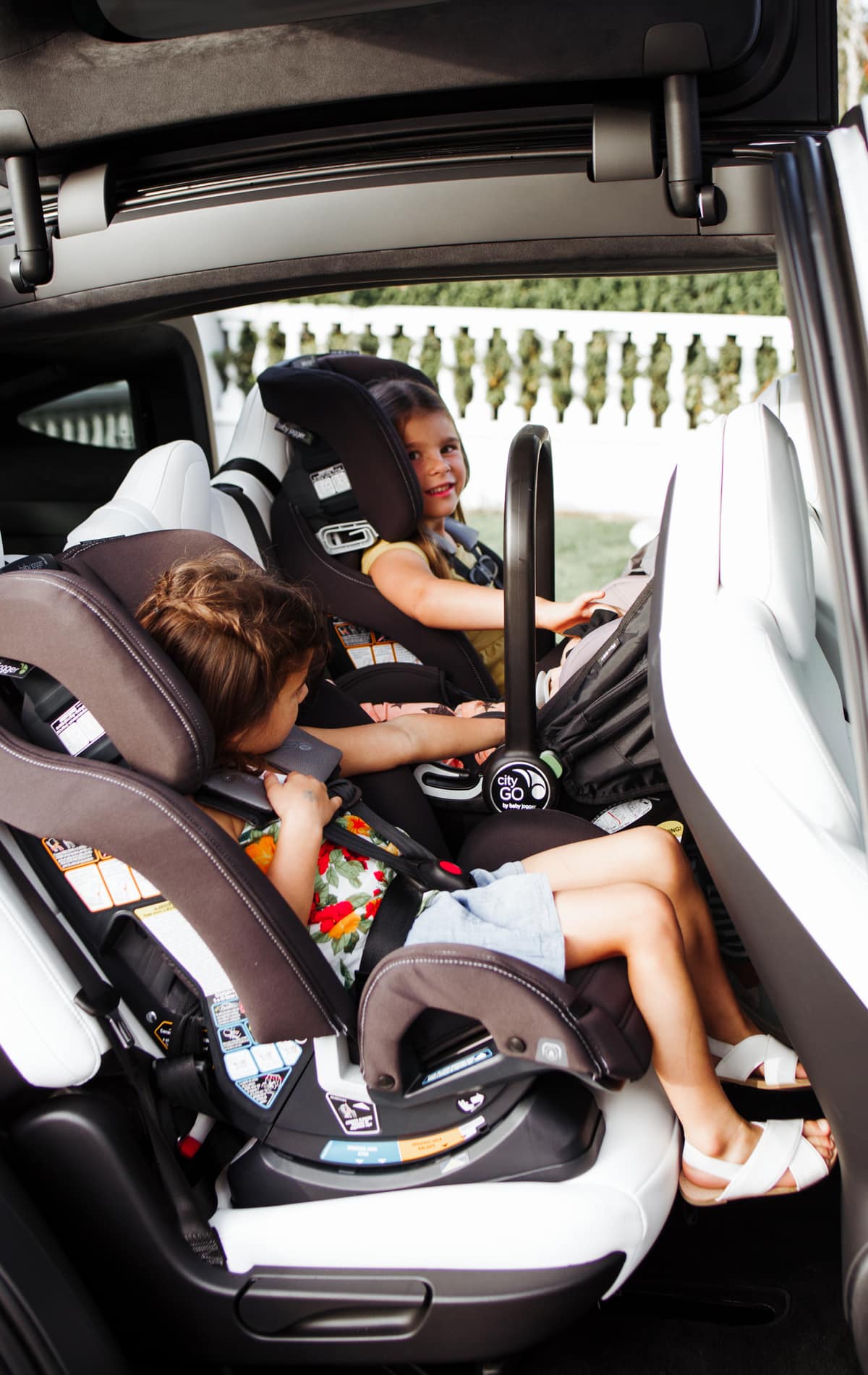 Safety first
Ultimately, the MOST important thing is finding the car seat that's SAFE and the right fit for you and your family!! Since everyone has different needs and lifestyles, you just have to assess what kind of travel you're doing and what will make the most sense.