It's that time of year again. The one where I feel like we're always on the go and off visiting family, which is SO FUN, but let's face it, traveling with tinies can be tricky!
For today's post I've put together some of my best tips and tricks that have been super duper helpful for us when flying with our littles.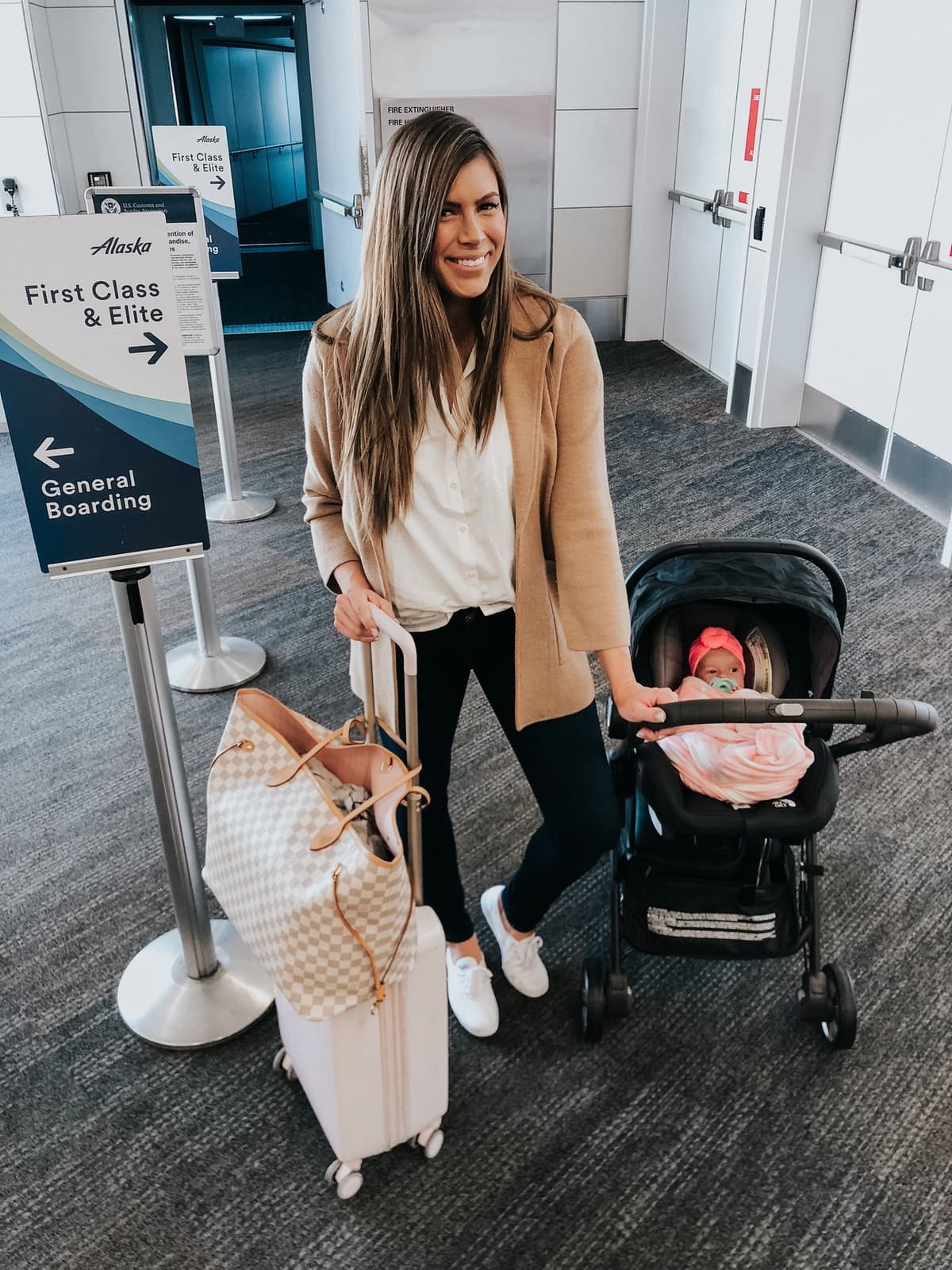 Get there early
My rule of thumb is at LEAST an hour and a half early if it's just me, but if I'm with kids, ALWAYS two hours early. I've just found that's how long it takes us to get everyone through security, check bags and car seats, give everyone a potty break, change the baby's diaper, etc.
If you have TSA precheck and that's printed on your ticket, your kids can go through the precheck line with you! You can find out here where the closest location is to apply for precheck, and once you're approved it lasts FIVE years. It will cost you $85, but with how much we travel, it's the best $85 I've ever spent!
I'm also a huge huge fan of CLEAR – which is another way to speed through security at many major airports now. If you have a travel credit card, check to see if they include a membership to either because many do!
Car seats, strollers, & checking
This for sure was one of my BIGGEST fears when I started traveling alone with a baby (or even with Neil!). How do you bring a baby on board a plane and get there with the stroller and car seat and ALL THE THINGS.
Here are my tips after thousands of miles flown with a newborn: if I have a newborn who will still sleep in their car seat, I take the stroller with car seat attachment all the way to the gate! At TSA, if it's small enough they'll ask me to send it through the scanner. If not, they'll "scan" it by hand and also want to test my hands too. It's usually not a big deal and goes fairly fast!
I always get asked what my favorite travel stroller is, and I absolutely LOVE the City Tour Lux stroller, or the less expensive little sister version, the City Tour stroller. We've traveled with and LOVE both. The Lux is nice if you are still traveling with an infant who rides in their car seat because you can use car seat clips!
If you have a bigger family and need a couple seats and a big undercarriage, I highly recommend either the City Select or UppaBaby Vista (read more about why I love these strollers and the differences in my best baby registry list ever).
If I have a baby or toddler over 1 year old, I check their car seat with the other checked luggage at the ticketing counter when we check-in. You don't have to, but if you want to keep their car seat a little cleaner and protected, we like packing them in these protective covers.
Checking a car seat is ALWAYS FREE (they'll never penalize you for flying with a car seat!) and the only time I don't do this is when we fly to UT because my parents have car seats at their house that they bring when they pick us up, or if I'm flying to a city where they have Uber Family or Lyft Family (NYC or Ft. Lauderdale FL are two we've been to so far).
Once Anabelle and Lyla were old enough to use a boosters, we started using this $30 bubble seat that packs flat but you can inflate in like 10 seconds and it has been AMAZING and so convenient!
Baby wearing
Baby wearing is a MUST when traveling with a baby. 100% essential in my book! We love the Ergo and the Solly baby wrap, but love the Solly just a little bit more for traveling. Why? Because it squishes down super compact and you can throw it into a diaper bag way easier than you can the Ergo. And compactness is EVERYTHING when you're traveling with kids.
Comfort is King
We try to dress super comfy for airplane travel (or any travel, for that matter!) because when you're trying to get a toddler to hurry up in a tiny airport bathroom, while baby wearing, there's nothing worse than buttons and zippers that cause tantrums and tears!!
Plus if you have to sit for a long time, you also don't want anyone crying about being uncomfortable in their clothes.
Pack an accessible extra outfit
For sure for your baby, possibly for your kids, and sometimes even for you! If you're nervous about a blowout or an accident on the plane or on a layover, you absolutely want to be prepared.
Use a backpack bag
Speaking of packing, I always try to make sure I have a backpack diaper bag (or even just a backpack!) that way I have both my hands free for getting baby or kids onto the plane, in their seats, across a terminal, etc.
I love Fawn Design bags because they're so easy to clean if you have a spill, and they're beautiful!
Feed baby on takeoff & landing
This has always worked best for me because it helps relieve the pressure in their ears. But if you have a super hungry baby, don't worry about trying to save your milk or a bottle for those specific times!
Using a binky during takeoff and landing has worked for us too-Millie loved these ones as an infant!
Bring water if you want
If you have a baby under 1 year, you can bring liquids like a water bottle or liquid formula or breastmilk! You can also bring a pump as a carry-on and it will not count against you as 1 of your carry-on bags 🙂 (Read all my tips on breastfeeding and pumping here!)
Planes = white noise heaven
Babies tend to love white noise and my babies have always slept pretty well on airplanes. Typically I'll just swaddle them really tight, give them a binky, and let them snooze it out.
WARNING, if you're trying to have your baby sleep in a wrap: some airlines are super strict about forcing you to take the baby OUT of the wrap for takeoff and landing, which is THE dumbest rule ever in my opinion. Sometimes they're really cool about it and sometimes they're super strict, so just know that might happen to you. For this reason, I usually swaddle after feeding if I want my baby to sleep vs. wrapping them so you don't have to wake them up for a landing!
Activities for the littles
We don't give our kids iPads at home (don't worry, they watch plenty of TV so I am in no way perfect with screen time!), but iPads are a special travel treat for the girls! They're always super excited to play educational games or watch their own personal movie.
For longer flights I try to visit the Target Dollar Spot or the dollar store and snag a bunch of little treats and activities. Just fun little things for them to play with or open up as we go. We stick to a very strict one thing at a time rule when we travel. So if they want to do the iPad they only do that until they're bored and then the can exchange it for one new thing.
Avoid too much sugar
We've made the (BIG) mistake in the past of giving them too many fruit snacks and sugary stuff and they were bouncing off the walls! We try to limit the sugar and stick with things like crackers, popcorn or string cheese.
Book a window seat
If I'm flying by myself with a baby, I try to book a window seat so I can kind of turn toward the window to nurse, or to shush the baby if she cries, or to just tune out the rest of the world around me that might be bugged if she's crying. I also don't have to worry about people climbing over me to go to the bathroom if my baby is sleeping in a window seat!
Ignore the haters
Of course you're going to do everything you can to keep your kids from crying or shouting or kicking the person's seat in front of them, but they're babies and little kids after all! I always try to go in with very low expectations. Don't stress too much if fellow passengers giving you dirty looks, because there's literally nothing you can do on an airplane beyond your best!
Our favorite things for kid and baby travel:
I hope this post was helpful for you as you're flying with a baby or kiddos this holiday season! Let me know if you have any additional tips to share and happy, safe travels!