Spring and summer are always a super popular time to get engaged. Chances are, you probably know somebody that just put a ring on it, or even better, maybe YOU did! As the bride and groom, it can sometimes be tricky to figure out what to register for, and as the guest it can be equally tricky to decide what to gift the happy couple.
Corrine gets a TON of questions about what her favorite kitchen and home appliances and tools are, so we thought it would be fun to share her list of the top ten wedding gift ideas! This list is perfect for any bride to register for or any wedding attendee to gift the couple. Right now during this strange time, weddings are looking more different than ever, so specific gift registries are so important! Since we aren't going to as many stores or socializing as usual, it's so nice to be able to have a perfectly curated list for everyone to go off of!
Top 10 wedding gift ideas
Without further ado, here are Corrine's top 10 wedding gift ideas every couple should have on their wedding registry!
#1: A Vacuum
Corrine's love for Dyson is fierce. She has been singing their praises for years now. She recently did a roundup of house items at QVC and this Dyson vacuum made the list! It is the EASIEST and most convenient thing in her house. You can carry it everywhere, and it makes vacuuming a cinch. The reservation with cord-free vacuums is usually the power; will it work as well as your traditional vacuum? The answer is a resounding YES!! You'll be so impressed with how powerful this lightweight vacuum is.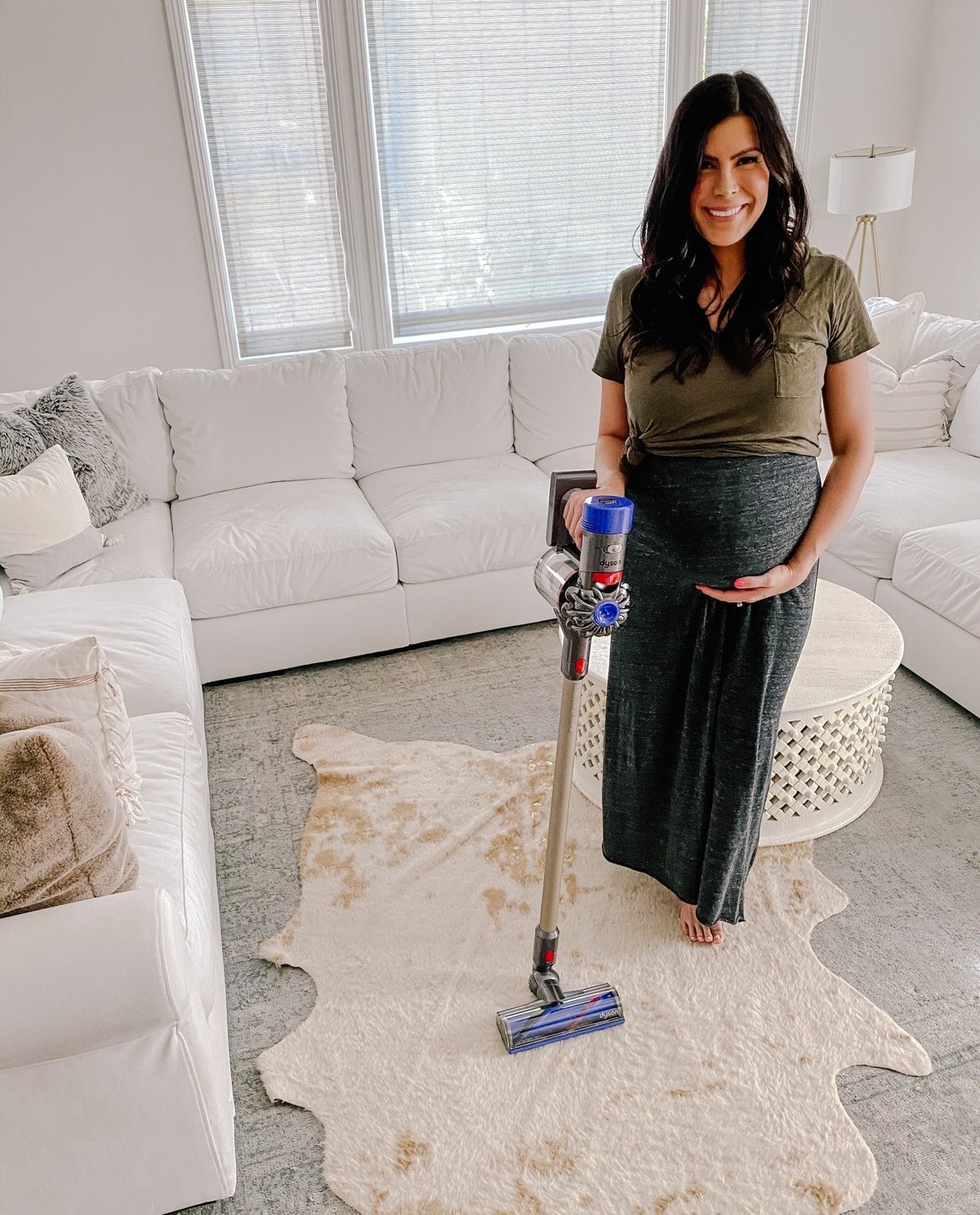 #2: White Dinnerware
A good set of white dishes is so smart because it will last you forever and it makes food look the prettiest! Why do you think celebrity chefs cook with white dinnerware? It's so aesthetically pleasing, classic, and one of Corrine's best entertaining secrets! This set makes a great inexpensive, timeless gift that any bride will love and you'll get it for 15% off right now with code MEMDAY at checkout.
#3: Good Cookware
A really amazing set of cookware will last a lifetime and most chefs will agree that the best pots and pans are All-Clad. Corrine would seriously rather have ONE good pan than a thousand bad ones! These are hands down her favorite. They are incredibly durable, they cook evenly to avoid burning food, and they're super easy to clean. Once you go All-Clad, you'll never go back!
This All-Clad 7-piece set is another one that Corrine loves and owns every piece of, and right now this set is $499.99 (reg $839.99) with code MEMDAY at checkout. That's 40% savings! It is really everything you need to make just about anything!
BRIDE HACK: Register for individual pieces and a set, that way if someone wants to buy just one separate piece, they can! Wait until you've received most of your gifts and if you have several All-Clad separate pieces, leave them unopened and return them all together to get a set. You'll get more bang for your buck that way!
#4: Bakeware that won't quit
The Le Creuset is a game changer. Corrine got this as a Mother's Day gift a few years ago and never looked back. It's lightweight, lasts forever, cooks evenly and looks beautiful. Everything you cook in it tastes amazing! Such a good wedding gift idea that will last for years and years.
#5: A Handy Handmixer
Corrine's a massive fan of the KitchenAid stand mixer, but sometimes you just need to be a little more up close and personal with your food with a hand mixer. Or you just want less of a mess by mixing up something in the bowl you've already made a mess in! This is hands down the best hand mixer Corrine has ever used, plus it's mint so it's a no-brainer! Over 2700 perfect reviews can't be wrong!
#6: Good Knives
A set of really good knives or even ONE good knife will serve you far better than a set of really cheap knives! Corrine has and highly recommends this set of Wusthof Classic Knives that is on sale for 40% off. She was also gifted a white knife a few months back and it's her VERY favorite knife in her kitchen. We found this pretty knife set that's so beautiful if you'd rather go that route, and here's a less expensive option.
#7: White Towels
Another wedding gift idea is towels! Everyone needs towels and Corrine has found over the years that having bright, fluffy white towels are not only really easy to wash all at the same time in a batch of extra fabric softener, but they just look clean and fresh too, in any bathroom. These towels have over 900 perfect reviews. YES PLEASE!
You can get these towels for 40% off right now, PLUS an extra 15% off at checkout using code MEMDAY.
#8: New Bedding
Everyone should start a marriage off with a brand new set of bedding right?! This Calvin Klein set gets amazing reviews and looks SO cozy and pretty gender-neutral, for all those guys who aren't that pumped on crawling into a bed with lace and scallops haha. This bedding set is 25% off, AND an extra 15% off using code MEMDAY at checkout!
Next to Cariloha sheets, Corrine really loves these sheets! They have 90,000+ reviews and 74% of those are 5-STAR!! These are totally amazing, totally soft sheets.
#9: A Nice Blender
Get a nice blender! Not the cheapest one you could find that you used all through college that you didn't care if your roommates beat up too, but one that will last you years! Blendtec blenders last FOREVER. Corrine had a Classic for SEVEN years that she gave away to a single mom we did a master bedroom makeover for a few years ago. When she gave it away it still worked perfectly, and her current Blendtec is SIX years old. She has done almost 1000 blends with her Blendtec and is still obsessed. You can read more about Corrine's favorite blenders here.
Today you can get this Blendtec blender for $349.95 (reg $579.90)!
#10: Mixing Bowls
This is kind of Corrine's go-to wedding gift. It's just the right price point and it's pretty, but plain enough that anyone can use it! She has used her set of glass mixing bowls a million times and they look nice enough to take a dish right to a party in once you're done.
Today you can get these bowls for $40.99 (reg $57.99) using code MEMDAY at checkout!
Eat, drink (Diet Coke), and get married!
Wedding season can kind of be stressful, especially during quarantine, or if you leave gift finding till the last second! But we hope these wedding gift ideas will help out any bride and groom looking to fill their registry with quality items, or a wedding attendee who wants to give the perfect, timeless gift. What are some of your favorite wedding gifts to give? Let us know in the comments!