One of my BIG New Year's Resolutions for 2021 was to eat clean and have a healthier focus on life. This means I will be spending a lot more time in the kitchen this year. In the past I have talked a lot about the motivating power of new workout clothes or running shoes for tackling fitness goals and think the same can apply to tackling nutrition goals too!
In the past few months, I've discovered some really helpful kitchen tools and gadgets at Nordstrom that I am completely obsessed with and make clean eating SO much easier. Today I am sharing EIGHTEEN of these genius little tools that I love that are making eating clean more fun and motivating me to want to be in my kitchen more!
Pop to it
If you are trying to eat healthy and just want to buy one really fun thing, this $20 popcorn maker would hands-down be my pick. I've been wanting to get one of these for a few years now because Clean Simple Eats has some air popped popcorn recipes and I finally did. This exact popcorn maker had a great reputation and it totally knocked my socks off.
This was so much fun for me and even more fun for my kids! They were beyond enthralled by this. It's cute and tiny and so delightful to use.
One good knife
If my mom only taught me one thing growing up in her kitchen, it is that a good knife is crucial to having a good kitchen setup. I have had this (sold out) Wusthof twelve piece knife set forever-like fourteen years! It is such a classic and the knives are still in excellent shape so it is well worth the investment. This is such a super well equipped set that basically includes every single knife you could ever need!
However, if you don't want to commit to that many knives and wanted to get just ONE good knife I would recommend this super cute and super highly rated chef's knife. A really high quality chef's knife is the multipurpose essential every kitchen needs. It comes in three really cute colors and I have definitely had my eye on the pink! Who doesn't need a pink knife?
A smart cutting board
My sister Female Foodie and I share a love for the brand Food52 and many of their kitchen tools and gadgets and gizmos make this list because they're so amazing!! They are such a cool brand! It is a community-based website that helps bring cooks together from all over the world to share recipes and kitchen tips. Millions of people submit recipes to the community and then Food52 editors cook them in their test kitchens and share the very best ones. They also design and curate really smart kitchen products like this bamboo cutting board.
It is a dual-sided cutting board with a prep side and a carving side! The carving side has a channel around the perimeter to collect liquids from a juicy piece of meat and a pour spout at one corner for easy draining. The little lip also helps prevent foods like diced carrots, from rolling off the edge while I'm cutting. The prep side has this super cool smartphone-sized slot for super handy recipe viewing or how-to-video viewing while you cook! You could also use it to record a cooking tutorial of your own! This is just a really thoughtfully designed, super high-quality cutting board!
Well-made mixing bowls
Mixing bowls are kind of a kitchen essential. Obviously, you don't need these specific mixing bowls, but they are really gorgeous, dishwasher-safe, and they come with lids! That is basically the equivalent of the dress you love unexpectedly having pockets, ha! It is such a practical, functional feature. I love the green bowls that I chose but think they are equally pretty in black, white and terra cotta.
Do-it-all utensils
Is it weird or nerdy to admit that I was super excited to use this five pack of utensils? These silicone utensils are firm in the hand but soft on your pans! BONUS: they are all dishwasher safe which is a really big deal to me. The set comes with a mixing spoon, spatula, a slotted spoon, 2-in-1 spoon (with a mixing and stirring side and a mini tasting side!), and a flip and slide spatula.
Totally genius air-tight lids
These might be my very favorite find of the roundup because they. are. freaking. genius and they totally blow my mind! These are the one-size-fits-all solution to anything you need to slap a lid on in a snap. Heat-safe up to 550 degrees. Dishwasher safe. Perfect splatter guard for the microwave. These lids are really just multifunctional, air-tight kitchen VIPs. These are so awesome and so nice and they all stack together for easy storage. Highly recommend because they make my life so much easier!
Small (but mighty) kitchen tools
Mini EVERYTHING is my best kept kitchen secret. Technically this kitchen tool set was designed for tiny aspiring chefs and while I love having my kids help in the kitchen, this set was totally purchased for MY enjoyment too! I use my mini whisks just as much as my big whisks because often in cooking you just need to whisk something small in a cup. And the little spatulas and spoonulas are perfect for scraping out smaller jars or containers!
Quick-drying kitchen towels
Kitchen towels are one thing that you can never have enough of-at least in our house! Buying a set of high quality kitchen towels is well worth the investment. This is another totally genius Food52 offering that not only looks super pretty but was designed to be super absorbent, quick drying, lint free and function not only as a dish dryer but hot pad, food basket liner, mixing bowl stabilizer, and kitchen spill wizard. I love that these superstar towels are pretty enough to be hung up and have a little loop specifically for that purpose!
A highly-rated salad spinner & dressing shaker
This kitchen tool is a GAME CHANGER. If you have never used a salad spinner and eat a lot of salads or have aspirations to eat a lot of salads or greens, get ready to have your life changed. When we are doing Clean Simple Eats (like we are currently) a salad spinner like this is a MUST.
Prepare to be grossed out and totally amazed all at once when you spin your first salad and see how much water shakes off and pours out. It makes your lettuce so clean and crisp and tasty after rinsing. Also important to note that salad dressing clings to dry lettuce better, so you want to make sure your greens are primed and ready!
If I'm eating clean, I make a lot of my own salad dressings because then I can be sure of two things 1.) they taste really delicious and 2.) I know exactly what is in them. This little $15 salad dressing shaker is clean eating magic because it mixes, stores, and pours your salad dressing. I am really excited to have this during my clean eating journey!
Mind-blowing muffin pan
It doesn't get much cooler than this silicone muffin pan! This thing is next level because your muffins just POP OUT. You bake the muffins and then just give a little push on the bottom and it pops right out like magic!
The very first time I used this I was totally sold. No other muffin tins should exist. No but really. It is the best thing ever. Plus it's 100% dishwasher-safe! One of the most annoying things about making muffins (or cupcakes) is that traditional muffin tins are typically not dishwasher safe. Dishwasher-safe silicone means cleanup is quick and easy breezy. I am beyond obsessed and need a second one immediately, ha!
An eggcellent egg cooker
Another UNDER $20 wonder. This little egg cooker is so cool and insanely easy to use. You literally just stick the eggs in there, add a little water, push one button and voila! Choose between hard-boiled, soft-boiled, or poached eggs to perfection. It also apparently has the ability to make an omelette which I'm DYING to try. We use a lot of eggs in salads or for a quick snack when we're eating clean and this egg cooker makes that super quick and easy.
A whisk you can fangirl over
It's true. I have a favorite whisk. We're talking I am legit annoyed anytime I have already used it and it's in the dishwasher and I have to use a different whisk. Ha! I have had this one for over a year and love it so much that I included it in my 2020 Mother's Day Gift Guide and my Thanksgiving dinner prep post. A good whisk is worth every single penny and this super nice, super high quality one is just $13.
The BEST apron on the market
You may remember getting a peek at this apron in my Popular Nordstrom Gifts of 2020 post and I am hyping it again because it deserves it. It is chock-full of amazing features: adjustable neck strap, extra-long waist ties, a million clever and useful pockets, a built-in conversion chart. But my very favorite feature has got to be the built-in pot holders at the bottom corners! This apron is seriously so beautifully made, so functional, and so over-the-top amazing.
A toaster as extra as your avo toast
This one is kind of a splurgy pick, but it's super fun. I got this toaster as a Christmas gift and it absolutely lives up to all the five-star reviews! It toasts perfectly but also has bagel, reheat and defrost options which is kind of amazing. Plus it just looks really beautiful on the counter and makes me happy to be in my kitchen.
A cute kitchen workhorse
A Dutch oven is one of those pieces of cookware that is in heavy, heavy rotation in our house. I use this a TON when I am cooking healthy meals for myself or my family and have had mine for YEARS. This is one-zillion percent worth the money you will spend on it. During the winter months, we probably use this close to daily to make soups and stews and chilis, but use it just as much in the summer to cook on the Traeger!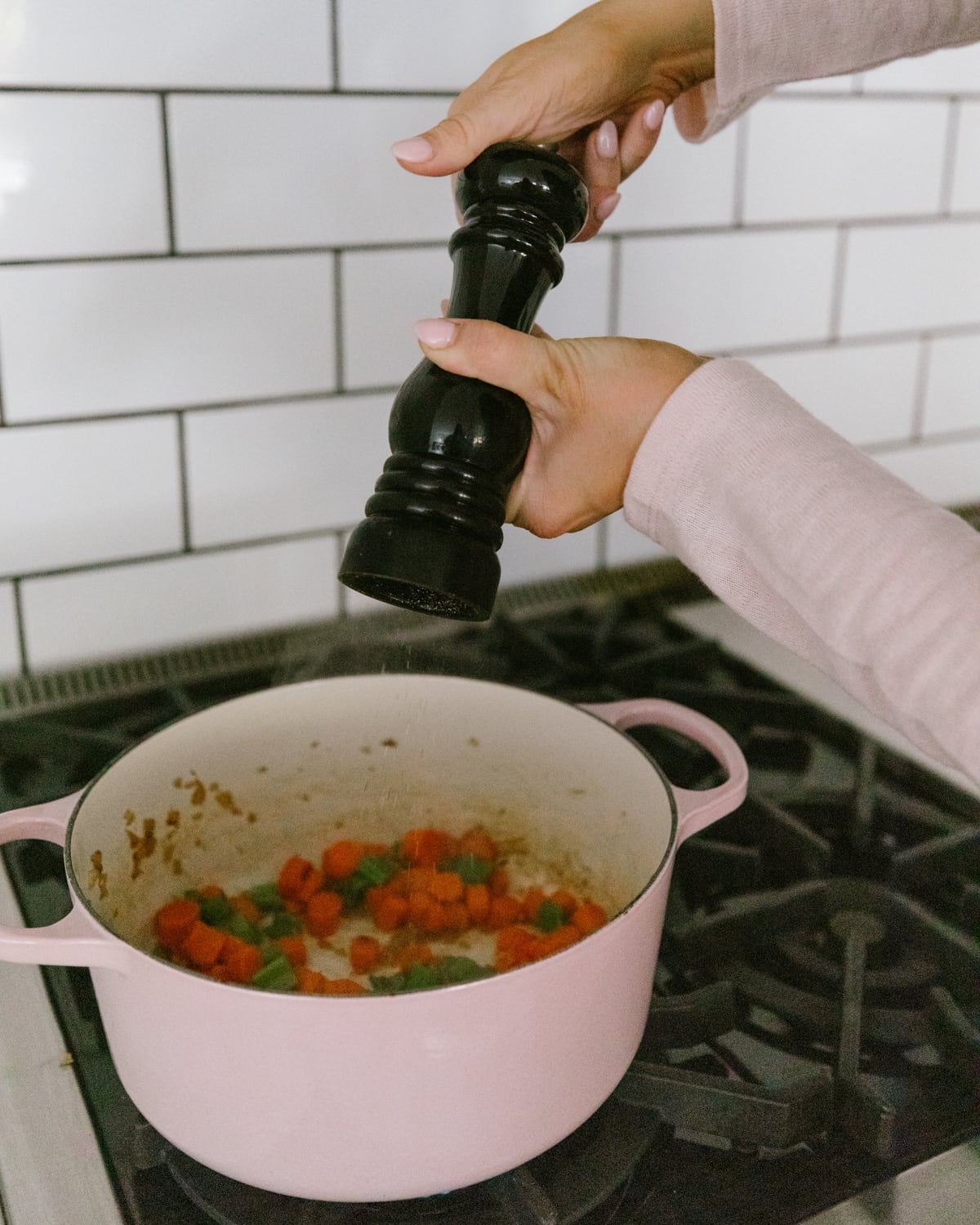 Already got gadgets & gizmos aplenty
Not a super gadgety person, but still want to treat yourself? These salt and pepper shakers are really nice and classic and guaranteed to be in use forever and ever. They work so much better than the crappy ones I had been using for the last fifteen years, so I am super happy I upgraded.
The PERFECT drying rack finally exists
Okay, I'm so glad we get to talk about this for a sec because WOW. This item is a GAME CHANGER on so many levels. One, it's an over-the-sink drying rack, so no more sacrificing precious counter space. Two, it is so easy to roll out, and to roll up and put away! Plus, it's not an eye sore either. And three, it does so much more than just dry your dishes! It is heat-safe up to 550 degrees so it can be used to cool cookies, or it can even be used as a trivet. I especially love that I can rinse vegetables on it as well. It's super-duper sturdy and great quality, has only perfect reviews, and it is UNDER $50.
Abs are made in the kitchen
We have all heard that oft-used saying that "abs are made in the kitchen," and as much as we might hate it, it's true. Exercise is good for your physical health and your mental health and your heart! However, clean eating has made the very biggest difference for me in terms of seeing results and feeling good. Clean eating makes me feel like my very best self which is why I chose to focus on it in the new year.
I am really excited to start this over again and even more excited to share these 18 genius Nordstrom kitchen products with you! They are fun and functional and beautiful and are really helping to keep me motivated. The beginning is always the very hardest part so wherever you're at girl, I am here with you and cheering you on!