I LOVE shopping for Mother's Day. No one deserves spoiling more than a mom!! Plus, moms are notoriously bad at treating themselves, so this is the perfect time to do something nice for the person who's always helping everyone else! My number one goal with this gift guide was to round up items that I just KNOW will be both useful and loved by moms of all different ages, so you can use it to shop for your mom or grandma or any other important mother in your life.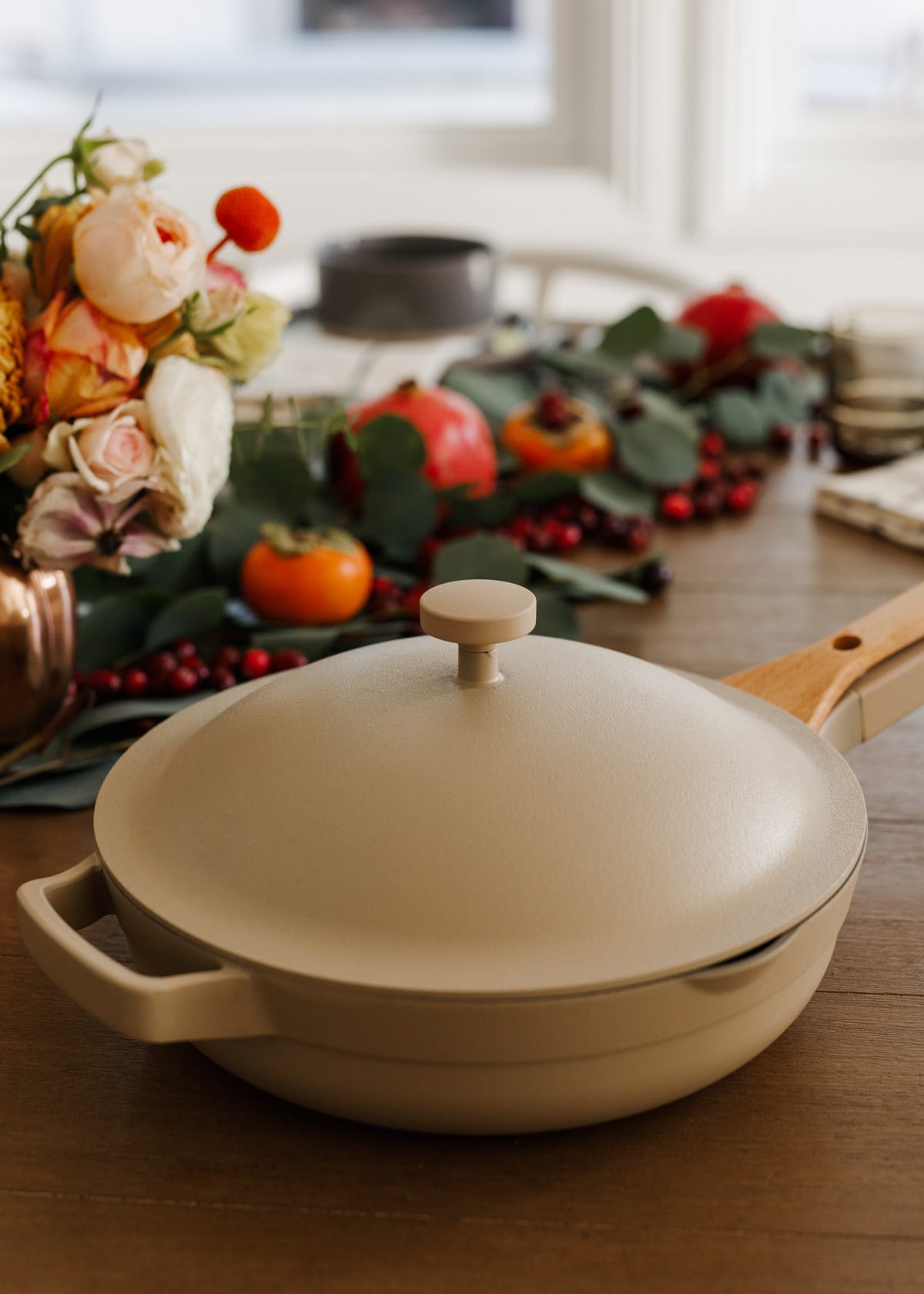 20 Mother's Day Gift Ideas
Always Pan – I love that the Always Pan looks really beautiful, but it's super-duper light. It legit only weighs like 3 pounds! That is way lighter than any of my other Dutch oven or cast iron style pans. And you can truly use this pan for ANYTHING (hence the name "Always Pan"). Boil, fry, saute, steam, etc…It is the gift that will keep on giving for the mom who loves to cook!
Saranoni Blanket: My love for Saranoni blankets is WELL established at this point. They are the softest blankets I've ever felt in my whole entire life and I really just think everyone needs one (or 4 or 6!) of these!
Red Aspen Nails: This is my newest nail obsession and I feel like every woman needs to try these! They are so affordable, BEAUTIFUL, and have lasted me over two weeks (if I have wanted them to!). I am able to switch the design on my nails whenever I want (without any damage!), and they always look fresh from the salon without the time or money commitment. In fact, they cost $13-15 instead of $40ish for acrylic or gel nails. I can't rave enough about Red Aspen Nails!
Cariloha Bedding: We have been MASSIVE Cariloha fans for years because of their sheets. Honestly, they've made us pretty big sheet snobs…we do know of an Amazon sheet that is pretty decent, but if you can swing it, Cariloha sheets are out. of. this. world! Use my code MINTARROW to get 30% off your purchase!
Loopy Case: Every girl needs a loopy case! It's the ultimate mom case for taking pics and videos of your kiddos doing all the cute things. Use code mintarrow for 10% off!
Apron: If you're a mom that's in the kitchen a lot with your kids, an apron is a must – and the Ultimate Apron is THE one to get. It has tons and tons of pockets for all the things moms have to have on hand, AND it has built in potholders. Efficient and functional with a beautiful, minimal design – I LOVE this apron!
Jewelry Box: This mini jewelry box is so classy and elegant, and it's perfect for the mom who loves to travel. There is nothing worse than tangled jewelry, and this beautiful case keeps your jewelry organized while you're out and about. Plus, it's only $35 and it comes in four gorgeous colors!
Smeg Toaster, save option: I'm also low-key obsessed with my retro toaster. It is worth the hype. It literally pops out (my kids LOVE THIS) when it's done, and toasts to PERFECTION. It can handle 4 slices at once. And let's be honest, the REAL reason I love it most: it's the cutest toaster that ever was.
Dyson Airwrap: The Dyson AirWrap is so good and such a great combo tool for drying, curling, waving, or smoothing your hair! It dries AND styles all in one shot so it's a MAJOR time-saver. And since it's better for your hair than traditional heat styling because it uses MINIMAL heat. It's super quick and super easy and you. will. LOVE it.
Zella Leggings: These Zella Live In Leggings are a loooooong time favorite of mine. They have been a wardrobe go-to for me YEARS that I still currently can't stop wearing! And how about the new pink color?
Tory Burch Mini Miller Jelly Sandal: If you want to splurge on mom this year, I LOVE this option – especially with summer coming up! These chic, jelly sandals are perfect for the pool or for summer outings, and I love all the cute colors to choose from.
Lounge Set: Lounge sets miiiight just be the best thing that came out of 2020, let's be real. I LOVE how cozy this set looks and that it's light enough to wear even in the summer months coming up! For the moms who love a good lounge, this is THE gift for her for Mother's Day.
Adidas Edge Luxe: These Adidas are the shoe trifecta of comfortable, affordable, and cute. It doesn't get much better than that! They're highly rated and were specifically designed for indoor and outdoor workouts – making these a great option no matter what kind of workout is your mom's jam!
Tory Burch Crossbody: Another splurge option that is worth ALL the pennies. This crossbody bag is loved by MANY and is such a great gift for the mom who doesn't need to carry a lot around! It's classy, chic, and perfect for toting around the essentials.
Ivory Reversible Tote: This faux leather tote is GORGEOUS and under $50! This would be a great gift for the mom who is carrying a little more around with her these days – or the mom who likes a purse with lots of space. The best part about this bag is the REVERSIBLE colors – so it's perfect for ALL seasons!
Olive Tree: An addition to your mom's home – I love this gift idea! This 5′ faux olive tree is such a stunning piece to add to any room and it would be such a unique present to open on Mother's Day.
Beauty Fridge: It is so dreamy to have this beauty fridge right in my bathroom. I love having all my masks and serums, night cream and my jade roller housed in there. It's super convenient, it looks cute, feels amazing on your skin and you can sneak a Diet Coke in there, too!
Fujifilm Mini Smartphone Printer: LOVE this cute idea of printing Instax-style photos from your smart phone! The easiest and quickest way to hang all of your favorite photos.
Air Fryer: I canNOT get over how much I love this Air Fryer. It seriously has so many uses! You can heat up frozen food, reheat leftovers, or just crunch up your take out in it and it makes the food so.much.better. I even used it to make 10 minute cauliflower gnocchi here!
Earrings: These minimalistic, gold hoop earrings are so gorgeous! These are super on trend right now, and they could be worn with almost any outfit.
Happy shopping!
There truly is nothing like treating your mama to something special. Moms are so deserving, and it feels so good when you find a gift you know your mom is going to love! So I really hope this guide helps you find the perfect thing to show your love and appreciation for the mother(s) in your life this year. Happy Mother's Day shopping!