It has officially been SIX years since I originally posted my Shellac hack, but it continues to be one of my very most popular (and most frequently Pinned) posts on my Pinterest. There's currently a lot of memes circulating on Instagram and other social media about how we're all going to look once this quarantine is over since we can't currently keep our regularly scheduled nail or lash fills or touchups on our hair or brows! I have a feeling your stylists, estheticians, and nail technicians are all going to be very busy once we all come out of this. HA!
So now seems like the perfect time to revisit the hack and refresh this post. I want to keep your nails looking fly while you click those remote buttons, take on a push-up challenge, or continue baking all the things. Plus it's just a really nice (inexpensive) moment of self care-which is so, so important right now. Keep reading for my 2020 UPDATE of my perfected Shellac hack.
Shellac hack at-home recipe
It took a few rounds of trial and error back in the day, but after revisiting the hack I truly believe in, I have a pretty perfected Shellac hack. Here's the recipe and everything you need to keep that at-home mani on point.
What you need for the hack:
Gelous nail gel – This is the KEY to the shellac hack!
Any nail color – I used Essie Mint Candy Apple, but there's lots of fun nail inspo in this post. Also had AMAZING results with this!
Any top coat – I LOVE Seche Vite Dry Fast
**BONUS: Gel polish remover tool – you'll need this ONLY if you have gel polish or dip on your nails currently that you need to remove prior to starting.
The 5 step hack
Step 1: 1 coat Gelous
Step 2: 1 coat nail polish
Step 3: 1 coat Gelous
Step 4: 1 coat nail polish
Step 5: 1 coat top coat
You're DONE!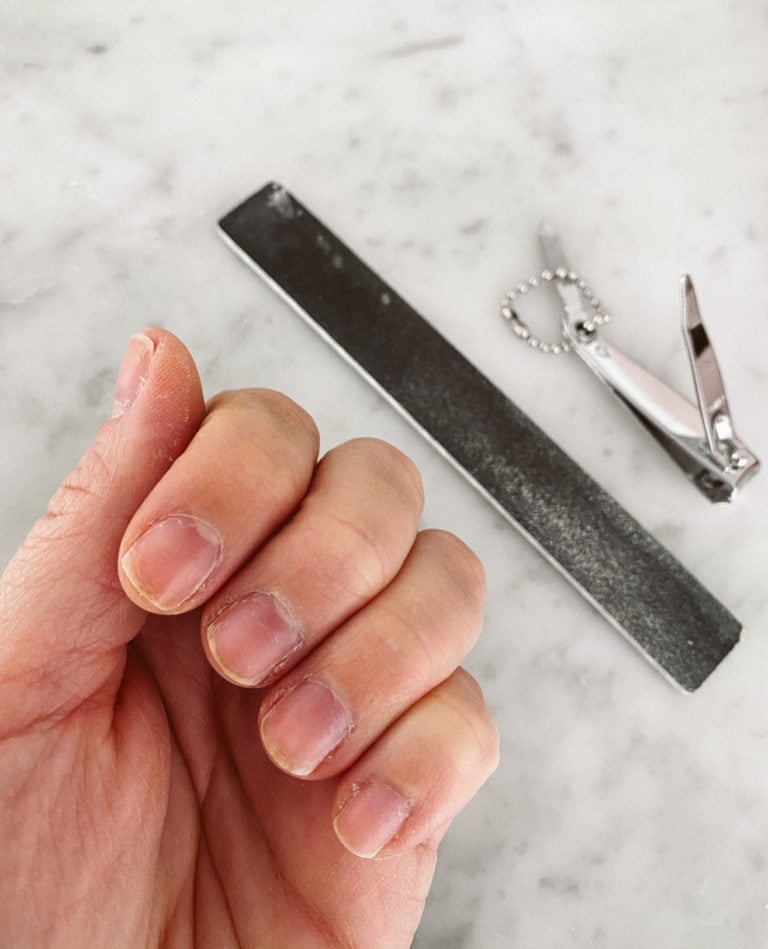 Top tips for the perfect manicure
Tip #1
Trim and shape your nails before you start! I like cutting mine as short as possible (just personal preference) and then I use a nail file to make sure the edges are all smooth and cleaned up, and I even use the file to clean up cuticles and make my nail beds a tiny bit thinner on the sides!
And I find it sticks even better if you lightly file the top of each nail first! It sounds weird I know, but try it. Just a very light filing all over the top of each nail. After filing, wash your hands to ensure you're starting with a super clean base.
Tip #2
Try to keep your layers of Gelous and polish thin or at least thinnish, because you have to let each coat completely dry before moving on to the next. I try to wait 2-3 minutes between each coat, which is why I usually try to do activities like this Shellac hack after my girls are in bed for the night and I'm watching my favorite shows. If you're in a hurry (or doing it with kids) then you can probably get away with waiting about a minute between coats.
Tip #3
I LOVE LOVE LOVE Seche Vite Dry Fast. Do not skip this step! It really does dry super fast and also has great shine. I've read online to do another coat of Gelous over your top coat, but I tried it and honestly like it better with just the Seche Vite as your last layer. I totally think my nails last longer when this is my last layer.
Tip #4
This nail polish remover is really mild, but still works super well! It worked to soak off my super grown-out Shellac nails, and takes off the Shellac hack combo in seconds! It's acetone-free and under $8, but it has THOUSANDS of 5-star reviews!
I used a brush from this set of makeup brushes to clean up the edges! This is one of the keys to making your at-home mani look as close to the salon as possible. I just put a little nail polish remover in a very small glass dish and dip an older (clean!) angled makeup brush (like an eyeliner brush) and dip the brush into the remover, and then "paint" off any excess where my polish ran outside the lines and it doesn't look as professional.
Why I'm obsessed with this Shellac method
Long-lasting: It lasts 7 days with minimal to no chipping!
No Drilling: No drilling off your Shellac at the salon or wrapping your fingers in tin foil. What are you, leftovers? This comes right off with good old nail polish remover. Saves me a good 20 minutes skipping a soak off!
Cheap: It's super cheap! For less than 1 trip to the nail salon, you can buy everything you need to do this over and over again.
Easy to change: Change your color weekly. Who doesn't get sick of the same color after 2 weeks of Shellac?
No UV light needed: Many at home gel or Shellac systems require a UV or LED light. This method does not, making it super easy and super affordable.
Shellac hack FAQ's
Does it really last? YES! I noticed some very tiny chips on the edges of my nails after a week or so, but you could only see them if you looked really, really closely. I didn't have any bubbling problems at all, whatsoever.
Is this the same as Shellac? Nope, it's not. Real Shellac for sure lasts longer (a couple weeks for me) but this hack lasts me 7 solid days looking close to perfect.
Were you just really careful for a week so that your nails wouldn't chip? HAHA! NO. I am actually pretty hard on my nails (especially with 3 kiddos!) and this hack took the abuse really well.
Is this just as good as an at-home Shellac system? I'm not really sure because I've never tried one. If I do, I will come back and report!
Is it hard to remove? Nope. Just some good old nail polish remover will do the trick. No biggie.
But first, nails
I hope this updated Shellac hack helps you survive this time of self-quarantine and social distancing. If you try it out please tag me @mintarrow on social media so I can see-it will be like our very own Mint Arrow Virtual Nail Bar!