We just returned from our 5 year anniversary trip to Europe and I'm SO excited to start sharing some of our adventures here with you! This is a trip we've looked forward to for a very long time and it was really fun for me to share two cities I love so much with Neil and to experience one together that neither of us have seen before.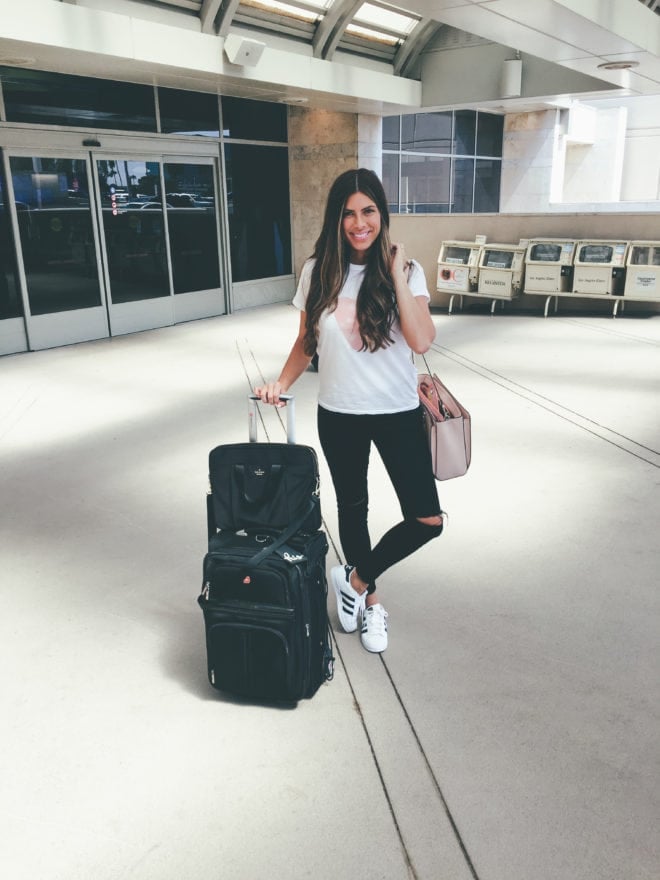 I really love to travel comfortably and I wore these ripped jeans that are super cozy (and only $70!) along with my adidas sneakers and this new little french tee (so cute right?!) . I changed into these sweats though for our flight from Atlanta to London because sleep > style.
We left Orange County and had the most beautiful ariel view of our pretty coast that I had to snap a picture!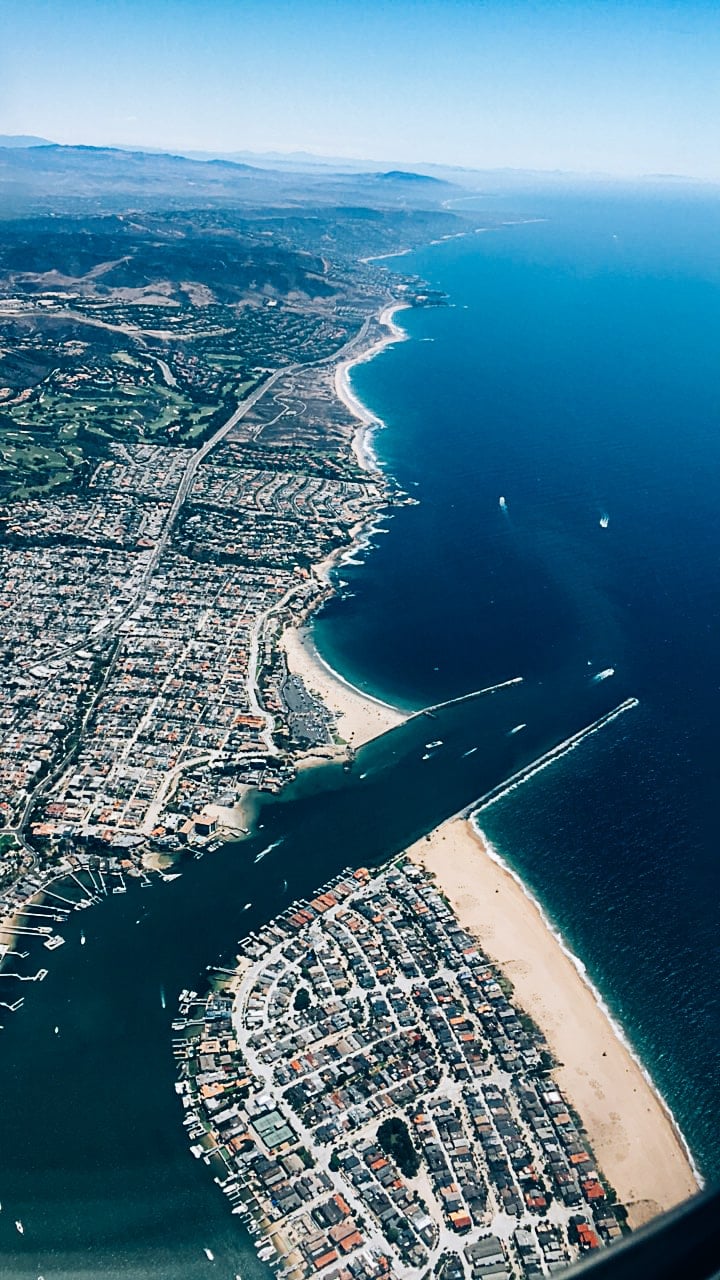 We both hadn't touched our miles for a couple of years when we got married and talked about saving them up for a long time to go on a really fun trip someday! Well this was that trip, and after both saving all our miles for SEVEN YEARS we flew business class to Europe! If you've ever been on a 9 hour red-eye flight trying to sleep basically sitting up with a kink in your neck by the time you arrive to a new city and totally dead from losing an entire night of sleep, it's probably the least enjoyable part of your trip. Contrast that with laying down completely flat in, might I add, a very comfy bed of your own, and waking up in a new country completely rested, it's the treat of a lifetime! The only problem is, once you fly that way you're kind of ruined! I would still totally appreciate any trip to another continent but it will never be quite the same now that I've experienced business class international travel.
They give you a really nice pillow and quilted blanket (which I didn't know so I wasted $100 on travel pillows in the airport for Neil and me, oops!) and they give you noise canceling headphones that you can use but I really liked using my own for watching movies. Both on the way there and the way back they offered us a meal that was served about an hour into the flight, and if I had it to do over I would just skip the meal and go right to sleep to maximize sleeping time! The food is a little better than normal airplane food but it's really not that good, and you're paying to sleep! So if I do this again ever I'll go straight to lay-flat bed mode.
Upon arriving to London we checked into our hotel, the Milestone Hotel which I cannot recommend enough!! If you're looking for quintessential London in the place you stay, THIS is where you'll find it! Their service was beyond impeccable and the location is just lovely, right across the street from Hyde Park. When I filled out registration for the hotel they had a section where you marked whether you'd like to celebrate your arrival with a favorite alcoholic beverage and since we don't drink I marked Diet Coke (mostly to be funny) and this is how they greeted us!
Here's a little secret I learned when I lived in London at the BYU London Center: if you take a walk on the street Kensington Palace Gardens, you'll walk by a bunch of beautiful buildings that are the embassies for several countries. We walked this road and I took Neil straight over to my old residence, 27 Palace Court, where I stayed as a study abroad student for 4 months in 2005. We were lucky enough to have a little private tour of the place! It was empty since they're just between semesters and almost everything has changed with remodels since I lived there 11 years ago, but a few things were just as I remembered them.
After this tour and a little walk through Hyde Park we had built up quite an appetite and the ONLY thing Neil requested on our visit to London was "really good fish and chips" so I set out to find him not just "really good" but the BEST fish and chips in all of London and I am pretty sure that's what we found!
Fishers Fish & Chips – 19 Fulham High Street, London SW6 3JH, England
The Fish & Chips at Fishers tasted like buttery heaven fried in the most perfect layer of battered crispy deliciousness. If you're a fish and chips lover and you find yourself in London you must go! Also they are the sweetest bunch there. I asked for outdoor seating and they led us to the cutest little secret garden in the back for us to enjoy our mid-afternoon meal.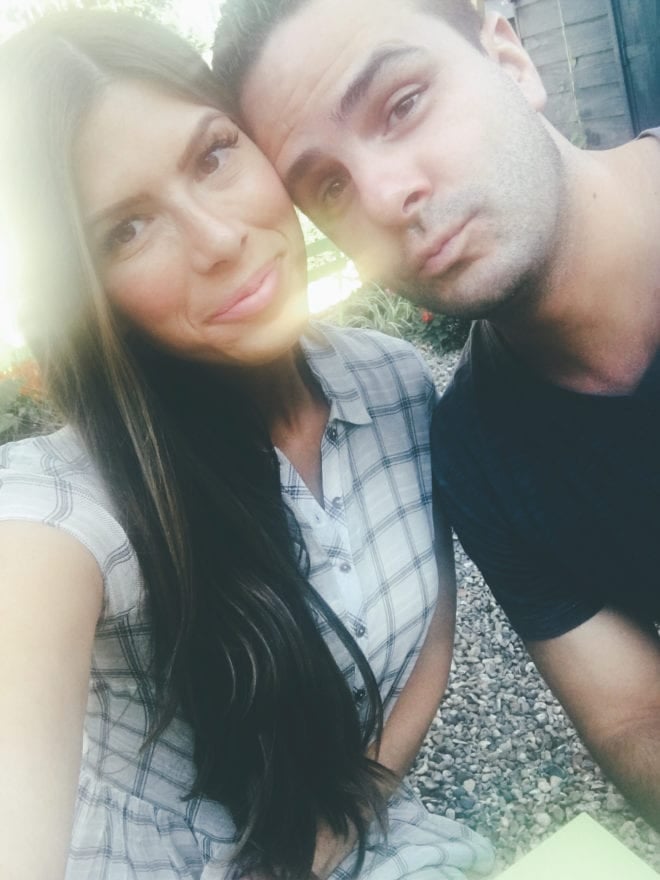 We did a little more sight-seeing and I snuck in some shopping too! I was holding out on getting this beautiful trench coat until we reached London and I was so glad I did! You can save a lot of money buying items in Europe and taking advantage of the VAT, a tax refund that you can get in the airport on your way home from Europe. I'll dedicate an entire post to this later!
We did a little more sight-seeing and went to bed early because we had a full day the next day!
I had a lot of people ask about my outfit details for this first day in London so here they are:
Sheer plaid dress (so nice for hot weather!) worn with this slip
Black saddle bag
Tan sandals
Shop any of the items from this post here:

Stay tuned for more favorites from our Europe trip, and in the meantime have a wonderful weekend!