Quick version: The three best holiday dresses for women this festive season!
Do you have the same tradition? Buying a new dress for your wardrobe for the Christmas season? There's something so fun about buying a new dress for the most wonderful time of the year, whether it's Christmas Sunday, or a nice party or event celebration. So I thought I'd do a roundup of holiday dresses for women that can be worn at BOTH occasions. And outfits that can be worn long after the holidays, too!
A favorite place to find cute Christmas dresses is and will always be Nordstrom. There's no better way to find so many beautiful, classic, timeless clothing options for any occasion, including festive outfits. Keep reading for my top three picks, and for a roundup at the end of even more dresses I think would make for a gorgeous holiday look!
In a hurry? Go straight to my picks below!
Ruched Velvet Long Sleeve
This dreamy ruched velvet long sleeve is seriously stunning and one of the most perfect holiday dresses for women this season. It's also surprisingly VERY comfy. Like almost feels like you're wearing pjs comfy.
From the beautiful balloon sleeves, to the all over ruching and flattering length on this dress, there's so much to love! If you're looking for a pretty black dress for the holiday season, and this ruched velvet long sleeve dress would be an absolutely perfect holiday dress purchase for Christmas Sunday at church, or an elegant party or night out during the holidays.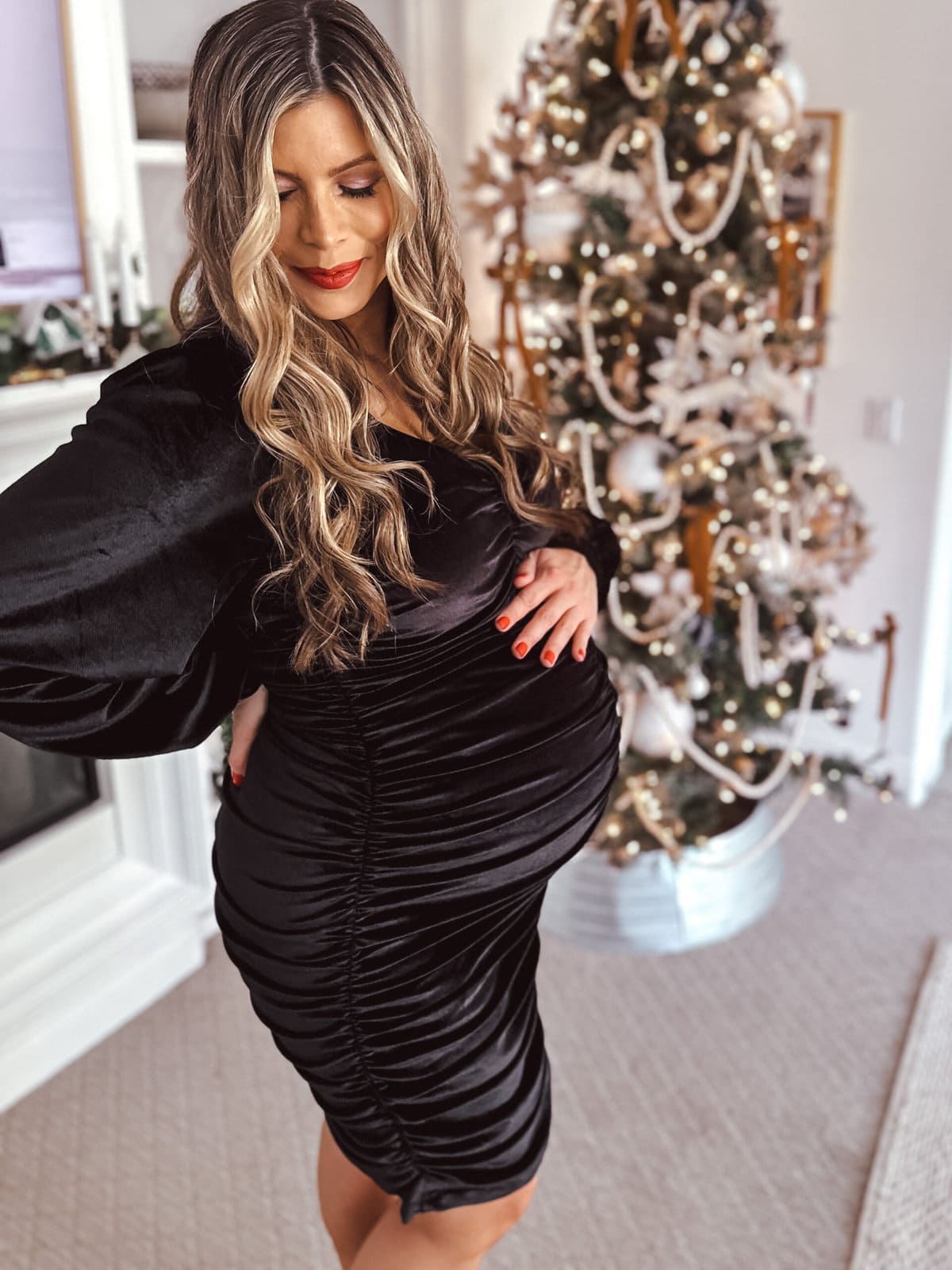 Sweater Dress
This sweater dress was love at first sight! The figure is EXTREMELY flattering, and the amount of coverage top to bottom is perfection. It's really hard to find a sweater dress that's a good length. A lot of sweater dresses tend to be a lot shorter, but this one hits at the very perfect spot, right at the knees! Perfect for boots or heels depending on your event. ALSO, it's fitted but not EXTREMELY form-fitting. So if that's a priority to you, this dress is a super great in-between.
And the mermaid ruffle at the bottom is really the icing on the cake! It's the perfect amount of detail, without being overbearing or distracting from the simplicity of the dress. It's a little tighter at the bottom, giving that super pretty hourglass figure.
Plus, this forest shadow green is eveeeerything holiday dress dreams are made of – right?! It'd look SO cute with these pumps… because are we kidding with the bows? DARLING and so festive! Honestly could go with any of these three dresses!!
This dress is so comfy it would work great for a LONG event where you want to feel comfortable the entire time, but really it would work for anything that you want to get dressed up for!
Long Sleeve Shimmery Dress
Could you die? SO smitten with this party-ready holiday formal dress! This dress is truly a one of a kind with its super unique, sleek look. LOVING the shimmery leopard spot details for a nice pop, the scrunched mock neck, and the most perfect silhouette.
There's just something special about a little black dress, it's the most classic. Since the dress is a little bit of a splurge, the black also felt like the best investment piece to keep for a very long time and use it for all kinds of events during the holiday season. It's one of the best holiday dresses for women simply because there's a great chance you'll wear it a ton after the holidays, too.
You could easily wear this to church OR a party and feel like you're perfectly dressed for each one. You can add some really pretty deep red or emerald green earrings or heels as well if you want to bring in some holiday colors. This is definitely my pick if you're looking for holiday party dresses, whether it's Christmas or New Year's Eve! Picturing this as a New Year's Eve dress is giving me all the heart eyes.
Why shopping at Nordstrom gets you far
When it's time to shop for the holiday season, Nordstrom's loyalty programs + services are hard to beat! Shop all these holiday dresses + more, and also enjoy:
Reserving items online, trying on in store
Curbside pickup
Free shipping/returns
Free alterations
Rewards – earn points and Nordstrom Notes
Amazing customer service
"I'm dreaming of the perfect dress for Christmas"
Christmas is the perfect excuse to buy a new dress you feel super pretty in for all of your holiday events. We're totally obsessed with the women's holiday dresses we found at Nordstrom, but if you're still looking for the perfect outfit that feels like YOU, take a look at our roundup below – there are SO many pretty options this year!! We'll be over here singing – "brown paper packages tied up with string, it's no secret that Nordstrom has all of our favorite things!" Happy shopping!
Still gift shopping? Check out our gift guides here and subscribe to our newsletter so you don't miss any coming up!