Do you have the same tradition I do? Buying a new dress for the Christmas season? I usually buy a new dress for Christmas Sunday, but sometimes there's a nice party or event that I want to dress up for, too. So I thought it'd be awesome to do a roundup of holiday dresses for women that can be worn at BOTH occasions. And long after the holidays, too! Keep reading for my four top picks, and for a roundup at the end of even more dresses I think would be gorgeous for this Christmas season.
In a hurry? Go straight to my picks deal!
Gold Satin Midi Dress
This dreamy long sleeve midi wrap dress came recommended from one of our team members when we were looking for some options for family photos and can I just say… WOW. This dress is seriously STUNNING and SO perfect for the holidays!!
From the beautiful balloon sleeves, to the ruffles and flattering length on this dress, I'm so in love! The color is less gold than it looks in the photos, I would consider it more of a softer taupe shade, which makes it absolutely perfect for Christmas Sunday at church, or an elegant party or night out during the holidays.
Note: The neckline does hit a tiny bit low for my personal preference but it's such an easy fix with a safety pin.
Lace LBD
Could you die? I'm so smitten with this party-ready holiday dress! This dress is one of the most highly-rated items on Anthropologie's ENTIRE site. They have carried this Anthro exclusive dress for years and I don't see them discontinuing it anytime soon!
All of the colors are so beautiful that I had a super hard time deciding (and I still think the ivory is TO. DIE. FOR.), but I'm a total sucker for a little black dress and felt like it would be the most classic. Since the dress is a little bit of a splurge, the black also felt like the best investment piece to keep for a very long time. #allblackforever!
You could easily wear this to church OR a party and feel like you're perfectly dressed for each one. You can add some really pretty deep red or emerald green earrings or heels as well if you want to bring in some holiday colors, too. The black color photographed below is currently sold out but you truly go wrong with either the ivory or grey options!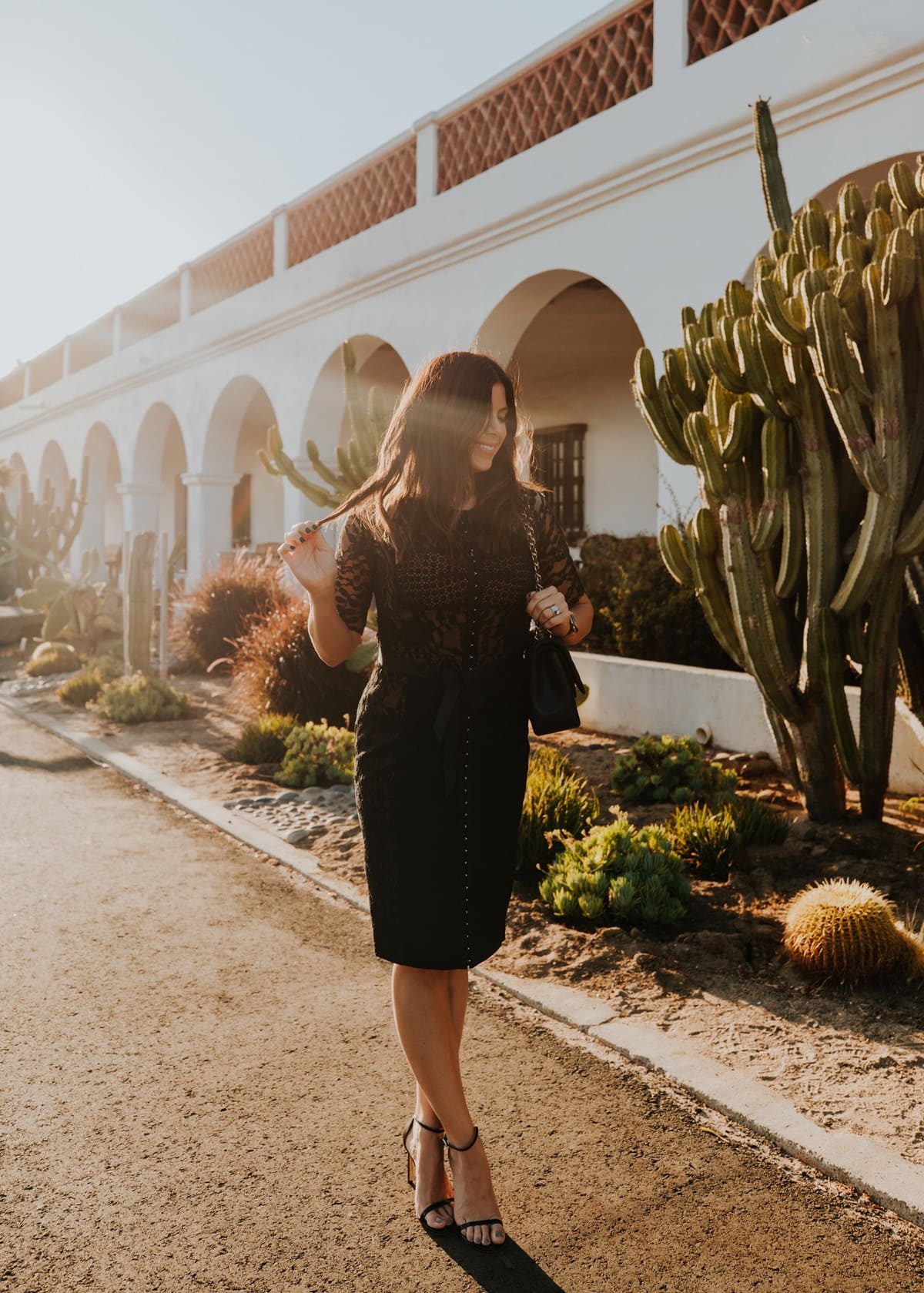 The Perfect Slip
I layered the dress with my most favorite slip ever that always saves the day! The silhouette of the dress is very modest, but the magical slip I love combats the sheer so I can wear all the lace dresses that I love. The lace embroidery is seriously so stunning.
Mer(made) to perfection
This mermaid style sweater dress completely won me over after trying on a TON of different Amazon sweater dresses. The figure is EXTREMELY flattering, and I was super thrilled with the amount of coverage top to bottom!
The length is seriously perfection. It's really hard to find a sweater dress that's a good length. A lot of the time when I try on sweater dresses they're set well above my knees, but this one had the exact length I would choose if I designed it myself.
And the mermaid ruffle at the bottom is really the icing on the cake! It's the perfect amount of detail, without being overbearing or distracting from the simplicity of the dress. I also love that it's a little tighter at the bottom, giving that super pretty hourglass figure to every body type!
Plus, this green is eveeeerything holiday dress dreams are made of – am I right? And the best part is, this dress is only $35.99!! It ships super quick with Prime shipping, too.
Red Dress
When it comes to holiday dresses for women, I love love love a good RED! Red's always such a bold choice – it's fun to dial up the drama just a little for the holidays.
Dress it up with some sky high heels and a pretty little bag for a night at the Nutcracker or a fancy office holiday party or dress it down with flats and a low bun for Christmas dinner with the family or Christmas Sunday.
This exact dress is from a few years ago and is sold out, but here's a really pretty alternative.
I'm dreaming of the perfect dress for Christmas
Christmas is the perfect excuse to buy a new dress you feel super pretty in for all of your holiday events. I'm obsessed with the holiday dresses for women above, but if you're still looking for a dress that feels like YOU, take a look at our roundup below – there are SO many pretty options this year!!