Can you believe Easter is only about a month away?! I love Easter so much. I love what Easter represents to me, but also that it's a time for family and traditions. I usually try to fill my girl's Easter baskets with lots of things OTHER than candy! (I mean a little candy can't hurt right?) So today I'm sharing what I like to fill their Easter baskets up with, along with 30 other cute Easter basket stuffer ideas all from Amazon so you can order them quick and easy and be ready for Easter, no stress!
Easter Basket Ideas
Baskets
I always like buying an Easter "basket" that can be re-used for cute storage solutions in our home! These little rose gold baskets are the perfect size and are great for organizing stuff in a bedroom or bathroom.
Water Bottles
My girls are always losing and needing new water bottles, so Easter is a perfect excuse to get them a couple new cute ones. These have SUPER high ratings and I love that they are insulated so they'll keep water cold for hours, they are leak proof (v. important when packing into backpacks with homework!!), dishwasher safe and the perfect little size for kids. So many fun colors and patterns to choose from too!
Sandals
Summer is coming and my kids grow out of their shoes every year, so I always like grabbing them some sandals to put in their baskets. We love these Birkenstock-like sandals. My girls wear them to death all summer and these are so super cute, come in tons of colors and are only $10. Perfect for beach or pool, spring break or all summer long.
Books
Books are a fun gift to add to an Easter basket. Here are a couple of my favorites:
Easter is Coming
This book focuses more on the true meaning of Easter, celebrating the resurrection of Jesus Christ, and I'm always looking for fun ways to teach my kids about that and help them remember the real reason we celebrate this season! I love that this book is so cute and has beautiful illustrations too.
Bunny Roo, I Love You
This is a darling little board book that is perfect for babies!
Make Way For Ducklings
This book earned a Caldecott Award so it's a great to addition to any collection of bedtime stories, and the ducklings are cute for Easter.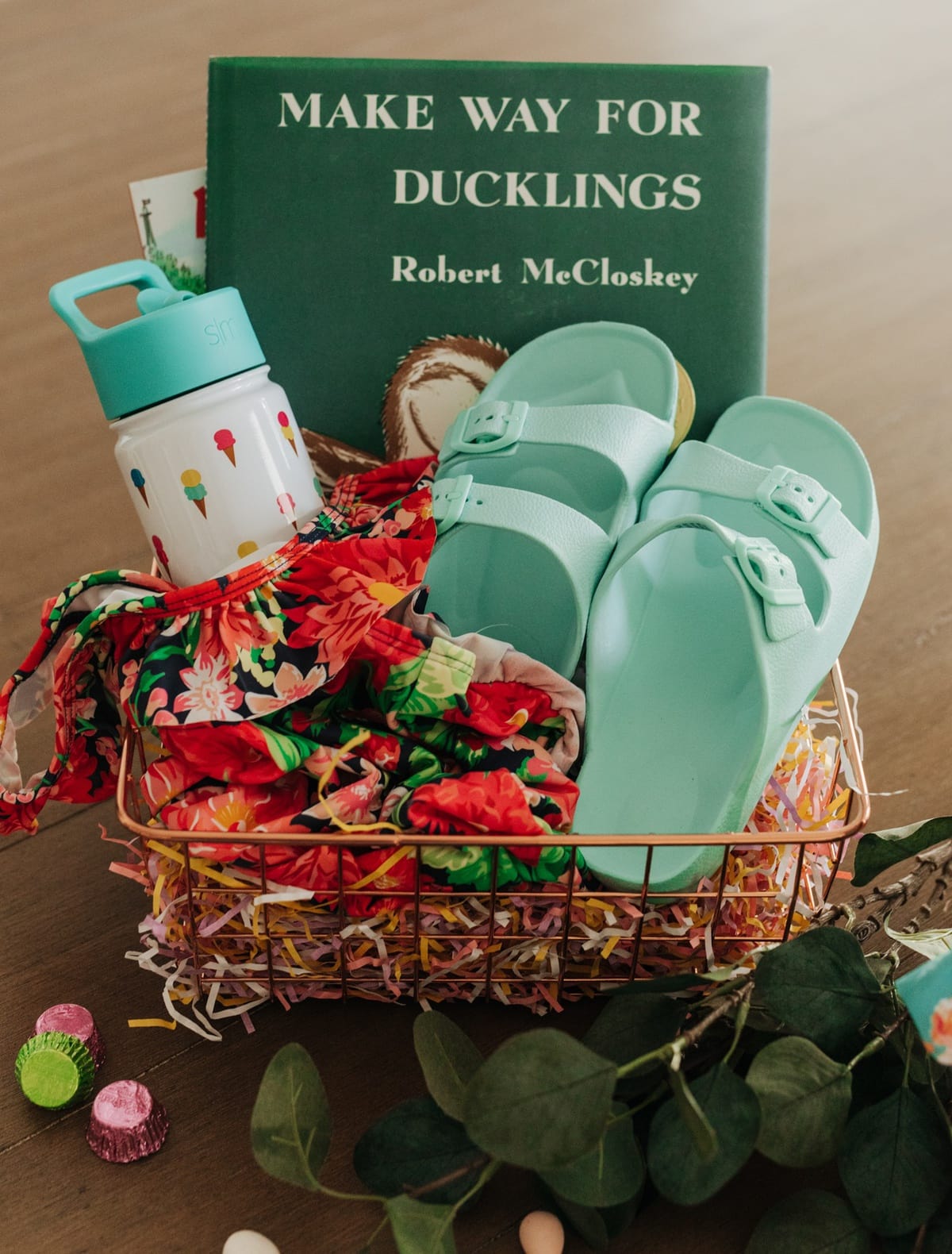 Madeline Activity book
I'm always, ALWAYS searching for ways to keep my big girls entertained (quietly!) at church, and they LOVE the Madeline series. These activity books are so fun to take to church on Easter Sunday. Here's another fun option too!
Blocks
I love that these blocks are SOFT and super pretty colors too! So fun for babies to play with and they won't get ruined if they get chewed on. Ha! Harry LOVES these so I'll probably get him some more this year.
Swimsuits
Another Easter basket idea is swimsuits! These swimmers are all SUPER high quality and crazy cute!! My girls go hard in their swimsuits all summer at the beach and pool, so I like to get them nicer quality suits when I can so they'll not only last a whole season, but hopefully survive for hand-me-downs too!
Plastic Eggs & Grass
My girls LOVE opening little plastic eggs on Easter morning and I love that these come in cute pastels. I also like to add this festive crinkle grass to the baskets.
Candy
My two go-to Easter candies are Reese's Mini Peanut Butter Cups and Cadbury Mini Eggs of course!
30 Easter basket ideas that aren't candy
We put together a list of 30 fun easter basket ideas other than just candy. That way you won't have to stress about Easter baskets and you can enjoy celebrating with family!