There's only a little more than a month until Easter, can you believe it?! We're super excited to celebrate at my house. It's a time of year I love because of what it represents for me in my faith and all the fun family traditions, like giving Easter baskets, that my mom started.
When it comes to filling my kid's Easter baskets, one of my favorite parenting hacks is filling it with things I was already going to get them! It's always around this time of year when my kids need new swimsuits, so that's a big part of their baskets this year.
I think you'll love the ideas I'm sharing today of what I like to fill Easter baskets up with, along with other cute stuffer ideas that will make it on time thanks to Amazon shipping – no stress!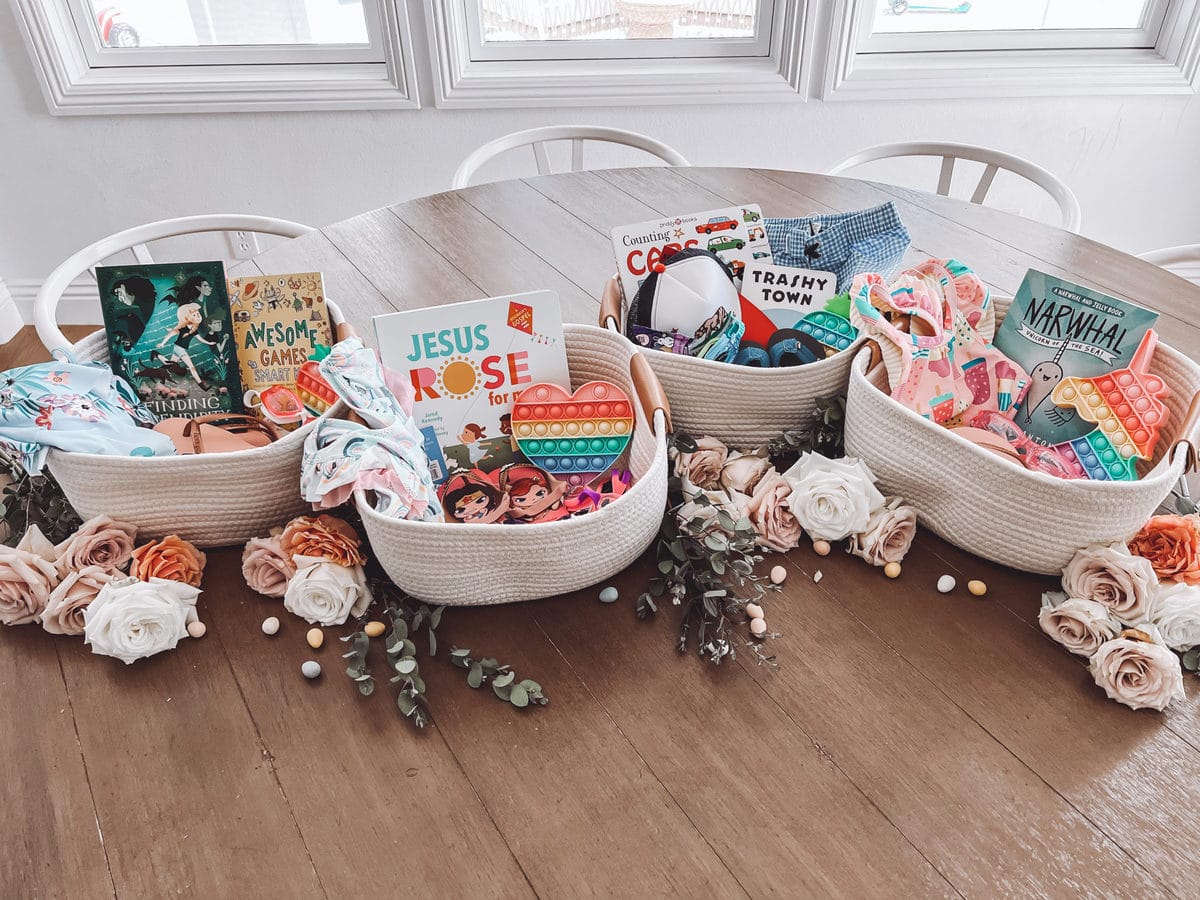 In a hurry? Go straight to my picks below!
Cute Easter basket ideas
Swimsuits
I got one-piece swimsuits for all my girls and cute swim trunks for Harry! We live near the beach so this is always the time of year when they need something new. If you're planning a family vacation somewhere warm this Spring Break, getting your kiddos a new swimsuit for Easter will be something they'll be excited for!
Sandals
Once you have a theme for the baskets, filling it becomes easier! I got my kiddos flip-flops to go with their new swimsuits. We LOVE Havaianas and these pairs are perfect for kids who need to rinse them off easily. These adorable sandals are perfect for boys and UNDER $20 with an almost perfect rating!
Goggles
My youngest two are starting swim lessons and my kids are always in the water so we need ALL the goggles. I love this set for under $15 that comes with a protective case. Amazon is the perfect place to find packs of 2 like these cute pink ones so all my girls are happy! There's a ton of good reviews on them and the best part is the affordable price.
Sensory toys
These pop-toys are always a lifesaver during church! They keep the kids quiet and they're always excited to play with these.
Books
Books are one of my very favorite gifts to add to an Easter basket, especially for Harry who can't get enough of them. Here are a couple of my favorites:
Jesus Rose for Me: The True Story of Easter
This is an amazing book that will help your kids learn about the real reason why we celebrate Easter and how God loves them!
Narwhal: Unicorn of the Sea
This book has the cutest drawings and will keep your babies occupied with the stories of a happy-go-lucky narwhal and a no-nonsense jellyfish!
Trashy Town Board Book
If your little boy is obsessed with garbage trucks, this is the book for him! The rhymes throughout are so fun and make reading time sweet.
Candy
While it's not the star of our Easter baskets, candy is one of our Easter essentials! My two go-to Easter candies are Reese's Mini Peanut Butter Cups and Cadbury Mini Eggs (of course).
More Easter basket ideas that aren't candy
We put together a list of fun Easter basket ideas that go beyond just candy. That way you won't have to stress about Easter baskets and you can enjoy celebrating with family!