I love when a BIG holiday comes around that gives me an excuse to dress up my table! There's just something so enjoyable about creating a beautiful tablescape to celebrate my friends and family coming together for the holidays! The very best part? I only had to buy a few key items to create a whole new look.
Macy's Home Section provided all the inspiration I needed to pick a color scheme and overall look for this year's Thanksgiving table! Their selection was AMAZING and I'm thrilled to show you what I created, and how seriously easy it is to make things feel special with just a small tweak or two.
Linen Napkins
I really wanted to incorporate a non-traditional color scheme into my Thanksgiving tablescape this year, and lilac was such a fun choice! I love how purple coordinates with the classic fall colors!
These linen napkins are such high quality and will last you for YEARS. They're normally $60 for a set of 4, but right now they're on sale for $25.49!! That's over 57% off!!
Rose Gold Flatware
I've wanted a set of rose gold flatware for forever. It's such a statement piece at the dinner table, and I love how it blends beautifully with the fall colors!
This set is almost HALF OFF right now, ringing in at just a little over $100! I will feel fancy with these even if I'm eating leftover pumpkin pie on a paper plate! It also comes SUPER highly rated and I can see why. The quality is incredible, which is exactly what I expected with the brand name attached to this set.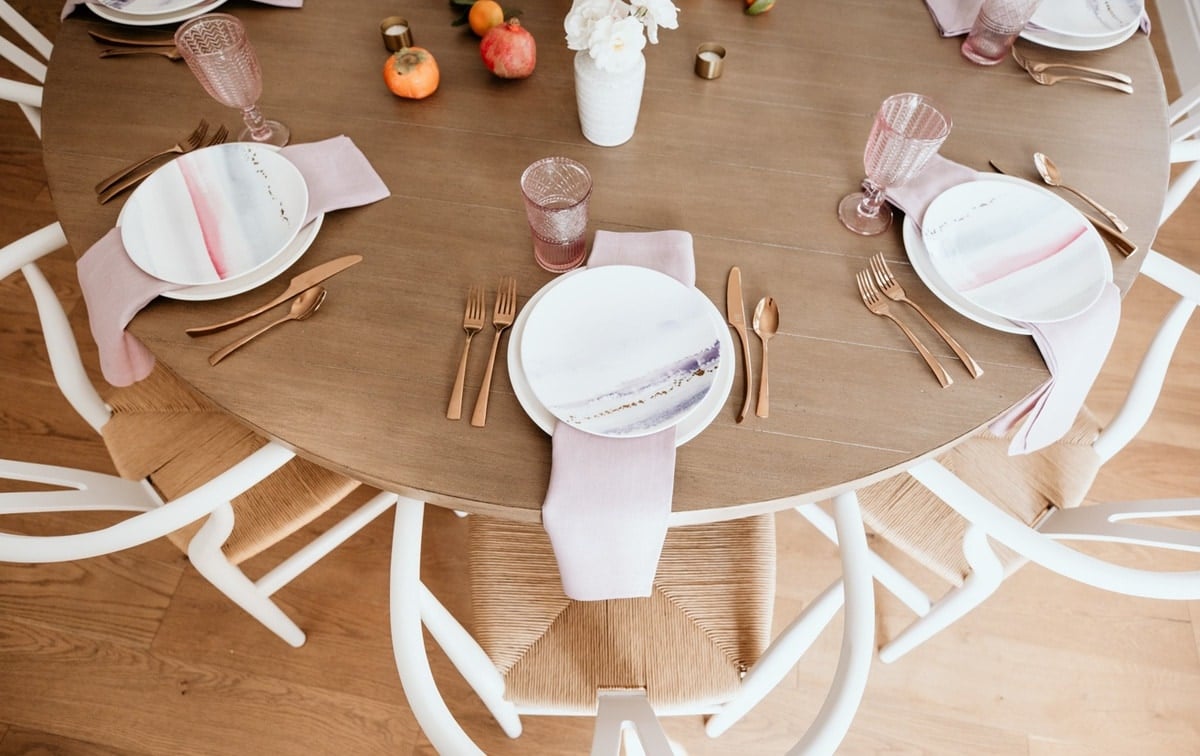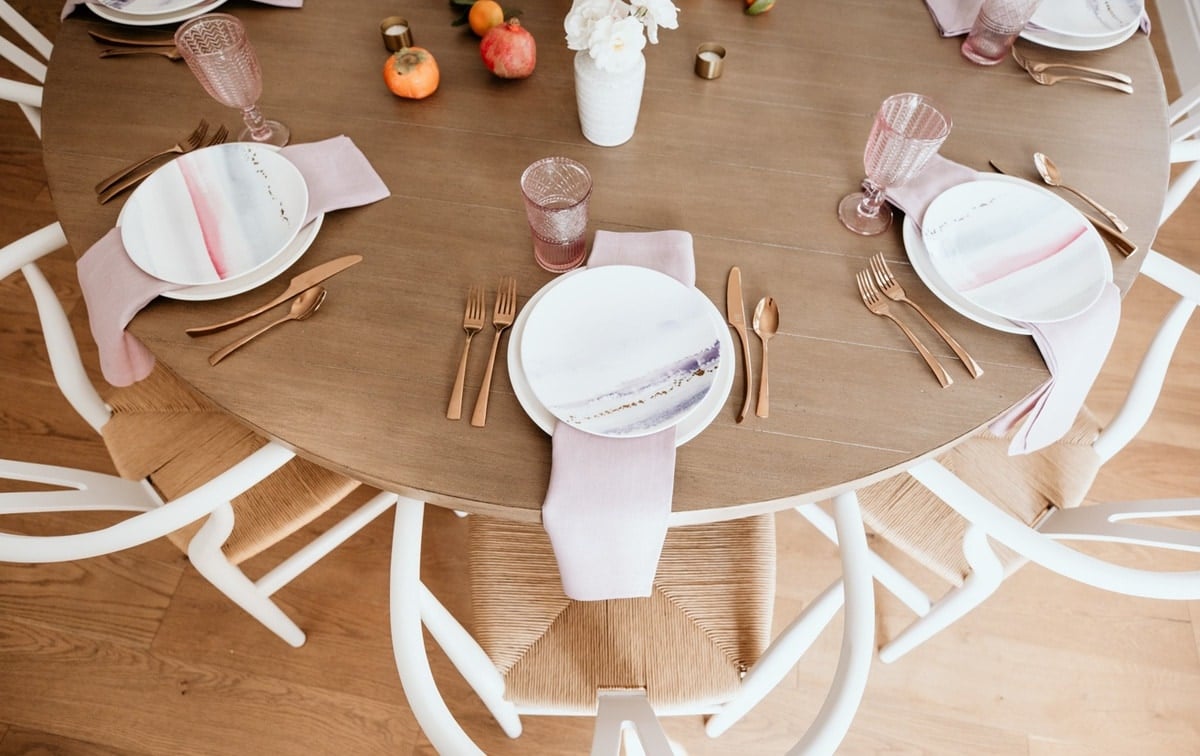 Watercolor Plates
I am OBSESSED with these watercolor plates! I got them in a couple different patterns and I love how they dress up my table with movement and color!
These watercolor plates are on sale right now-normally $36, but now $21.24! I paired them with my basic white Villeroy & Boch Artesano Dinner Plates that I've had and loved for YEARS.
I learned this layering trick from my mom, that you can put a fun plate on top of your everyday white plate to make a big impact on your table scape for the least amount of money possible. It's the perfect way to incorporate things you already have with new pops of patterns and colors for any holiday!
The white plates I used and love are also on sale, at 50% off their retail price of $35! I was so glad to utilize my current dinner plates as a sleek background for the new salad plates!
Vintage Inspired Glasses
These colored glasses are my girls' favorite part of our Thanksgiving tablescape this year! I love the texture on these glasses, and the price can't be beat! Right now a set of 4 is only $16.99, which is 58% off!!
Seriously, that's a STEAL for these beautiful glasses that will elevate your whole Thanksgiving table for a little more than $4 a piece.
I bought 4 of these glasses and 4 of the "Goblets" to alternate around the table for more visual interest! The wine glasses also ring in at only $16.99 for a set of four AND both sets come in FOURTEEN color choices. Seriously these glasses are stunning and so inexpensive!
Around the table
This beautiful table is ice cream on the apple pie of spending the holidays with family! I am so happy with how the tablescape turned out, I may just have to leave it out all year long. I love that each piece can be utilized with many different themes or color schemes as well!
Macy's has the BEST selection for holiday home updates AND everything in this post is dishwasher safe! #MOMWIN!! Plus shop Macy's pre-Thanksgiving sale now through Wednesday to save 25-70% off select styles! Happy Thanksgiving!