I am always surprised by how many new baby products are available every time I have a newborn! You guys know I'm ALL about reading up on baby gear, testing and trying out all the baby things as many of you have read in my popular Best Baby Registry Post, AND finding you the deals on all the baby things. So I thought today I'd share some of the NEW baby gear I'm loving that has emerged since I had a newborn 3 years ago, what I'll be watching for deals on like a hawk to share with you guys, and how they're making life a little easier since sweet Millie joined the family.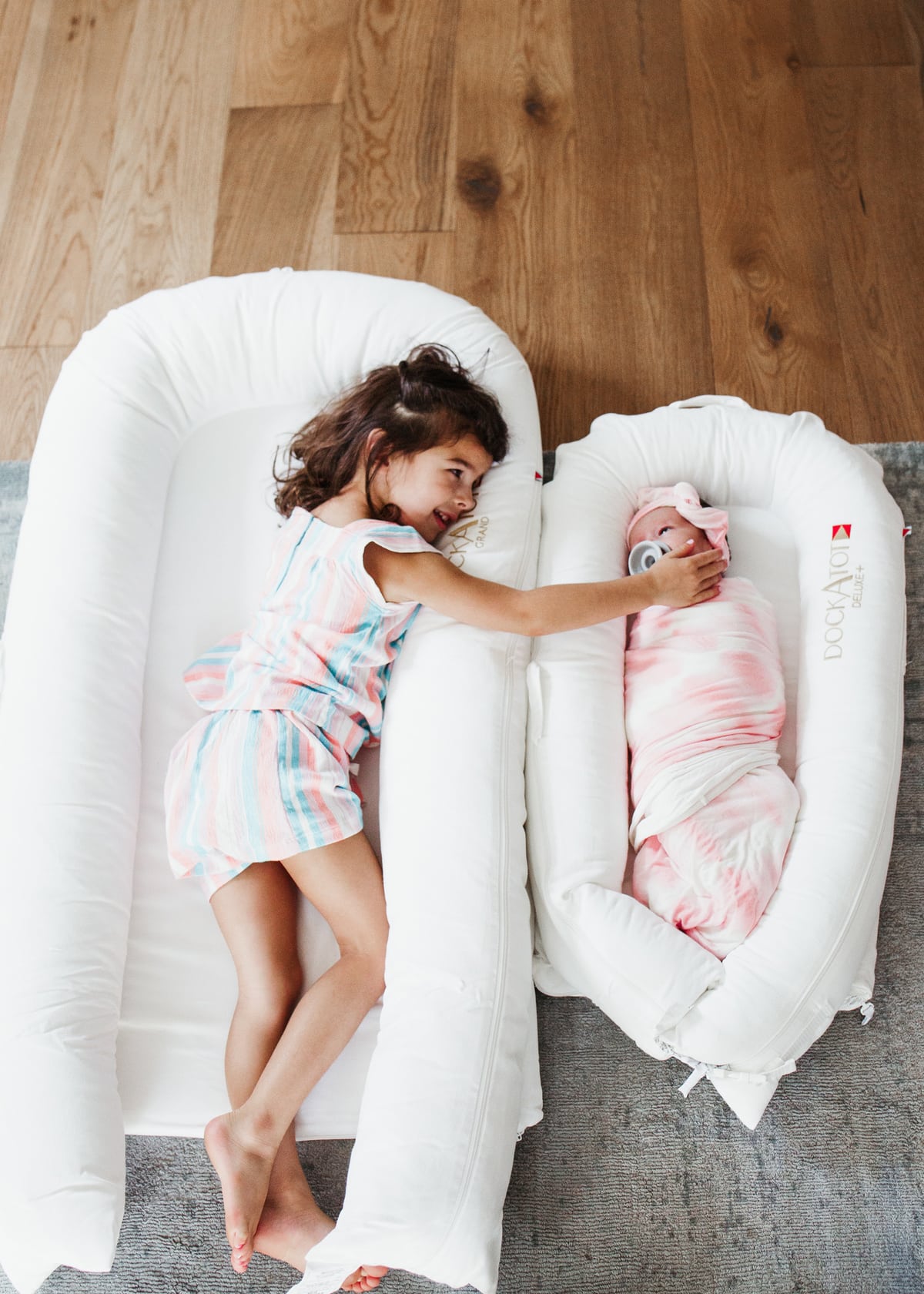 DockATot
First thing we have to talk about right this minute is the DockATot. You guys. This thing is incredible! We love to use it for lounging and tummy time and I honestly don't know how we'd live without it. It's the perfect place for her to snuggle up after she eats and I loved it during recovery from my c-section because I could set Millie right next to me. We've brought it from room to room in the house and even to the beach! It also creates the perfect "safe zone" for her when her big sisters are playing or wanting to snuggle on the bed.
Millie is just as cozy as can be in her comfy little lounger, and I love that it's lightweight enough that I can move it around the house. They also come in several different colors, so you can make it match your nursery or house vibe! As you can see, this big girl loves playing on the DockATot Grand and I LOVE that we'll be able to use this one too as Millie grows.
Rock n' Play
The Rock n' Play is one of those things that I hear every mom recommend. It's so nice that it's on a little incline, so it gives some relief to babies with reflux and it also lets them look around more than if they were on their back. Even as little as she is, Millie already loves feeling like she's a part of the action! We have loved the Rock & Play for years, but now it comes in a motorized version, which is just an added bonus on one of our tried-and-true favorites. These go on sale all the time and OF COURSE we'll tell you when there's a good deal going on!!
Smart Changing Pad & Scale
This smart changing pad/scale is a bit of a splurge, but I love that it has helped me to track baby Millie's growth and development in between doctor's appointments. It's both a changing pad and a scale, and it automatically syncs with an app on my phone to log her weight at every changing. A smart changing pad is the kind of thing I totally rolled my eyes at when I first heard about it, but Millie was under weight and needed extra check-ups in her first few days home so this actually provided me with a LOT of peace of mind and I felt like it was totally worth easing my mind. Now that she's moved past being underweight, I love that it gives all kinds of insights into weight, feedings, and diaper changes through the app and it's actually all really fascinating to follow along with!
Baby Monitor
I'm absolutely loving this HelloBaby Monitor! The setup was SO easy, it's really affordable for a baby monitor and has amazing reviews. The reach is really great – I can take it out on the front porch swings, watch the girls ride their bikes and keep an eye on Millie while she's napping. We also have loved using a Vivint camera as a baby monitor, and this is especially handy if you're leaving baby with a sitter and want to be able to check in from anywhere. Read more about why we love our Vivint system here.
Bath Time
For bath time I've been using the Puj Flyte. It's a little smaller and more affordable than the original Puj tub, so it is also a great option for travel, especially since it's small enough to lay flat in the top of most suitcases! It fits in almost any sink in your house and stores so easily that there's minimal bathroom clutter. We've also been using the Scalp Scrubbie at bath time and it makes SUCH a difference in preventing and treating cradle cap! It's latex-free and the bristles are so soft, Millie seems to love it when we bathe her with these!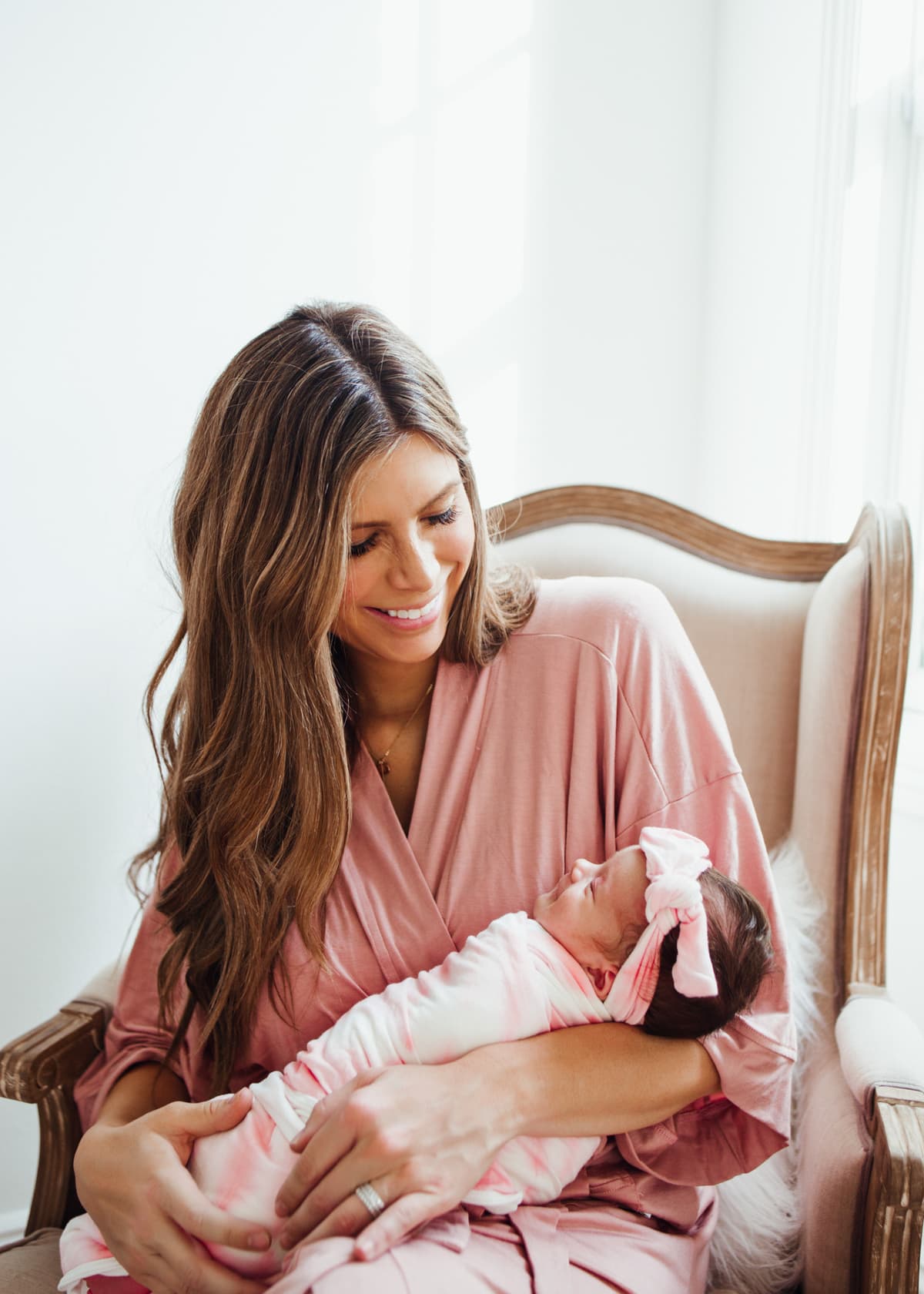 Goosebumps
The Goosebumps swaddle sets are made of this incredible, stretchy, super-soft material that you just want to bury your face in! They have the perfect amount of stretch to get a perfect swaddle going, and the designs they come in are all so cute. I love these so much that I begged and got Goosebumps to give you guys 15% off anything on their site using the code MINTARROW15. These make the best baby shower gifts since moms can use them as blankets or swaddles, they can throw them over their shoulder for burping, and they're lightweight enough that they can be used as a nursing cover on the go! I'm also wearing one of their robes above that is so perfect for postpartum because it's so cozy soft and lightweight for while your hormones are out of control and (if you're like me!) you're sweating and hot all the time.
They also have the VERY softest baby jammies I've ever felt in my life, and I especially LOVE their knotted sac sets. They're really stretchy and fitted so they just look and feel SO CUTE on a baby. As if a newborn baby could be any yummier, the stuff from Goosebumps just makes a baby even more irresistible! OH! and don't even get me started on their matching headbands! So soft and sweet. I've become literally addicted to their crazy softness and how pretty their fabrics are, and I don't see deals often from them, and this code MINTARROW15 is good for 15% off their entire site through Sunday Sept 2, so STOCK UP NOW!!
Organic Burp Cloths
These organic burp cloths have been another one of our favorite things to have around the house. I keep them in my diaper bag, in the nursery, next to the couch…everywhere! It's so nice to have something ultra soft and absorbent within reach as soon as I need it.
Nursing Pads
I know I mentioned this already in my postpartum must haves post, but these thinnest nursing pads ever are a GAME changer. They're seriously so thin and they absorb even BETTER than the old school Lansinoh ones I used to use.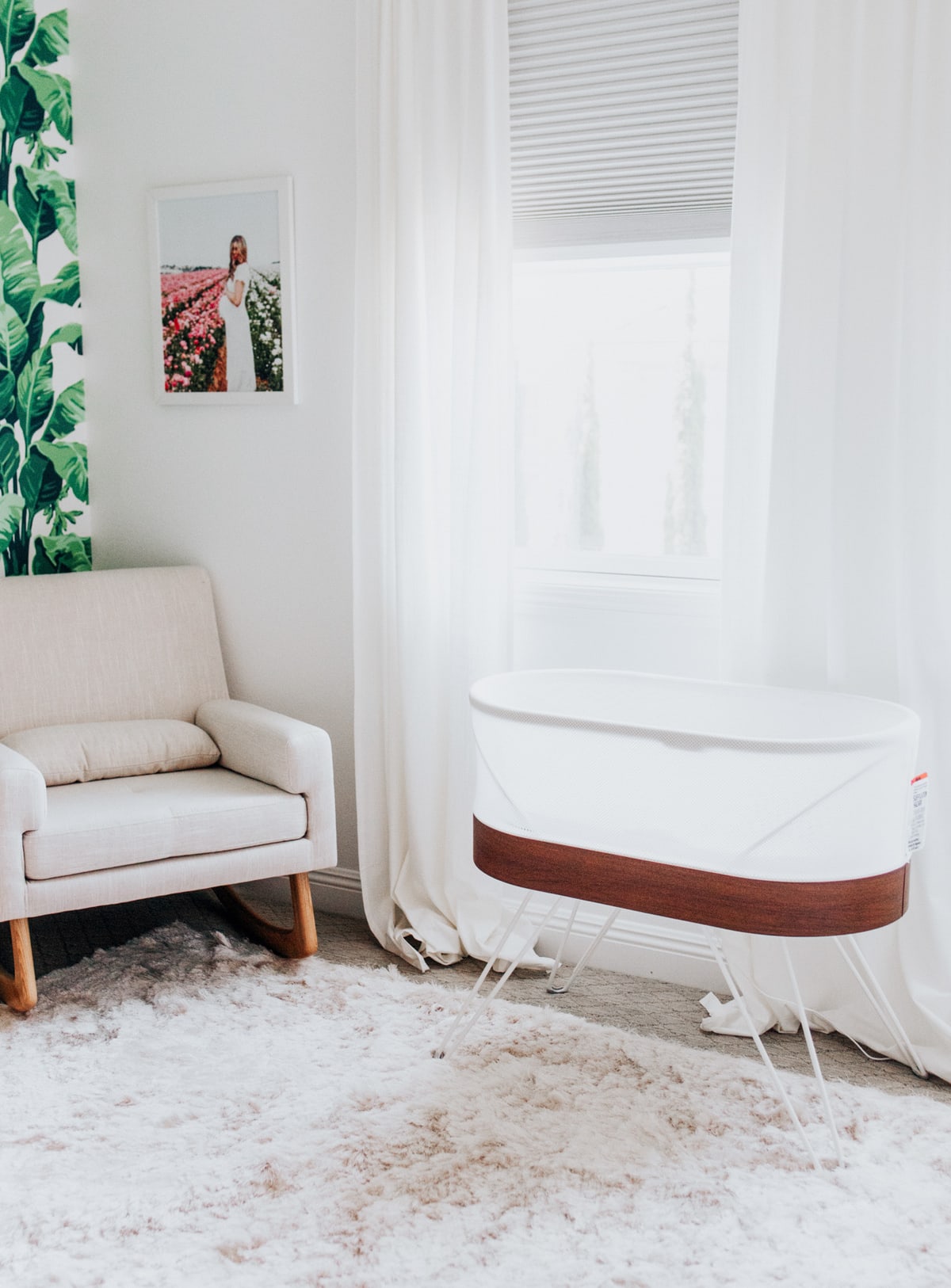 SNOO
The SNOO bassinet is practically like having a mother's helper around the clock in your house…FOR REAL! It's a smart sleeper that actually responds to your baby's fussing. So if it senses them crying out, it will respond with increased rocking and white noise to soothe them! Like the smart scale I mentioned above, it's another new baby thing that comes with tracking capabilities on your phone, including how long their longest stretch of sleep is by the day. You can also set it to a more gentle mode if you have a preemie baby, and a weaning mode when you're ready to wean them and move them to the crib.
The SNOO comes with swaddles that attach to the bed and keep baby on their back, so it claims to be the safest bassinet on the market. AND let's talk about how beautiful it is! The minimalistic and chic design of the SNOO looks good in every nursery. The price is definitely up there and I don't think for a minute it's a necessity to getting your baby to sleep, but it is for sure REALLY nice and when people ask me (all the time) whether it's worth the splurge I always say, "YES! It totally is." Because if you're the type of person who's considering splurging on it, and it's reasonably within your budget, I think it's an AMAZING help to mom and dad who could use more sleep at night. However, if you're just like "no way I can't spend that much!" then the same company actually makes those same magic swaddle sacs that you can buy for $23, and add some white noise from an app on an iPad or a big box fan (from any hardware store) or a white noise maker and you'll have something similar to the snoo, minus the rocking that responds to your baby's cries.
White Noise Maker
Speaking of white noise, I have LOVED this little white noise maker. Yes you can download an app on your phone and stick that next to your baby in her car seat if she starts crying while you're at the mall/Target/church etc, BUT then you don't have your phone. Which presents a problem if your phone text alert goes off and you have to remove said white noise. Or if you need to call someone, or look something up, or kill time on Instagram. Let's be honest. Ha. This little thing is SO GENIUS for a lightweight, easy to throw in your diaper bag, little perfect white noise maker on the go that I've already used a BUNCH of times with Millie and she's only 6 weeks old!
DockATot Deluxe
DockATot Grand
Changing Pad and Scale
Infant Bath
Sponge Scrub Bristle Brush
Baby Burp Cloths
Thinnest nursing pads ever
SNOO Smart Sleeper
Goosebumps swaddles, knotted sacs, headbands, robe (15% off w/ code MINTARROW15)
Rock 'n Play Sleeper
Portable white noise maker
Hello baby monitor
Photos by Arielle Levy
I hope this SMALL list of new baby favorites helps you, but to see everything I've loved through the years, go to my best baby registry list ever (which I PROMISE will be fully updated soon, top to bottom, when I'm not QUITE so tired from middle of the night feeds haha). For now, this gives you a little peek into what we've tried out and really loved so far!