What's better than comfortable, fashionable and effective activewear? How about pieces that allow me and my girls to MATCH?! I asked my girls to do this Zella post with me and they were thrilled, to say the least! It's so fun that they still think it's cool to twin with me, so I am going to take advantage of it as long as I can.
Zella has been my go-to for activewear for YEARS! One thing I love about Zella is how affordable the brand is for the such high-quality "athleisure" pieces. As a mom of three little girls, I am always on the hunt for stuff that will hold up for hand-me-downs! You get more bang for your buck with Zella every time, making the price-per-wear incremental for your new fave pieces!
Live In Leggings
I discovered the Zella Live In Leggings about 8 years ago. I remember specifically because I went into Nordstrom and told the associate that I needed some leggings that are not going to show my underwear underneath! She immediately knew which ones to steer me towards, and the rest is history.
Initially, I needed leggings that I could wear a long sweater with, but literally, you can wear them with anything. They are the most versatile and well-made leggings, I still have pairs that are YEARS old still in my constant rotation!
Leggings for littles
I love that Lyla can grow into these leggings! They come in such a great range of sizes, and are thick enough to not be see-through, they hold their shape and color in the wash, and are more high waisted than most little girl leggings (so no undies peeking out)!
Anabelle got these leggings in the summer from the Anniversary Sale, and has been living in them ever since!! She can't wear leggings to school, but she changes into these almost everyday when she gets home! They are perfect for hanging out, playing and doing her tumbling classes in! They've quickly become her go-to for anything and everything that isn't school attire.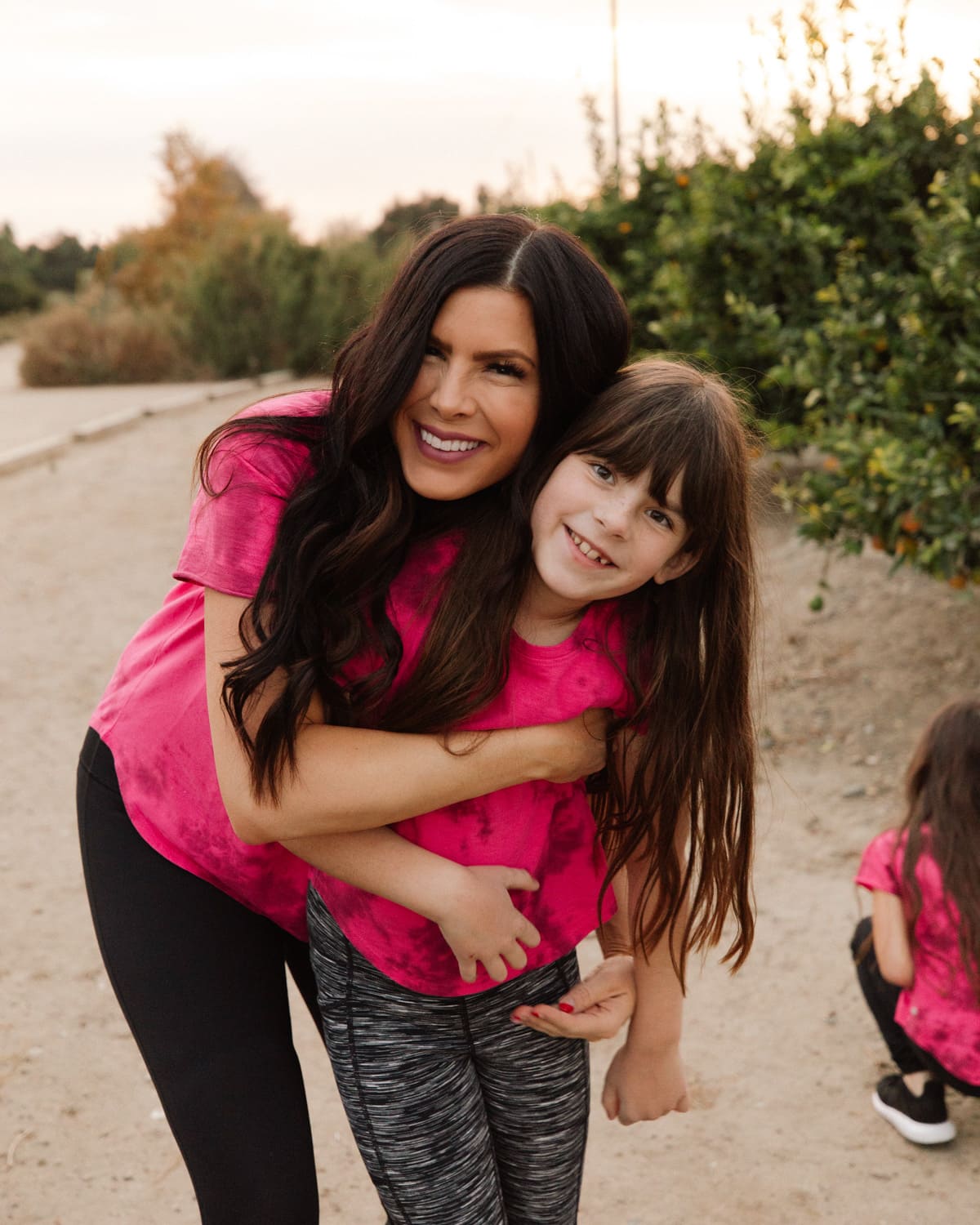 Addicted to Adidas
I wanted to get the girls some practical shoes that they can wear to school, but Adidas is just such amazing quality (and so comfy!) that these shoes end up being the girls' go-to almost everyday. AND I can still hand them down to the next sibling!
The girls' black-on-black style make them so easy to pair with just about everything. And I love a good animal print, even on my tennis shoes! My exact shoes are sold out, but I linked similar! All of our shoes are super highly rated, with customers touting comfort, style and versatility!
Tie Dye Everything
If you didn't jump on the tie dye trend, did you even live through 2020? Okay I'm sure my mom and grandma don't own anything tie dye still, but we are fully on board and not getting off the train anytime soon.
You know how it's actually weirdly difficult sometimes to find tees that are comfy AND cute AND not see-thru AND high quality? These tie dye tees check all the boxes. I love that this tee came in adults and kids sizes so we can have the matching outfits of our comfy-living dreams! The high-low design of the top works especially well with high-waisted leggings and is super flattering on any body shape.
Zella's tees are made from super breathable cotton, and I love that they are machine washable!
P.S. can you tell we had an impromptu tickle fight and I obviously lost sandwiched between these two? This almost never happens since I'm usually the reigning queen of all tickle fights in our house. The girls were so proud of themselves.
Also a side note: it's orange picking season here and we're SO happy about it. YUM.
Velour is BACK
Remember velour suits circa 2003?? Well THEY ARE BACK, but better than ever with Zella! When I gave the girls these velour outfits, they totally melted into a puddle. They were OBSESSED and wanted to wear them to bed and school and everywhere in between. They are next-level cozy, the perfect outfit for cold weather and layering, and still super chic! Ani can be particular about textures and this sweatshirt and pants duo was totally speaking her love language.
Buy in-store, online, or schedule curbside pickup
ALSO, I wanted to let you know that you can buy these online with free shipping and returns, OR you can schedule a curbside pickup so you never even have to go into a store! Be sure to sign up for Nordy Rewards as well so you can earn money towards future purchases.
Twinning & Winning!
Zella is totally reading a room by making matching adult and kids activewear! How fun is it to match when out on a hike, traveling or just hanging at home?! I know we will have all these quality pieces for years to come!
Girls
Women