All my parents PUMPED about Cyber Monday baby deals, let's collectively do a happy dance because there are SO many amazing baby deals today!!! We put them into one easy post. Strollers, carseats, baby clothes galore – ALL ON SALE. Let's go!
In a hurry? Go straight to the deals below!
Sometimes our hottest deals sell out REALLY fast, so if you want to be in the know and find out FIRST, you can join our bestie group text! And don't worry, I'll only send you the VERY hottest deals that have the highest sell out risk – PROMISE. To join the list, text DEALS to 949-506-2558
Bugaboo Stroller
Bugaboo invented the high-end stroller niche. We all saw the celebs with their Bugaboo stroller circa early 2000's and HAD TO HAVE! Bugaboo became synonymous with the IT STROLLER after gracing the pages of People magazine, and I've wanted one ever since. And let me tell you, it really is everything and more! This one is on sale and it's almost ALWAYS excluded from coupon deals, so getting almost $200 off is a BIG DEAL!!
Snoo Bassinet
The SNOO bassinet is practically like having a mother's helper around the clock in your house…FOR REAL! It's a smart sleeper that actually responds to your baby's fussing. So if it senses them crying out, it will respond with increased rocking and white noise to soothe them!
It comes with tracking capabilities on your phone, including how long the baby's longest stretch of sleep is by the day. You can also set it to a more gentle mode if you have a preemie baby, and a weaning mode when you're ready to wean them and move them to the crib. One of the BEST Cyber Monday baby deals, today you can take 20% off your purchase on the SNOO!
DockATot
The DockATot is for sure one of my top 3 favorite things we got for Millie and we've continued to use it a ton with Harry (and our other kids haha). This thing is incredible! We use it for everything from lounging to naps to tummy time and I honestly don't know how we'd live without it.
It's the perfect place for babies to snuggle up after they eat and I loved it during recovery from my c-section because I could set the baby right next to me. We've brought it from room to room in the house and even to the beach! It also creates the perfect "safe zone" for the baby when big sisters are playing or wanting to snuggle on the bed. Baby is just as cozy as can be in this comfy little bed, and I love that it's lightweight enough that I can move it around the house.

We LOVE our DockATot so much!! It's the best for lounging and diaper changes and naps on the go. This dockatot deluxe is 30% off today at just $122.50 (reg $175)!
Baby Jogger City Suite Multi-Level Playard
Today for Cyber Monday you can get this Baby Jogger City Suite Multi-Level Playard for 25% off saving you $50!!
Swings
mamaRoo 4 Multi-Motion Baby Swing
You can get this mamaRoo 4 Multi-Motion Baby Swing for 20% off today saving you $50!
Graco DuetConnect LX Swing and Bouncer
So many moms swear by this swing/bouncer!! On sale for $28 off today for Cyber Monday!
Graco Soothe My Way Swing with Removable Rocker
This Graco, Soothe My Way Swing with Removable Rocker is $25 off today!
City Mini GT Double Stroller
The City Mini GT Double is our VERY favorite side-by-side double stroller!! It's one-hand quick fold is INCREDIBLE and it's also super lightweight for a double stroller. This is ideal for Disney or strolling in suburban neighborhoods! It also fits through most standard doors.
If you live in a big city where you're worried about crowding an entire sidewalk, you might not love this stroller. But we love it so much!
TODAY for Cyber Monday you can get the City Mini GT Double $30 off!
City Tour LUX Stroller
City Tour™ 2 Folding Stroller is 25% off today and my sis (who traveled the world with a 1-year-old) and I agree it's the BEST traveling stroller. Lightweight and super easy to fold, this is perfect for a family on the go!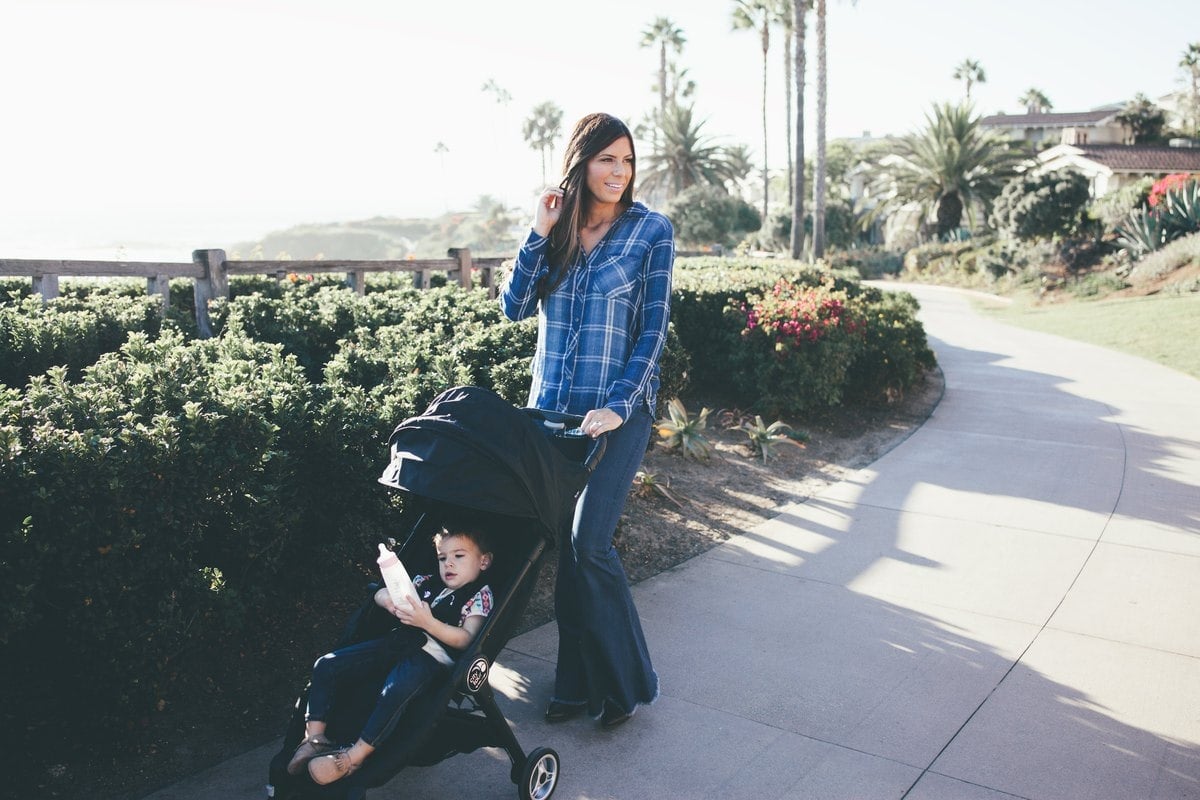 Baby Jogger City Mini Strollers
Right now you can also get the City Mini GT2 single stroller for 40% off! We absolutely LOVE the City Mini strollers for its one-hand quick fold, its super lightweight, and amazing quality push and glide. It's basically like the Cadillac of all travel strollers! If I had to choose just ONE stroller to recommend to a parent who travels a lot or is on-the-go, this would be it. If you want the travel system, this one is $152 off!
You can also get the Baby Jogger City Mini Stroller for 25% off! This one gets RAVE reviews and is priced less because it has air-filled tires instead of forever-air tires and a little less agility than the GT. But I have friends who own this stroller and LOVE it!
If you're looking for the City Mini 2 Stroller, it's 40% off today as well!
Even more Baby Jogger deals HERE!
BOB Strollers
The BOB Gear Alterrain Pro Jogging Stroller with a One-Hand Quick Fold, Smoothshox + Airfilled Tires is the stroller we swear by for running and for any rough terrain. This is the only stroller we will take on our beloved beach trail too, because any other strollers get stuck in the sand!
It's super durable and has great suspension and a really nice big sun shade for the baby. We found it today for $67 off – which is a little BETTER than the Black Friday price! PLUS, you get can the BOB Gear Revolution Flex 3.0 Duallie Double Jogging Stroller for $150 off!
Ours pictured below is an OLD version, but the new one is supposed to be INCREDIBLE and the reviews show that too.
Baby Items
Diaper Bag
Right now you can get this super cute diaper bag with ultra high reviews for $52 OFF! Regularly $175, this diaper bag is only $122.50 today with Amazon Prime.
Ergobaby 360
The Ergobaby is a STAPLE in any home where the mom doesn't have 3 hands!!! And it's on sale today for the LOWEST PRICE EVER at just $87.91!!
Skip Hop Favorites
SO excited to see all of these Skip Hop products on sale today for up to 35% off!! These would make such a great gift for babies this Christmas, or for moms-to-be!
Comotomo Bottles
These bottles are cult favorites, and OUR baby's favorites! Seriously, each of my babies have preferred these over ANY other bottle. They feel the most like a boob and real nipple so they're supposed to cut down on nipple confusion if you're worried about that!
They also are designed so you don't need a bottle brush to clean them out which is SO NICE. They have vents as well to help with proper digestion and to avoid colic or gassiness by reducing the amount of air they're gulping. Get these for 23% off today!
Diaper Cream Brush
Okay kind of funny looking, but this BabyBum Diaper Cream Brush is ACTUALLY PRETTY COOL. It allows you to spread the cream or ointment on the baby's bum way more evenly and then you just wipe it off with your wipe after and your fingers aren't covered in baby butt cream while you try to not get it on your baby as you set him/her down before you go wash your hands. You're laughing if you've done this before because you know it's true! Snag it right now for 30% off at just $6.99 and be grateful later…(ha!)
Haakaa Manual Breast Pump
This Haakaa Manual Breast Pump is a game-changer for breastfeeding mamas! It's on sale today for ONLY $12.29 when you apply the additional 5% off coupon!
Baby Monitor
You can get this baby video monitor from a brand we love for 20% OFF today!! It has night vision, a talk back feature, temperature gauge, and a great range to keep your baby always in sight. This is great for people who DO NOT want a wifi monitor that could slow your wifi down, and instead just want something that will function like a traditional monitor.
Stroller Fan
A stroller fan is a MUST for summer babies!! And so perfect for Disneyland too. This highly rated one is 46% off today at just under $20!
Electric Baby Nail File
This is SUCH a game-changer when it comes to filing tiny baby nails! No-stress, and super easy to use. On sale for 47% off at just under $13.
Baby clothes
Baby Gap has so cute clothes on sale! EVERYTHING IS UP TO 60% OFF AT Gap site-wide, plus an extra 50% off sale styles! AND you'll get a bonus 20% off at checkout!
Happy shopping!
I hope these Cyber Monday baby deals will help you and your little one! See our roundup below for even MORE popular baby gear CYBER MONDAY deals! And if you need to fill that baby registry, make sure you check out my best baby registry list ever.