Quick Version: Shop all of our favorite baby deals that are on sale for Cyber Monday!
All my parents PUMPED about Cyber Monday baby deals, let's collectively do a happy dance because there are SO many amazing baby deals!!! We put them into one easy post. Strollers, car seats, baby clothes galore – ALL ON SALE. Let's go!
In a hurry? Go straight to the deals below!
Cyber Monday baby deals – strollers
Bugaboo Stroller
Bugaboo invented the high-end stroller niche. We all saw the celebs with their Bugaboo stroller circa early 2000's and HAD TO HAVE! Bugaboo became synonymous with the IT STROLLER after gracing the pages of People magazine, and I've wanted one ever since. And let me tell you, it really is everything and more! This one is super similar the model we had for Harry and is on sale – PLUS it's almost ALWAYS excluded from deals, so getting 25% off is a BIG DEAL!!
City Mini GT Double Stroller
The City Mini GT Double is our VERY favorite side-by-side double stroller!! It's one-hand quick fold is INCREDIBLE and it's also super lightweight for a double stroller. This is ideal for Disney or strolling in suburban neighborhoods! It also fits through most standard doors.
If you live in a big city where you're worried about crowding an entire sidewalk, you might not love this stroller. But we love it so much!
Right now as an early Black Friday deal you can get the City Mini GT Double 30% off making it only $489.99 (reg. $699.99) – an INSANE deal!
Baby Jogger City Mini Strollers
Right now you can also get the City Mini GT2 single stroller for 30% off making it as low as $300.99! (reg. $429.99) We absolutely LOVE the City Mini strollers for its one-hand quick fold, its super lightweight, and amazing quality push and glide. It's basically like the Cadillac of all travel strollers! If I had to choose just ONE stroller to recommend to a parent who travels a lot or is on-the-go, this would be it. If you want the travel system, this one is $255 off!
You can also get the Baby Jogger City Mini 2 Stroller for 36% off! This one gets RAVE reviews and is priced less because it has air-filled tires instead of forever-air tires and a little less agility than the GT. But I have friends who own this stroller and LOVE it!
City Select 2 Stroller & City GO 2 Infant Car Seat Travel System
We LOVE our City Select Stroller for its incredibly smooth push, huge undercarriage basket, durability, and most of all its ability to configure the stroller 16 different ways! The City Select stroller has the capability of turning into a double or back into a single as well, so if you find yourself out with one baby instead of two, you can change it to just a single stroller, or if you only have one baby now but are planning to have another soon, you can easily convert it to a double by just clicking in the seat.
The City GO infant car seat is awesome, too! We love traveling as a family, even though it's definitely a "trip" not a "vacation" when kids are in tow if you know what I mean. Keeping them safe and secure is our first priority, whether we're flying, road tripping, or in a ride share! When we were in San Francisco with Millie a few years ago we were so glad to have the Baby Jogger City Go since it was easy to carry around and buckle in and out of taxis and Uber or Lyft with the taxi-safe belt path. It was also SO easy to click her right into the stroller and it was so crazy lightweight also to pull in and out of the back of ride-share cars. I loved including Millie in our adventure to SF, and the City Go gave her a cozy and safe spot to come along in!
You can get the City Select Stroller WITH the City GO infant car seat for 30% off right now!! Huge savings!!
BOB Strollers
BOB strollers are another tried and true stroller brand! My exact model isn't on sale but there are quite a few different options up to 34% off!
Veer Wagon
This wagon can seriously go on all different kinds of terrain, no problem! It has an easy push/pull handle, a built-in basket for snacks, a canopy to protect your kiddos from the sun, and shock-absorbing wheels. It's also easy to quickly fold up when you're done for the day! Get it for $100 off today!
Cyber Monday baby deals – car seats
Maxi-Cosi Pria convertible car seat
Maxi Cosi convertible car seats are at the top of our family's list! It's definitely got the most cushion and comfort, so if getting some good sleep in the car is a priority for you, THIS is your car seat. It's super comfortable for long road trips or snoozing during errands. I've bought this one more than any other because of the comfort factor. It's what Harry's in right now!
ALSO, it's machine washable AND dryable! You can pull the whole thing apart, wash it, and then you don't have to wait for it to air dry. This is a huge bonus for me!! It makes it so quick and easy to clean up those kid messes that are just a part of traveling.
The Maxi Cosi convertible car seat also offers the MAXIMUM leg room to the person sitting in the seat in front of the car seat. So if this car seat is rear-facing behind your driver's seat or passenger seat, you'll have the most legroom in the seat directly in front of that car seat with this one.
Right now you can get this convertible car seat for just $219.99 (reg. $299.99) – 26% OFF!
Cyber Monday baby deals – playards
4moms Breeze
The truly magical thing about the 4moms breeze is that it's truly A BREEZE to set up! It takes about 3 seconds to take it out and click the center down. I showed my dad once and he was like "WOW! I've set up many, many pack n plays in my day and never have I seen anything like that." If you've ever set up a traditional travel crib, you know what he's talking about! It's usually a painfully long and extremely frustrating process. This 4moms breeze is ridiculously easy to set up! I love it so much, I even included it in my best baby registry list ever, and today you can get it for 33% off!!
Baby Jogger City Suite Multi-Level Playard
Right now during this early Black Friday deal you can get this Baby Jogger City Suite Multi-Level Playard for 30% off saving you $81!!
Graco Pack 'n Play Travel Dome Playard
You can get the Graco Pack 'n Play Travel Dome XL Playard for 30% OFF as well! This Pack n Play comes with a baby bassinet and changing station. This is something that'll work from the newborn stage all the way to the toddler stage! It also comes with a diaper/wipe organizer which is amazing for traveling or grandma's house or wherever you need your portable crib. Regularly $219.99, you can get this for ONLY $153.99 right now!
Cyber Monday baby deals – diaper bags
Freshly Picked
This Freshly Picked diaper bag is the ultimate. We love it because of its sleek design, how lightweight it is, AND that it has a laptop sleeve! It literally checks all the boxes. Plus it's super cute and not so feminine that your husband won't carry it around!
Get it right now in black for only $132.30 (reg. $189) – 30% OFF!
You can also get this Freshly Picked backpack version here for 20% off in so many cute colors and patterns!
Jujube Diaper Bag
Right now you can get this super cute diaper bag with ultra high reviews for $70 OFF! Regularly $175, this diaper bag is only $105 today with Amazon Prime.
Cyber Monday baby deals – other baby faves!
Dockatot
This thing is incredible! We used it with Millie and Harry for lounging and tummy time and I honestly don't know how we lived without it when we had our other babies. It was the perfect place for them to snuggle up after they had a morning feed and I loved it during recovery from my c-section because I could set them right next to me. We've brought it from room to room in the house and even to the beach! It also creates the perfect "safe zone" for baby when big sisters are playing or wanting to snuggle on the bed. I can't wait to use it with baby brother too!
I love that the DockATot is lightweight enough that I can move it around the house. It also comes in several different colors, so you can make it match your nursery or house vibe!
Get it as low as $48.75 for Cyber Monday! (reg $75)- 35% off!
You can also get the larger size (perfect for my older girls) on sale for 25% off right now!
Lalo The Chair – my TOP favorite high chair on the market right now!
I LOVE this Lalo high chair! This chair TRULY has zero cracks or crevices. Even in the removable tray, there is no where that any mold could hide. The tray is super easy to remove and replace, too, which is just easier on everyone! And last but not least, this chair is PRETTY. Like, keep out in your dining area 24/7 pretty.
I'm so excited that you can SAVE 40% right now, and get the high chair with a FREE First Bites Full Kit!!
MORE TO LOVE ABOUT THE LALO CHAIR:
It comes with a comfy, padded seat for baby – which is especially great in those first few months of eating solids when baby still needs some sitting support.
I LOVE that the padding comes unbuttoned super easily and that it washes up perfectly. Sometimes padded high chairs get really yucky, but the Lalo makes it so easy for you to have the best of both worlds – clean and comfy!
The rest of the high chair is a cinch to wipe down, sanitize, and clean
Like I said, it's PRETTY! The Lalo is sleek, modern, minimal, and truly pretty enough you can leave it out in your kitchen without it ruining your home's style.
Millie (2.5) and Harry both love this high chair! WIN.
It comes with shorter legs, so you can actually convert it into a shorter chair once they're done with the high chair.

But that's not all! Find more Lalo deals below!
The Play Kit: Save 35%, and get The Play Kit with a FREE pack of Giant Coloring Sheets.
The Play Kitchen: Limited edition and $100 off.
The Play Gym: Save 50%, and get The Play Gym and Tent Kit with 4 FREE packs of Art Cards.
Tableware: All First Bites sets, Big Bites sets and 4-packs of tableware are 40% off.
Snuggle Me Organic Nursing Pillow
I got this for the new baby and I'm so excited to use it! It's super cute and has amazing reviews – 32% off today!!
HOT Cyber Monday baby deal – Ergobaby 360
The Ergobaby is a STAPLE in any home where the mom doesn't have 3 hands!!! And it's on sale today for such an AMAZING price at just $99.99!!
Babyletto Cribs
One of my favorite cribs, especially if you're going for a modern nursery, is the Babyletto crib. It's clean, modern, totally gender neutral, AND super affordable at 15% off today for Cyber Monday!!
Copper Pearl Swaddles
Copper Pearl swaddles are perfect for swaddling your newborn all year round. They're the perfect lightweight material that'll keep them nice and cozy without worrying about them getting too hot. They also fit perfectly into a diaper bag for on the go.
Get this blue print for only $17.55, or this darling flower print for only $18.90! (Reg. $27)
Comotomo Bottles
These bottles are cult favorites, and OUR baby's favorites! Seriously, each of my babies have preferred these over ANY other bottle. They feel the most like a boob and real nipple so they're supposed to cut down on nipple confusion if you're worried about that!
They also are designed so you don't need a bottle brush to clean them out which is SO NICE. They have vents as well to help with proper digestion and to avoid colic or gassiness by reducing the amount of air they're gulping. Get these for 42% off today! PLUS if you sign up as a first time user for subscribe + save, you can stack an additional coupon code for 35% off!
Diaper Cream Brush
Okay kind of funny looking, but this BabyBum Diaper Cream Brush is ACTUALLY PRETTY COOL. It allows you to spread the cream or ointment on the baby's bum way more evenly and then you just wipe it off with your wipe after and your fingers aren't covered in baby butt cream while you try to not get it on your baby as you set him/her down before you go wash your hands. You're laughing if you've done this before because you know it's true! Grab it right now for 30% off at just $6.99 and be grateful later…(ha!)
Haakaa Manual Breast Pump
This Haakaa Manual Breast Pump is a game-changer for breastfeeding mamas! It's on sale today for ONLY $12.94!
This set is both the traditional haakaa pump and their new breast shield milk catcher with little feet that stand up easily after! I can't wait to use this with the new baby!
Nuk
We've used Nuk baby products forever, they have SUCH a great price point, especially on sale!
Bodysuit and Jogger set
This set is SO cute and such a great deal! There are four different patterns to choose from at just $10 each, perfect stock up price!
Tubby Todd
Tubby Todd is the ONLY wash I'll use for my babies because it truly helps prevent eczema and dry skin! It's so beyond worth the money. The most beneficial products are their body wash and the ointment. The all-over ointment is MAGIC SAUCE. It cures cradle cap, eczema (overnight for us!), my dad even uses it on his cracked knuckles! All their products are uber-clean, fresh smelling, and so good for your baby's skin (and yours, too!).
Get up to 30% off at this link!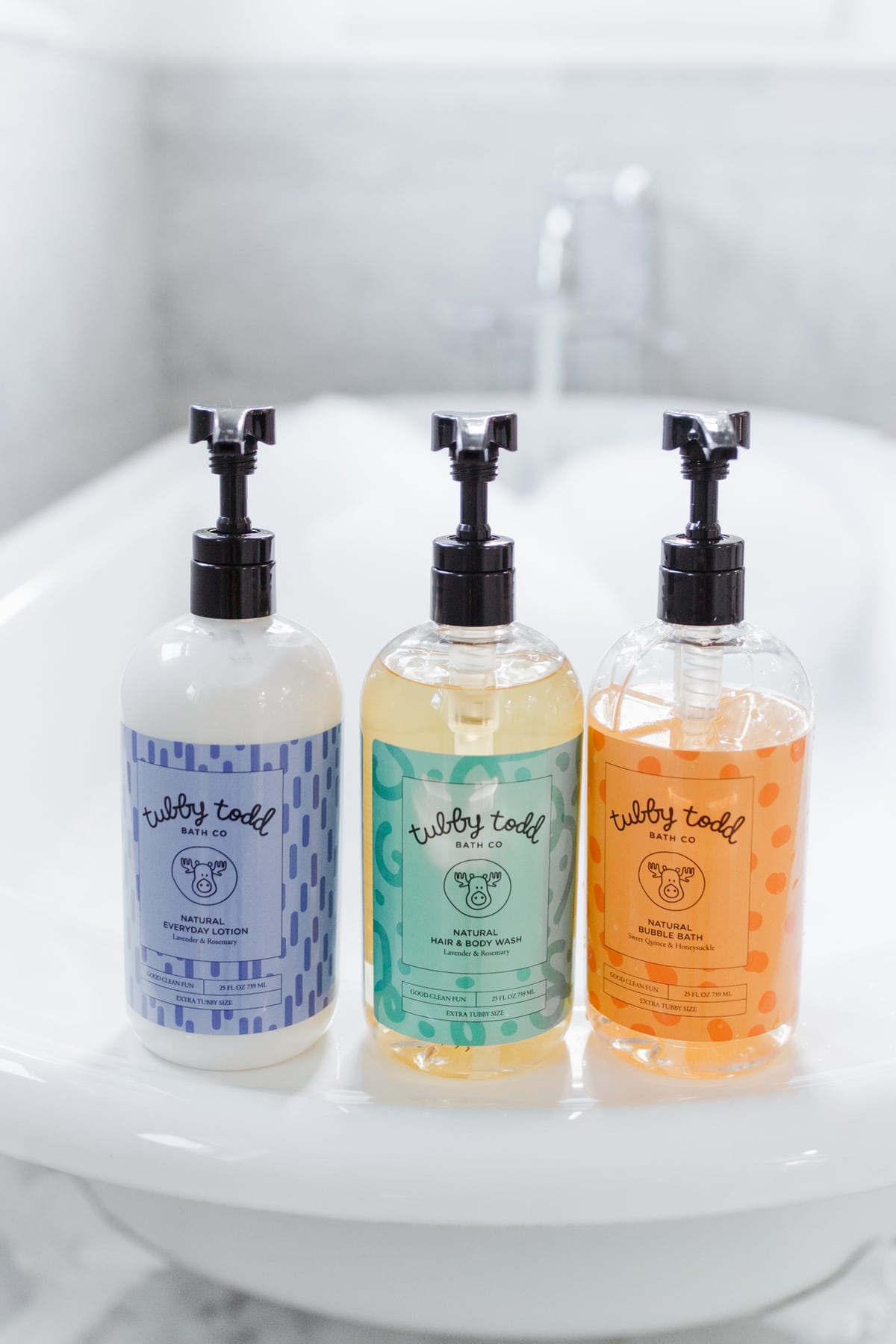 Baby Monitors
Nooie Baby Monitor
I don't own this but $29.99 is an amazing deal for a baby monitor that has 845 5-star reviews, and not a single 1 or 2-star review!
Nanit Monitor
This monitor is SUPER highly rated and today you can get it for 28% off – making it $179.99 (reg $249.99)! We love that this smart monitor has a split screen feature that allows you to view two cameras on one screen – so perfect if you have one set up in multiple rooms for your littles! It even has an alert zone feature that allows you to detect whether your child has entered an off-limits area which would send an alert to your smart device.
HelloBaby Monitor
You can get this baby video monitor from a brand we love for 27% OFF today!! It has night vision, a talk back feature, temperature gauge, and a great range to keep your baby always in sight. This is great for people who DO NOT want a wifi monitor that could get hacked or slow your wifi down, and instead just want something that'll function like a traditional monitor.
Stroller Fan
A stroller fan is a MUST for summer babies!! And so perfect for Disneyland, too. This highly rated one is 33% off today at just $23.99!
Electric Baby Nail File
This is SUCH a game-changer when it comes to filing tiny baby nails! No-stress, and super easy to use. On sale for 52% off at just under $13!
Take N Toss Sippy Cups
I LOVE Take & Toss Cups. They're pretty spill-proof, and you can get them with straw lids (I get these for my big girls) or sippy cup lids (what I get for Millie & Harry). Mom hack: on road trips I usually keep a huge jug of water in the front seat with me, and then I can easily refill any of my kids' cups with small amounts of water, which is also really helpful for when we're going into restaurants, and honestly for the rest of the trip's outings, too.
Not to mention that if one gets lost or left somewhere it's no big deal. Because every parent knows there's nothing worse than losing your kid's favorite sippy cup. According to your toddler (who lost the cup in the first place), you might as well take back your "best parent ever" mug when that happens. #toddlerlogic, am I right???
Get these on sale today for 20% off making them just $11.19!!!
Spectra Breast Pump
Spectra Pump is my #1 choice now for an affordable, portable and hospital grade pump! I've tried Medela, Ameda and now the Spectra and by far my fave of a traditional pump is the Spectra. I love that it's reasonably priced, love that it has a tiny night light, love that it's not too gigantic or heavy. My only complaint is that it has a single bottle holder spot in the back, which is nice because it keeps it small but weird that there's just one! It's hospital grade and it was one of the top recommended new baby items that other moms told me about before I had Millie.
Today you can get this hospital grade pump for 16% off making it $168 (reg $200) for Cyber Monday!
Baby Gym
We've used a baby gym for every one of our kids and it's always a HIT! Harry loved his the most of all our kids so far, and I love that he learned so much with it. This is the perfect way to get babies to develop motor skills, play, and self soothe, giving you time to get a few things done yourself! This neutral, rainbow-themed play gym is 26% off, making it only $39.99! ou can also get this comfy duvet play gym with a washable mat for 42% OFF.
IDK where all these cute mats were when I had our last 4 babies but there are so many cute options now!! This one is super cute and on CM sale!
Solly Baby
Solly Baby Wraps are the most premium, made in the USA, highest quality baby wraps that keep your little ones close and safe while you're able to do things so many new moms struggle to find time and free hands for – like putting on makeup or making themselves a sandwich.

I wore my Solly Baby wrap like crazy with 3 of my 4 babies (I just didn't own one with Anabelle because they weren't a thing yet!) and I loved using my Loop Carrier with Harry (54% off right now!). I definitely plan on using it again when baby boy arrives. I used it in this reel, but I also used it to wear Harry around the house while making dinner if he wanted to be held.

Right now at Solly Baby you can get 25% off everything with code CYBER!
Happy Cyber Monday baby deals!
I hope these Cyber Monday baby deals will help you and your little one! And if you need to fill that baby registry, make sure you check out my best baby registry list ever.