YES you read that right – a Solly Baby Black Friday Sale! Solly Baby Wraps are the most premium, made in the USA, highest quality baby wraps that keep your little ones close and safe while you're able to do things so many new moms struggle to find time and free hands for – like putting on makeup or making themselves a sandwich.
I wore my Solly Baby wrap like crazy with 3 of my 4 babies (I just didn't own one with Anabelle because they weren't a thing yet!) and I loved using my Loop Carrier with Harry. I used it in this reel, but I also used it to wear Harry around the house while making dinner if he wanted to be held.
Solly Baby wraps are a GO-TO baby shower gift for me that I've given to many close friends and relatives and I'm SO excited about this Black Friday sale! Keep reading for the details!
Solly Baby Black Friday Sale Details
Are you ready for the deal details? Right now through November 28, Solly Baby is offering 20% OFF sitewide, no code needed! They're also doing some additional daily promotions through 11/30 that you don't want to miss.
11/24: $20 Select Sleepers
11/25: Free Knotted Hat with Purchase
11/26: $45 Select Wraps
11/27: Free Carrying Baby Board Book with Purchase
11/28: Free Gift Wrapping
11/29 (Cyber Monday): 25% off sitewide + free shipping (no code needed). NOTE: this is a better discount, but remember that your favorites might already be out of stock before then – fair warning!
11/30 (Giving Tuesday): For every wrap purchased, one will be donated to a baby in the NICU c/o The Superhero Project

No matter when you choose to buy, this is the BEST Solly Baby sale of the season! You won't want to miss this!
Why we LOVE Solly Baby
Perfect for everything
As you can see below, we've used our Solly Baby wraps for everything from Lyla's first trip to the beach, to my first plane ride with both girls after Lyla was born, to our many trips down to the beach where I needed a free hand to hold Ani's and another to carry all our stuff, to countless unphotographed moments in our home where I've been able to much more easily pull off the gig of mom to four than I ever would have without my Solly wrap.
Stretchy & packable
Solly Baby wraps are stretchy and can squish down into a little ball to pack easily into a diaper bag or suitcase, and are absolutely a dream for wearing your baby while making dinner, taking walks, carrying gear down to the beach and wearing your baby at the same time, pushing a cart in Costco while your baby sleeps on your chest, I could go on and on.
Also, fun fact, the owner, Elle, is one of the most lovely people you'll ever meet and I got to interview her on my podcast about motherhood and postpartum depression and how moms can get through those first weeks and months of recovering from having a baby. She talked me through some hard things in that interview and I'll always be grateful.
Breathable & durable
Solly Baby wraps are light and breathable, but durable enough to use with multiple babies or give to a sister or friend after you're done using your wrap.
I absolutely LOVE their sleep sets, too! They're so stretchy and yummy and perfect because they're two-piece, but also the bottoms are made super high-waisted so they don't end up sliding down and having a cold little tummy or back! They're seriously made of the softest material in the world but they're also unbelievably high quality and do NOT pill, even after several washes.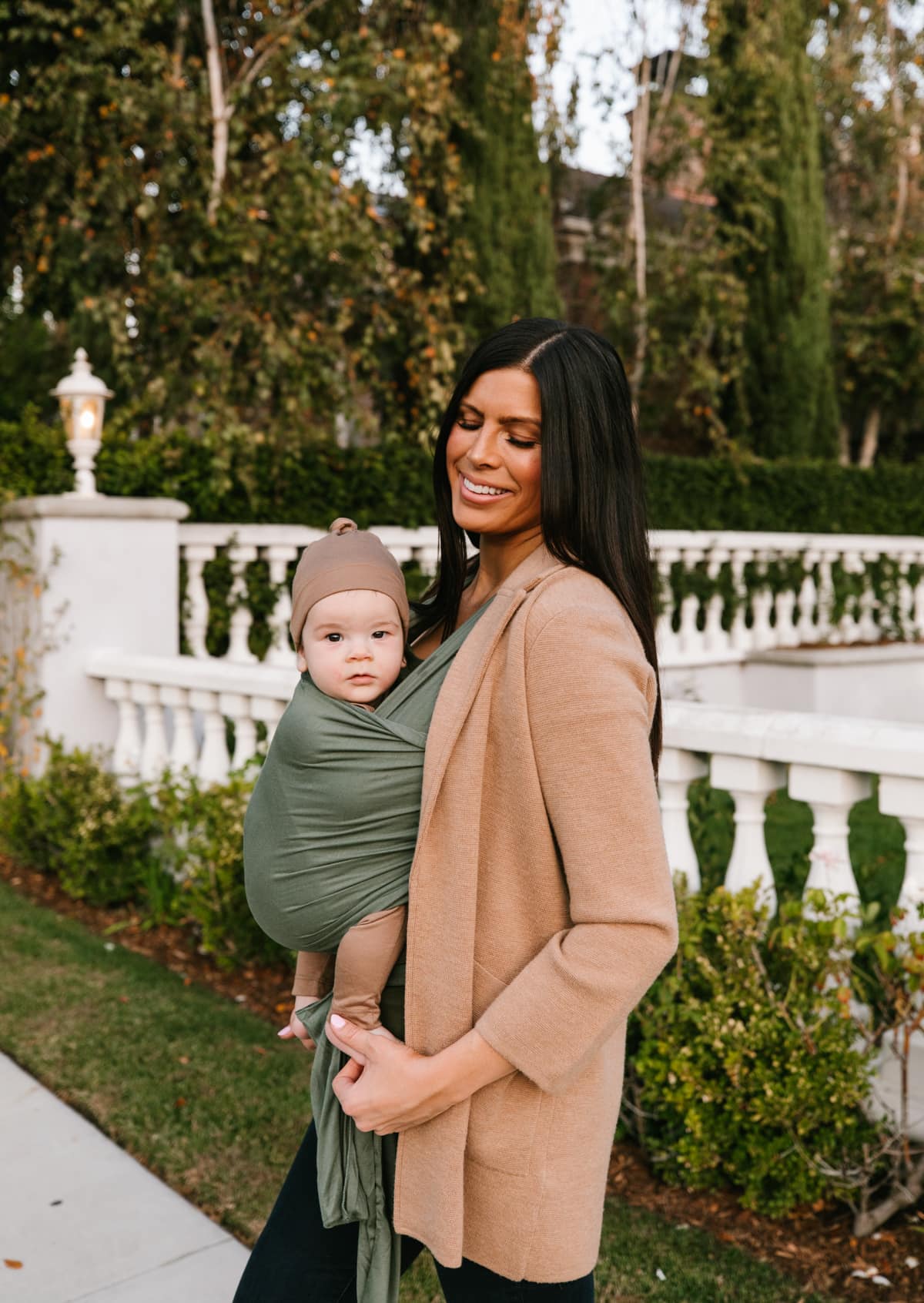 High sell out risk!
Don't forget that you can get 20% off Solly Baby now through 11/28, and 25% off on 11/29 + free shipping! I predict that most items will go FAST, so my suggestion is to get shopping for yourself or for shower gifts right now. I don't know when another opportunity like this will happen again while all your favorites are still in stock!