Quick Version: Get the BOB stroller deal for 20% off HERE, the Baby Jogger City Mini GT2 stroller deal for up to 30% off HERE, or the Bugaboo Lynx stroller for 30% off HERE!
Eeeek we found you a GREAT deal today on THREE of our very favorite baby gear items – the BOB stroller, the City Mini stroller, and the Bugaboo Lynx stroller!! These are three of our MOST FAVORITE strollers and some of the most popular strollers on the market, so if you've been waiting for a deal, today's your day!
In a hurry? Jump to the deals below!
BOB stroller deal
Right now you can get the BOB Gear Revolution Flex 3.0 jogging stroller for 20% off making it only $440! (Reg. $550)
The BOB is the stroller I swear by for running and for any rough terrain. I love taking this stroller on my beloved beach trail, because it doesn't get stuck in the sand! It's super durable and has great suspension and a really nice big sun shade for the baby.
City Mini stroller deal
Right now you can get the City Mini GT2 single stroller on sale for up to 30% off! Regularly $400, you can get it for as low as $279.99 depending on which color you choose! We rarely see a deal this good on this Baby Jogger stroller, and we predict it'll sell out quickly.
I absolutely LOVE this stroller for its one-hand quick fold, super light weight, and amazing quality push and glide. It's basically like the Cadillac of all travel strollers! If I had to choose just ONE stroller to recommend to a parent who travels a lot or is on-the-go, this would be it.
Note: the stroller pictured below is a little bit different model than the one on sale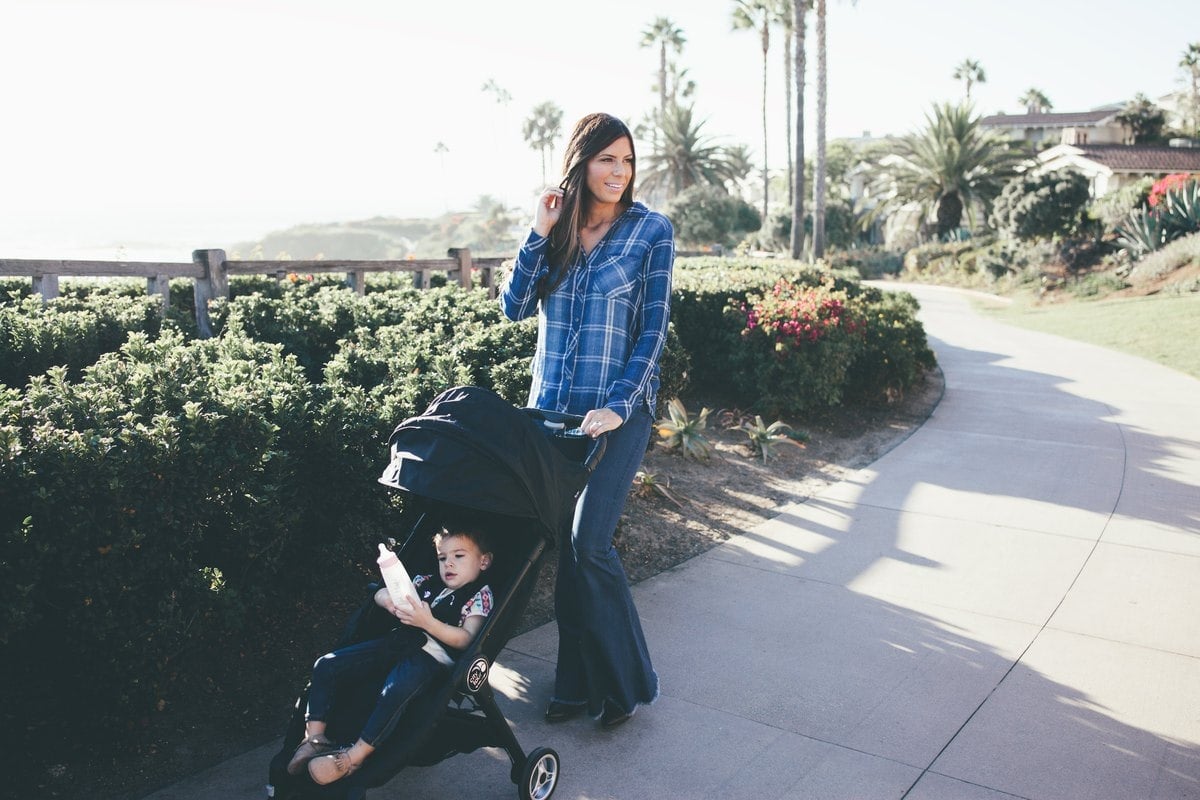 Bugaboo Lynx stroller deal
Bugaboo invented the high-end stroller niche. We all saw the celebs with their Bugaboo stroller circa early 2000's and HAD TO HAVE! Bugaboo became synonymous with the IT STROLLER after gracing the pages of People magazine, and I've wanted one ever since. And let me tell you, it really is everything and more!
This one is super similar to the model we had for Harry and it's on MAJOR sale right now – PLUS it's almost ALWAYS excluded from deals. Getting it for 35% off is a HUGE DEAL!! Don't sleep on this if you've been waiting to save on a high-end stroller!
Don't miss out!
I have NO idea how long these stroller deals will last or how many are in stock at this price point, so grab yours quick if you've been waiting for a deal on the best strollers!
To see all our baby favorites and must-haves, go to the best baby registry list ever.