Last Saturday, sandwiched smack dab in the middle of a long weekend while Neil was away on a boys trip, I had a few glorious hours to myself with a babysitter at home where I got to workout and then what did I do with my precious spare time? I went to Walmart to grab a few things to finish organizing my pantry!
I asked if anyone on my stories would want to see how that turned out and a few (okay a few THOUSAND!) of you said yes please!!! So today I'm sharing what I used PLUS a really cool tip on how you can help feed families in need while you're stocking up on the food to fill up your pantry that you're most likely buying for your family anyway. Feel-good shopping is my kind of shopping. Plus let's be honest, peeking into someone's pantry is kind of like peeking into someone's purse or nightstand. Weirdly satisfying, right?! Come on in and I'll show you mine. Let's go.
Did you guys know that 1 in 8 Americans struggle with food insecurity–not knowing where their next meal is coming from? That honestly blew my mind and made my heart hurt for so many mamas who have to worry about something so basic. It can feel so impossible to have an impact when the problem is so big!
Here's the good news: Through May 20th, Walmart's Fight Hunger campaign is giving shoppers an opportunity to spark change with small actions that have a big impact. So cool, right? When you purchase an item with the Fight Hunger label at Walmart, you help secure a meal through Feeding America® for families in need. I love that this is such an easy way to do good with grocery purchases that I would be making anyway!
I've seen Fight Hunger products now in two different Walmarts, and in both locations they made it so super easy to find the items that qualify since they were all grouped together. Almost all of them have the little icon on the packaging so it's easy to make sure you're doing the MOST good with your purchase, and it's like a double bonus because you're already getting such good prices by shopping at Walmart. I just feel like if you need to fill your pantry anyway, might as well buy a jar of peanut butter that's going to secure a meal for someone who needs it! And you KNOW I'm all about getting a good deal, but you know I'm also passionate about doing good, so I love that this campaign makes it so simple to do both at once. DOUBLE WIN.
I got my pantry halfway organized in the fall but it was an investment just organizing the half that I photographed so I kinda put off investing in the rest of the supplies to fully organize all the things. I wasn't about to undo any of the good we did back in the Fall so what you're seeing here is me buying nearly identical items to the ones I bought back in the Fall but for about a fraction of the price!! Here are a couple simple things I did that got my pantry in tip-top shape before I stocked it with some Fight Hunger items.
I LOVE storing our dry goods in clear containers. I can see exactly how much of each item we have left before I need to buy more, and I feel like we actually EAT the things in the pantry when we can see them…not to mention it just looks pretty!
Walmart had these sealed-top containers that look just like the ones I was using in this space before and they were such a good price – like INSANELY less expensive than the ones I originally bought last year. So I was super excited that they fit in seamlessly with that I already had going on and that this 3-pack was less than a single container I bought last year!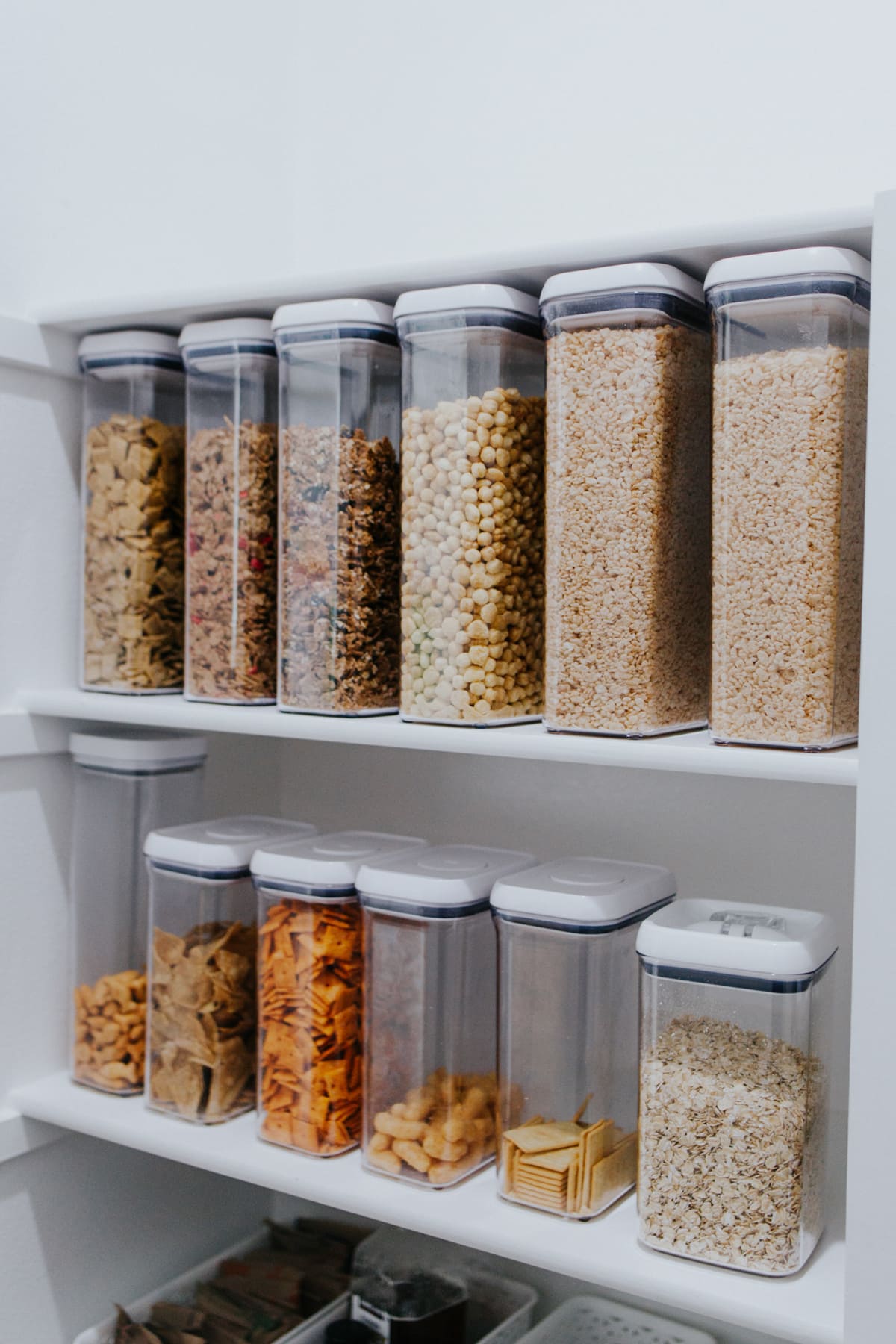 I already had these matching white baskets with a woven look, and I was able to find ones with a similar texture at Walmart with a price tag that made me do a happy dance! With a pantry space, you don't necessarily need every single basket or container to match perfectly. Keep it all in the same color scheme and group matching baskets together and it will all look organized and cohesive!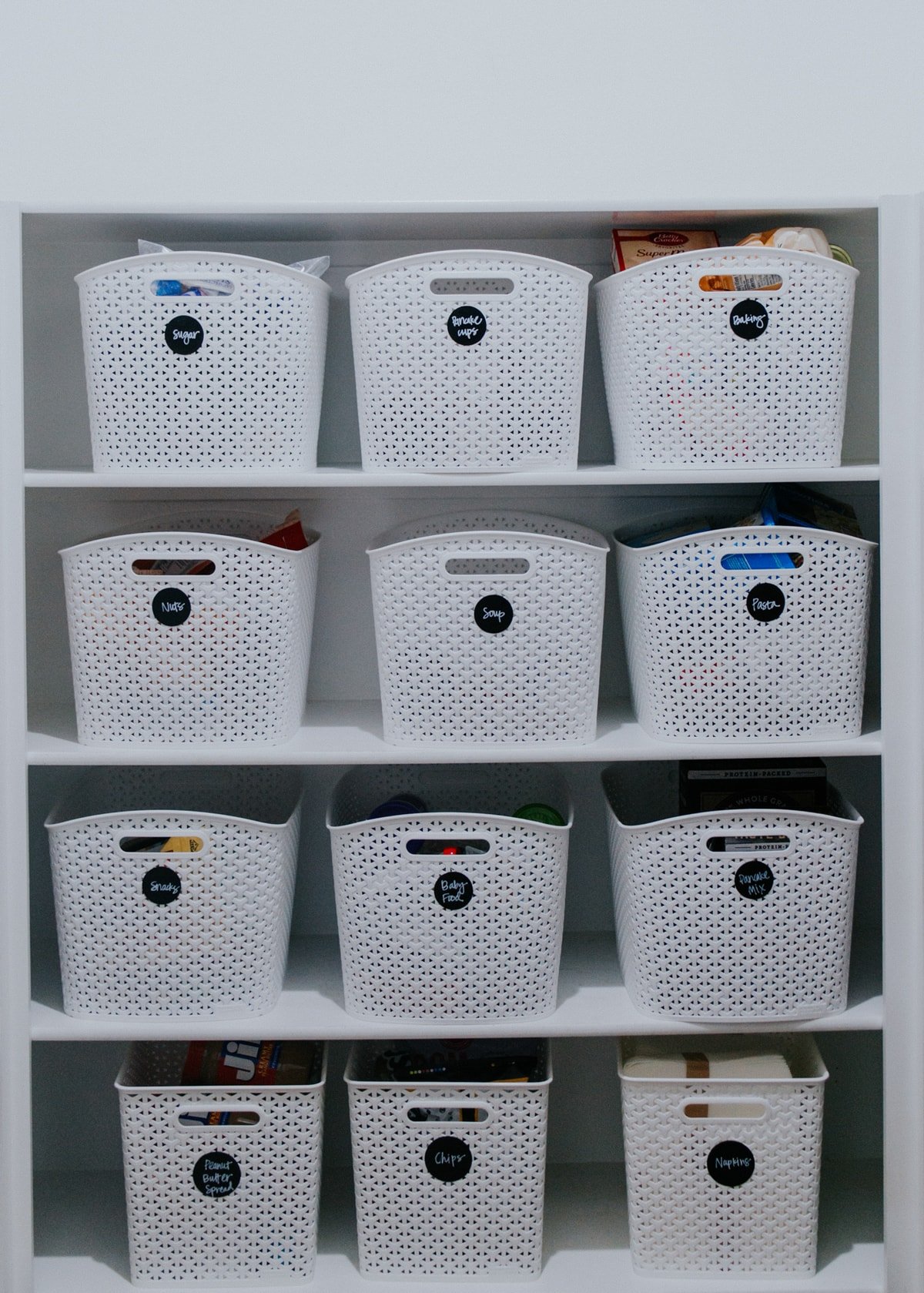 Having sparkling water all stocked up just makes me happy. Have you seen the professionally organized celebrity pantries featured on the HUGE organization IG accounts – I swear they always have pretty sparkling water collections. And these bubly cans are not only super cute and colorful, they're DELICIOUS!
We are totally obsessed with this bubly water that has just a hint of flavor so it's a super healthy, no-sodium, no-sugar option. And I love that stocking up on the lime flavor helps families out who need help with putting meals on the table.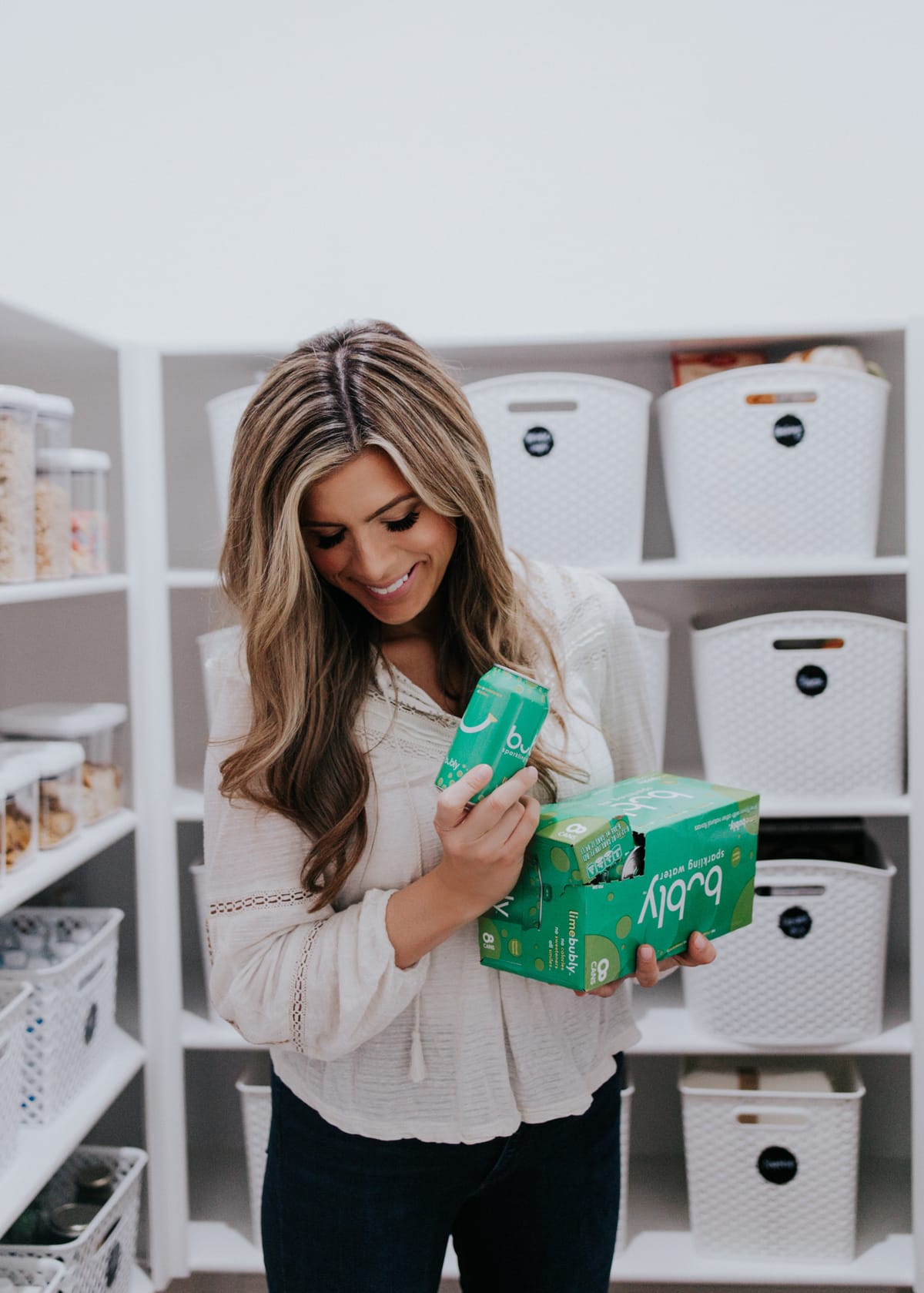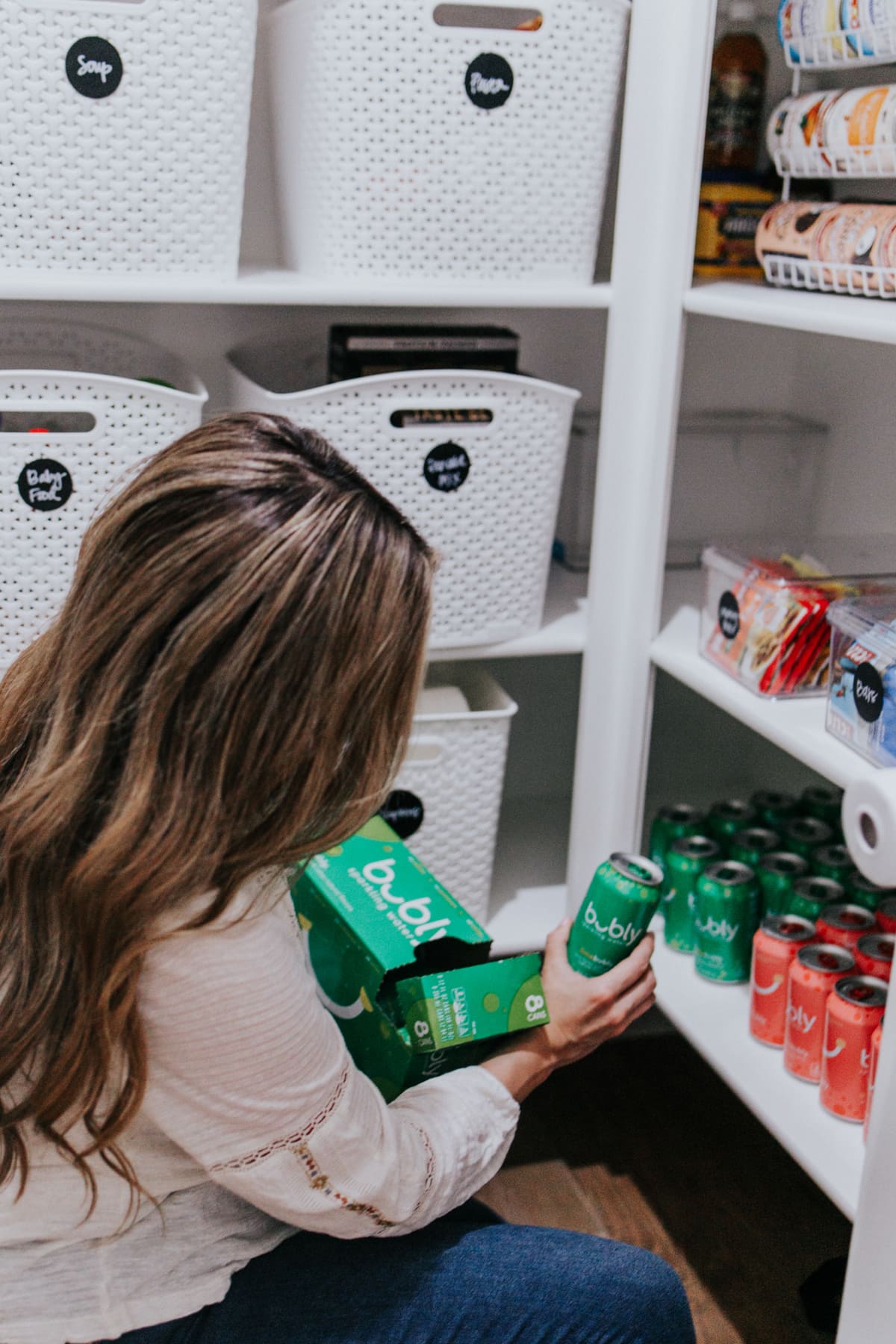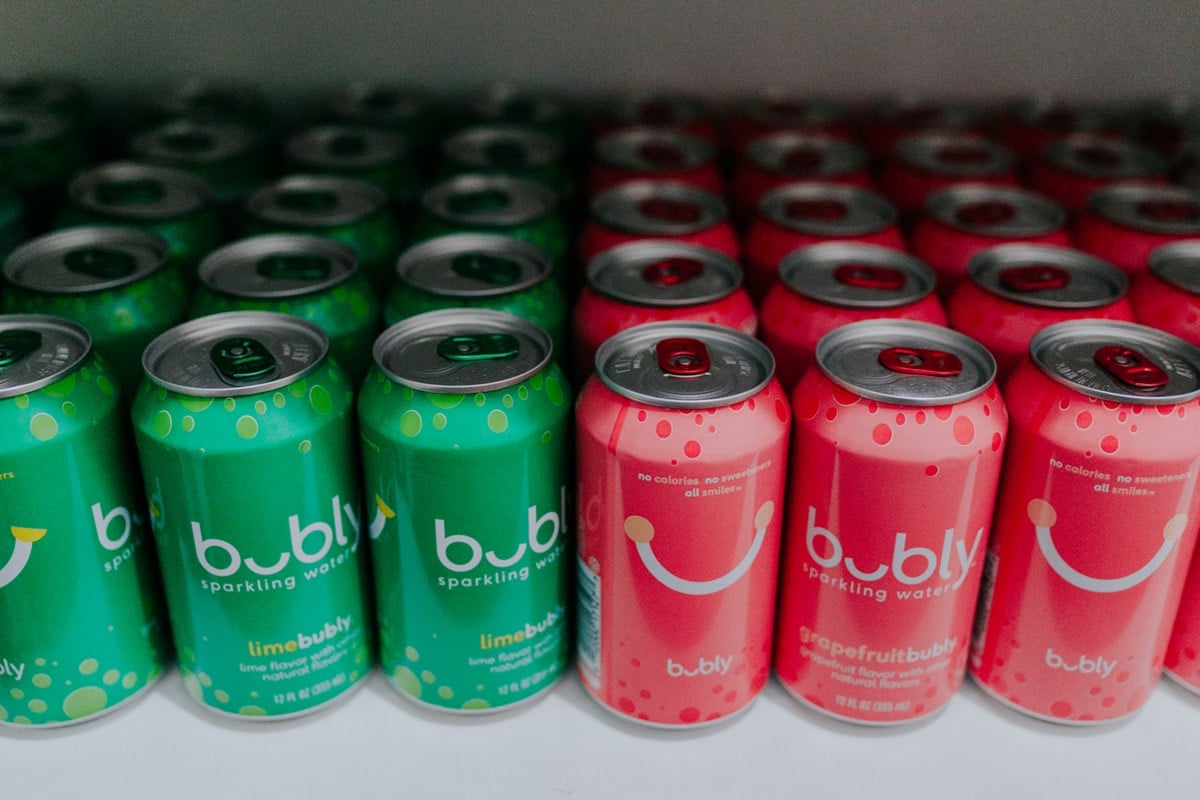 Okay, so once my pantry was all ready to be filled I started grabbing our essentials. This is where I tried to get as many Fight Hunger products as I could! I was so happy to see the Fight Hunger tags on so many of my family's favorite pantry items, too.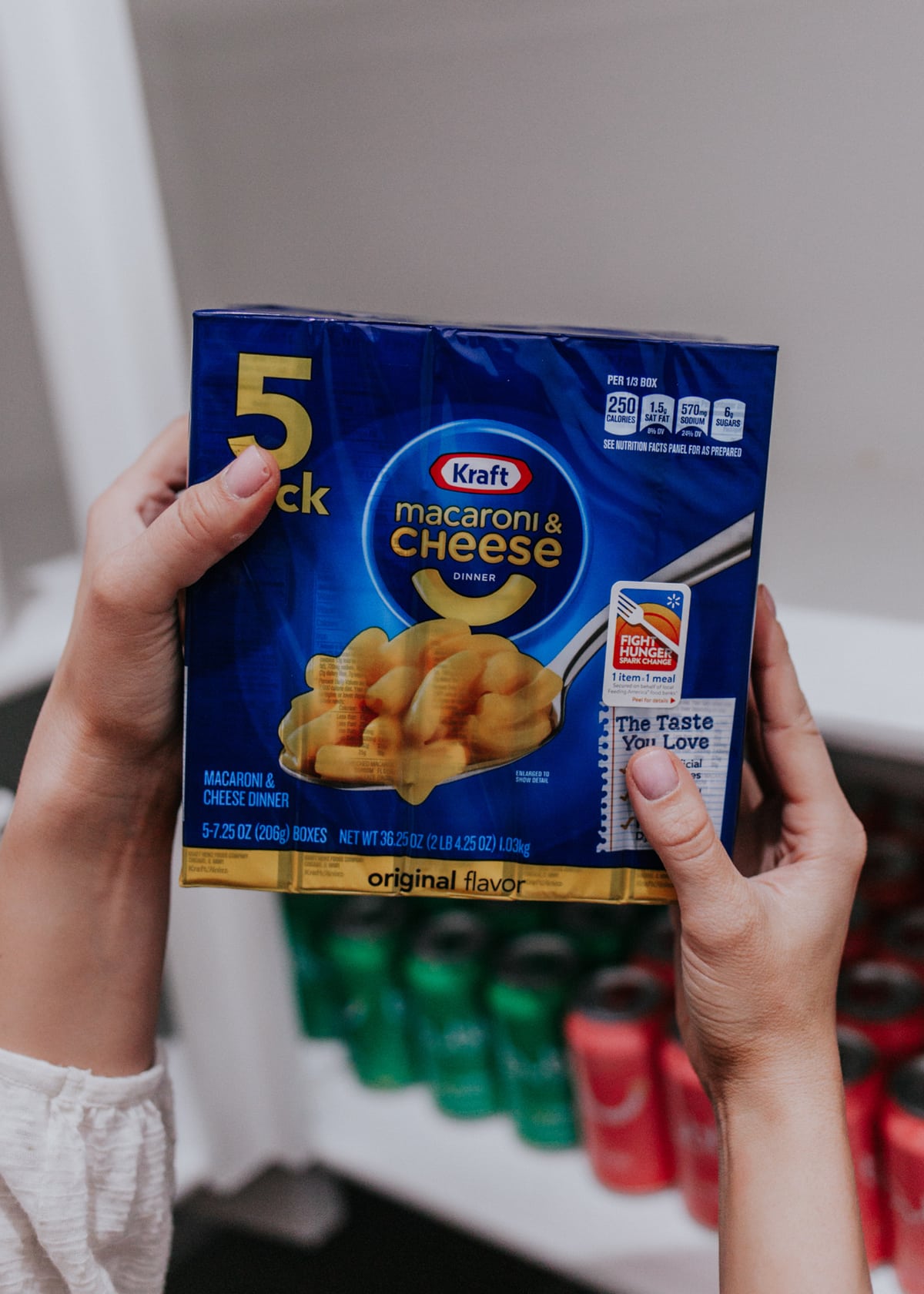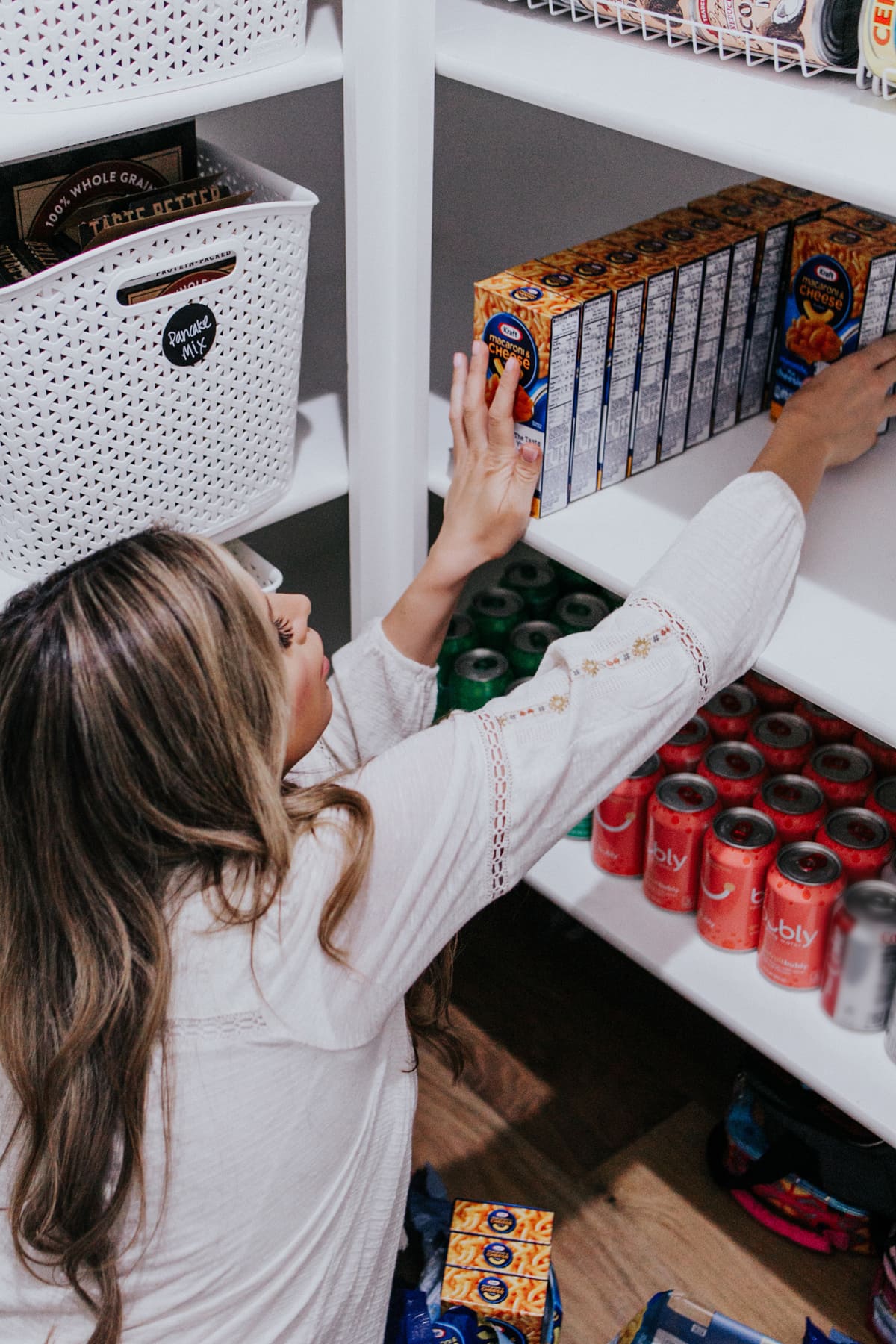 I got Kraft mac and cheese for the girls and Pace salsa for Neil (he's always snacking on chips and salsa!). The Clif bars and Nature Valley bars are snacks we're constantly grabbing as we run out the door, and my kids love instant oatmeal for breakfast. Mini raviolis are a great busy weeknight meal to have on hand. The older girls LOVE strawberry Special K (they seriously fight over it!) and of course Cheerios for little Millie.
These are all pantry essentials that we would already be eating and buying! I really just felt so strongly that if we could help someone with our purchase, we should definitely do that.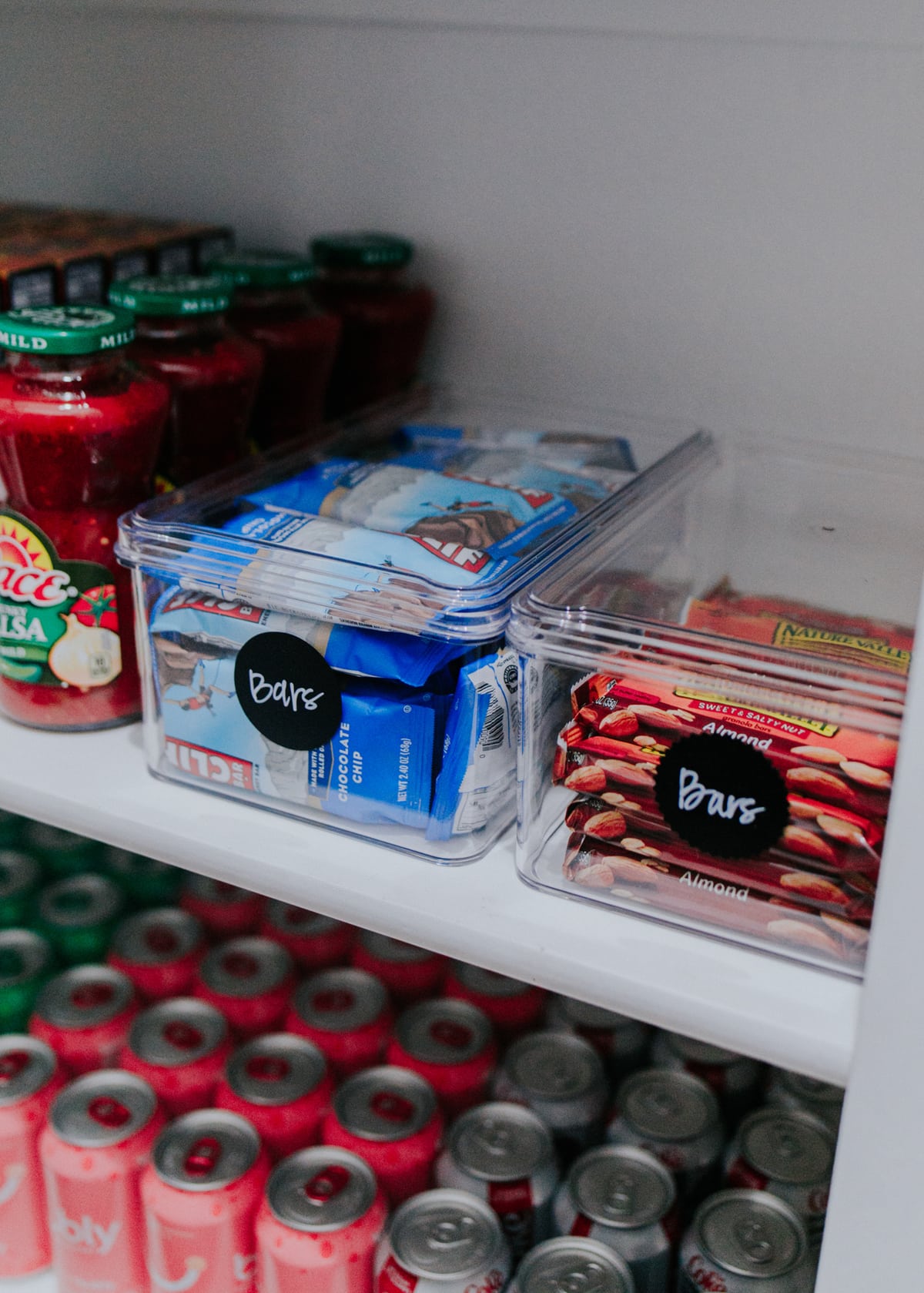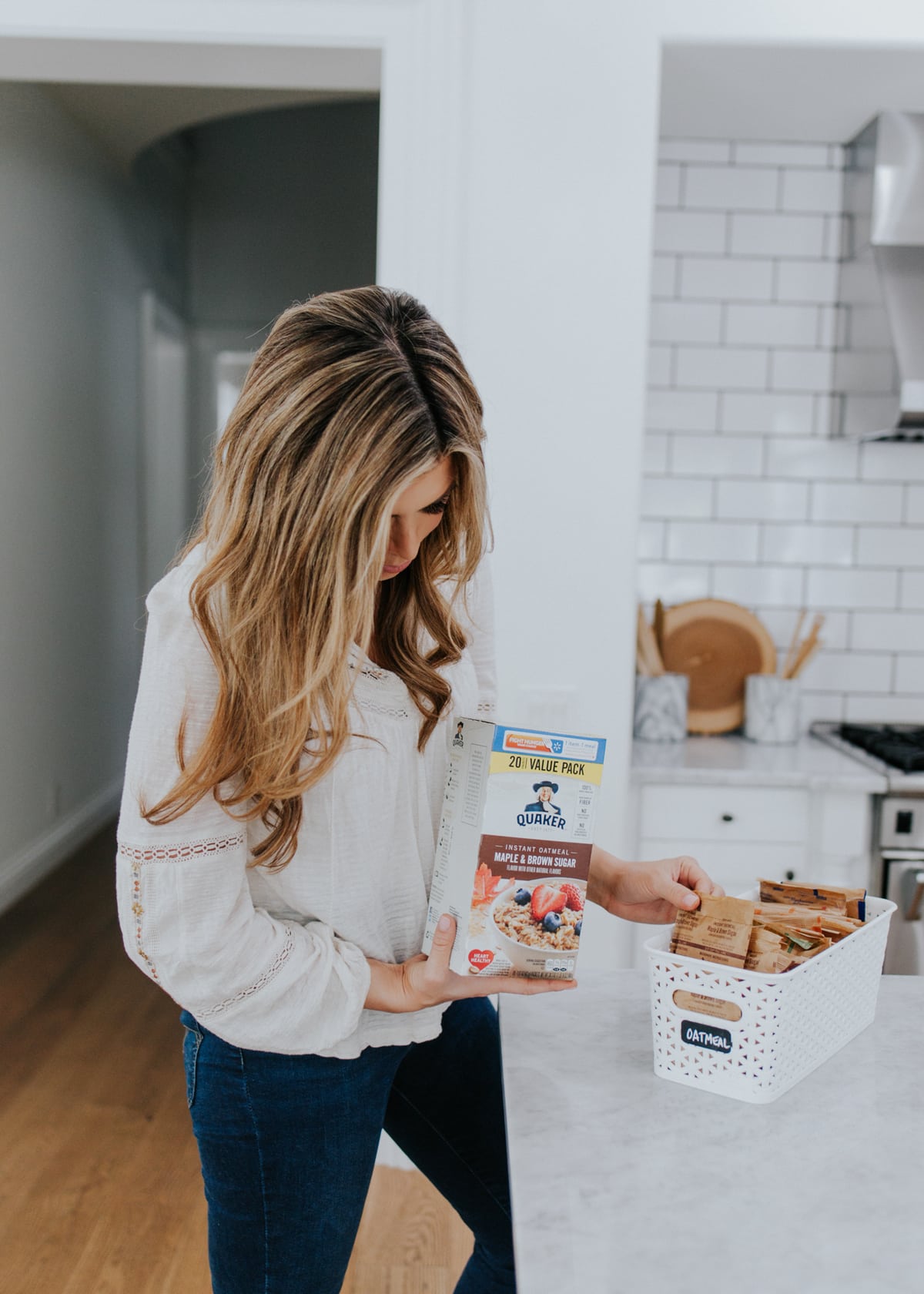 I was so happy to see how many items at Walmart qualify for the Fight Hunger campaign that runs from now until May 20.
This is also such an awesome way to talk to children about how the little things we do can all add up to make a big change for good! Make your next grocery run at Walmart a feel-good run too and grab a couple items with the Fight Hunger label to help spark an amazing change.
PANTRY ORGANIZATION ITEMS:
Rolling Can Organizers
Clear Containers
White Basket
Chalkboard stickers
Sharpie white paint pen
FIGHT HUNGER ITEMS:
CLIF Bar, Chocolate Chip, Energy Bars
bubly Sparkling Water Lime
Kraft Original Flavor Macaroni & Cheese Dinner
Kellogg's special
Cheerios
Instant Oatmeal
Nature Valley Sweet & Salty Almond Granola Bars
Jif Creamy Peanut Butter
Cheez-It Baked Original Cheese Crackers Family Size
Chef Boyardee Mini Ravioli
Pace Chunky Salsa, Mild, 24 oz. Jar
McCormick Original Taco Seasoning Mix, 1 oz
Great Value Bowtie Pasta
OUTFIT:
White embroidered top
Jeans


For every participating product purchased at Walmart between April 22nd and May 20th, 2019, the manufacturer will donate $0.10 to Feeding America® – enough to secure at least 1meal on behalf of local food banks -up to each manufacturer's maximum donation. Each manufacturer's maximum donation is provided on the participating packages. See package or Walmart.com/FightHunger for details.