Quick Version: Take an extra 25% off sale items during the Tory Burch semi-annual sale HERE!
If you've been searching for a Tory Burch sale, today isn't just your lucky day, it's basically the BEST DAY EVER! There's a HUGE sale on sale happening that's just too good to miss. Keep reading for all the details and our top picks from the sale!
What if ONLY the deals YOU wanted to see were in your inbox before anyone else?! If you want to be in the know and find out the hottest deals tailored just for you, you can join our subscription email here! It's simple, you tell us the deals you want to see and we'll make sure you see them first! 
Tory Burch sale on sale details!
Right now you can get an EXTRA 25% off Tory Burch sale styles. That includes our favorite bags, shoes, clothing, sunnies, and more!
Let's talk about our top picks, and then make sure to scroll to the bottom of this post to find our full round up of the BEST items on extra sale today!
Minnie Travel Ballet Flat
These shoes are all the rage all over again. You might not think they're coming back, but right now it's so trendy to wear ballet flats, and these are my top picks! These are some of the highest rated ballet flats OF ALL TIME at Nordstrom with 4,000 ratings and 84% being 5-star.
These are a classic and will last years to come, and the best part is you can get them in this beautiful tan suede color for only $135 with the Tory Burch sale extra 25% off! (Reg. $228) That's 40% OFF retail.
Tory Burch Miller Sandals
I've been a LONG TIME huge fan of Tory Burch Miller Sandals. I even wore them in this post where I styled Nordstrom's most popular little black dress. I can absolutely say they're worth every penny for how much I've worn them over and over, year after year – and their quality has held up so well!
They're extremely comfy. Plus, they're SO pretty, and just a bit dressier than your average flip flop without being too dressy – so you really can wear them with a pretty dress, a tee shirt and shorts, or just a swimsuit and cover up! Comfy & cute for every occasion.
Get them in brown during the Tory Burch sale on sale here for only $112 (reg $198) – 43% OFF retail!
The nude pair of sandals pictured is not included in the deal, but this pair is definitely our pick during the Tory Burch sale on sale!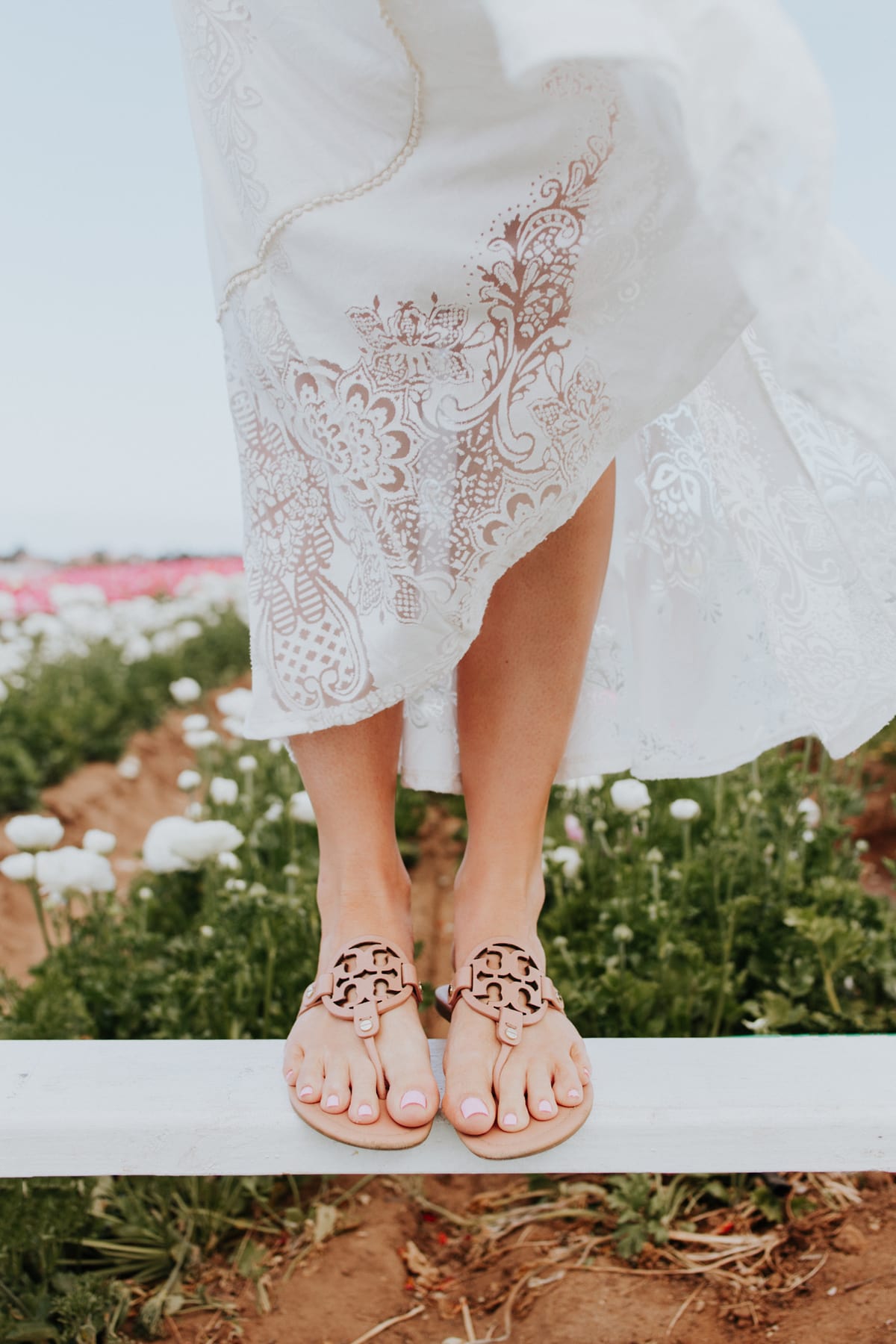 Don't wait!
This huge sale goes through January 9, but a lot of these items have a HIGH sell-out risk, so don't wait too long. Shop everything from the huge Tory Burch sale on sale here. And make sure to check out our other TOP sale picks below!! Everything from bags to sunnies to shoes. *Major heart eyes!!!*