I'm such a huge denim lover that when I found there's a deal on some of my favorite designer jeans brands, I knew I had to let you guys in on all the juicy details! Because the only thing better than a pair of jeans that fit like a dream, is getting them ON SALE.
One of my favorite items to find deals on is designer denim. And I know, I know … a LOT of us are STILL hanging around in sweats and yoga pants right now. I'm with you. Solidarity, sister. But someday when we all come out of this, it might be nice to have a brand new pair of jeans to slap on, especially when you know you got them for like HALF what they usually retail for! Or maybe you're like Neil who says, "not getting dressed makes me feel like I'm just sick and in my pajamas at home every day." Fair enough! SO either way, if a new pair of designer denim would just make your day to open up as happy mail, today's post is for YOU!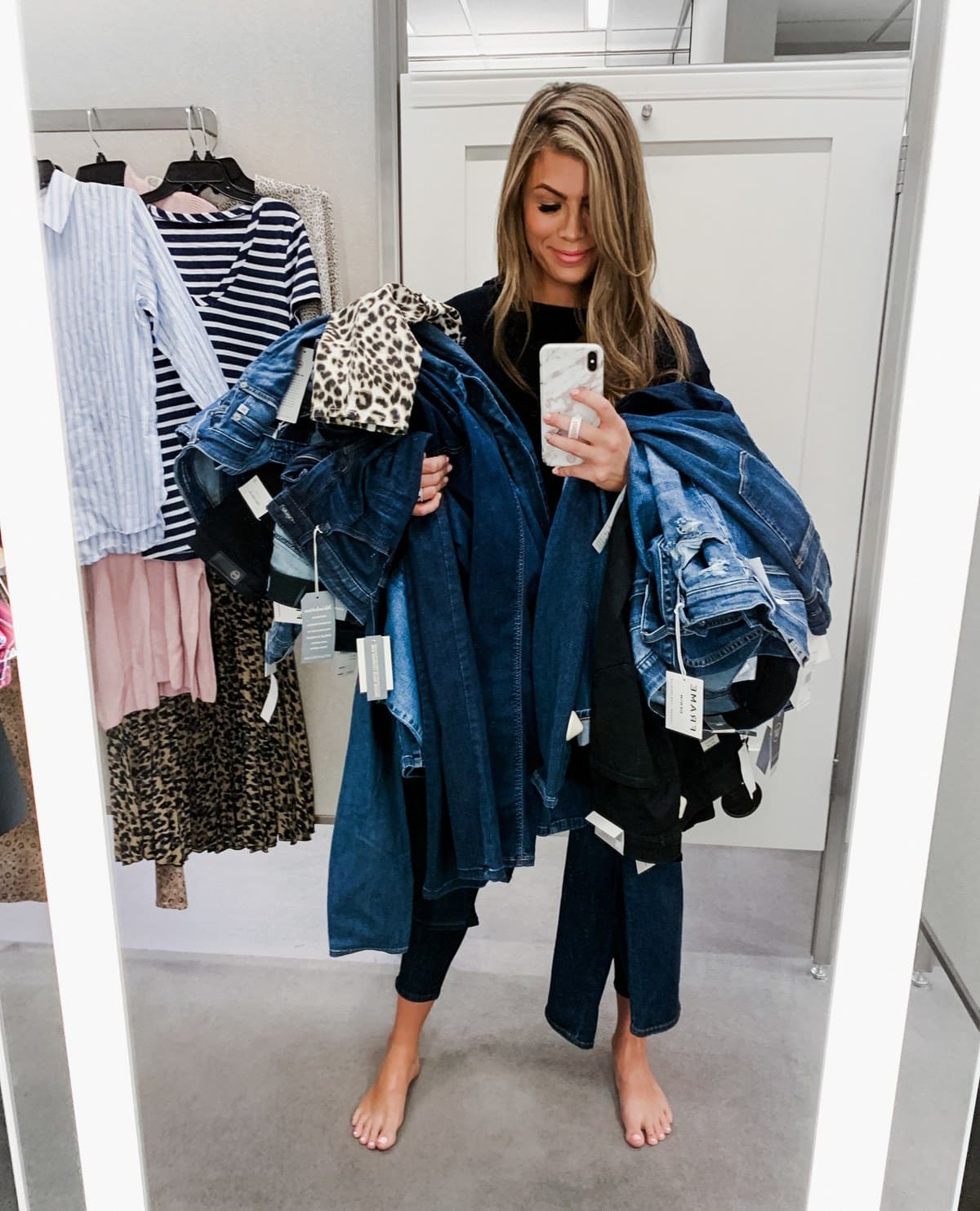 Designer jeans sale details
Right now, you can get up to 60% off Good American and 7 For All Mankind jeans right here! A LOT of these jeans retail for more than $150, so you're saving a ton!
7FAM are the OGs of designer denim. They've been around the block a time or two or two bazillion if you account for all the pairs of jeans people have worn from their brand over the years. They've totally nailed how to make a bum look good and feel good and I've loved their denim since the early 2000s.
The Kardashians made Good American a household name when they decided that curvy girls needed denim that fit like a glove too. If you have hips or curves or you're a little squishy still from having a baby (hello – ME!) then Good American Jeans are your new best friend. I've probably worn their brand more than any other, immediately after my last two pregnancies. It's always a good day for me when I have a clean pair of Good American jeans I can slap on with a tee or button-down or a sweatshirt.
Too good to miss!
We've done all the work for you by picking the cutest pairs of jeans and rounding them up for you! Take advantage of this crazy good designer jeans deal before prices go back up.
TIP: A lot of these deals haven't popped up yet in 2020, and I don't expect these prices to resurface until probably Black Friday.
One last time! Here's where you can get these designer jeans for up to 60% off!!