In partnership with REI and ShopStyle
Have you ever asked yourself, "I wonder what the BEST hiking boots are?" If you've been wondering, looking for, or researching to find the very best hiking boots I'm here to show you the ones I've found that are a GAME CHANGER that you'll want to grab to get ready for sunshine, hikes and Spring or Summer adventures.
Right now, in Southern California (well, let's be honest, EVERYWHERE) the big buzz is the super bloom! The poppies are not only popping up everywhere on Instagram, they've gotten national attention from the Today Show and CNN and it seems to be the attraction that everyone is flocking to at the moment. Basically, because we've received a surge of rain this year followed by some beautiful sunny days, the hills are literally ALIVE with the most colorful poppies and other variations of wildflowers.
The most well-known super bloom is pretty close to us, at Lake Elsinore, but with the crazy crowds it's been drawing, we didn't feel like braving the traffic. But hiking is something Neil and I both enjoy doing and I want to do more of this year, especially since I'm not pregnant like I was last year, so we hit up a local trail and decided to try out THE BEST hiking shoes that I've read about, heard about, and have been wanting to test out myself and man you guys they did NOT disappoint.
Trail-Runners — have you heard of them? They're the new kid on the block and they've taken the main stage in place of clunky, old school heavy hiking boots and I'm CONVERTED for life! I picked up a pair for both Neil and me and we couldn't stop saying all day the first day we wore them, "wow these are SO NICE." They feel kind of like walking on clouds. They're bouncy, crazy comfy and light as air. So unless you're going over some really crazy super muddy terrain, I think a trail runner like this is the way to go! My sister who's an AVID hiker recommended these and I love how lightweight and comfortable they were, and it didn't hurt that they were the second highest rated shoe on REI's entire website.
Speaking of REI, I've always looked at them as the go-to for ALL things outdoor. Ever since I was a little girl and my dad introduced me to the world of hiking, fishing and backpacking, REI was always THE place for finding the highest quality gear, clothing, shoes, everything that you needed to be fully prepared to enjoy the great outdoors. I just keep going back to REI over and over and I'm especially loving their own label that embodies that same high quality we've all come to expect and demand from REI, but for a really great price point.
All of our hiking apparel came from REI Co-op. It's a tried and true favorite for high-quality items that last for adventure after adventure! Shopping the Co-op also gets you all that high-quality gear at a really reasonable price point, so it's a double score if you become a member! You get tons of members-only special offers, access to in-store garage sales, and awesome benefits like discounts. Check out membership details here.
I am absolutely LOVING these active tights. Not a shock since they had great reviews, so I knew they'd be good, but they've absolutely exceeded my expectations! They're breathable and moisture-wicking, plus they have a wide waistband, zippered pocket, and reflective tape on the calves, which is amazing if you're out in low lighting-like at dusk. The colors they come in are GORGEOUS too, so lots of options there! But let's be honest, comfort is my love language so the wide waistband really is the all-star factor here.
My pullover was one of the highest rated items from their label, so I was dying to give it a try! This time of year, it's pretty warm in the middle of the day, but actually still pretty cool when you'd want to be out hiking at dawn or dusk. Having a cozy, lightweight layer is perfect for springtime. I keep throwing this on too with a pair of leggings to run to the store or just lounge around the house. It's cute in a way that's totally different from most of the other layering pieces I have hanging in my closet and I love that.
For under my pullover, I fell in love with this California State t-shirt! It's a cooler option on those warmer days and made of THE softest t-shirt material. Like a real step above your regular tee. Like the kind of shirt you wanna sleep in it's so soft.
For Neil I went with high-rated basics that he'll totally use again and again for any kind of outdoor activity. His shorts are super lightweight and have the extra pockets that make cargo shorts so practical. AND they're long enough for a tall guy like he is. But I love that they aren't bulky or dorky like you might expect from a traditional cargo short! Haha!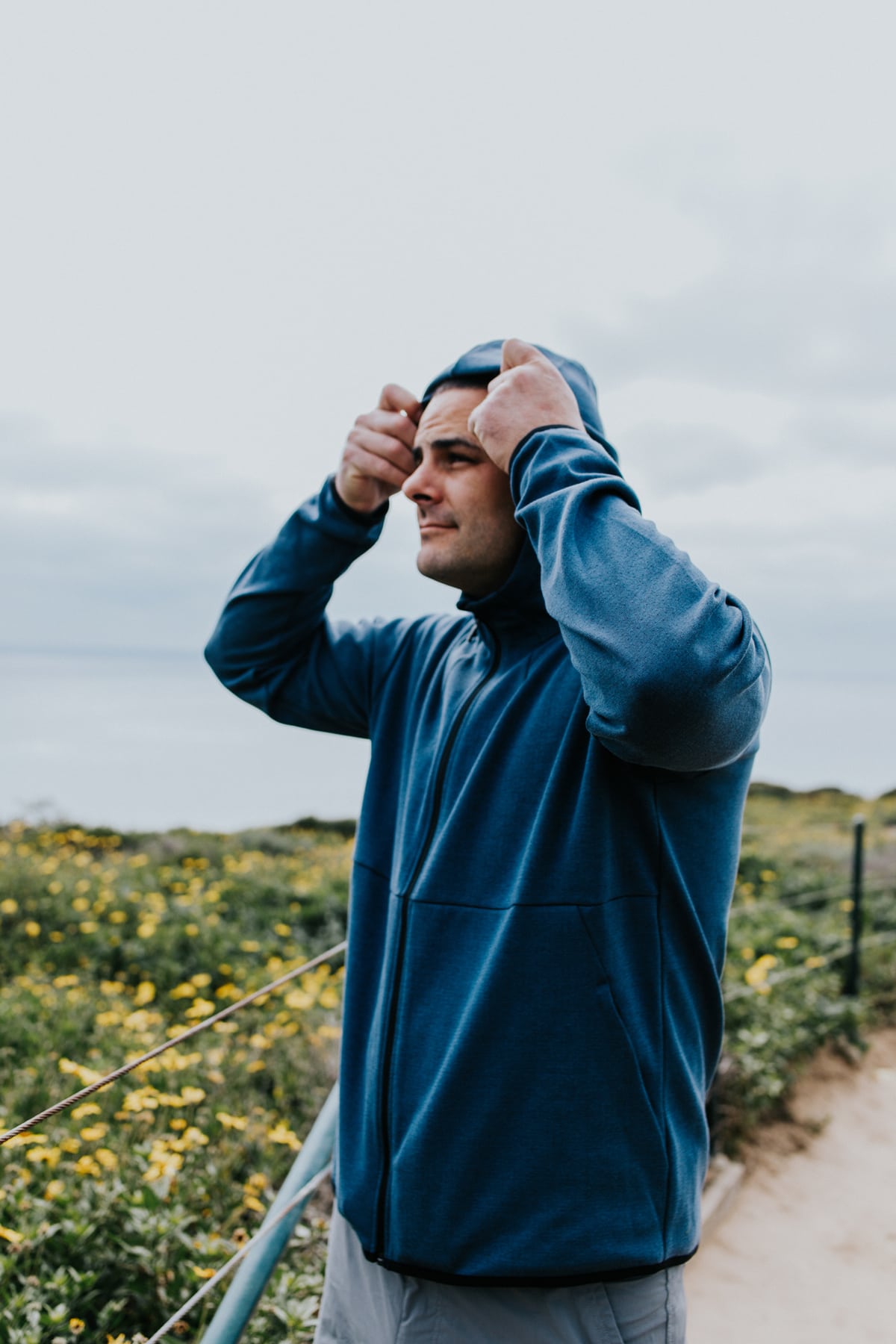 This stretchy, warm hoodie is totally one of those husband sweatshirts that I'm going to steal to cozy up in around the house. It's stretchy and warm with a super comfy liner, and the zippered pockets are convenient when you're carrying keys or a wallet!
For a base layer we went with an athletic classic that I know he'll wear to the gym or out to play basketball, and it's lightweight and breathable enough that it'll be great all summer long.
Corrine's T-Shirt
Corrine's Tights
Corrine's Quarter-Zip Fleece
Corrine's Trail-Runners
Ultralight Hiking Quarter Socks
Neil's Full-Zip Hoodie
Neil's T-Shirt
Neil's Cargo Shorts
Neil's Trail Runners
photos by Arielle Levy
It was so fun to get outdoors for this perfect little hiking date. Thanks to REI's Co-Op for keeping us comfortable and well-dressed for the occasion! This is a brand we truly love and rely on for outdoor gear to last a lifetime, and they never disappoint. If you become a REI Member now through 4/8, you get additional benefits like 20% off one full priced item and an additional 10% back on REI items, including REI Co-Op's new spring collection with code MEMPERK2019 at check-out!!
Shop some of our REI faves for women and men below … and don't forget to grab yourself a pair of the BEST hiking shoes – the trail runners we're obsessed with – so you're ready to go when the good weather sneaks up on us!
Women:
Men: