Attending a wedding can be an absolute blast, but let's be honest, finding the perfect dress to wear as a guest can sometimes feel like an Olympic-level challenge. The good news is that there's a surprising and often overlooked destination for wedding guest attire – Amazon. Yep, you heard that right! Amazon, the place where you can buy everything from books to blenders, is a fantastic spot to discover that ideal dress for the big day. I recently tried on a bunch of different Amazon dresses to wear to my cousin's wedding in Seattle, and today I'm sharing my very favorites!
Slide to see all of my fave picks:

Why Amazon?
I actually looked at MORE places than Amazon for a cute dresses for the wedding, but I kept coming back to "shopping in my Prime" because everything else was double or triple the price everywhere else!!! Amazon has JUST as cute of styles, for way way less. Plus, like I said, they arrive SUPER fast and shipping is so convenient it's kind of a no-brainer.
Dress #1
This dress totally gives me Sound of Music vibes! The puff sleeves and flowy skirt add a sweet, feminine touch. The ornament lace detail is surprisingly soft, and I was relieved to find it's not see-through! It's the perfect mix of elegant and causal, and comes in seventeen different colors!! Definitely an Amazon gem that won't break the bank priced at only $39.99 (20% OFF rn!) + don't forget to use the extra 5% off coupon!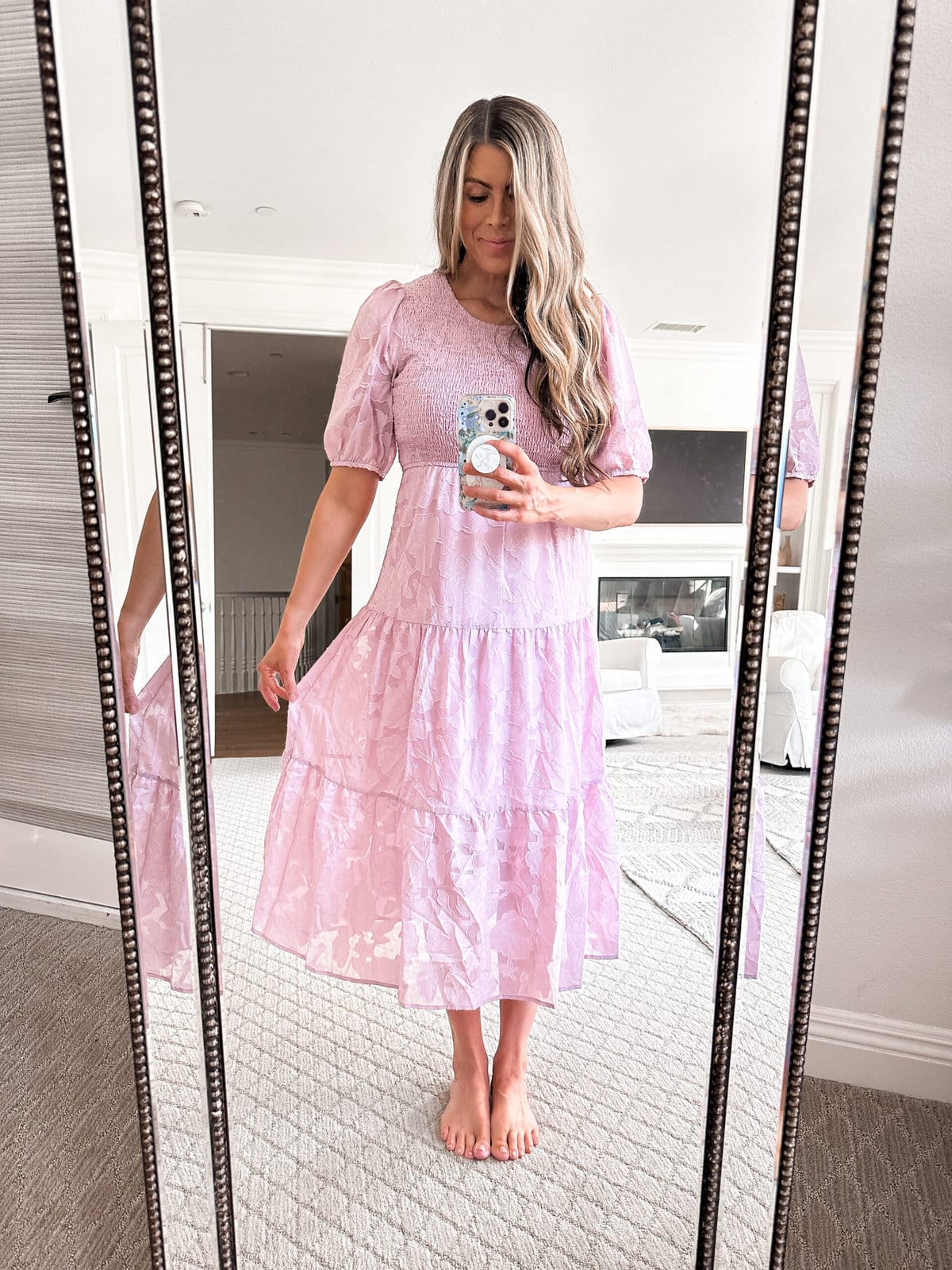 Dress #2
I reeeeally liked this dress. The smocked bust is nice and stretchy (perfect for sliding in my wearable breast pumps that I still needed when I attended the wedding!) and it's overall extremely lightweight and comfortable. The skirt on this dress has a bit more swing and give than the others, and with the flutter sleeves it's the epitome of flowy that moves gracefully with every step. This one comes in a TON of different colors too, and is such a steal at $37.99!
Dress #3
The unexpected square back detail on this one is so fun and isn't too low or wide, just right! This v-neck dress is flowy and lightweight too, but not quite as much as the green previously mentioned. Like the others, it's a versatile wardrobe staple and suitable for various occasions. Also, this one has the added bonus of pockets! It's currently $44.99 and has an extra 5% off coupon that you can use!
Dress #4
Similar to the other dresses with a v-neck and flutter sleeves, this dress also has some stretch but with a slightly thicker fabric. Which adds a heavier, substantial feel (a perk to wear in various seasons!) if that's something you love. The skirt has a subtle tiered detail and the sleeves fall a bit shorter. This is also an affordable option coming in at $42.99 if you apply the $3 off coupon!
Best Amazon Wedding Guest Dresses
So there you have it – Amazon is your not-so-secret weapon for nailing your wedding guest attire. Whether you're after a chic yet comfy look or an elegant classic, Amazon's got your back with an extensive selection that suits all tastes and budgets. Say goodbye to the stress of endless dress shopping trips and hello to the convenience of online shopping at its finest. Happy shopping, and here's to making unforgettable memories at the next wedding you attend!