As a self-proclaimed (and industry recognized!) baby-gear guru, I've gotten lots and LOTS of questions over the years about the best stroller, binky, burp cloth, and recently, which wearable breast pump is best! Since I tried out BOTH of the two most popular options on the market last year (the Willow Pump and the Elvie Pump) while I nursed my fourth baby Harry, I figured I should sit down and chat with my besties about which one I liked best.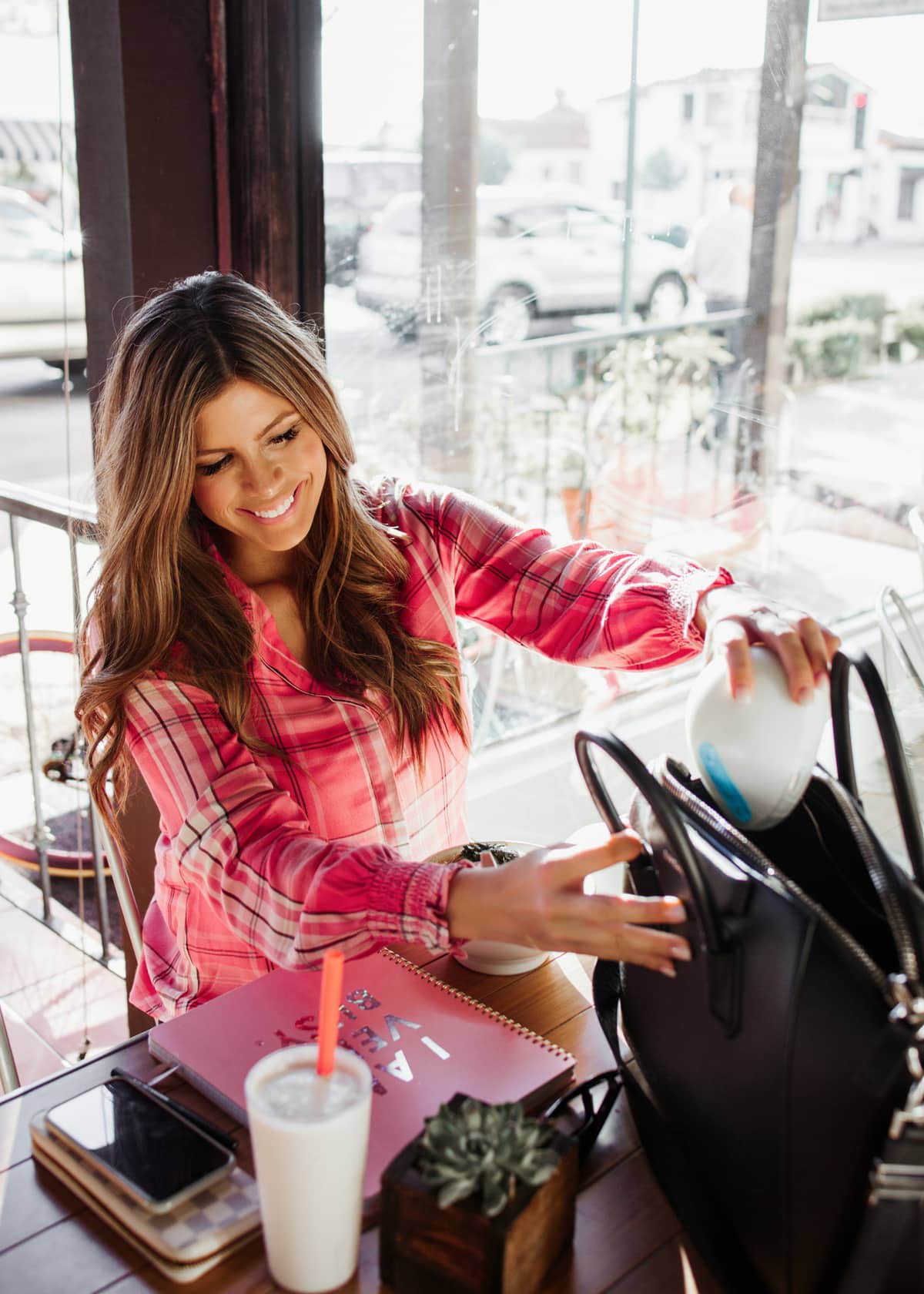 Willow Breast Pump
Let's start off with the one I've used longer, because I used this with TWO of my babies!
The Willow Breast Pump is perfect for the mom on-the-go, especially working moms or even if you just see yourself traveling or needing to pump on the go while you run kids to different appointments or anywhere where you don't want to have to plug into a wall or have huge bottles hanging off your body and tubes coming out everywhere. The Willow Pump will turn your world upside down!!
This hands-free breast pump has literally been a complete and total GAME CHANGER for me. I could pump virtually anywhere, very discreetly, without having to worry about plugging in or tubes or hiding gigantic pump bottles. Admittedly the shirt I was wearing in these pictures was a little more fitted than I'm comfortable with when I'm using the Willow Pump, so I highly recommend wearing a very loose button-down or zip hoodie or house dress and it will be even more discreet.
I had the best luck wearing my Willow Pump with a super blousy shirt like this or a very loose sweater like this! I even wore it a couple times to business conferences where people would walk up to me and start up conversations and chat with me at length without even realizing I was pumping. If you've ever been hooked up to a traditional pump, you realize just how REMARKABLE this is!
Elvie Breast Pump
I tried the Elive Pump with Harry and was genuinely so excited to be able to compare both!
The Elvie Pump came out right before I had Harry in May of 2020 and I was most excited about the ability to use some of the milk and store the rest, instead of having to cut into a bag that could not be sealed back up! It also promised to be quieter, and that promise was definitely delivered!!
I also loved that the suction could be changed on the actual pump instead of only on the app.
Willow Pump vs. Elvie Pump
Short answer: I tried both the Willow and Elvie Breast Pump with Harry and while I think they're both good pumps, I have to say that I used my Willow pump way more. I found it easier to use, but that could be because I was already used to it from having used it so much with Millie?
Long answer: They're extremely comparable and I really think you can't go wrong with either one. I felt like the Elvie was slightly less comfortable, but definitely more silent! Compared to the Willow, it was also a bit easier to assemble IF you didn't know how to assemble the Willow. That said, I had used the Willow with Millie to pump here and there for 8 months, so by the time I compared the two, I could assemble the Willow and pump bag in my sleep!
Neil preferred helping me assemble the Elvie for this reason alone! He actually did this more than you might expect. "Neil, can you hurry and grab my pump? I have a call in 10 mins and the baby is going to need to be fed during the call!" or "Babe I have to leave for an appointment in 10 mins, can you please hurry and assemble my pump while I shower for the first time in two days?"
The Elvie Pump was also a more desirable option initially because you could use dishwasher-safe bottles to catch the milk instead of the made-for-Willow bags that were the only option when the Willow was first created. But now the Willow offers the same exact idea in a bottle attachment! So for that reason, they're extremely similar.
Is the Willow or Elvie Pump worth it?
It honestly depends on WHY you want this pump. Do you work? Do you travel or are you away from baby a lot? Even with working from home, I found a wearable pump EXTREMELY helpful if I really needed to be totally tuned-into a meeting instead of distracted by trying to feed my baby. I could pump quickly for 10 minutes before a meeting and then hand off the milk to another caregiver in our home (Neil or our nanny) and they could give baby a bottle while I was able to totally be tuned-into my virtual meeting.
I also used my wearable pump when I traveled away from home and, like I mentioned before, I took it with me to work conferences when Millie was 6-8 months old if I needed to pump to keep my supply while I was away from her, and it was infinitely easier than having to pack and carry-on a bigger, more bulky pump.
This pump also made our goal of going on weekly temple dates so much more doable. I would pump right before we went to the temple, on our way in the car, and then if it was a longer session, I could pump on our way home, too! There are absolutely cheaper ways to pump in a car (like this handheld pump!) to and from our temple, but I'm just saying this was one reason I was so grateful to have my Willow and used it frequently.
Does the Elvie Pump or Willow Pump actually work?
YES! These pumps both worked so well for me. I had bags and BAGS of frozen milk that I collected from my Willow pump, and my Elvie pump worked equally well.
I also have to give a plug to the Willow Support team. When I very first got my Willow Pump with Millie, I was frustrated the first time or two of trying to figure it out. I scheduled a free consult with one of their amazing educators and (after confirming I was comfortable with this!) she walked me through exactly how to use it on my body with my nursing bra (the #1 recommended in this post!) and I went from being confused to totally confident in how to use mine after one video call.
Can the bags be reused? Frozen?
WILLOW: If the special bags are a concern to you, you can now buy reusable milk containers that can be drained right into a storage bag OR a bottle. I liked the Willow bags personally! But this helps cut down cost and waste and also solves the problem of having to use exactly the amount in the bag since they're not resealable.
ELVIE: This pump uses bottles that are dishwasher safe so yes, that part can be reused! But you'll have to use a separate bag to store or freeze milk. These are my fave.
Is it easy to clean? Dishwasher safe?
WILLOW: Yes it is easy to clean and the parts are all dishwasher safe!
ELVIE: Probably even slightly easier to clean and definitely also dishwasher safe.
Is it silent?
WILLOW: Not dead silent, but compared to my other favorite standard pump (and the MANY other standard pumps I've tried over the years) it is very, very quiet. So quiet that when I've been in a room with other people, they'll walk up to me and have a full conversation with me and have no idea that I'm pumping.
ELVIE: The Elvie definitely wins for being the very quietest pump I have ever used. Nearly completely silent.
Is it hospital grade?
WILLOW: This pump is not necessarily advertised as "hospital grade," but from their website they say, "Willow has seven levels of suction in Expression phase that are comparable to most traditional double electric and hospital-grade. Willow's suction range is similar to other pumps." From my perspective, it worked just as powerfully and effectively as my hospital-grade advertised pumps!
ELVIE: The Elvie Pump does not have any information on their site about whether they claim theirs is "hospital grade," but they do offer seven different levels of pumping just like the Willow. I also felt like this pump worked just as effectively as my other hospital-grade pumps!
How much milk can you pump?
WILLOW: The Willow pump storage bags and reusable Milk Container hold up to 4 oz. of milk.
ELVIE: The Elvie pump bottles hold 5 oz. of milk, and it will automatically pause when it detects that the bottle is full.
How long does the battery last?
WILLOW: The Willow Pump takes about two hours to fully charge. However, if you are in a rush, a 20-minute charge will last for approximately one pumping session. A full charged battery will last about two and a half hours.
ELVIE: The Elvie Pump also takes about two hours to reach full charge. A full charged battery will last about two and a half hours, depending on the intensity setting.
Is it covered by insurance?
WILLOW: This will be different on a case by case basis. Each insurance company has its own policy regarding reimbursement for breast pumps, so once you have your pump, the next step is to check with your plan administrator to see what you qualify for.
ELVIE: This will also be different according to what insurance you have – but the Elvie Pump may be partially covered by your insurance plan. If you are looking specifically for an insurance that offers the Elvie Pump via their plans, Elvie works with Durable Medical Equipment (DME) suppliers who partner with various insurance providers. If interested, you can check their websites to see if you are eligible for the Elvie Pump through your insurance provider – or you can contact your insurance provider directly – as they will have information that is specific to you.
Are there any deals on the Willow or Elvie pump?
No deals right now, but we are always keeping an eye out!
I'm PUMPED for you to try these out!
In the end, BOTH the Willow and Elvie breast pumps are GREAT. I seriously don't think you can go wrong with either one. If I was buying one of these pumps for the first time, I would go back through this post and mark down all of the pros and cons of what is important to me, and go from there. Every mama is different, so finding the pump that works best with your lifestyle is a must! If you have used both of these pumps, I'd love to know your favorite in the comments below.
To see all my baby tips, favorites and MUST-haves, go to my best baby registry list ever.